Tamil Nadu: Everyone wants to help this 82-yr-old selling idlis for Re 1
泰米尔纳德邦82岁老人卖蒸米浆糕,一卢比一个,每个人都想帮助她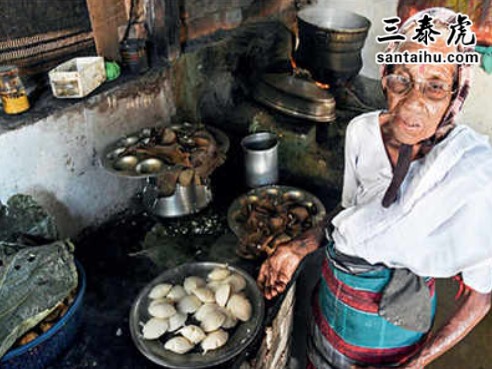 COIMBATORE: Not many entrepreneurs may want to emulate the business model that sustained her for 30 years. But 82-year-old M Kamalathal, who had been selling idlis for Re 1 each at Vadivelampalayam in the district, felt she lacked nothing. After videos and news reports about the "idli paati" preparing the dish on a firewood stove went viral, she was flooded with offers of help from across the country.
哥印拜陀市:也许没有多少企业家愿意效仿她持续了30年的商业模式。82岁的卡玛拉塔尔在瓦迪维拉姆帕拉扬卖蒸米浆糕,1卢比一个,她觉得自己什么都不缺。她在柴火灶上做蒸米浆糕的视频和相关报道走红之后,全国各地的人们纷纷伸出援手。
Sharing a video clip of Kamalathal cooking at her home-cum-shop, chairman of Mahindra Group Anand Mahindra said he was willing to "invest in her business and buy her an LPG fuelled stove."
马恒达集团董事长阿南德·马辛德拉分享了一段卡玛拉塔尔在家做蒸米浆糕的视频,并表示愿意"投资她的生意,给她买一个液化灶"。
Bharat Petroleum Corporation Limited, Coimbatore, told him that it had already issued Kamalathal an LPG connection. Retweeting this, Dharmendra Pradhan, Union minister of petroleum and natural gas, said, "Salute the spirit and commitment of Kamalathal. Glad to having helped her through local OMC officers in getting an LPG connection. Society must empower such hardworking people who defy all odds."
巴拉特石油有限公司表示,已经为卡玛拉塔尔开了一条液化气管道。印度石油天然气联合部长达曼德拉•普拉丹转发了这条消息,他说:"向卡玛拉塔尔的精神和奉献致敬。很高兴帮助她开通液化气。社会应帮助这些克服一切困难,努力工作的人。"
In addition, a private firm from Mumbai gave her a commercial wet grinder to prepare idli batter.
此外,孟买的一家私企给她提供了一台湿磨机,用来打米浆。
After all this unfurled on Wednesday, Mahindra on Thursday tweeted that he would be happy to support her LPG costs.
马辛德拉周四在twitter上表示,他很乐意为她支付液化气费用。
On Tuesday, Coimbatore collector K Rajamani received her at his office and offered to fulfil whatever needs she had. "She had no demands. However, her well-wishers said it would be helpful if the district administration built her a home. She said she has a patta. If she or her children brings the patta, the district administration is ready to build her a home for around Re 2.5 lakh," he said.
周二,哥印拜陀征税员拉贾马尼在其办公室接待了她,并提出满足她的任何需求。拉贾马尼称:"她没有提什么要求。不过,那些支持她的人说,如果地区行政部门能给她建一个家,那将会很有帮助。地区政府准备为她建造一所价值25万雷亚尔的住宅。"
"Now everyone who comes to know about her wants to help her in some way. This is a positive thing," he added.
"现在每个知道她的人都想帮助她。这是好事。"
When contacted, Kamalathal said she was happy that people were helping her. "For 30 years that I have been running this idli shop. I have been using a firewood stove. Now they have given me a gas stove. I am happy," she said.
当记者联系到卡玛拉塔尔时,她说很高兴有人帮助她:"我经营这家蒸米浆糕店已经有30年了。我一直用的是柴火灶。现在他们给我提供了一个煤气灶。我很高兴。"
Asked how she managed to sell an idli for Re 1, she said her input costs were low, so she could sell it for a low price. "There is no loss in this. I sell idlis for around Re 600 a day. I get to keep Re 200," she said.
当被问及为什么只卖1卢比时,卡玛拉塔尔说她的投入成本很低,能以较低的价格出售。"这没有什么损失。我每天能卖600卢比,可以赚200卢比。"
印度时报读者的评论:
译文来源:三泰虎 http://www.santaihu.com/48418.html 译者:Jessica.Wu
外文:https://timesofindia.indiatimes.com
Top Comment
She is the real Bharat Ratna.
应该给她颁发"国宝勋章"
flemingo2008 David•2 hours ago •Follow
Wish we Indians taking pride in doing our best to make India the best with ample resources we have by being discilplined like her.....
印度拥有充足的资源,希望我们印度人尽最大努力建设国家。我们要像这位老人一样自律。
flemingo2008 David•2 hours ago
as god....e the real gods who for the livelihood take up such un profitable ventures & be satisfied with the lowest of income.....!
为了糊口而从事这种无利可图的生意的人,他们才是真正的神,满足于最低收入…!
flemingo2008 David•2 hours ago
What an example & dedication of an elderly who is still being on her own & committed to serve peope while being so low profiled........hats off.....!
无私奉献的老人,她是一个多好的榜样啊。她仍凭一己之力,为人民服务,还这么低调……致敬!
flemingo2008 David•2 hours ago
The moment fuel price changes restaurents charge 50 paise more per dich.....mis using the good will of the people.....all rich hoteliers are dreaming big & mis use any opportunities fail go out mis used.Please bring up such people all over the nation & give them help to serve people.
一旦油价上涨,餐馆每道菜就要多收50派萨。请在全国各地培养这样的菩萨,让他们为人民服务。
santosh•3 hours ago
Not hygienic and cleaned. Adyar Anand Bhavan and Saravana Bhavan idlis are no 1 and tasty.
不卫生,不干净。Adyar Anand Bhavan和Saravana Bhavan蒸米浆糕才是最好吃的
Gautam•India•3 hours ago
And Sarvana Bhavan charges 100 Rupess for 2 idlis
Saravana Bhavan蒸米浆糕,2个就要100卢比
S Sundararajan•3 hours ago
Murugan idli shop selling idli at Rs 22/- and kitchen being found in deplorable condition should put down their heads in shame. Food is God and this lady is inspirational. Salutations
Murugan
Murugan店的蒸米浆糕卖22卢比,厨房还脏乱差,他们应该羞愧地低下头。这位女士很励志。致敬。
Suresh Kamath•Unknown•3 hours ago
A True ENTREPRENEUR and selling Idli @ 1 and yet making Profits for her is INDEED a Positive attitude
她是真正的企业家,卖1卢比还有利润,能维持生活。
Dayakar Yadav•4 hours ago
What she gets Rs 200 per day is more happy with it. No intention to amass money which is a rare case in the present day society.
每天赚200卢比,她都很开心。她无意聚敛钱财,这在当今社会是很少见的。
Balachandramenon Vengasserry•Alappuzha•4 hours ago
I am deadly sure, She will receive Padma Award during Republic Day 2020.
我敢肯定,她将在2020年的共和国日上,获得"莲花勋章"
vivek singh•lalaland•4 hours ago
I still can''t believe someone is selling idlis at Re. 1 per piece and still making profit. Ek rupay mein kya milta hai bhai...yaha desh mein paani 20 rupees mein 1 litre bik raha hai...
我无法相信有人以1卢比的价格卖蒸米浆糕,还有利润。
Anumakonda Varadarajulu•Anantapur•5 hours ago
We salute her for selling Idlis for nothing especially to the poor. The offer of help from across the country indicates Humanity still prevails.
向她致敬,她给穷人送蒸米浆糕,不图回报。全国各地的人都应伸出援助之手
Riptide Mungay•5 hours ago
If she gets the LPG, who is going to pay for gas. Our ancestors were using wood for fire and it was cheap. Now we import LPG and it has raised the cost in everything. is
如果她用液化气,谁来付煤气费?

我们的祖先用木头生火。现在我们的液化石油气是进口的,这会增加成本。
Lakshmi Narayanan•Unknown•5 hours ago
Her economics is better than so called iim and harward economists.
她的经济学知识比所谓哈佛经济学者的知识更好用。
Jayaram•5 hours ago
Making 1 kg of idli maavu (aatta) would cost about Rs.20/= which is sold in shops at Rs.40/=and in each kg. about 25 small idlies can be made. See the basic cost price of idli with atta made at home and made from aatta bought from shops.
制作1公斤蒸米浆糕的成本约为20卢比,商店以40卢比/公斤的价格出售,每1公斤米浆大约可以做25个蒸米浆糕。看看自己在家做和的从商店买的价格差多少。
subhankar dey•Unknown•5 hours ago
She is fulfilling her needs not her greed, so she is happy and so will everyone who follow the path,
她满足了自己的需求,而且不贪婪,所以她很快乐,像她这样做的人都会快乐,
Venkatesh i•5 hours ago
Great. Both her for proving that age is not a deterrent to be on your own feet
伟大。她证明了年龄并不能阻碍你自立更生。
Sumant Kant Sahai•Ahmedabad•5 hours ago
At the age of 80 she is serving society and managing her life. She is an inspiration. People retire at 58 & 60 from cushy jobs, and do nothing but do small talk and play politics.
80岁的她还在为社会服务,维持生计。她是一个励志的人。人们大都在58岁至60岁时退休,之后就无所事事了。
Gowrishankar R•6 hours ago
A very honest person. Hats off to her for her dedication
常诚实的人。向她的献身精神致敬
Neena Mukherjee•6 hours ago
Salute to this nice and kind women.
向这位善良的女士致敬。