Spanish nun who served poor in India for 50 years given 10 days to leave country
在印度为穷人服务50年的西班牙修女,被要求在10天内离境
ALIGANDA (GAJAPATI): About 280km from Bhubaneswar, reme Aliganda has patchy mobile network, bad roads and resi nts still wait for piped drinking water. But when it comes to education and health, the village is ahead of its peers. It has four schools and a dispensary that serves locals for free, thanks to a Spanish nun who worked for almost 50 years to uplift the poor. Suddenly this month, though, the Centre denied her a visa extension, gave her 10 days to pack her bags and asked her to leave the place she called home, abandoning those she loved.
阿利甘达(加贾帕提):距离布巴内斯瓦尔约280公里的偏远地区阿利甘达移动网络信号不佳,道路状况不佳,居民仍在等待自来水。在教育和健康方面,这个村庄领先于其他村庄。该村有四所学校和一间免费为当地人服务的诊所,这要感谢一位西班牙修女,她帮助穷人,并为此奋斗了近50年。然而,就在本月,签证中心突然拒绝了她的签证延期申请,要求她在10天内收拾行李并离开她称之为家的地方,舍弃她所爱的人。
No one knows why Enedina Costilla, 86, chose this drought-prone village in Gajapati district - close to Mist-affected areas - to spend nearly five decades of her life. Some believe she came here because she specialized in the treatment of TB during her medical training in Madrid and this region was known to be severely afflicted. Others feel it was their good luck that "their saviour" landed here on August 15, 1971. Prior to arriving in Aliganda, Enedina was in Berhampur in Ganjam district since 1966 and had by then mastered the Odia language.
没有人知道为何86岁的埃尼迪娜·科斯蒂利亚选择了这个位于加贾帕提区的干旱易发区——靠近毛派影响的地区——在这生活了近50年。一些人认为,她来到这里是因为她在马德里接受医学培训期间专门从事结核病治疗,而该地区是出了名的结核病重灾区。
Enedina's departure has led to a marked decline in the number of people visiting the dispensary which she set up in 1971 to provide free treatment for TB and mria, according to Elizabeth Soreng, senior nurse at the dispensary. "She knew every patient by name," Soreng told TOI on Friday.
据诊所高级护士伊丽莎白·索伦格称,埃尼迪娜的离开导致来诊所就诊的人数显著下降。埃尼迪娜于1971年创办了这家诊所,为结核病和疟疾患者提供免费治疗。周五,索伦格告诉印度时报:"埃尼迪娜知道每个病人的名字."
The 3,600-strong village last saw a heartbroken Enedina on August 18, two days before she boarded a flight to Spain from New Delhi. Goodbyes were hurried. Enedina had been told just over a week ago that her visa would not be renewed. No one has heard from her since. Without a phone number or address, it's her memories that resi nts now hold dear.
这个村庄有3600多人口,村民最后一次见到伤心欲绝的埃尼迪娜是在8月18日,两天之后,她登上了从新德里飞往西班牙的航班。连道别都很匆忙。就在一周前,埃尼迪娜被告知她的签证无法续签。从那以后没有人收到她的来信。村民没有她的电话号码和地址,现在珍视的是对她的回忆。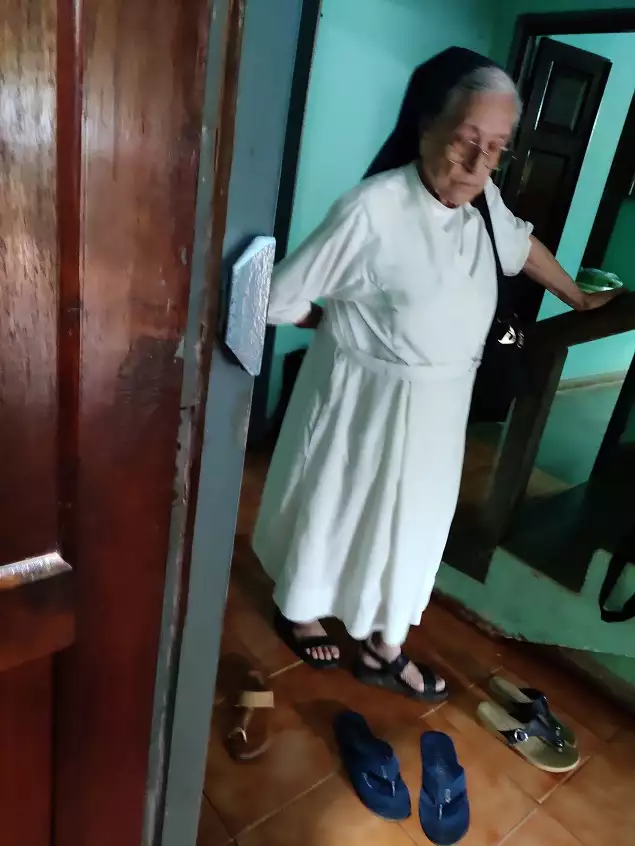 印度时报读者的评论:
译文来源:三泰虎 http://www.santaihu.com/48362.html
外文:https://timesofindia.indiatimes.com
TOP COMMENT
It is nice to know the work done by the Nuns. But the hidden motive is convert the people to Chr tianity.
很高兴知道修女们所做的贡献。不过她们这样做,背后的动机是让人们皈依。
Mitu•3 hours ago
it''s a shame that a person who dedicated her life to the welfare of the people has been treated so badly. WHY do people automatically assume that they all have ulterior motive of converting people.?? Most of them only want to help neglected un cared for people as their duty towards God.!
一个献身于人民福利事业的人受到如此怠慢,真令人遗憾。为什么人们会想当然地认为人家是别有用心地想要改变当地人的信仰。她们中的大多数人只是想帮助那些被忽视的、没有受到关怀的人,她们把这当作自己的义务。
Anonymous•Delhi•4 hours ago
More to it than what is reported. Even our bureaucrats are not so heartless.
言过其实了吧,印度官员没那么吧
india nation•5 hours ago
The biggest question everybody is missing : WHY THE RULING BJP GOVT DID NOT RENEW HER VISA. Are they ashamed that a foreigner was hel the poor people. They themselves do not have the courage to do something which the nun did selflessly for 50 years
所有人都忽略了一个最大的问题: 为什么执政的人民党政府没有批准她的续签申请。一个外国人到印度来帮助穷人,人民党觉得这丢人吗?这位修女无私奉献了50年,人民党都没勇气这么做。
Rajesh Singhal•5 hours ago
there must be a reason for not giving extension for Visa. It cannot be done without having any reason for doing so. It is expected that there may have been some sort of hidden activities behind the screen. Having refused the extension of the Visa, she could have approached the Ministry through an appropriate agent. Neverthless, all that has happened is for the good.
拒绝续签肯定是有原因的,不可能无缘无故的。估计幕后有什么不可告人的活动。在签证续签被拒后,她本可以通过代理人与有关部门取得联系。然而,事出必有因。
rici•ny•6 hours ago
There are many such frauds who are using service as won for conversion to exclusivistic re gious ideology of church to gain po itical and other powers in India. All of them should be deported in the similar manner.
印度有很多这样的骗子,他们打着帮助当地人的幌子,试图让人们改变。把这些人统统驱逐出境吧。
Sajan George•16 hours ago
Please check the facts ...See how many conversions happened in that area :(
请查明事实……看看在该地区有多少人改变信仰了
Sajan George•16 hours ago
Please ignore all the ones who ss re gious venom and ignores the good work of a sister who spend 50 years..in an are were people live below poverty line...
请不要理会那些散布仇恨的人,也不要忽视一个修女50年来的善行。很多印度人仍生活在贫困线以下。
Duck Good•Toronto•18 hours ago
INDIA IS THIRD CLASS THIRD WORLD COUNTRY. THERE IS NO PLACE FOR MINORITIES. JUST FOR FEKU AND HIS HINDU-SHAITANIS.
印度是第三世界国家,是莫迪的天下,是印度教的天下,没有其他人的容身之地。
Shyamsundar•Chennai•1 day ago
This is purely the work of hindu taliban who are utterly afraid and jealous of this doctor''s good work. At this rate, saffron brigade will take our nation & people back to stone age, like Afghanistan.
这就是印度教徒从中作梗,他们既害怕又嫉妒这位医生。她做得这么好。照这么下去,印度教将带领我们的国家和人民回到石器时代,就像现在的阿富汗一样。
Reuben Singh•Lucknow•2 days ago
No nun convert anyone. People convert by their own free will. Do you know these nuns wash the potty of old people and mentally retarded people? Can you do it? It is easy to say than doing it.
修女不会让任何人改变信仰。人们改变信仰是根自己的意愿。你知道这些修女为老人和智障人士洗便盆吗?你能做到吗?说起来容易做起来难。
Sadia Afrin•2 days ago
Modi and BJP are criminals rapist and murderers, bjp preach hate and divide Indians and scare them with lies and fake media.
莫迪和人民党是罪犯、强奸犯、杀人犯,人民党宣扬仇恨,分化印度人,用谎言和媒体吓唬他们。
vishakha singh•2 days ago
Afterall she has returned to country of birth, to her people.Its time she pays back to your country of her birth.She has served a lot here and now it''s time she renders her service to people of her homeland.
毕竟她回到了祖国,回到了她的人民身边。她也是时候回祖国了。她在这里服务了这么多年,现在是时候为祖国人民服务了。
Murali K•Delhi•2 days ago
It''s good she left. God''s way of saving her from this country.
她离开了也好。上帝把她从这个国家拯救出来了。
Jim Corrigan•Location•2 days ago
How about the children she allowed to be raped by Catholic Priests. The number of Children Raped by Catholic Priests is in the hundreds of thousands. India''s press, not so surprisingly mute.
那些被天主教神父强奸的孩子呢?被天主教神父强奸的儿童成千上万。印度媒体的沉默并不令人意外。