Separate water pot for dalit teacher in Gujarat school
古吉拉特邦学校为达利特老师准备单独的水壶
AHMEDABAD: In a shocking case of untouchability, a 46-year-old dalit teacher in Gujarat's Surendranagar district was served a notice by the principal of the go nment school simply because he drank water from a pitcher "reserved" for three of his upper-caste colleagues.
艾哈迈达巴德:一起令人震惊的贱民事件,古吉拉特邦苏伦德拉那加区公立学校一名46岁的达利特教师接到了校长的通告批评,仅仅因为他从"预留"给三个高种姓老师的水罐里倒水喝。
Two weeks after the dalit teacher lodged an FIR ag inst the discrimination, he was transferred to another go nment school on Wednesday.
两周前,这位达利特教师就歧视问题向警方报案。周三,他被调到了另一所公立学校。
In his FIR filed at the Chotila police station on August 14, Kanhaiyl Baraiya, the dalit teacher working at Piyava Sarkari Prathmik Sh-2 in Surendranagar district, had accused the principal of caste discrimination, criminal intimidation and inciting hatred ag inst him.
8月14日,这位达利特老师巴莱亚在Chotila警察局报案,以种姓歧视、刑事恐吓和煽动仇恨指控校长。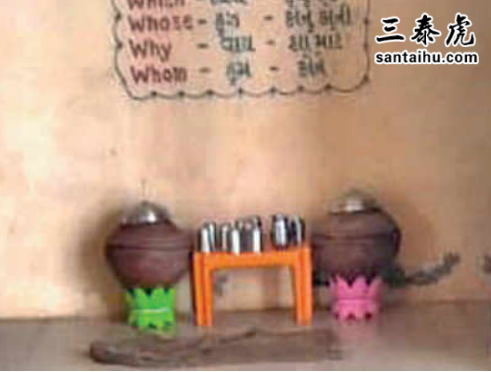 Baraiya alleged discrimination by the principal, Mansang Rathod, from the very day he assumed charge at the school two years ago. He said he chose to remain silent all this while in the interest of students.
巴莱亚称,从两年前校长曼桑·拉托德上任的那一天起,他就受到了歧视。他说,为了学生的利益,他选择在这段期间保持沉默。
"The school principal allotted two pitchers — one for me as I belong to the Valmiki community and one for the other three teachers, who hail from Koli Patel and Darbar communities," Baraiya said in the FIR.
巴莱亚称:"校长分配了两个水壶,一个给我用,因为我属于瓦尔米基社区,另一个给其他三位老师用,他们来自科里·帕特尔和达尔巴社区。"
Teacher threatened for resisting diktat
这位老师因违反规定而受到威胁
Baraiya alleged that when Rathod came to know that he was drinking water from the other pitcher, he slapped a notice on him on July 3. "You are a teacher belonging to the Valmiki community. Do not drink water from the pitcher of 'savarna' (upper caste) teachers," the notice read.
巴莱亚称,当拉托德得知我从另一个水罐取水喝时,他在7月3日对我下了一份通知:"你是来自瓦尔米基社区的教师。不要从高种姓教师的水壶里取水喝。"
When Baraiya resisted the inhuman treatment, he was not only threatened by Rathod but the parents of students too threw a fit by forcing a shutdown of the school for a day on August 21. They insisted they did not want an "untouchable" to teach their wards. Baraiya alleged that the parents prested after some staff members told them that he was from the Valmiki community.
巴莱亚反抗这种不人道的待遇,他不仅受到拉托德的威胁,而且学生家长也大发雷霆,在8月21日强迫学校停课一天。他们坚称,他们不希望一个"贱民"来教他们的孩子。巴莱亚称,家长得知他来自瓦尔米基社区后,发起了抗议。
Baraiya, who has been a go nment teacher since 2002, alleged in the FIR that he was subjected to increased discrimination ever since he objected to the principal's direction to fraudulently mark attendance of his relative's child some weeks ago. He alleged that Rathod started abusing him with casteist remarks in front of teachers and students.
自2002年以来,巴莱亚一直是一名公立学校教师。他指控称,自从几周前他反对校长指示他谎报其亲戚家孩子的出勤率以来,他受到了越来越多的歧视。他声称拉托德开始在老师和学生面前用种姓歧视言语辱骂他。
印度时报读者的评论:
译文来源:三泰虎 http://www.santaihu.com/48342.html
外文:https://timesofindia.indiatimes.com
Reshmi Roy•2 hours ago
India is only for upper caste hindus i am wondering how much economic development they contribute
印度只属于高种姓印度教徒,我想知道高种姓对经济发展做出了多少贡献
Shilpa•2 hours ago
just shame on teachers...where we are
这样对老师,可耻
Sujeet•2 hours ago
if principal doesn't allow his dalit colleague to drink water from common pitcher. you can imagine , how sincerely and honestly these biased minds teaches poor dalit children. This is also a fact that in govt school 75% teachers belongs to upper caste and 95% students are dalits. Biased mind can't train dalit children honestly. For poor performance of dalit students these 75 % upper cast teacher's are responsible.
如果校长不允许达利特喝高种姓同事水壶里的水。你可以想象,这些带有偏见的思想对可怜的达利特儿童有多大的影响。在公立学校,75%的教师属于高种姓,95%的学生是达利特。老师带有偏见,怎么能教好达利特儿童。对于达利特学生的不良表现,这75%的高种姓教师应负主要责任。
Ronak Desai•3 hours ago
For getting jobs they them self will shout that they are from lower caste and for rest everything "we want equality" ..... He shouldnt even be there as a teacher... he got the job because of reservation and have taken away job from a derserving candidate!!!
为了找工作,他们会大喊自己来自低种姓。至于别的方面,他们会喊"我们想要平等"……他就不该在那儿当老师……他得到那份工作靠的是预留名额,抢走了能胜任这位工作的人的名额。
Dr Ajay Nihni•3 hours ago
If there is substance in the story strict n exemplary action should be taken ag inst the concerned.,This discrimination is unacceptable n praise be to the individual for rising up n raising the issue.
如果属实,就应该严惩相关人员。无法接受这种歧视行为。
Balbhadra Dhagat•Bhopal•3 hours ago
Cultivation of the Principal''s mind is overdue.
现在要想改变校长的观念已经来不及了
Mukesh•3 hours ago
Human is not proper name for such discriminators, Other name must be used for them.
这类歧视者不配做人。
Sanjay• Ronak Desai•2 hours ago
Retards like you are fit for jail.
像你这样的弱智适合坐牢。
Yogesh•3 hours ago
This news is all about the misuse of Dalit tag by an individual and blown out by the media.
这则新闻说的是,一个人滥用达利特标签,然后被媒体曝光
Truth• Rkrishnan Kinattukara•3 hours ago
not deserve to be human being.. how can you say that??
怎么能这么说,你不配做人
SK KT•3 hours ago
Put all discriminating villagers, principal, and students behind bars.
把歧视这位老师的村民、校长和学生关进监狱。
Rkrishnan•3 hours ago
Even I like to use my own water bottle.
我只用自己的水壶喝水。
Shabir•3 hours ago
my dear friend...this is one of the reasons why we are still having a tag of develo nation......there is always a discrimination in the name of cast,re gion and......,we can always make our side positive and pray for rest to get wisdom.......,jai hind.....
总是以宗教、种姓的名义歧视他人。这就是我们仍甩不掉发展家标签的原因。
Sameer•Pune•3 hours ago
The BJP will say so what it happened even during Congress time no????
人民党会说,那又怎样?即使在国大党执政期间也发生过这种事
Jawahar Thadhani•4 hours ago
Modis gujerat has the worst record for practising untouchability and crimes ag inst dalits.,BJP and Modi are totally ag inst dalits and minorities.This is widely known
莫迪最歧视贱民,最会煽动针对达利特的犯罪。印度人民党和莫迪完全反对达利特和族裔,这是众所周知的。
Work is Worship•4 hours ago
Can WE ALL PLEDGE that GOING FORWARD WE WILL NOT DISCRIMINATE LIKE THIS. This is VERY COMMON with domestic help/ rickshaw pullers/drivers, etc. We treat them as inferior beings.
我们都把他们当作下等人对待。我们能保证今后不再歧视达利特吗?
Work is Worship•4 hours ago
RIDICULOUS. UNJUSTIFIED. INHUMAN.
荒谬、不公平、不人道。
Mukesh• Vilas Zure•3 hours ago
Duffer reservation is entered because of such discrimination..
正因为歧视才会有预留制
Sunil Nair•4 hours ago
IT''S ALL BECAUSE OF RSIS, BHRAHMANISM CULT & OCCULT, MODDI AND AMEET SHAAH ALL THIS COMMUNAL PEOPLE DIVIDED IINDIA ALONG THE CASTE LINES.....SPREADING VENOMS, HATREDISM AND ENEMITY AMOONG EACH OTHER........NOW ALL WILL SUFFER BY "DIVIDE AND RULE" TECHNIQUES OF THIS BJIP.....VERY GOOD
这都是莫迪、阿米特这些人按照种姓划分印度人,传播仇恨、让大家互相攻击。现在所有人都因人民党的"分而治之"策略受苦。
Sandeep Mandal•Mumbai•4 hours ago •Follow
A village has decided not to sell houses to dalits and mus ms in model state Gujarat(where else)
古吉拉特邦的一个模范村已经决定村里的房子不卖给达利特。