42 years in making, Jharkhand canal col pses 24 hours after opening
贾坎德邦一大坝历时42年建成,启用24小时后坍塌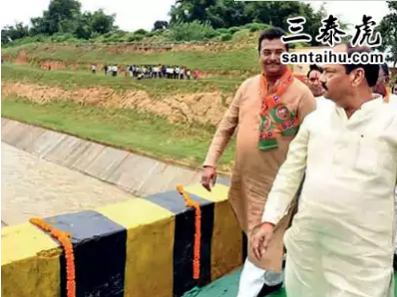 HAZARIBAG/RANCHI: A canal that was first conceptualised 42 years ago and whose cost escted from a mere Rs 12 crore to Rs 2,176 crore in the decades that went by col psed just 24 hours after it was inaugurated with great fanfare in Hazaribag by Jharkhand chief minister Raghubar Das on Wednesday.
哈扎里巴格/兰契:该大坝于42年前开建,在过去几十年里,其造价从区区1.2亿卢比升至217.6亿卢比。周三,贾坎德邦首席部长拉古巴尔·达斯在哈扎里巴格大张旗鼓地为该大坝的揭幕发表讲话,但开闸24小时后就坍塌了。
The breach in the canal, part of the Konar River Irrigation Project in Hazaribag's Bishnugarh, flooded agricultural fields across 35 villages in Bagodar block of neighbouring Giridih district.
该大坝是哈扎里巴格比什努加尔地区科纳尔河灌溉工程的一部分,决口后淹没了邻近吉里迪区巴戈达尔地区35个村庄的农田。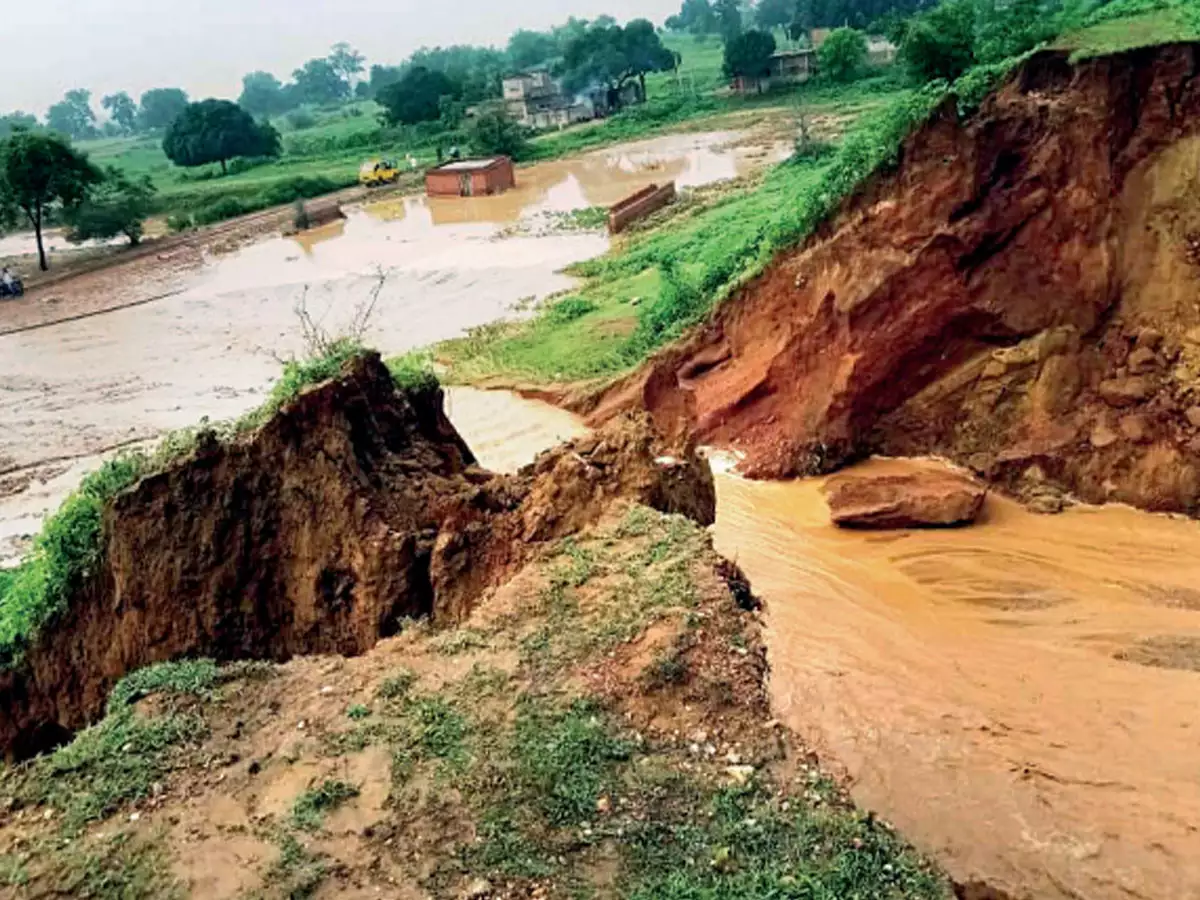 Authorities in the state irrigation department put the blame for the mishap on several rat holes that were yet to be cemented. The go nment has set up a three-member panel to probe the in dent and submit a report within 24 hours. Bagodar's BJP MLA Nagendra Mahto has demanded compensation for the affected farmers and an inquiry into the matter. Sources told TOI that the first breach had occurred at 8.30 pm on Wednesday, barely 10 hours after the canal was green-flagged.
灌溉部门将此次事故归咎于几个尚未堵住的老鼠洞。政府已经成立了一个三人小组来调查这起事件,并要求在24小时内提交报告。巴戈达尔人民党主席纳吉德拉·马托要求对受影响的农民进行赔偿,并对此事进行调查。消息人士告诉《印度时报》,第一次泄漏发生在周三晚上8点30分,当时大坝刚刚开闸10个小时。
Opposition parties were quick to criticise the administration. Congress's Alok Dubey said, "The BJP go nment takes credit for other's work or inaugurates half-baked projects like Konar."
反对党迅速对政府提出批评。国大党议员阿洛克·杜贝称:"人民党政府只会抢别人的功劳,或者为还没完成的项目揭幕,比如科纳尔大坝。"
'Rat holes caused seepage in canal, led to its col pse'
"老鼠洞导致渗漏、坍塌"
JMM central general secretary Supriyo Bhattacharya said, "The go nment patted its own back by operationalising a project that was stalled for 42 years. They cmed the whole project will cost Rs 2,200 crore. The project was washed away in less than 22 hours."
JMM中央秘书长Supriyo Bhattacharya表示:" 政府让一个搁置了42年的项目投入运营,声称整个项目耗资220亿卢比,不到22小时就被冲垮了,这是打自己的脸。"
印度时报读者的评论:
译文来源:三泰虎 http://www.santaihu.com/48340.html 译者:Jessica.Wu
外文:https://timesofindia.indiatimes.com
Down To Earth•Sharjah•2 hours ago •Follow
The leaders and engineers who presided over this tsha should be caught and locked up for the rest of their lives
应该把负责人和工程师抓起来,终身监禁。
Narasimha Murthy•Sydney, Australia•2 hours ago
Before you comment, when was this project started
这个项目是什么时候开始的?
Ozind•Unknown•2 hours ago
Wasnt Jharkhand part of Bihar paidaishy chor every one .
贾坎德邦曾是比哈尔邦的一部分
Sambappa Kalv•2 hours ago
My God! Have they built a canal or just made a soak pit?
天啊!他们是建大坝,还是随便刨了个坑?
Gaana User•2 hours ago
The whole department responsible for implimenting the project must be sacked to set an example. No idea catching contractors and blaming them. No contractor can do anything without involvemnt of govt offi als
负责该项目的部门必须全体解雇,以身作则。不能只抓承包商,不能把责任全推给他们。承包商做的任何事都少不了印度官员的参与
Bob•2 hours ago
Modi DRAMA is ON. PLEASE enjoy.
莫迪的闹剧正在上演,请欣赏。
Samuel Thomas•2 hours ago
Tiware dam breached because of crabs in Maharashtra. Now Jharkhand canal col pses and conveniently rats are blamed. Statue of unity gallery roof was all leaking and they said it''s designed for people to enjoy nature. Economy is on the verge of col pse and will mosquitos get the blame.
马哈拉施特拉邦螃蟹泛滥,造成蒂威尔大坝决堤。现在贾坎德邦的大坝崩溃,老鼠成了罪魁祸首。团结雕像顶部漏水,他们说这是为人们享受大自然而设计的。印度经济正处于崩溃的边缘,难道要怪蚊子吗?
Chandanwood•BharatMata•2 hours ago
I suspect some miscreants mostly from opposition behind this conspiracy
我怀疑这一阴谋的幕后黑手是反对党
kundal ini•2 hours ago
Who are the rats? Who is chief rat? Is it chief Minister?
老鼠指的是谁?谁是老鼠头领?是首席部长吗?
Shersha Souri•3 hours ago
hahahahaha.... ram rajya bridge 2200 crpres and 42 yrs ... col pse because of rat holes .. wow .. bjp is awesome.
耗资220亿卢比,历时42年,就因为老鼠洞塌了。人民党太牛了!
Priti•3 hours ago
Committee's and enquiries to probe the col pse.......hahaha every one is aware of the outcome of such probes and all of us know why it happened. Instead of forming committees to conduct enquiries into the matter I would suggest to ask the reasons from the common people they have the answer. We the people of Jharkhand feel ashamed of calling our self as inhabitants of Jharkhand. To tell the truth, we were far far better off during undivided Bihar.
与其成立委员会对此事进行调查,我建议向普通老百姓询问原因,他们知道真正的原因。我们贾坎德邦人为自己是贾坎德邦人而感到丢脸。说实话,在从比哈尔邦分裂出来之前,我们的日子好过得多。
Gautam Goswami•Location•3 hours ago
utterly shameful
太丢人了
Toti•3 hours ago
Wow it actually lasted 24 hrs post inauguration. Good job.
哇,不错,居然扛了24小时。
Ashutosh•3 hours ago
Poor Engineering and Cor ion are the reason. culprots should be held accountable and punished. all old Constructions from Lalu, Congress raj should be checked before opening.
腐败、设计不过关是决堤的原因。应该被追究责任,有罪之人应受到惩罚。所有国大党时期的旧建筑都应该在启用前进行检查。
Ritchie•NYC•3 hours ago
Made in india
"印度制造"
M.S. Gupta•3 hours ago
Well done corrupt state go nment and corrupt CM. Will PM Modi sack this corrupt go nment?
邦政府腐败,首席部长腐败。莫迪总理会解散这个腐败的邦政府吗?
Ashutosh• M.S. Gupta•3 hours ago
Did you read 42 years in making part? 42 year ago Jharkhand was Not even a state.
你看清楚了吗,42年前开始建的。而42年前,贾坎德邦甚至还不是一个邦。
Sachin Agarwal•3 hours ago
Govt and it''s concerned departments should rectify the mistake as soon as possible.
政府和有关部门应该尽快补救。
Joe•3 hours ago
Fake news or distorted reporting.,No other reputable media reports on this in dent.
假新闻、歪曲报道。其他知名媒体都没有报道此事。