75 new govt medical colleges to be set up by 2021-22
到2021-22年,印度将新建75所公立医学院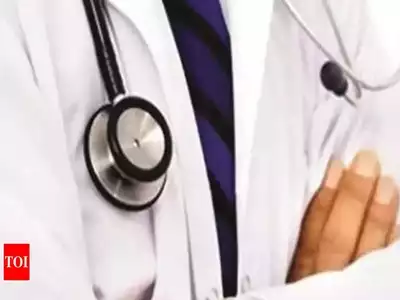 NEW DELHI: In a move to ramp of medical infrastructure and resources in the country, the Cabinet committee on economic affairs on Wednesday approved setting up of 75 go nment medical colleges attached with esting district or referral hospitals by 2021-22.
新德里:为了增加印度的医疗基础设施和资源,周三内阁经济事务委员会批准,到2021-22年,新建75所公立医学院,附属现有区级医院或转诊医院。
The establishment of new medical colleges, under the third phase of an ongoing centrally sponsored scheme, is expected to add at least 15,700 MBBS seats in the country leading to an increase in the availability of doctors, improved tertiary care in go nment hospitals, and better utilisation of esting health infrastructure of district hospitals.
新医学院在中央资助计划第三阶段下建立,预计将在全国增加至少15700个内外全科医学士(MBBS)席位,从而增加医生数量,改善政府医院的三级护理,并更好地利用地区医院现有的卫生基础设施。
The new medical colleges would be set up in under-served areas having no medical colleges, with district hospitals having at least 200 beds, a go nment statement said.
"The Cabinet also sanctioned an expenditure of Rs 24,375 crore during the 15lh Finance Commission period, i.e. up to 2021-22," it added.
政府声明称,将在没有医学院且医疗服务不足的地区新建医学院,以及至少配200张床位的区级医院。内阁还批准了2437.5亿卢比开支。"
印度时报读者的评论:
译文来源:三泰虎 http://www.santaihu.com/48330.html 译者:Jessica.Wu
外文:https://timesofindia.indiatimes.com
nanksnPlanet earth9 hours ago
Let them improve the standard of education first instead of increasing the number of colleges..
与其增加医学院的数量,还不如先提高教学水平。
Ajay Singhaust10 hours ago
I would suggest there shoulkd be no reservation for any particulas community if you want quality and no buying under tables
我建议,如果想要提高教育质量,就不要给某些社区预留录取名额
farook jahoorUSA9 hours ago
It is important that the go nment ensure that graduates repay the tax payers by spending at least 5 years serving the people of India instead of hop on a plane to serve a foreign country the day after graduation.
重要的是,印度政府应规定,大学生毕业后应先在国内工作5年,以此报答纳税人,而不是毕业后的第二天就坐飞机去国外上班。
Ashley King6 hours ago
Focus on quality of public health department, not producing incompetent doctors.
要注重医学院的教学质量,别培养不称职的医生。
Russell Ian DuarteMargao4 hours ago
This must be a joke.One cannot imagine how 75 Colleges can be built in 2-3 years.And if yes the 5 years later 15,000 doctors will emerge eating into public money as till date let the govt publish which and how many doctors pay Income tax, and once they graduate how many find jobs back home and why they leave for greener pastures
这一定是开玩笑。无法想象,如何在2-3年内建成75所大学,怎么可能。如果真的能,5年后将会新增15000名医生。政府公布一下哪些医生缴了税,有多少医生需要缴税?他们毕业后,有多少会在国内找工作?为什么他们要出国工作?
Sambappa Kalv7 hours ago
What is the use. 50 percent of medical graduates are not fit to become even nurses
有什么用?50%的医学毕业生甚至连当护士的资格都不具备。
Mahendra8 hours ago
If there are sufficient number of allopathic medical graduates they will have no alternative but to go and work even in rural areas. Secondly have a resolution passed by the Go nment that there are no reservations since the health of an individual is involved. If these two aspects are fulfilled than " health is wealth " will also be of the nation.
如果医学毕业生足够多,就派去农村工作。其次,给病人看病是人命关天的事情,政府应通过一项决议,确保医生没有预留录取名额。如果这两个方面都做到了,那国民健康就有保证了。
Sanmesh pvadodara8 hours ago
Only rich & Influential will become Doctors then don't expect service & Humanity
只有有钱或有背景的人才会当上医生,不要指望人性化医疗服务。
Mimiosa Mimi9 hours ago
First improve the standard of esting medical colleges
先提高现有医学院校的办学水平吧
patel Sunny7 hours ago
More Colleges means more reservations...
更多的大学意味着更多的预留名额……
patel Sunny7 hours ago
Can we expect quality doctors in future ?
我们能期待未来有高素质的医生吗?
nrvtimes7 hours ago
This go nment is working very responsibly
这届印度政府非常负责
Savitha KL•Bangalore•2 hours ago
The best medical college in a state like karnataka is supposed to be BMCRI in bengaluru, infrastructure is so pathetic that there is nothing to talk about. Non estant hostel as male hostel accomodates 11-12 boys, no canteen, 1 playing ground on which every game on earth is played etc. Why our wonderful govt is not bothered on improving infrastructure here, last year DKS increased fees from 17K to 75 K but no commisurate improvement in any facility to students.
在卡纳塔克邦,最好的医学院是班加罗尔的BMCRI。但是设施太差了,一个男生宿舍住11-12人,没有食堂,只有1个操场。为什么政府不改善这里的基础设施,去年还把学费从17000提高到75000卢比,设施却没有任何改善。
kaykay kr•4 hours ago
Each state may have a "Children Hospital and Medical Research Center" which should be dedicated to the health issues facing children.
每个邦应设立一个"儿童医院和医学研究中心",专门研究儿童健康问题。
Ash D•4 hours ago
What will be their expertise be in, cow or humans?
他们的专长是什么,治牛还是治人?
Sumant Kant Sahai•Ahmedabad•5 hours ago
This is the first time ever that a go nment is taking Universal Health Care as its responsibility.You just cannot stop from admiring PM Modi and this go nment. Hats off to them.
这是有史以来政府首次重视全民医疗保健。钦佩莫迪总理和这届印度政府。向他们致敬。
subhankar dey•Unknown•5 hours ago
Its of no use if they just make buildings, it should have proper amenities also.
如果只是建学校,那是没有用的,设施应跟上。
subhankar dey•Unknown•5 hours ago
They should have proper infra and adequate teachers also.
基础设施应配齐,然后配备足够的教师。
Rahul Saha•Unknown•5 hours ago
in a country like india , we have only 15%-20% of dictors available from the international stadard. we need more and more medical colleges now.
在印度,只有15%-20%的医生符合国际标准。我们需要更多医学院。
Partha Banerjee•5 hours ago
Great decision taken by Modi govt. but the actual should be matched with the commitment what they are saying. Then only our country will be progressed, otherwise like in the past we will be far behind than other developed countries like , USA, Germany, Japan, etc..
莫迪政府做出了这一伟大决定,应该付诸实际行动,这样我们的国家才会进步,否则就像过去一样,我们还是远远落后于、美国、德国、日本等发达国家。
Rahul Gupta•Chandigarh•5 hours ago
It will not help. There are no teachers in the colleges and standard is below par, Fees is high.
没啥用。大学里没有老师,教学水平太差,收费又高。
Kaushik Mehta•ahmedabad•5 hours ago
Verybad situation when A Doctor become businessman and looting people and govt by Medicm. All doctors income to be made taxable as they are the main culprit
医生都变成商人了,只想赚钱,医生的收入应纳税。
a p joshi•5 hours ago
True its necessary to improve the standard as WHO reports says around 50% doctors are not worth. You can understand who these 50% will be. Remove reservation sy em in Medical
世卫组织报告称,印度约50%的医生不合格。这50%会是谁,你懂的。取消医疗系统的预留名额吧。
Joy•5 hours ago
it will be better when they concerntrate on quality study
还不如先努力提高教学质量
Ajit Leo•India•5 hours ago
A good gesture from the Central go nment. The criteria for admission and sion should be on merit basis not on money and caste. The rich can get admission anywhere in India but the middle class can''t afford.
做得好。录取标准应该以成绩为依据,而不是金钱和种姓。富人想去哪里上学都可以,但中产阶级负担不起。
Deshpande•6 hours ago
Nationalise Medical education, we need,to improve health care in rural India. 75,new medical colleges to be set up in,reme rural areas. rising costs in medical expenses is everybody's concern, It's beyond reach of common man.
要将医学教育国有化,改善印度农村地区的医疗水平。医疗费用上涨是每个人都关心的问题,普通人无法承受。
Mohanraj•6 hours ago
Also improve standard of teaching. Fix actual cost as fees and make banks finance educational loans to needy students.
提高教学水平,降低学费,让银行为贫困生提供助学贷款