India's fiscal scene never better in 300 years, gives hope of poverty elimination: Murthy
穆尔蒂:印度的财政状况是300年来最好的,给消除贫困带来了希望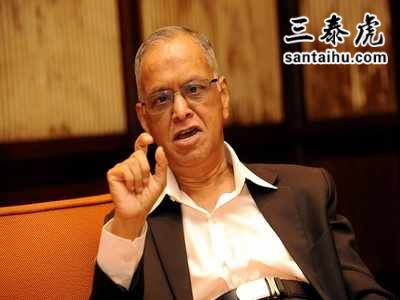 GORAKHPUR: Infosys co-founder N R Narayana Murthy on Thursday said India has for the first time in 300 years an economic environment that breeds confidence and optimism that its poverty can be eliminated.
戈勒克布尔:星期四,印孚瑟斯联合创始人纳拉亚纳·穆尔蒂称,300年来印度首次拥有了一种孕育信心和乐观情绪的经济环境,给消除贫困带来了希望。
"For the first time in 300 years, we have an economic environment that engenders confidence that we can indeed overcome our poverty and create a better future for every Indian," said Murthy, addressing the fourth convocation function of the Madan Mohan Mviya University of Technology (MMMUT) here at Gorakhpur.
穆尔蒂在玛丹·莫汉·马拉维亚理工大学(MMMUT)第四届大会上表示:"300年来,我们的经济环境第一次让人们相信,我们确实能够消除贫困,为每一个印度人创造更美好的未来。"
"If we try hard, we can wipe the tears off the eyes of the poorest of the poor child, as Mahatma Gandhi wanted," said Murthy, addressing the gathering that comprised Uttar Pradesh Governor Anandiben Patel, Chief Minister Yogi Adityanath besides MMMUT Vice Chancellor Sri Niwas Singh, dozens of university professors and hundreds of students.
穆尔蒂在会上发表演讲,称:"如果我们努力,我们就能像圣雄甘地所希望的那样,为最贫穷的孩子擦去他们眼中的泪水。"出席此次会议的有北方邦邦长帕特尔、首席部长约吉·阿迪亚纳特,以及MMMUT副校长辛格、几十名大学教授和数百名学生。
"It is easy to drape ourselves in our national flag and shout 'Mera Bharat Mahaan' and 'Jai Ho', but it is difficult to practice the values. Patriotism means what will bring the best out of every citizen," said Murthy, expning the true meaning of patriotism.
在解释爱国主义的真正含义时,穆尔蒂表示:"我们身披国旗高呼"印度必胜"是很容易的,却很难践行这些价值观。爱国主义能让每个公民发挥出最大的潜能。"
Murthy said patriotism implies working for the country, putting its interests ahead of one's personal interests.
穆尔蒂称,爱国主义意味着为国家工作,把国家利益置于个人利益之上。
"We have to put the interest of our nation ahead of our personal interests, avoiding our egos and biases," he said.
Patriotism also means working with a zeal for the betterment of the society, he said.
他说:"我们必须把国家利益置于个人利益之上,不能自负,不能抱有偏见。爱国主义还意味着怀着改善社会的热情工作。"
Patriotism also means working with a zeal for the betterment of the society, he said.
"We have to constantly compare ourselves with countries better than us and learn from them. We have to shun apathy and become proactive in solving the problems of our society rather than expecting others to do it," he said.
"我们务必不断地将自己与更发达的国家进行比较,并向他们学。我们不应冷漠,要积极主动地解决社会问题,而不是期待别人去做。"
Describing the present state of economy, Narayana Murthy said, "Our economy is growing at 6 to 7 per cent this year. India has become the software development centre of the world. Our foreign exchange reserve has crossed 400 billion dollar. Investor confidence is at a historic high."
谈及目前的经济状况时,穆尔蒂说:"印度经济今年增长了6%到7%。印度已经成为世界软件开发中心。我们的外汇储备已经超过4000亿美元。投资者信心正处于历史高点。"
印度时报读者的评论:
译文来源:三泰虎 http://www.santaihu.com/48300.html 译者:Jessica.Wu
外文:https://timesofindia.indiatimes.com
ijayant 1404 Vijayant -India-1 day ago -Follow
HAHAHAHAHHAHAHAHA...all the pididogs and muslibhadwas gwaaaaand will be on fire with this statement
哈哈,你这样说,有人会火冒三丈的
Logic8018 Logic-1 day ago -Follow
he is the man of vision
他是个有远见的人
ASHOK KUMAR HANUMANTRAO775 ASHOK KUMAR HANUMANTRAO-1 day ago -Follow
To make India really great , 10 trillion Economy , povert free nation , India requires 1000 more dynamic entrepreneurs like Narayan Murthy and Dhirubhai Ambani.
为了让印度成为10万亿美元规模的经济体,印度还需要1000多个有能力的企业家,比如像穆尔蒂和老安巴尼这样的。
Scaria Varghese831 Scaria Varghese-1 day ago -Follow
Infosys co-fonder Murthy who is a wealthy man, lives in Ivory Tower, he has no idea what is spouting of. The once fastest growing Indian economy is in tatters and is like a sick old man in life support to keep alive, widespread unemployment, the poor are getting poorer and the rich is getting richer. May Heaven help India!
印孚瑟斯联合创始人穆尔蒂是个有钱人,住在象牙塔里,他不知道自己在说些什么。曾经增长最快的印度经济现在已经支离破碎,就像一个靠生命补给维持生命的病弱老人,到处都是失业者,穷人越来越穷,富人越来越富。愿神拯救印度!
Jaya Banerjee100 Jaya-1 day ago -Follow
do not try to befool us, Murthy Ji, just to gain some profit from this worthless Modi Gt.
别想忽悠我们,穆尔蒂,你只是为了从莫迪政府捞到一些好处。
Rajiv Mukundan5765 Rajiv-1 day ago -Follow
I cannot understand what murthy is saying. At present we are facing worst recession comparing last 3 decades. unemployment , middle class cannot repay any loans, buying power of the people is gone bad to worst. if middle class condition in doldrums what about the poor people"s condition.
不懂穆尔蒂在说什么。目前,我们正面临过去30年来最严重的经济衰退。失业率达到最高水平,中产阶级偿还不起贷款,人民的购买力不断降低。中产阶级都捉襟见肘了,那穷人的生活状况又如何呢?
Kiranbbhatia Bhatia87 Kiranbbhatia -1 day ago -Follow
Sir Economy is in the worst, ever seen before, reforms are good but implimentation is worst
先生,印度目前的经济状况是有史以来最糟糕的,改革是好事,但执行不到位
Makdxb16864 Makdxb-INDIA-1 day ago -Follow
That''s something good to hear Narayan Murthy. Anyway US already declared as a developed country and Modi is confidence bring the country in a solid position
听到穆尔蒂这么说真是太好了。不管怎么说,美国已经宣布印度是发达国家了,莫迪有信心让印度坐稳这个位置
Indian4467 Indian-1 day ago -Follow
Dont wipe away the middleclass in the name of wi poverty in India.
不要以消除贫困的名义消中产阶级。
Shakcrazy12272 Shakcrazy1-1 day ago -Follow
sir u ever build world class cancer hospital for for service to poor.
先生,您见过专为穷人服务的世界一流的癌症医院吗?
Arya Sreejesh1371 Arya-1 day ago -Follow
this country is heading to a huge economic slow down...
这个国家的经济正大幅放缓。
aki Banerjee4554 aki-NYC-1 day ago -Follow
Not so long ago he made a statement that he was very worried with what was going on. I just wonder why this sudden change??
就在不久前,他发表了一份声明,表示对现状感到担忧。为什么他突然就改变观点了??
Bronz Body2672 Bronz Body-kanpur-1 day ago -Follow
That also means Infosys going to get huge gt business. That is how smart entrepreneurs get the max juice out of any situation.
这意味着印孚瑟斯将获得大额政府订单。聪明的企业家在任何情况下都能获得最大的利益。
Naval11371 Naval-1 day ago -Follow
Thought Murthy is a wise man, not to be. whatever he talked about poverty elimination is lie, poor Indians pawning family gold amid credit crunch now more then ever. Income inequality getting worse, currently India''''s richest 1 percent bag 73 percent of the country''''s wealth.
虽然穆尔西是个聪明人,但所说的消除贫困都是谎言,贫穷的印度人在信贷危机中典当黄金的情况比以往任何时候都要多。收入不平等越来越严重,目前印度最1%的富人手握全国73%的财富。
Melania Morph1251 Melania Morph-1 day ago -Follow
Hey Murty keep quiet ... You do not know economics . Economics is not the products of your moron software development company....
嘿,穆尔蒂,闭嘴吧……你不懂经济学。经济学不是你们软件开发公司擅长的…
Ru Acharya1205 Ru Acharya-location-1 day ago -Follow
Not sure what numbers he is looking at. Growth rate is down. Car sales are down. India went from fifth largest to seventh largest economy. Not only that the entire GDP of India is lower than California, which is just one of the 50 states of US with a population of less than 4 crores. Perhaps he is talking about his own economic situation. The numbers certainly dont justify this exhuberance. Also, what is the relevance of 300 years? Why not 500? or 1000? Much as we would all like India''s economy ... Read More
不知道他看的是什么数据。经济增长率下降了,汽车销量下降了。印度从第五大经济体沦为第七大经济体。印度的GDP低于加州,而加州只是美国一个人口不足4000万的州。也许他谈论的是自己的经济状况。。此外,为什么说是300年以来?为什么不是500年 ?或者1000年?
Adam Juan1172 Adam-1 day ago -Follow
misleading baseless news
毫无根据,有误导性
B Srinivasan14073 B Srinivasan-saginaw USA-1 day ago -Follow
INDIA is waking up to both internal&external impediments to the progress of INDIA.
印度正在觉醒,意识到了印度前进过程中的内外障碍。
Arun Pasrija1518 Arun Pasrija-1 day ago -Follow
Congress will call it paid propaganda.
国大党会说他是收钱了才这么说
Hiren Mniya689 Hiren Mniya-1 day ago -Follow
At the time of global slowdown....all Indian should work with positive attitude.....Indians should help poor people in their respective area to bring hope and positivity in their life.... Be the change....Jai Hind!!
在全球经济放缓之际,所有印度人都应该积极工作……帮助所在地区的穷人,给他们的生活带来希望。印度必胜! !
Robie Shoby2400 Robie Shoby-1 day ago -Follow
India as a nation has become independent only in 1947. 300 years fiscal scene is simply preposterous.The latter part of the is extremely paradocal to the former part!
印度直到1947年才独立,说300年来,真是荒谬可笑。演讲的后半部分与前半部分极为矛盾!
Chru Lal Agrawal570 Chru Lal Agrawal-BHUBANESWAR-1 day ago -Follow
I am optimistic of the economy
我对印度经济持乐观态度
Chru Lal Agrawal570 Chru Lal Agrawal-BHUBANESWAR-1 day ago -Follow
In last 5 years of NDA gt rural economy improved.Lakhs of toilets are built,Lakhs of houses are built.Consumption of building materials rose.Sales and Production Cement steel is improving.
在过去5年里,人民党政府改善了农村经济。建造了无数的厕所,无数的房屋。建筑材料消费增加,水泥钢的销售和生产增加了。
Lasomani11511 lasomani -Location-1 day ago -Follow
Was there an India 300 years ago which needed laying down of Fiscal Policies? This cm is as believable as the cm which Modi made two years ago that for 6,000 out of its last 8,000 years, World derived the Lion's share of its Wealth from India and .
300年前的印度需要制定财政政策吗?这和莫迪两年前说的一句话一样可信:在过去8000年里,有6000年,世界上的大部分财富来自印度和。
Sunder Kalpathi2609 Sunder-1 day ago -Follow
All indians have such wishful thinking like respected Mr Murthy.
所有印度人都有向穆尔蒂这种一厢情愿的想法