TCS surpasses Reliance to recm most-valued firm status
塔塔咨询超越信实,重夺印度市值最高企业宝座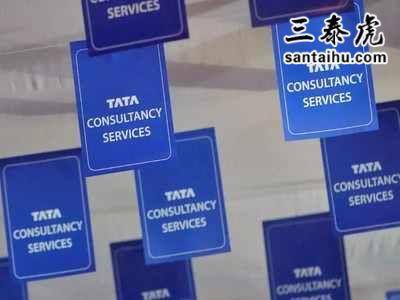 NEW DELHI: Tata Consultancy Services (TCS) on Tuesday recmed the status as the country's most-valued company by market valuation replacing Reliance Industries Ltd (RIL).
新德里:星期二,塔塔咨询服务公司(TCS)取代信实工业公司,重夺印度市值最高企业宝座。
Reliance Industries Ltd had on Monday raced past TCS to become the country's most-valued firm by market valuation.
星期一,信实工业曾超过塔塔咨询,成为印度市值最高的公司。
At the end of trade on Tuesday, the market capitalisation (m-cap) of TCS was at Rs 8,20,702.82 crore, which is Rs 11,835.13 crore more than that of RIL's Rs 8,08,867.69 crore.
但星期二收盘时,塔塔咨询的市值为82070.282亿卢比,比信实的80886.769亿卢比高出1183.513亿卢比。
Shares of TCS rose 1.09 per cent to close at Rs 2,187.15 apiece on the BSE, while those of RIL fell 1.25 per cent to Rs 1,276.
孟买证券交易所塔塔咨询股价上涨1.09%,收于每股2187.15卢比,而信实工业下跌1.25%,收于1276卢比。
RIL and TCS have in the past also competed with each other for the number one position in terms of m-cap.
信实工业和塔塔咨询在过去也曾竞争过市值冠军宝座。
In the ranking of top domestic firms by m-cap, TCS was at number one position followed by RIL, HDFC Bank with a valuation of Rs 6,07,554.81 crore, HUL (Rs 3,98,550.69 crore) and HDFC (Rs 3,60,752.21 crore).
根据市值对印度国内顶级企业的排名,塔塔咨询排名第一,其次是信实工业、HDFC银行(估值为60755.481亿卢比)、HUL(39855.069亿卢比)和HDFC(36075.221亿卢比)。
The m-cap figure of companies changes daily with stock price movement.
公司市值每天都随着股价的变动而变化。
印度时报读者的评论:
译文来源:三泰虎 http://www.santaihu.com/48283.html 译者:Jessica.Wu
外文:https://timesofindia.indiatimes.com
Mehta Parag•4 hours ago •Follow
Sometime TCS and somtimes RIL be on top. Both are good companies.
这两家公司都是优秀公司。有时塔塔咨询第一,有时信实工业第一
Anoop T Raju•cochin•14 hours ago
Tatas are always ethical
塔塔一直是业界良心
Stephen• Anoop T Raju•14 hours ago
And employee centric. Welfare of society in general & employees in particular are of paramount importance.
以员工为中心,特别重视员工福利,关注社会福利。
true•15 hours ago
TCS Most valuable firm just by numbers not by value of its employees, very minimal hikes etc...Non employee friendly....
塔塔咨询是市值最高的印度公司,但并不是最重视员工的,对员工并不好,工资涨幅是最低的
Stephen• True Indian•14 hours ago
A most respected company. Sry hikes given across the board irrespective of performance. The Variable Allowance depends on performance of the individual. If one wants a good compensation package, one has to slog for it - particularly in the present situation of job losses / retrenchment. Besides it's a very employee friendly - takes care of employees even after retirement..!!
塔塔咨询是最受尊敬的公司。不论员工工作表现如何,一律给予加薪。津贴取决于个人的表现。如果一个人想要高薪,他就必须为之奋斗——尤其是在目前裁员的情况下。此外,塔塔对员工非常友好——即使退休后也会照顾员工!!
Ram Pyare•16 hours ago
50% of TCS H1 B visas got rejected
塔塔员工申请美国H1签证的时候,50%被拒签了
Stephen• Ram Pyare•14 hours ago
Wrong information. Plz verify the figures once again.
信息有误。请再次核实这些数据。
Pbch•16 hours ago
Good news
好消息啊
Sanskar Singhai
This is not new for TCS, since it started automation and robotics they are more and more project every day.
对塔塔咨询来说,这不是什么新鲜事。塔塔已经开启了自动化和机器人技术项目,新项目越来越多了
Stephen• Sanskar Singhai
True. Dynamic leadership team & committed employees. Kudos to the organisation.
没错,塔塔的领导团队充满活力,员工都很忠诚。向塔塔致敬。
chanakya•Mumbai
Reliance will ultimately win the race. Jio broadband will take the stock market by storm. Reliance will remain the no.1 company for a long time
信实将最终赢得这场竞赛。信实Jio将席卷股市。信实将在很长一段时间内保持第一的地位
true•17 hours ago
But both give pennies to its employees, what's the pride if you dont treat and pay employees well !!
两家公司给员工开的工资都不高,如果你不善待员工,不给开高薪,那又有什么好骄傲的呢!
Stephen• True Indian•14 hours ago
Am not competent to comment on Reliance but as an ex-TCSer (retired not retrenched) can proudly say that the employees (& their families) are well taken care of even after retirement. Tata Trust (applicable to TCS also) takes care of higher medical treatment (including overseas) & higher education.
我没有资格就信实发表评论,但作为一名塔塔咨询的前员工(退休而非裁员),我可以自豪地说,即使退休后,员工(及其家人)也得到了很好的照顾。塔塔信托为员工负担高级医疗(包括海外就医)和高等教育(塔塔咨询也是如此)。
Dilbag Rai•Chandigarh•17 hours ago
Congratulations to TCS to recm most valued firm status
祝贺塔塔咨询重获市值最高企业地位
ravi kumar•India•17 hours ago
Good to see both Indian companies competing for this position. Both have played important roles in India''s growth.
很高兴看到两家印度公司竞争这个位置。两家 公司都在印度的经济增长中发挥了重要作用。
Stephen• ravi kumar•14 hours ago
True.
没错
Kamil Tisekar•18 hours ago
Keep going TCS,U make India proud on Intl level.
再接再厉,塔塔,让印度在国际上感到骄傲。
visweswararao byreddi•18 hours ago
Reliance and tcs two eyes of Indian corporate
信实和塔塔是印度企业的标杆
chanchal rana•18 hours ago
tcs is the future giant and ril is saving the day withall the big bang investments in retail and tekecom sector and killing voda idea basnl airtel all at once
塔塔咨询是未来的巨头,而信实则通过在零售和电讯领域的大规模投资来挽救局面
Xyz•18 hours ago
While TCS is the pride of India, RIL is the fraud of India.
塔塔咨询是印度的骄傲,信实是印度的骗子。
Jskd•bsp•19 hours ago
TCS is a ''ratan'' of TATA and a gem of INDIA
塔塔咨询是印度的"瑰宝"
Scl•19 hours ago
India needs several more big firms like these.
印度需要更多像这样的大公司。
Godfather Senior•Mumbai•19 hours ago
TATA''s deserves this !! Best wishes for TCS.
实至名归!祝福塔塔咨询
Prabhanjan Singh•Delhi, India
TATA''s are the real entrepreneurs..Hats Off..
塔塔才是真正的企业,致敬……
Hindu yodha
ALL IT COMPANIES ARE EXPLOITING INDIAN BY MAKING THEM WORK FOR 12 TO 16 HOURS A DAY IN INDIA AS WELL AS USA. THESE COMPANIES ARE OWNED BY MOSTLY OR MANAGED BY SOUTH INDIANS. THEY FAVOUR SOUTH INDIAN (TAMIL TELUGU AND KANNADA). MOST ENGINEER SENT OUT OF INDIA ARE FROM THE SOUTH.
所有IT公司都在剥削印度人,印度人在国内和美国每天工作12-16个小时。这些公司大多由南印度人拥有或管理。他们偏爱南印度人(泰米尔人、泰卢固人和坎纳达人)。印度派遣出国的工程师大多来自南方。
Stephen• Hindu yodha
Finally someone agrees that South Indians are better employable..!! Plz ne that if it not for IT & ITES companies, India's GDP would be much lower & Foreign Exchange Earnings would be very pathetic. One has to be grateful to India's IT sector.
终于有人同意南印度人更称职了!!请注意,如果没有IT公司,印度的GDP将会低得多,外汇收入将会少得可怜。人们还真该感谢印度的IT行业。
Pk•19 hours ago
No competition to TCS.....Reliance is a money laundering company
信实和塔塔咨询没得比,信实是一家洗钱公司
Ruchir Goyal• Madan Mohan Siddhanthi•Delhi•18 hours ago
TCS, Infosys and Wipro are doing nothing but sl very of western world and earning money in return... Reliance and Adani are actually working for India and develo it...
塔塔咨询、印孚瑟斯和威普罗只是西方国家的,靠当赚钱……信实和阿达尼实际上在为印度工作,促进印度的发展……
Stephen• Madan Mohan Siddhanthi•14 hours ago
@Ruchir >> If it hadn't been for India's IT sector, India's GDP would be would be dismal & Foreign Exchange Earnings would be very pathetic..!! It is this sector that made India stand up in the crowd. - a leader in IT Hardware - is still envious of India's growth in the field of software.
如果没有印度IT公司,印度的GDP将会很惨淡,外汇收入会少得可怜!!
正是这个行业让印度在人群中脱颖而出。作为IT硬件领域的领导者,仍然嫉妒印度在软件领域的增长。