Day after boyfriend is accused of rape, young woman in Moradabad marries him
莫拉达巴德一名年轻女子在男友被控强奸后的第二天嫁给了他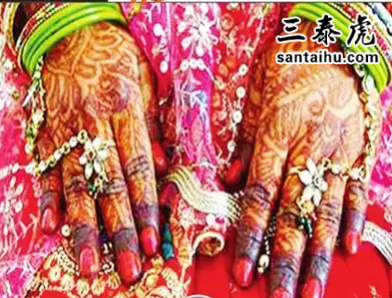 BAREILLY: In a bizarre turn of events, a young woman in Moradabad got married to her "boyfriend" on Thursday evening against whom the girl's father had lodged an FIR under section 376 (rape) of Indian Penal Code at Bhojpur police station on Wednesday.
巴雷利:上周三,莫拉达巴德一名年轻女子的父亲根据印度刑法第376条(强奸)向其"男友"提起诉讼。事情在第二天出现反转,周四晚上,这名年轻女子嫁给了其"男友"。
Police said that they were informed that the young pregnant woman had consumed poison following which they reached hospital to record her statement, but couldn't find her there.
警方称,他们被告知这名年轻的孕妇服用了毒药,随后他们赶到医院准备记录她的供词,但在医院没有找到她。
The police later found the woman at the accused man's house where she said that the FIR was registered by her father without her consent and now she had married her "boyfriend" and didn't want any action against him.
警方后来在被告的家中发现了这名女子,女子表示父亲未经她的同意就去立案,现在她已经嫁给了她的"男友",不想对他采取任何行动。
Station house officer of Bhojpur police station, inspector Pradeep Malik, said, "During investigation, we learnt that the case was lodged only to mount pressure upon the man and his family with whom the girl had been in a relationship. He was reluctant and did not want to marry her after she got pregnant. We have verified her credentials which show that she is now an adult. Moreover, the girl stated in her statement that she was in love with the man to whom she has married now and didn't want any action against her."
博伊普尔警察局的警官普拉迪普·马利克称:"在调查过程中,我们了解到,女方父亲报案只是为了向这名男子及其家人施压,这名女孩曾与他有过一段关系。但她怀孕后,男方却不想娶她。我们已核实了她的证件,证明她已成年。此外,女孩在声明中说,她已经爱上了她现在的丈夫,不想对他采取任何行动。"
SHO further said that since the matter had been registered, they would have to follow the due process to file a closer report. "Though the girl doesn't want any action against the accused man, she will be sent to a hospital for medical examination. The FIR was lodged by her father. The issue of consuming poison by the woman is also found to be false," he added.
警方表示,由于已经立案,他们将不得不按照相关程序提交一份更详细的报告。虽然女孩不想对被告采取任何行动,但她将被送往医院进行体检。案件是其父亲报的,这名女子服毒一事也是假的。
Notably, the woman had developed an intimate relationship with her neighbour around seven months ago and after she got conceived, she asked the boyfriend to marry her but he was reluctant. The girl's family, meanwhile, had learnt about her pregnancy after which they were unhappy with her.
值得注意的是,这名女子在大约七个月前与她的邻居处过一段时间。怀孕后,她向男友逼婚,但对方不愿意。与此同时,女孩的家人得知她怀孕后也对她表示不满。
印度时报读者的评论:
译文来源:三泰虎 http://www.santaihu.com/48261.html 译者:Jessica.Wu
外文:https://timesofindia.indiatimes.com
M1 days ago
Rapes is misused by woman in consensual sex...
i do not Endrose premarital sex firstly...
law should be made if rape is not proven...
who filled rape case should also be punished...
b if case is withdrawn...
这是两厢情愿,不是强奸…
我不赞成婚前性行为…
如果强奸不属实,原告也应该受到惩罚。
TheHeaven22 hours ago
This marriage will not last
这段婚姻不会长久
BoobyRight Here22 hours ago
The boy was reluctant because he was a muzzie. Stupid Hindu girls.
愚蠢的印度教女孩。男方不愿意是因为他是msl。
Bhishmak22 hours ago
mockery of law .....ashamed to be a citizen of such a system
我们的法律太可笑了,丢人啊
Mangal Nagar1 days ago
How easy to make false rape accusations after consensually spreading the legs and enjoying, just on a empty promise ?..without ever thinking of consequences, worst part is she''s seen as ''victim'' by society
双方自愿发生关系之后,怎么能告人家强奸呢?最糟糕的是,大家还把女方视为"受害者"
Shailesh ChavanPanaji Goa21 hours ago
Girls at younger age should be educated by parents as how boys trap a girl by sweet talks.
女儿还小的时候父母应该好好管教,告诉她们男孩会用甜言蜜语诱骗女孩。
Speaking honestly1 days ago
Parents opposing daughter''s relation with a man often are OK to seeing their daughter''s sexual life as rape rather than accepting it as mutual consent.
反对女儿与男人发生性关系的父母通常会把这看作是强奸。
Rajendra KumarDelhi/Dubai20 hours ago
But it is good for girls, enjoy and if possible suitable then marry, if refuse, file FIR of rape, it is fantastic, but there are poor girls also who falls in this trap and meet some dreaded type boyfriend who will threaten so much that girl will not file FIR but commit suicide. Better Lets follow American way of life.
这对女的来说是好事,享受过后,如果话合的话就结婚。如果拒绝,就告对方强奸。但也有可怜的女孩落入陷阱,遭到对方的威胁,这类女孩不会去报案。反而会自杀。我们还是遵循美国的生活方式吧。
Ramaswamichennai20 hours ago
parenting mistakes first then wasting time of police for their personal benefit!
是父母的错,为了个人利益浪费警察的时间!
DravidianToronto21 hours ago
north indian women are highly promiscuous
北印度女人非常淫乱
Satpal Gera22 hours ago
Now cops will try to make some money by stretching the case on pretext of procedure etc. couple is married now but father who filed case will hv to shell out bribe mo ey to satisfy cops greed else he will be threatened for imprisionment.
现在警方会试图通过拖延案子来讹钱,以走程序为借口。这对夫妇现在已经结婚了,但是提起诉讼的父亲需要贿赂警察,否则他将面临监禁威胁。
Devesh Dhulap22 hours ago
This look like movie story
这看起来像电影情节
Aditya SharmaSingapore, Singapore22 hours ago
Any penal action again girl's father of misusing law and imposing false accusition of such a severe crime???
Its fashion in India now, either charge such guys or keep seeing such incidents every other day
女孩父亲滥用法律,做了虚假指控,是否会受到处罚?如果不指控这种人,天天都会发生这种案子。
aaaa bbbb21 hours ago
This is blackmailing. I wonder how they will forget the past and start new future.
这是讹诈。我想知道这对夫妇怎么翻过这篇,开始新生活。
LalitMumbai21 hours ago
Girls father must be arrested for filing rape case without consent of daughter.
未经女儿同意就去报强奸案,务必逮捕女方父亲。
Navin Jain22 hours ago
Better criminalize sex outside marriage
最好将婚外性行为定为犯罪
Raj Vihol18 hours ago
How a consentious sex amount to rape? Even on few such word whole carrier and life of accused is ruined for ever. Shame on this system.
自愿发生关系,怎么能说告人家强奸?被指控者的事业和生活都会被毁掉
Sb 20 hours ago
Good naked law to blackmail .. shame on Indian law makers .. padose ka bacha boyfriend ke upar thopne ke liye .. India ke fake shameless judiciary
赤裸裸的利用法律敲诈对方…这是印度立法者的耻辱…
Vijay Jaingoa20 hours ago
the woman should be punished as per law of land who has manipulatted the facts to create terror and intimidation to the boy and his family.
根据法律,女方应受到惩罚,歪曲事实,恐吓男方及其家人。
pothezhath rajagopal gopalakrishan22 hours ago
What''s all happening in the world? Unbelievable.May be we soon expect a Hindi film based on this story.
这个世界怎么了?难以置信。也许我们很快就会看到一部根据这件事改编的北印度语电影。
Keysman K1 days ago
What a farce
一场闹剧
Kartic KrishnanKolkata4 hours ago
If the girl lied about self poisoning then the case is perhaps to be seen differently. Self poisoning doesn''t occur in such cases. Mostly the woman is satisfied if the man/men are punished
这个案子可能另有隐情了。大多数情况下,男方受到惩罚,女人才会满意
Bolan AierMumbai7 hours ago
Women now know how empowered they are. Men watch out.
现在女性知道她们有什么权利了,男人要小心。
Balbhadra DhagatBhopal17 hours ago
Pretty spicy, suspenceful & dramatic marriage!
非常刺激,充满悬念,戏剧性的婚姻!
EkdesiUSA20 hours ago
Jail the father for false complaint and wasting time of police. Misuse of laws should not be ignored.
父亲报假案、浪费警察时间应该关进监狱。这是滥用法律,不能放任不管。