Why India lags as a study destination
为什么印度在留学目的国排名上落于人后?
The finance minister's budget announcement — of a programme to attract foreign students to study in the higher education establishments here — highlights a problem plaguing India's most sought-after engineering and management institutes: getting overseas students to sign up for full-time courses.
The IITs and IIMs themselves admit that despite fierce competition among India's best & brightest to get admission at the institutes, foreign students matter. Diversity helps encourage better exchange of ideas, creative problem-solving, innovation and adaptability.
It is also linked to the larger government agenda to make India a hub of higher education, by bringing in more foreign students under the Study in India initiative.
And then, there's the international rankings game. If IITs and IIMs want to truly be a player in the global leagues, a good international ranking counts, and there, foreign students have a significant role to play.
The recent QS World University Rankings showed that Indian institutes have seen an average decline of 12 ranks. One of the factors responsible was poor international student ratios. Among the IITs, not a single one made it to the top 150.
"The major issue is selectivity. Their entry standards are so high that eligible international students are few, and of the calibre that will stand a chance or more to be accepted at MIT, Stanford, Caltech, etc.," says Ben Sowter, the research director at Quacquarelli Symonds.
Ellie Bothwell, the global rankings editor at Times Higher Education, says it's the perceived quality of the Indian higher education sector, including the quality of infrastructure, that is a major barrier.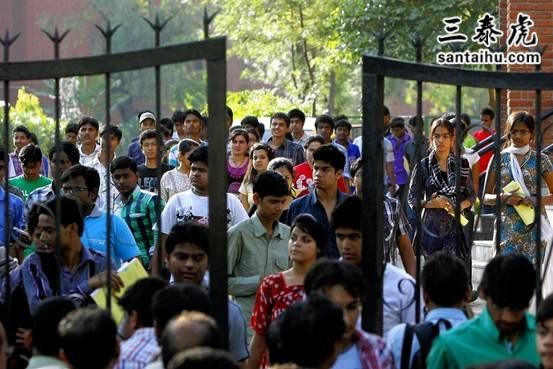 印度财政部长宣布了一项预算计划,旨在吸引外国留学生到印度高等教育机构学习。该计划突显出了困扰印度最受欢迎的工程和管理学院的一个问题:如何吸引海外学生报名入读印度大学的全日制课程。
印度理工学院和印度管理学院也承认,尽管印度最优秀和最聪明的学生在入学考试上竞争激烈,但外国学生也很重要。学生来源的多样性有助于促进更好地交流思想、创造性地解决问题、创新和适应能力。
这个预算计划还与政府更大的政策有关,即通过"来印度学习"吸引更多外国留学生,让印度逐渐成为高等教育中心。
接下来是国际排名的竞争。如果印度理工学院和印度管理学院想真正成为全球知名高校的一员,良好的国际排名很重要,而在这方面,外国留学生可以发挥重要作用。
最近QS世界大学排名显示,印度大学的排名平均下降了12位。其中一个原因就是国际学生比例偏低。印度工学院中,没有一所进入世界前150名。
"主要问题是甄选率。他们的入学标准过高,符合条件的国际学生寥寥无几,而且以这些学生的能力,也能被麻省理工学院、斯坦福大学、加州理工学院等院校录取,甚至更容易被录取。"Quacquarelli Symonds的研究主管本•索特表示。
《泰晤士报高等教育》全球排名编辑艾丽•博思韦尔表示,印度高等教育行业的质量,包括基础设施的质量,是一个主要障碍。
THE CHALLENGES
Doing two things could significantly improve the chances of attracting foreign students: big scholarships and a willingness to compromise on the GMAT cut-off, in case of the IIMs. But both those areas remain challenges.
The Graduate Management Admission Council, which owns the GMAT test, had launched its own Study in India initiative in 2017 to rebuild the country's attractiveness as a study destination for higher education. In the first year, it got 2,715 leads from 60-odd countries; in the second year, it was 4,429.
But barring Indian School of Business (ISB) and a few other private business schools that were aggressive in offering financial aid, there were hardly any applications that got converted.
India is looked upon as a cost-effective destination and not being too willing to give scholarships becomes an issue.
"A number of institutes hesitate to offer financial aid," says Gaurav Srivastava, the regional director for South Asia at GMAC.
Also, says Srivastava, for some of the top schools, the GMAT cut-off is sacrosanct: with expected scores of around 710. That would get them to top-ranked schools globally. "If a female student from Kenya gets 710, at least 6-7 leading US institutes will give her full waiver of tuition fees because you don't get too many candidates from the African subcontinent with that kind of GMAT cutoff. So why would she want to come to India then," he asks.
挑战
有两件事可以显著提高吸引外国留学生:高额奖学金和降低GMAT分数。但这两个因素仍然存在挑战。
主办GMAT考试的研究生入学管理委员会在2017年启动了自己的"印度留学计划",以重建印度作为高等教育学习目的国的吸引力。第一年,它从60多个国家录取了2715名学生;第二年,录取人数达到了4429名。
但除了印度商学院和其他几所积极提供财政支持的私立商学院外,几乎没有学生申请。
印度被视为一个性价比高的留学目的国,奖学金少就成了一个问题。
GMAC南亚地区主管高拉夫•斯里瓦斯塔瓦表示:"许多机构在提供财政支持方面犹豫不决。"
斯里瓦斯塔瓦还表示,对一些顶尖商学院来说,GMAT的分数线是神圣不可侵犯的:录取分数线在710分左右。这能让他们被全球顶级商学院录取。"如果一名肯尼亚女学生考出710分的成绩,至少有6-7所美国顶尖学府会为她提供全额学费减免,因为很少能有非洲次大陆的考生符合GMAT的标准。那么她为什么要选择印度呢?"他问道。
OTHER HURDLES
"Many foreign students are looking at migration post completion of a programme. They want examples of former students for guidance. Their admission decision is stalled because others have not chosen to apply and those others have not applied because there are no prior examples either," says Sanket Mohapatra, the faculty coordinate for student exchange programme at IIM-Ahmedabad.
Among Indian B-schools, ISB has arguably the highest success rate, having admitted 14 international students for its post graduate programme class of 2020. However, "India is still not seen by international applicants as a destination for management education," says dean Rajendra Srivastava.
IITs on their part are pushing to admit more international students and faculty. But the majority of foreign students coming in are for short stint via-exchange programmes.
In June, several IITs came together for the first PAN IIT Dean International Relations Conclave at IIT-Kharagpur to brainstorm on attracting and admitting more international students.
"We are visiting top universities of neighbouring countries such as Bangladesh, Sri Lanka, creating awareness and offering higher fellowship," says Bhim Singh, the deanacademics at IIT-Delhi.
IIT-Kharagpur is promoting funded programmes targeted at students in Saarc, African, Asean, East European and Latin American countries. "Students from first world countries have a preference for countries of similar socio-economic status," says Baidurya Bhattacharya, its dean of international relations.
"Another challenge is the availability of work permit in India for international students."
IIT-Bombay works with funding agencies such as ICCR, DAAD and Ethopian Embassy. "If we improve our academic reputations, do more high-quality research, have job placements of top quality in India and abroad, improve infrastructure, then international students will find our institutions attractive," says dean of international relations Swati Patankar.
This summer, IIT-Madras introduced a programme, Global Research Internships in Engineering, Sciences, Humanities and Management. "We have reached out to universities in South East Asia and other neighbouring countries to attract UG students to give them an experience of research here so they could be potential students in our PhD programme later," says dean of international and alumni relations Mahesh Panchagnula.
其他障碍
"许多外国学生会考虑完成学业后移民。他们需要以往学生的例子作为先导。他们的录取决定被搁置,因为没有其他人申请。"
在印度商学院中,ISB可以说是最成功率的了,其2020年的研究生课程中录取了14名国际学生。然而,印度商学院院长拉金德拉•斯里瓦斯塔瓦表示:"国际申请者并未将印度视为管理教育的求学目的国。"
印度工学院也努力招收更多的国际学生和教师。大多数外国学生参加的都是短期交流项目。
今年6月,几所印度理工学院共同参加了在印度特卡拉格布尔举行的首届潘印度理工学院院长国际关系秘密会议,讨论如何吸引和接纳更多的国际学生。
"我们正在访问孟加拉国、斯里兰卡等邻国的顶尖大学,以提高人们的认可度,并提供更高的奖学金,"印度理工学院德里分校的迪恩学者比姆•辛格表示。
印度理工学院正在推动面向南亚区域合作联盟、非洲、东盟、东欧和拉美国家学生的资助项目。该校国际关系学院院长巴塔查里亚表示:"来自第一世界国家的学生更喜欢社会经济地位相似的国家。"
"另一个挑战是国际学生能否在印度获得工作许可。"
印度孟买理工学院与印度文化关系委员会、德国学术交流中心和埃塞俄比亚大使馆等资助机构合作。国际关系学院院长斯瓦蒂•帕坦卡尔表示:"如果我们提高学术声誉,完成更多高质量的研究,在印度和海外找到高质量的工作,改善基础设施,那么国际学生就会发现我们的机构具有吸引力。"
今年夏天,印度工学院马德拉斯分校推出了一个名为"全球工程、科学、人文和管理研究实习"的项目。该校国际与校友关系系主任马赫什•潘查古拉表示:"我们已与东南亚及其它邻国的大学接触,吸引学生,让他们在这里获得研究经验,以便日后成为我们博士项目的潜在学生。"
THE OUTLOOK
It'll take time, say stakeholders. Leading US institutes took decades to reach the levels of diversity they are at today, driven by sustained marketing efforts, generous scholarships, top quality infrastructure, professors and research facilities. While leading IITs and IIMs are also working with Study in India, the government initiative to go for student recruitment fairs in neighbouring countries and sending faculty to key countries for student recruitment, they are far lagging their international counterparts.
GMAC gives B-schools a tool to evaluate countrywide percentiles. A GMAT score of 700, in India, could be at 85-90 percentile; in France it could be 80 percentile and in Bangladesh, 98. "Candidates need to be evaluated accordingly," says Srivastava.
There is some debate on this issue, says G Sabarinathan, the admissions chair at IIM-Bangalore.
While some feel that the GMAT cut-off can be reduced to get in foreign students, others say then the quality would suffer, he says More international faculty and more immersion programmes are required, says IIM-Kozhikode director Debashis Chatterjee. "Institutes need to start talking to corporates about taking up foreigners as interns," he says.
The government needs to step up financial support to foreign students and give scholarships to targeted countries, like in the US, says IIT-Delhi alumnus Arun Duggal, the chairman of ratings firm Icra.
前景
利益相关者说,这需要时间。在持续的营销努力、慷慨的奖学金、高质量的基础设施、教授和研究设施的推动下,美国一流的商学院花了数十年时间才达到如今的多样性水平。尽管领先的印度理工学院和印度管理学院也在与"在印度学习"的政府项目合作,前往邻国参加学生招聘会,并派遣教员前往重点国家招生,但成效仍然远远落后于其他国家的高校。
GMAC为商学院提供了一个评估全国百分位数的工具。GMAT成绩为700分,在印度可能是85- 90%;在法国可能是80%,在孟加拉国是98%。斯利瓦斯塔瓦说:"需要对候选人进行相应的评估。"
印度管理学院班加罗尔分校招生主任G•萨巴里纳坦表示,在这个问题上存在一些争议。
印度理工学院科泽科德分校的董事德巴希•查特吉表示,尽管一些人认为,可以降低GMAT考试的分数线来录取外国学生,但其他人表示,这样一来,生源质量将受到影响。他表示:"各学院需要与企业讨论聘用外国人作为实习生的问题。"
评级公司Icra董事长、印度理工学院德里分校校友阿伦•达加尔表示,政府需要加大对外国学生的财政支持,并向目标国家提供奖学金,比如美国。
以下是印度经济时报读者的评论:
译文来源:三泰虎 http://www.santaihu.com/48192.html 译者:Joyceliu
外文:http://economictimes.indiatimes.com/
Shantanu
Basically, who would by choice want to come and study in a country where women students can look forward to certain sexual harassment, and their is so much intolerance and restrictions about food, religion, expression, etc.
可以这么说,谁会选择来印度学习呢,在这里女学生可能会遭受性骚扰,而且对食物、宗教、言论等有许多偏见和限制。
amalesh bhattacharya
we should follow the rule for foreign students should be encouraged for admission to our colleges,see australia,canada,and learn foreign students bring in skill of their country and will encourage our ordinary students to bring n better athletic strength,where we rely in only adivasis of east
我们应该遵循规则,应该鼓励外国学生进入我们的大学,看看澳大利亚,加拿大,学习外国学生带来的技能,鼓励我们的普通学生锻炼体育实力。
Anthony Barbosa
Foreign students cannot cope with what is taught at IITs in India. Those who don''t get admission via Engineering entrance exams in India get admission in USA easily. So where is the problem?
外国学生无法适应印度理工学院的教学。那些在印度没能通过工程学入学考试的人可以很轻松地被美国录取。问题出在哪里呢?
Adbhut Bharat
Do IITs teach subjects that do not exst anywhere on planet earth that foreign students will not be able to understand?
印度理工学院教授的课程,难道在地球上其他地方都不存在,让外国学生无法理解?
Dilip Porwal
Consider the following points -
Foreign students, if they come will come to only the top institutes.
We dont have enough space in our top institutes for our own citizens.
with almost 50% reservations, the level of discourse automatically needs to be lower to address the educational needs of all enrolled, thus lowering the high standards these institutes had aspired for.
The admission process is so difficult that most students (almost all general category students) have already done about one year of college level maths, physics and chemistry. The foreign students will feel left behind when they join such a college. So, rather not join.
If the foreign students were to meet the admissions criteria for our colleges, they would probably also meet it for the top institutes in the world. They would rather go to US, Japan, Europe, etc for this.
Its a lose-lose situation for all at the moment. It would be better for the govt to focus on building quality institutes and increasing the intake in the quality institutes.
以下几点需要考虑一下:
外国学生,如果要来求学,只会选择顶尖学府。
我们的顶尖学府无法提供足够的学位给我们自己的公民。
由于有近50%的预留席位,为了满足所有在册学生的教育需求,语言水平自然需要降低,降低了这些学院所期望的高标准。
录取难,以至于大多数学生(几乎所有普通类别的学生)都已完成了大约一年的大学水平的数学、物理和化学课程。当外国学生进入这所大学时,他们会感到进度被落下了。所以,还是别来了吧。
如果外国学生符合我们大学的录取标准,他们也可能符合了世界顶尖学府的录取标准。他们宁愿去美国、日本、欧洲等国。
目前对所有人来说,这都是一个双输的局面。政府应该集中精力建设高质量的机构。
Karmabites
The foreign students won''t come unless they can get beef on the menu.
除非菜单上有牛肉,否则外国学生不会来。
Subramaniam Balaraman
India will get enough foreign students and earn good foreign exchange also but in medical education and not in engineering .Engineering India has nothing to offer besides the degree . The Govt should start a public sector company to run self financing medical colleges with attached hospital where poor people can get free treatment. There will be enough candidates from all the countries . Be practical and do not chase mirage .
印度将会有足够的外国学生,也能获得很好的外汇收入,但不是在工程方面,而是在医学教育方面。政府应该成立一个国营企业来经营自给自足的医学院,配备附属医院,穷人可以得到免费治疗。这样的话就会有足够的外国学生来求学。要务实,不要空想。
Asit Basu
Useless chase. Better improve your system, teaching, facility, infrastructure etc. Foreign students will be interested if they find cost effective international standard institutions. By the way image of HRD/Education Minister also counts.
这是徒劳。最好改进印度的系统、教学、设施、基础设施等。如果外国学生发现印度有性价比高的国际水准的高校,他们会很感兴趣的。顺便说一下,人力资源和教育部长的形象也很重要。
Arun Sharma
Useless chase for foreign students.
希望招募外国学生,白费力气。
V N
The reason is simple The IITs and the IIMs established their reputation only because, at least in the initial years after they were set up, only the cream of the students from all over the country could get into them after writing a tough entrance examination. They are not known for the quality of their teaching faculty.
原因很简单,印度理工学院和印度管理学院之所以声名鹊起,只是因为,至少在它们成立后的最初几年里,只有来自全国各地的顶尖学生才能通过严苛的入学考试才能录取。并不是因为教学质量而闻名。
Adbhut Bharat
In the intial years, admission to IITs and IIMs was based on personal interview. Entrance exam was started in the 1970s only.
在建校初期,IITs和IIMs的录取是基于个人面试。高考制度始于20世纪70年代。
mangesh agnihotri
As long as quota system remains,the goal seems impossible.
只要配额制度不变,这个目标似乎就不可能实现。
Rajendra Kumar
This all high standard and so called highly competitive exams are all rubbish, foreign students would not come to dirty cities, leaving behind easy and comfortable lives there in foreign, first make your roads, shops, parks, parking, nearby all areas similar to USA or Europe.
这些高标准和竞争激烈的考试都是垃圾,外国学生不会抛开熟悉的安逸生活,选择脏乱差的城市,先把印度的道路、商店、公园、停车场提升到美国或欧洲的标准再说吧。
Raman
Why is that so important? Shouldn''t they first cater for Indian students? Education should be made affordable for Indians first. Look at US and other develop countries with some always compare when others complain of high taxation. These countries provide world class schooling free of cost to all their citizens. Today if an ordinary citizen goes for admission, they are charged admission fees ranging from 25000 to lakhs. When racketeering of school education will end?
为什么这件事就这么重要?他们难道不应该先服务好印度学生吗?首先应该让印度人负担得起教育的费用。看看美国和其他发展家吧。这些国家向所有公民免费提供世界级的教育。今天,普通公民申请入学,将被收取2.5万到10万不等的学费。学校的教育敲诈勒索什么时候才是个尽头?
BMKCT
49 percent IIT and IIM Seat reservation quota must be given to foreign students who take JEE for IIT and CAT for IIM. WE demand justice, we demand justice - 49 percent quota for foreign students. Include all foreigners in the 49 percent SC ST OBC ... categories. According to old Hindu traditions and principles, all foreigners can be categorized and respected as SC ST and OBC.
49%的印度理工学院和印度理工学院的预留学位必须让给通过了印度理工学院JEE和印度理工学院CAT考试的外国学生。我们要求公正,我们要求公正——把49%的配额让给外国学生。根据古老的印度教传统和原则,所有的外国人都可以被归为SC/ST/OBC种姓。
Viswanath K
Indian education will make them outdated and unsuitable for the modern world. Also the regressive culture and unsafe and insecure environment will affect them psychologically.
印度的教育将让他们落伍,脱离现代世界。退化的文化和不安全的环境也会影响他们的心理。
Sanujit Roy
upgrade infra and remove quota system first
首先必须升级基础设施,取消配额制度。
Rudra
Indian institutes have a more theoretical course structure and hence there are very few inventions and innovations. I noticed it in a conference in Melbourne where several IIT academics had come to present their papers and got very poor response. Ego of academics that they are extremely knowledgeable is another detrimental factor.
印度学院的课程结构更加理论化,因此发明和创新较少。在墨尔本的一次会议上,我看到一些印度理工学院的学者介绍他们的研究,但反响很差。学者的自负是博学的不利因素。
Jai Govind
Indian professors of IIT focus more on scientific theory,than implementation.Although degree given is for technology and not for science.In addition, they speak monotonously with horrible accent,are not articulate,demoralising and do everything to make learning a boring experience.This is my experience in doing MOOCs of NPTEL hosted by IIT professors.In contrast,Professors of, MIT,Stanford etc are exactly opposite at least on on vedios available online.
印度理工学院的教授更注重科学理论,而非实践。但是获得学位是为了获得技术而非理论。此外,他们说话单调,口音可怕,口齿不清,千方百计让学习变得枯燥无味。这是我在印度理工学院教授主持的NPTEL网络公开课上获得的经验。相比之下,麻省理工学院、斯坦福大学等大学的教授,至少在网上找到的视频中,风格是截然不同的。
H K Doshi Doshi
Unfortunately the author make comparison with US universities, where foreign students prefer to study not only quality education but mainly for for legal migration and to get US citizenship. This factors absent in India. But why we bother about foreign student, when our own student struggle to get admission in these institutes.
作者把印度跟美国大学进行了比较,外国学生不仅更愿意在美国学习高质量的教育,而且主要目的还在于日后可以合法移民、获得美国国籍。印度缺乏这种因素。但是,我们自己本国学生都还为了被这些学院录取而苦苦挣扎,我们替外国学生操什么心呢?
joel
and when these students will arrive.the right wing may cry"western ppl entering and destroying India"we are still a long way to accept International students and create conditions for them to stay here
这些学生真的来印度读书之日,右翼可能会高呼"西方人民正在涌入并摧毁印度",我们在接受国际学生,并为他们创造条件方面还有很长的路要走。
god bless
IITs needs to be modernized. Students lack confidence
印度理工学院需要现代化。学生缺乏自信。
Singh
No Indian educational institution has found a place in the first 50 top institutions in the world. Living conditions at these institutions may be acceptable by Indian students but considered deplorable by foreigners as is the educational standards. A graduate from Indian educational institutes is unemployable outside India so why should anyone want to come to India to study. Even Afghans, Bangla deshis Somalis are opting out.
没有一家印度高校进入全球前50强。印度学生可以接受这些学校的条件,但外国人会觉得糟糕透顶。毕业于印度高校的人在印度以外是找不到工作的,所以为什么要选择来印度学习呢?甚至阿富汗、孟加拉和索马里人也不会选择印度。
Joe Thomas
IIT is a great but IIM is just a waste. No one becomes good in Management by studying in IIM or any other Management institution. All great entrepreneurs are with tech background or they are MBA dropouts.
印度理工学院很棒,但印度管理学院就是垃圾。没有人能通过在印度管理学院或其他管理机构学习而成为优秀的管理者。所有伟大的企业家要么有技术背景,要么是MBA辍学生。
Snow Lep
Yeah man , go go go - eithiopian and African students ? Hardly the model for global diversity . Looks like the only attraction is for develo nations whose students can't wing a North American or European scholarship.
是的,伙计,加油,加油,埃塞尔皮安和非洲学生?很难成为全球多样性的典范。看起来印度唯一能吸引的是那些无法获得北美或欧洲奖学金的发展家的学生。
BMKCT
Put all foreigners in SC ST OBC category for JEE and CAT admissions. You will get 49 percent foreigners. Overall IIT IIM quality will double instantly.
在JEE和CAT考试录取时,把所有的外国人归入SC ST OBC类别。你就将立刻得到49%的外国人。印度理工学院和印度管理学院的教学质量将立即翻番。
BMKCT
Indian Finance Minister Urmila Sitharaman and her maiden budget has shown to be utter failure on all fronts. I don''t know where they find these people from. It is better to listen to one wise person than take advice from 1000 ignoramuses.
印度财政部长乌尔米拉•西塔拉曼和她的首份预算案在所有方面都是彻头彻尾的失败。我不知道他们从哪里找到这些人。一个智者的劝告胜过1000个无知者的劝告。
Jitendra Joshi
INDIA''s Finance Minister is NOT Urmila Sitaharaman.Do your home work.But other than that, I fully support your comment
印度财政部长不是Urmila Sitaharaman。瞎逼逼前先做做功课吧。但除此之外,我完全支持你的评论。