Five reasons why the economy is slowing down
印度经济放缓的五个原因
Rating agency Crisil on Thursday lowered the gross domestic product (GDP) growth forecast by 20 basis points to 6.9% for 2019-20, citing weak monsoon and slowing global growth. This is marginally higher than the 6.8% GDP growth last fiscal, but lower than the 14-year average of 7%. Here's a look at the reasons for the slowdown...
周四,评级机构CRISIL将印度2019- 2020年GDP增长预测下调20个基点,至6.9%,理由是季风减弱和全球增长放缓。这略高于上一财年6.8%的GDP增速,但低于14年来7%的平均增速。以下是印度经济放缓的原因。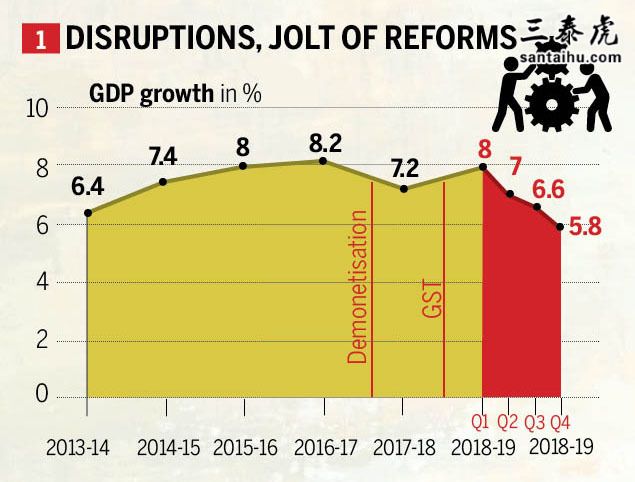 Demonetisation that happened in November 2016, dealt a severe blow to consumption, leading to a vicious cycle of job loss and lower income, which led to further drop in demand (what economists call the multiplier effect). Next shock came in the form of a reform — when GST was rolled out in July 2017. This had a knock out effect on exports growth in the year of implementation because of delay in refunds to exporters.
2016年11月实施的"废钞令"对消费造成了严重打击,导致了失业和收入下降的恶性循环,导致需求进一步下降(经济学家称之为乘数效应)。下一个冲击是以改革的形式出现的——商品和服务税(GST)于2017年7月推出。由于推迟向出口商退款,这对出口增长造成打击。
Just as the effects of DeMo & GST were petering out, the IL&FS crisis triggered the Non Banking Financial Companies' (NBFC) credit crunch in 2018. By 2018-end, weakening global trade and GDP growth, led by US- tariff wars, had caught up, amplifying the impact.
正当"废钞令"和GST效应逐渐消退之际,基础设施租赁和金融服务危机在2018年引发了非银行金融机构(NBFC)的信贷紧缩。到2018年底,在中美关税战的影响下,全球贸易和GDP增速放缓。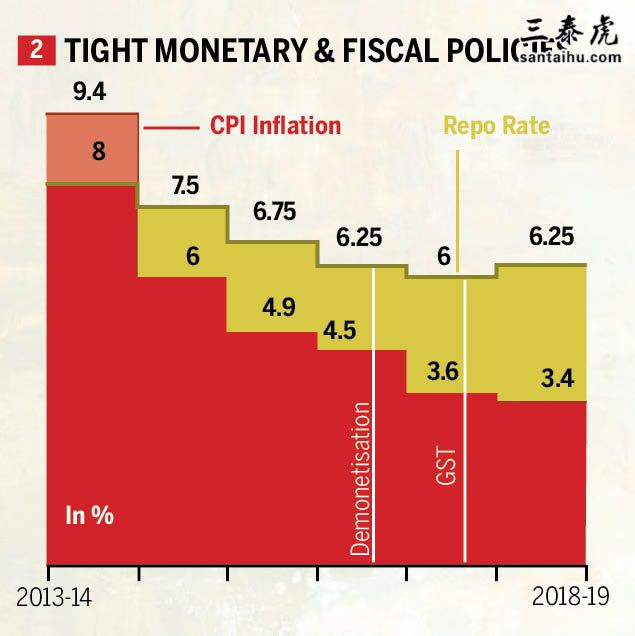 Since 2016-17, the monetary policy was focused on inflation control, which ensured interest rates remained hard. The combined fiscal deficit of the Centre and the state was high. And the go nment committed to lowering its fiscal deficit, left little wiggle room for go nment to increase its spending to pump-prime the economy.
自2016年至2017年,货币政策的重点是控制通胀,这确保了利率保持在硬通货水平。中央和各邦的财政赤字很高。政府承诺降低财政赤字,政府增加支出以刺激经济的回旋余地很小。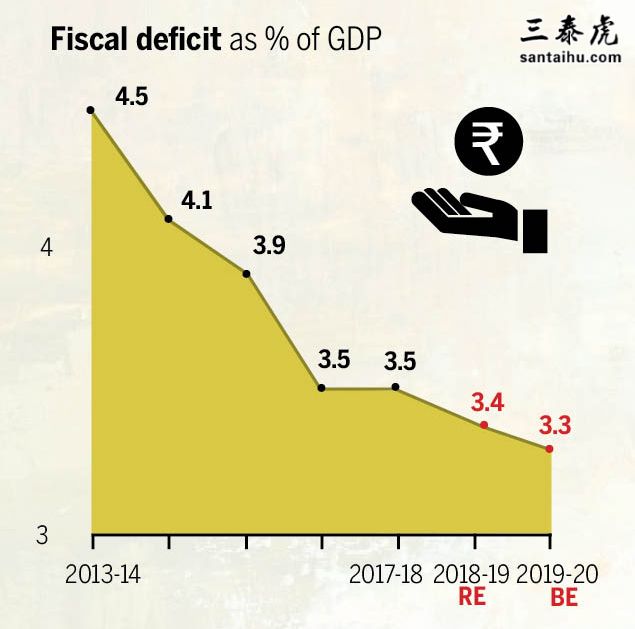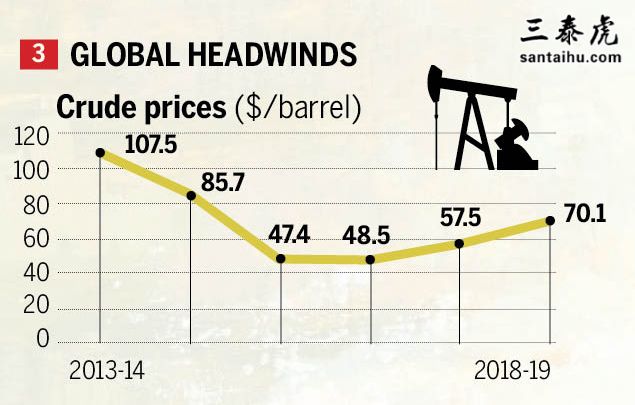 With the US- trade war, global sentiments have remained poor, making the prospects of an export led growth bleak. Add to that, a looming Bret with its pioneer Boris Johnson now the PM of UK. All this made the economic outlook appear bleak.
随着美中贸易战的爆发,全球市场依然低迷,出口拉动型增长的前景黯淡。此外,英国退欧迫在眉睫,退欧先驱鲍里斯•约翰逊现在是英国首相。所有这些都使得经济前景显得黯淡。
Crude prices favoured Modi in the first three years of his first term, but prices have firmed up after that, putting inflationary pressure.
在莫迪首个任期的头三年,原油价格对其有利,但在那之后,油价已经走强,给通胀带来了压力。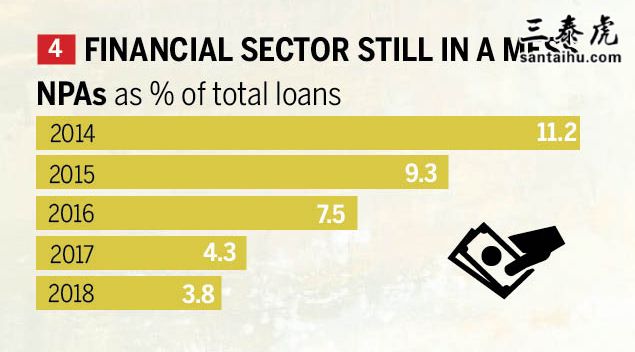 The NPA ratio worsened throughout the UPA-II term and is still quite high. But no sooner did the NPA ratio start improving in fiscal 2019, the NBFC stress started building up. Stress in NBFCs percolates faster than public banks, because of its greater interconnectedness to mutual funds, banks, and corporate sector.
在国大党第二个任期内,不良资产比率不断恶化。但在2019财年不良资产比率开始改善后不久,非银行金融机构的压力就开始累积。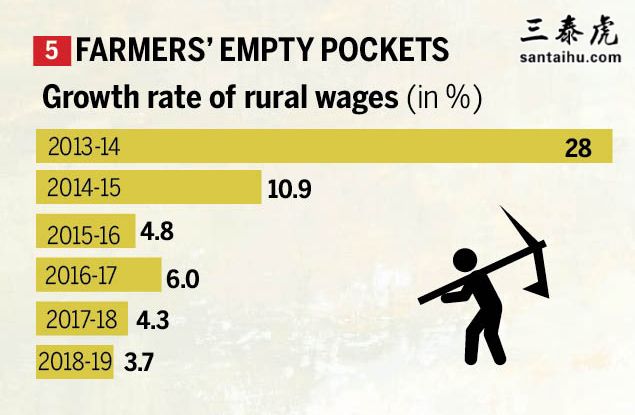 Non-food inflation continued to surpass food inflation in the past two years, amounting to income transfers from rural to urban areas.
过去两年,非食品通货膨胀继续超过食品通货膨胀,收入从农村向城市地区转移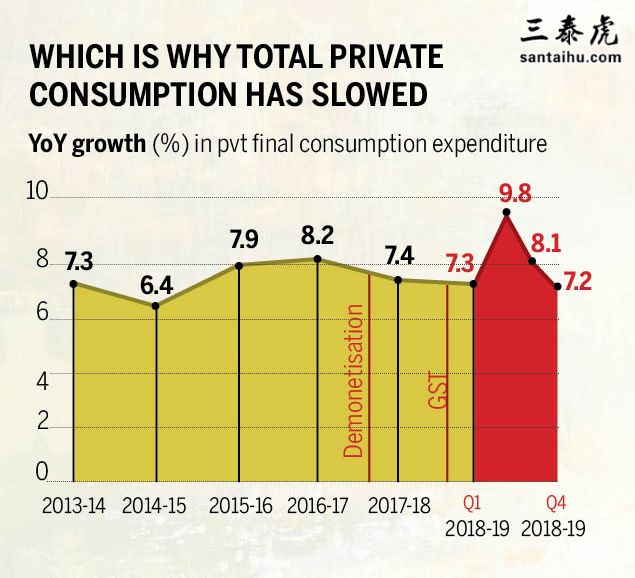 ICRA, too, has flagged concerns
Data from ICRA too shows that seven out of 16 key segments contracted in the last one year. Aditi Nayar, principal economist ICRA says, "The performance of the early economic indicators was unfavourable in June 2019, with as many as 12 of the 16 indicators displaying a deterioration in the year-on-year growth. Moreover, seven of the indicators recorded a year-on-year contraction in June 2019, which is likely to weigh upon industrial growth in June 2019.
印度评级机构ICRA也表示了担忧
ICRA的数据也显示,16个关键行业中有7个在过去一年出现了萎缩。ICRA首席经济学家阿迪蒂•纳亚尔表示:"2019年6月,早期经济指标表现不佳,16项指标中多达12项显示同比增长出现恶化。此外,其中7项指标在2019年6月同比出现萎缩,这可能对2019年6月的工业增长构成压力。
"In addition, the quarterly trends for Q1 FY2020 compared to Q1 FY2019 reveal a broad-based deterioration in the growth trajectory. For instance, the performance of 12 of the 16 indicators weakened in Q1 FY2020 compared to Q1 FY2019, such as, auto production, Coal India Limited's (CIL's) output, thermal ricity generation, non-oil exports, port cargo traffic, rail freight, passengers carried by domestic airlines, as well as ATF and diesel consumption. Furthermore, auto production, non-oil exports, and ATF consumption recorded a YoY contraction in Q1 FY2020", adds Nayar.
纳亚尔补充道:"此外,从2020财年第一季度与2019财年第一季度的季度趋势来看,增长轨迹出现了广泛的恶化。例如,与2019财年一季度相比,2020财年一季度16项指标中有12项表现疲软,如汽车产量、印度煤炭有限公司(CIL)产量、火力发电、非石油出口、港口货运、铁路货运、国内航空公司客运、航空燃油和柴油消费。此外,汽车生产、非石油出口和航空燃油消耗在2020财年第一季度同比下降"
印度时报读者的评论:
译文来源:三泰虎 http://www.santaihu.com/48163.html 译者:Jessica.Wu
外文:https://timesofindia.indiatimes.com
casper tt•2 hours ago
Dumb govt is still clueless and ho for better. And yrt they all speak loud mouth for development. Weak economy can never sustain development.
政府仍然毫无头绪,希望未来能有更好的结果。他们都为发展大声疾呼。疲软的经济是不可能持续发展的。
Javed Badshah•uae•2 hours ago
First reason crisil has given is weak monsoons. how are they saying this with India inundated with water everywhere.
Crisil给出的第一个原因是弱季风。印度到处都被洪水淹
C M Gupta•2 hours ago
10% increase in bank deposits ( not 19 %)
银行存款增加10%(不是19%)
C M Gupta•2 hours ago
If it is so, why GST collection is increasing. There is 19% increase in bank deposits, shows that there is more savings. Yes there was draught like situation in counylast year which have some impact. Now rain have pick up
如果是这样,为什么商品和服务税在增加。银行存款增加了19%,说明储蓄增加了。去年发生过类似干旱的情况,造成了一些影响。现在雨已经下起来了。
Sundar Sundar•2 hours ago
The day is fast approaching when we will remember with gratefulness the educated and brilliant mind of Dr.MMS who steered this nation through the worst global recession with crude oil 60% more costly than it is now.
这一天来得这么快,感谢曼莫汉·辛格博士,多亏了你的聪明才智,你带领这个国家度过了最严重的全球衰退,当时的原油价格比现在贵60%。
Sajjad Nakhwa•2 hours ago
AND AMIT SHAH CALLING MODI A GREAT REFORMER.... WHAT A JOKE... OUR INDIA IS SINKING JUST BCOZ OF FEW ILLITERATE LEADERS
阿米特·沙阿称莫迪是伟大的改革家……真是一个大笑话……拜这些文盲领所赐,我们印度正在衰退
Shriram Karpur•Cincinnati•2 hours ago
Do you not want Kashmir problem solved as an Indian citizen ? Economy goes up and down. What''s new in that ? Govt taking serious steps to reform Kashmir is new and ne worthy. U should support it.
作为印度公民,你不希望克什米尔问题得到解决吗?
经济起起落落是常事,有什么好大惊小怪的?
政府改革克什米尔,才是值得关注的新鲜事。你也应该予以支持。
Krishna Nair•Prasad•3 hours ago
Media is creating hype for TRP and money making debate.
媒体在炒作。
Raju Alankar•Hubli•3 hours ago
It''ll regain it''s ranking.
印度将重新回到排行榜上应有的位置
Mahmoodullah Hussaini•Unknown•3 hours ago
hahaha India was going to competes with
哈哈,印度还想和竞争
pkd1954 Kumar•KOLKATA•3 hours ago
This is just a post operation period and will heal within months. The collection of GST is an indication.
这只是一个术后期,几个月内就会痊愈的。商品和服务税的征收就是一个迹象。
Vishwanathan Prasad•3 hours ago
The gang of this Rahul Shiv Shankar and Navika Kumar think they r the only saviour of economy. When will the go nment gag this media.
拉胡尔一伙认为他们是印度经济的唯一救星。政府什么时候能堵住媒体的嘴。
Krishna Garg•KOTA-Rajasthan•3 hours ago
No point in CRYING FOR SPILLED MILK ,reasons and analysis with data are for understanding the trend.What needs to be done is important ?,Until and unless Foreign investments are available for the market ,revival of economy can not be accelerated.
没有必要为打翻的牛奶而哭泣,原因和数据分析只是为了理解这一趋势。需要采取什么措施才是重要的。除非外国投资进入市场,否则经济复苏是无法加快的。
Rajeev Sharma•Unknown•3 hours ago
Just to win UP ions modi dest yed Indian economy
为了赢得选举,莫迪毁掉了印度经济
Anthony Kalia•3 hours ago
Manmohan Singh kept the GDP growth at 8 to 9 percent in very hard circumstances when International Crude Oil was at 120 USD barrel, and these two criminals and buffoon Modi and Amit shah has dest yed the economy even when international crude in at 60 usd barrel shame on Modi and shame on indian vers who ed this buffoon Modi.
在非常困难的情况下,曼莫汉•辛格使印度GDP增长率达到8%-9%, 当时国际原油价格在120美元/桶。莫迪和阿米特·沙阿毁掉了经济,即使国际原油才60美元/桶。丢人啊,印度选民选择了莫迪。
Prabhakar Rao Tirupattur• Anthony Kalia•Tirupathi, India•3 hours ago
You are correct
你说得对
Chetan Kotian•3 hours ago
You ve out great economists like Dr. Manmohan Singh and what do you expect ????
是你们用选票把曼莫汉·辛格博士这样伟大的经济学家赶下台的,你们还想指望什么?