3-year-old raped, beheaded: Search on for child's head in Jharkhand
贾坎德邦3岁女童被强奸、斩首:仍在寻找孩子的头部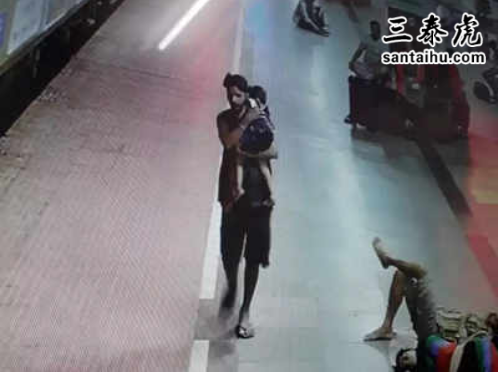 JAMSHEDPUR: Two days after they found the decapitated body of a three-year-old girl, the Go nment Railway Police (GRP) of Tatanagar is still looking for the severed head of the toddler who was kidnapped, raped and beheaded by two men last week. The cops, who have asked rag-pickers in the area to help them with their search, have also been unable to find the won that was used in executing the crime.
詹谢普尔:上星期,两名男子绑架、强奸了一名女童,并对其斩首。在塔塔纳加尔铁路警察找到这具被砍掉头部的三岁女童尸体两天后,目前警方仍在寻找其头颅。警方曾要求该地区的拾荒者帮助他们进行搜寻。
On the night of July 25, Rinku Sah (36) and Kailash Kumar (38) abducted the child while she was slee by the side of her mother at platform no. 1 at the Tatanagar railway station, police said, adding that the two raped the girl at Telco police station area, beheaded her and stuffed her body in a plastic bag and dumped it behind a wall in the early hours of July 26.
7月25日晚,36岁的林库萨和38岁的凯拉什·库马尔在11号站台绑架了在母亲身边熟睡的孩子。警方称,在塔塔纳加火车站,两人于7月26日凌晨强奸了这名女童,并将其分尸,砍下其头颅,将其尸体塞进一个塑料袋,扔到墙后。
The victim's mother had lodged a missing child report with the Tatanagar GRP on July 26 and police on Wednesday arrested two persons after examining CCTV footage of the station. The two accused reportedly confessed before the police during interrogation and told the cops where the headless corpse was, but they have not been able to expn where the girl's head is.
受害者的母亲于7月26日向塔塔那加尔铁路警察局提交了一份失踪儿童报告,警方在查看了火车站的画面后,于星期三逮捕了两人。据报道,两名被告在审讯过程中向警方认罪,并告诉警方无头尸体的位置,但他们记不起女童的头部丢弃在哪里了。
Sources said Sah, whose mother is a police constable, has a long criminal record and was an accused in two separate cases of sexual assault and attempt to murder lodged ag inst him in 2008 and 2015. "He was in jail for two years for the 2015 case and has been out of prison on bail since last year," Deputy SP of GRP (Tatanagar) N M Ansari said. Sah's neighbours said his mother helped him get away lightly with previous crimes. Kailash's father is a CRPF jawan currently posted in Jammu and Kashmir.
消息称,林库萨有多次犯罪记录,其母亲是一名警察。他曾在2008年和2015年分别被控性侵。塔塔那加尔铁路警察局副警司安萨里称:"因为2015年的案件,林库萨在里呆了两年,去年已经保释出狱。"林库萨的邻居称,他的母亲帮他轻松逃脱了之前的罪行。凯拉什的父亲是目前驻扎在查谟克什米尔的中央后备警察部队士兵。
The Tatanagar GRP is taking help of rag pickers and sanitation workers of the area to trace the missing head. Ansari added, "Our team searched for the missing head all through the day in and around the in dent site on Thursday. On Wednesday we had taken two dog squad teams to the crime scene to search for the missing head of the girl but couldn't find it," Ansari said, adding that the girl's mother identified the body of the victim. "We will continue with our effort to trace the missing head," he added.
在该地区的拾荒者和环卫工人的帮助下,塔塔那加尔铁路警察局正在寻找女童的头颅。安萨里补充说:"我们的团队星期四一整天都在事故现场和星期围寻找失踪的头颅。星期三,我们带了两支警犬分队到犯罪现场寻找失踪的头颅,但仍未找到。女孩的母亲确认了受害者的尸体。我们将继续努力寻找失踪的头颅。"
印度时报读者的评论:
译文来源:三泰虎 http://www.santaihu.com/48157.html 译者:Jessica.Wu
外文:https://timesofindia.indiatimes.com
Raghupathy P•3 hours ago
Such criminals should be finished off urgently in encounters rather feeding them in jail
犯罪分子抓到就立即,不要关在里白养他们。
Hindustani•3 hours ago
why bail all the time???? Bail mdrch000dddd rndddd corrupt stupidddd indian law.,Abolish those bail sy emm.
为什么罪犯总能获得保释?太了,应该废除保释制。
Tompok•3 hours ago
Repeat offenders should be shot while trying to escape from police custody but then what one saw in the film gangajal and singham are enough to understand the mentality of Indians
屡次犯案的人,下次要是越狱就击毙。
M•3 hours ago
Moshk ji,this is kind of Respect to women in ur house,Its seems Remedy is to open Brothels so any one can go up there n check
解决办法就是重开妓院。
Shanu Pande•New Delhi•3 hours ago
Gruesome and inhumane....better to be mob lynched rather than jailing the culprit again and releasing him to commit one more heinous crime.,Shame on us and our judiciary!
太可怕了,太没人性了....与其再把罪犯关进,让他再犯一次滔天罪行,还不如用私刑他。印度丢人,印度的司法系统真丢人!
Deepak•3 hours ago
Once they caught they should not punished capital punishment instead they should very very severely by cutting their main thing, cut their fingers, one leg and left them in desert place where it can be eaten by eagles , rats and ants....Good option let it be eaten rats and ants so that what they have done should not be done by anybody...
一旦抓住罪犯,不要直接判死刑,阉掉他们,切断他们的手指,砍掉腿脚,把他们丢到沙漠里,让老鹰,老鼠和蚂蚁吃掉他们……这样才能杀鸡儆猴…
Dattatray•3 hours ago
Just can't imagine what misery and pain the girl child must have suffered. Death sentence would be nothing for these animals. I urge the gt to hand over these kind of butchers to public. Let people decide their punishment. Just hanging them would be a easy death. Their death should be slow torture.
简直无法想象这个小女孩所遭受的痛苦。死刑对这些畜生来说太便宜他们了。我敦促政府将这些禽兽交给公众处置。把他们绞死,太便宜他们了,应该慢慢折磨他们。
Dharmendra•4 hours ago
only death punishment for both
两个都判死刑
Alex• Syed Sajid•3 hours ago
Baby girls are not cows.
那可是女童,不是奶牛啊
Strong Voice•4 hours ago
Lethargic judciary is responsible for such henious repeat offences. These animals are caught but get bail and roam around free for decades committing ever more crimes. Justice delayed is justice denied and breeding ground for serious repeat offenders
失职的司法人员应对这种重犯负责。犯罪分子被抓了起来,却得到保释,犯下越来越多的罪行。拖延正义就是否认正义,为滋生犯罪提供温床。
Shree K•4 hours ago
Shame on us that we r living in this kind of society where rapiest got bail
我们这的强奸犯都能被保释,真丢人
Vikram•4 hours ago
My heart bleeds for the little one... police. go nment, judiciary and society has failed yet another little angel... please boil these monsters alive... shame on India.
我的心为这个小家伙滴血……印度警方、政府、司法和社会又辜负了一个小天使……请活-烹了这些禽兽……印度真丢人。
Yelnik•5 hours ago
hand them over to public.. I hv never hurt anyone in my life but I wish I could kill these monsters. poor 3 year old baby, my heart breaks thinking about you.
把他们交给公众处置。我这辈子从来没伤害过任何人,但我希望杀死这些畜生。可怜的3岁小宝贝,想到你的遭遇,我的心都碎了。
Citizenwelfareforum•Unknown•5 hours ago
I cannt tolerate this.
无法容忍如此穷凶极恶的罪行
Citizenwelfareforum•Unknown•5 hours ago
oh my god
天啊
Citizenwelfareforum•Unknown•5 hours ago
what the legislatures are doing and what a hell judiciary sy em in India not able to deliver justice?
印度的司法机构在做什么? 怎么不伸张正义?