The Venice of China
中国威尼斯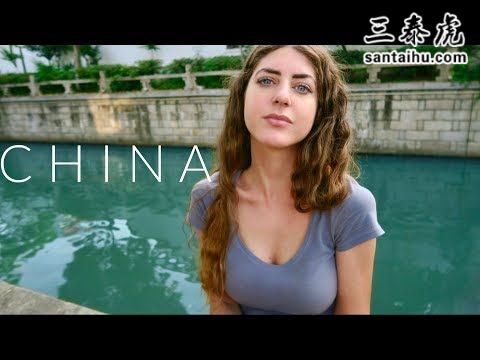 以下是youtube用户的评论:
译文来源:三泰虎 http://www.santaihu.com/48106.html
fireball39279
I lived in Canada and states for a long time.So, I took a trip to China in Jan this year to find out myself. I spent almost a month in Beig, Su, and an. We had met lots of nice people, very friendly indeed and beautiful places. Most of the scenery was beautiful beyond description and breathtaking. Most importantly, China is very safe country to visit. After the trip. It changes the whole perspective about China.
Open your eyes America. Go out to see the world.
我在加拿大和美国住了很长一段时间。

我于今年一月亲自去了一趟中国。
在中国呆了一个月左右时间,去了北京、苏州和西安。
碰到很多友好的人,景色很美。
很多景点美到无法用语言形容,美到令你窒息。
最重要的是,中国这个国家的治安很好,去中国旅游,很安全。
去了中国后,我对中国的看法完全改变了。
美国人啊,睁开眼睛吧,出去看看外面的世界
Ts95
I see some girls wearing traditional Chinese costumes (Hanfu)! So beautiful!
我看到一些女孩穿着汉服!好美啊
Cre & Tom Travel
Awesome video!! Will add this to our China 'To Do' list!
很棒!我把苏州列入我们中国之行必去之地名单啦
Cre & Tom Travel
Oh don't worry! I teach Chinese children English so I will be visitng them, all over China!
哦,别担心,我会去中国教小孩子学习英语,到时候会玩遍中国的
Leo Wu
Cre & Tom Travel welcome to china:)
欢迎来到中国
Cre & Tom Travel
Thank you so much Leo!
非常感谢
Signal 124
I travelled quite widely when I was younger, but I never made it to China. I used to travel with my wife Cre, but she has taken another journey now, and waits for me in heaven. I miss her every day. I think she would have loved this place. I want to travel again, but it makes me too sad that my Cre cannot be there.
Cre and Tom, cherish your adventures together!
年轻的时候,我到处旅游,不过从来没去过中国。
以前常常和妻子Cre一起去旅行。如今她已经在天堂等我了。
我每天都很想念她。要是她在,应该会喜欢苏州的。
我计划再次去旅行,然而想到不能和妻子Cre一起去,我就伤心不已
楼上的朋友,珍惜你们在一起的冒险旅行
Cre & Tom Travel
I'm very sorry for your loss. We will make these days count that's for sure
为你失去爱人感到难过。我们会让日子过得有意义的
Martessa Tran
Sorry to hear the lost of your wife. I sincerely feel very sad for you.
听闻你失去妻子,我感到难过。
sayjai bao
WOw your mandarin Chinese sounds fantastic!
哇塞,你说的中文很棒
George Trump
I love your introduction of real China. I also want to visit China quickly.
希望看你介绍真实的中国,希望我的中国之行能尽早成行
Rickus Kruger
Truly picteresque and mesmerising. The gardens in China are some of my favourites can't wait to go visit them when I get there.
确实美如画啊。中国园林是我最喜欢的,迫不及待想去参观
X Z
Su looks so Chinese.
苏州看起来好中国啊
Andi a
Wow you're speaking Chinese!
哇塞,你居然说中文了
Thomas Hartman
I like that she finds the beauty in every place she goes.
她每走到一个地方,都能发现其中的美丽之处
mengenx
I would say Venice is the Su of Italy
我要说,威尼斯是意大利的苏州
Hussain Bharmal
Your videos are really inspiring me to travel again. They are zing, simple and beautiful. From Mumbai India if u r visiting India and need any help just let me know. Love Ur channel and Ur videos..
看了你的视频,我都想再次去中国了。
太惊艳了,太美了。
我来自印度孟买。如果来印度玩,需要帮助的话,请尽管说。
我喜欢看你录制的视频
Lisa Morice
Thank you! I am going to Su as part of a tour next May. Now I have some idea of what it will be like and see some places that we won't have time to visit in person. Loved the music and the way you pieced the video together.
谢谢,明年5月,我要去中国,苏州是其中一站。
现在对中国有一些了解了,从你的视频看到了一些我们也许没有时间去看的景点。
Andrew Jackson
Beautiful background music, beautiful scenery, and wonderful explanation of Su City, which reminded me of my travel to Su many years again.
背景音乐很好听,景色很美,你对苏州的解说很精彩。
勾起了我很多年前去苏州留下的回忆
ken01209
Why would Su be called another Venice? When Su was built 2500 years ago, where the heck was Venice? The son could be named after the father. Have you known any father named after the son?
为什么说苏州是中国的威尼斯?
苏州建于2500年前,当时有威尼斯吗?
fhnkoo 4t89b
Heavens above, Su Hang down here.
上有天堂,下有苏杭
싢큐
I am currently at Zhenjiang, and some of my friends went to Su during the Labour day hols last time. I guess i will definitely go there once after watching your video
我目前在浙江。劳动节放假期间,我一些朋友去苏州玩了。
看了你的视频后,我以后一定要去苏州的
Just me Hanging out
Looks zing
看起来好神奇
sikandar shah
Beautiful..!
美啊
Thorsten Steffen
Amazing I am a bit yealous but in a good way,,Wish I can travel one day there too
看得我有些嫉妒了
希望以后能有机会去苏州玩
ddj bb
Su is one of my favorite cities in China! It's so beautiful and people are nice
苏州是我最喜欢的中国城市之一,很美,当地人也很友好
QY Gao
Congratulation! You improve your Chinese a lot!
祝贺,祝贺!你的中文水平进步很大啊
Amaan Hassan
doesn't this place remind you of kungfu panda
这个地方没让你想起《功夫熊猫》吗
China24
Exactly people in China call this place Chinese Venice
中国人说这个地方是中国威尼斯
Rahul Waslekar
I'll be travelling to China in two months from now. Thanks a lot for this beautiful video
两个月后,我要去中国。谢谢分享
Dong Ni
your chinese is good :) , better than my english :)
你说的中文,比我说的英文更好
Reik Chua
I visited Hang and Su several years ago. I would like to go again after watching your videos.
几年前,我去过杭州和苏州。看了你的视频后,我又想去了
linoox lee
You learn to speak Mandarin. .
你开始学说中文啦
Andi a
Omg that garden at the end is incredible!!!!!!
哦天啊,结尾那个园林太赞了,不可思议
mredizon00
Awesome work as always! Been loving your videos. Really takes my stress away after busy day in the office.
还是很棒!喜欢看你的视频,看了能放松,缓解压力,解除一天上班的疲劳
m.afraz Iftikhar
Why are you so beautiful
为什么你这么美啊
GOD
wow, this is insanely beautiful
哇塞,简直美疯了
timthedrtic2011
You should visit Vietnam next.
下一个你应该去越南看看
Brother Kent
You so beautifull.. i love youu
你好美啊,我喜欢你
Michael Sanjaya
Very beautiful old culture & city
非常美的文化古城
Tekhelet75
Wonder if the architecture is Song Dynasty one
这建筑是宋朝风格的吗
Lawrence Rodgers
Travelight, since you live in Shenzhen, how about a tour of BYD's Shenzhen headquarters?
美女啊,你不是住在深圳吗,去参观下比亚迪的深圳总部如何?
hippo
Very well said! Hang is an offi al sister city of Boston, and two US presi nts visited there
说得好。杭州是波斯顿的姊妹城市,两位美国总统曾经去过杭州
Jim Wong
You made su more pretty!
你的到来,让苏州变得更美
al-waleed bin-ouf
waw you are my dream girl (wife)....
哇塞,你是我的梦中情人,是我的理想妻子
Mudabbir Khan
Damn she is so gorgeous i wish to marry her
她好美啊,我想娶她
Zoheb Hossain
why u are so beautiful
为什么你这么美啊
Brittany 2H
Take a trip down to Wu!
可以去无锡走一下
Sagar Gurung
Your vedios are zing. Whenever you share your experience I feel like im the one travelling. Its my kind requests to you must travel to my country NEPAL. And make vedio on it. Thanks for taking your time to read this. Love you
看你的旅游视频,有一种身临其境的感觉。
恳请你来我的祖国尼泊尔玩。
然后制作相关视频。谢谢啊
Sajid Abbas
Wow magnificent I like China
哇塞,好美啊,我喜欢中国
Andrea Stavig
This brought me back to my month long trip to SE China 5 years ago!
让我想起了5年前为期一个月的中国之行
Satish Kumar
Su definitely looks like heaven
苏州看起来像天堂啊
David Canet
Please......a bit more about China. It is so beautiful. Thank you
请多介绍中国,好美啊,谢谢
Eric-ME
Su is actually a big city in China, 1000 0000 people live there.
苏州在中国其实算是大城市了,有1000万人口呢
Leon Dong
you are so sexy
你好性感啊
Love Loveyy
Iam Egyptian and I want to marry you.
我是埃及人,我想娶你
Stephanie Beaton
So glad that developers and go nment did not think of "modernizing" this old area of Su
令人欣慰的是,当地没有对苏州古城进行"现代化"改造。
Prasanta Rabha
it is so beautiful
好美啊