Chandrayaan-2 normal after launch rehearsal
"月船2号"再次彩排,一切正常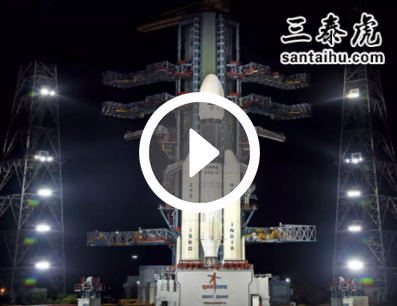 CHENNAI: The Indian Space Research Organisation (Isro), late on Saturday said that the performance of Chandrayaan-2—whose first launch on July 15 was scrubbed after a leak in the cryogenic stage—was normal after the launch rehearsals for the rescheduled launch on July 22.
金奈:"月船2号"在7月15日的首次发射由于低温级的泄漏而取消。周六晚些时候,印度空间研究组织(Isro)表示,在为7月22日的发射进行彩排时,性能正常。
India's second lunar mission is now scheduled for launch at 2.43pm Monday. "Launch rehearsal of GSLVMkIII-M1 Chandrayaan2 mission completed, performance normal," Isro tweeted late Saturday.
印度的第二次探月任务"月船2号"将于周一下午2点43分发射。Isro周六晚些时候在twitter上写道:"GSLVMkIII-M1 火箭发射彩排完成,性能正常。"
The space agency, however, is yet to officially announce what led to the postponement of launch on July 15. However, it said last week that an expert committee constituted to analyse the issue has suggested remedial action, which has been implemented.
然而,Isro尚未正式宣布是什么原因导致原定在7月15日的发射推迟。然而,该机构上周表示,为分析这一问题而成立的一个专家委员会已建议采取补救行动,并已付诸实施。
Sources said that preparations for the re-launch have been going on as per the revised schedule and were hopeful of a successful launch. While Isro has claimed that the expert committee identified the root cause of the July 15 snag, it has not made it public as yet.
消息称,重新发射的准备工作已经按照修改后的时间表进行,并有望成功发射。虽然Isro声称专家委员会已经确定了7月15日故障的根本原因,但尚未公开。
The Rs 978-crore mission is India's first attempt to soft-land a probe on Moon, and its success will propel the country into an elite club of nations. Monday's launch will only put Chandrayaan-2 on the path to this feat, which will only be achieved on September 7, if Vikram makes a successful touchdown on Moon.
此次任务耗资97.8亿卢比,是印度首次尝试在月球上实现探测器的软着陆,它的成功将使印度跻身精英国家俱乐部。周一的发射将让"月船2号"走上实现这一壮举的道路,如果"维克拉姆"号着陆器成功登月,"月船2号"将在9月7日实现这一壮举。
印度时报读者的评论:
译文来源:三泰虎 http://www.santaihu.com/48074.html 译者:Jessica.Wu
外文:https://timesofindia.indiatimes.com
Kosmic Power•8595• Kosmic Power•5 hours ago •Follow
All the best ISRO...
祝ISRO一切顺利。
Sameer Barar•Wordsmith Member • Sameer•Mumbai•5 hours ago •Follow
Come what may. Proud of our scientists.
ISRO a true Bharat ratna
不管结果如何,我们都为印度科学家感到骄傲。
ISRO是真正的"印度国宝"
Saleem Ansari•140• Saleem•5 hours ago
All the best with new hight. proud to be an Indian.
祝一切顺利。为自己是印度人而自豪。
Ravindran Nambiar Menaputhiyaveettle•11469•Influencer Wordsmith News King • Ravindran•Hyderabad•6 hours ago
Best wishes to ISRO for successful launch of CHANDRAYAN-2.
祝印度空间研究组织成功发射"月船2号"。
K B•2054• K B•4 hours ago
We trust you ISRO !
我们相信你,ISRO !
avn SSS•330• Avn•5 hours ago
good luck
祝好运
John Abraham•1170• John Abraham•5 hours ago
All the best to team ... may you get utter success ..
祝ISRO团队一切顺利,取得圆满成功。
Keysman K•4794•Moderator Movie Buff Influencer • Keysman K•5 hours ago
Good luck with the launch
祝发射顺利
Nmr• Nmr•Xxc•5 hours ago
Best wishes to entire ISRO community for their dedicated and hard work.
谨向ISRO全体同仁致以最美好的祝愿,感谢他们的辛勤工作。
Anonymous•News King Frequent Flyer Member • Anonymous•bangalore•1 hour ago
ISRO is one of the shining star for the Indian
ISRO是印度的一颗闪亮之星
PS Kumar•5688• PS Kumar•3 hours ago
This time with success, congratulation in advance because I have faith on our scientist.
这次肯定能成功了,提前表示祝贺,我对印度科学家有信心。
Souvik Maiti•136• Souvik Maiti•3 hours ago
It''s a proud moment for us
这对我们来说是一个自豪的时刻
Shaktimaan•5270• Shaktimaan•6 hours ago
Mission Failed= Blame Nehru. Mission Successful= Masterstroke from Modi Ji.
任务失败,就归咎于尼赫鲁。任务成功,就说是莫迪的杰作。
Hiten Indie•8920• Shaktimaan •Delhi•2 hours ago
Mission failed = Additional learning, Mission success= Learning for new mission. Let''s not talk negative, we all want that rover to roll out successfully.
任务失败,则需要继续学习,任务成功,则要为新任务学习。不要说消极的话,我们都希望那辆月球车能成功驶出。
Sushil Malik•45• Sushil Malik•2 hours ago
We have full faith in our ISRO scientists. I am sure that this mission will also be highly successful as all the previous missions.
我们对ISRO的科学家充满信心。我相信,这次任务也将象以往的所有任务一样大获成功。
Shivanna Kaladgi•1670• Shivanna•3 hours ago
No.problem take your own time ,no hurry ,we want positive result,its question of 1000 cr. Project,...jai hind jai bharat.
慢慢来,不要着急,我们希望任务成功,这可是耗资百亿卢比的项目。
Sai Krishna•855• Shivanna Kaladgi•3 hours ago
get ready to celebrate the disaster..
准备好庆祝灾难吧
Rajesh Singhal•15719•Influencer Wordsmith News King • Rajesh Singhal•4 hours ago
The scientists of ISRO are the real brains behind the success stories of India. But it is really sad that our people seem to know nothing about the scientists in general. They more or less ,all the time, remain behind the screen. The faces of the politicians, the cricketers, the Bollywood stars and the faces of the mastermind behind terrorist attacks are well known even to a child of today. But what about the scientists of ISRO ? Where do they stand ?
ISRO的科学家是印度成功故事背后的真正智囊。
令人遗憾的是,我们的人民似乎对科学家一无所知。
他们一直留在幕后。
政客、板球运动员、宝莱坞明星的面孔,即使对今天的孩子来说也是众所周知的。但是ISRO的科学家们呢?他们的位置在哪里?
Nandkishor Kothari•560• Nandkishor•31 mins ago
Take some anti nationals like azamkhan in the rocket, and late them grab and encroach entire moon.
把一些反国分子塞进火箭里,让他们去占领整个月球。
Naresh Gandhi•152• Naresh Gandhi•1 hour ago
Hard work put in by our scientists would surely result in success. Our country is destined to achieve great heights.
我们的科学家付出了这么多努力,一定会成功的。我们的国家注定要取得伟大的成就。
vicky bn•164• Vicky•1 hour ago
Let's all Cheer again and get Excited like few days before
让我们再次欢呼,像几天前一样嗨起来
Dilip•25701• Dilip•2 hours ago
HOPE SURELY IT WILL SOAR INTO THE SKIES SUCCESSFULLY
希望这次能成功飞上天空
BJP Spokesperson•569• BJP Spokesperson•2 hours ago
Everything about India''s economy is fake and overly exaggerated by both the domestic Indian media (strictly monitored by the Government of India) and the international media (that somehow see India as something to challenge ). In this sort of atmosphere, where the media tools are in the hands of the influential groups, who is going to question India''s ''GDP'' growth-rate? India''s own experts on economy have questioned the transparency and the calculation methods of the GDP rate.
印度国内媒体和国际媒体对印度经济的报道都是假的,夸大其词。
媒体工具在有影响力的团体手中,谁会质疑印度的"GDP"增长率?印度经济专家都对GDP的透明度和计算方法提出了质疑。
Harmonica•4169• Harmonica•3 hours ago
What are the achievements of ISRO from Mars program so far?
到目前为止,ISRO的火星计划取得了哪些成就?

Swarup Paul•1085• Swarup Paul•4 hours ago
WE ARE PROUD OF OUR SCIENTIST. ALL THE BEST ISRO FOR SUCCESSFUL LAUNCH OF CHANDRAYAN 2. IF EVERYTHING GOES RIGHT WE WILL MAKE HISTORY TOMMORROW
为我们的科学家感到骄傲。祝"月船2号"发射成功。如果一切顺利,我们将创造历史
Shubham Parashar•7883•Influencer News King Frequent Flyer • Shubham Parashar•Noida•23 mins ago
Whole IINDIA is praying for your success .. BEST OF LUCK .. Make us PROUD !!! JAI HIND
整个印度都在为此次任务的成功祈祷。祝好运,让我们骄傲!!印度必胜!
Birendra Kashyap•3384•Influencer Wordsmith News King • Birendra Kashyap•23 mins ago
money spend by ISRO is a peanut comparing to what india spends in elections and the end results of election is useless,worthless
ISRO花的钱和印度在选举上的钱比起来,简直是小巫见大巫,选举的最终结果毫无用处,毫无价值
Chanchal Sinha•1838•Frequent Flyer Member • Chanchal Sinha•1 hour ago
Space is the final frontier as stated in star trek. This is just a modest begng. All the best.
正如《星际迷航》中所说,太空是最后的疆域。这只是一个低调的开端,愿一切都好!