Gujarat: 959 students, same answers, same mistakes!
古吉拉特邦959名学生,答案雷同,错误雷同!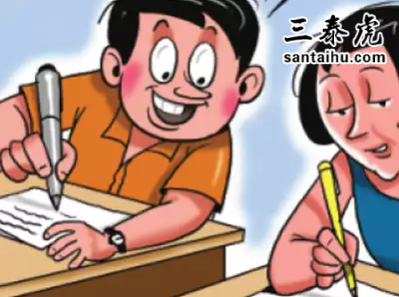 AHMEDABAD: Gujarat Secondary and Higher Secondary Education Board (GSHSEB) offi als were in for a rude shock when they recently unearthed a mass copying in dent involving as many as 959 class I general stream students.
艾哈迈达巴德:古吉拉特邦中高等教育委员会(GSHSEB)的官员最近发现了一起大规模作弊事件,涉及多达959名12年级学生。
This by far is the single largest instance of mass copying in GSHSEB's recent history. The in dent took place despite the strict measures that have been put in place to check mass copying. The results of these students have been withheld till 2020 and they have been failed in the subjects in which they have allegedly cheated.
这是GSHSEB迄今为止最严重的大规模作弊事件。尽管已经采取了防止大规模作弊的严格措施,还是发生了这起事件。这些学生的成绩将到2020年公布,他们涉嫌作弊的科目都不及格。
Acting on several compnts, the board authorities closely scrutinized the answer papers of examination centres from where such instances were reported. These centres are mainly in Junagadh and Gir-Somnath districts.
委员会根据几项控诉采取行动,仔细审查了相关考点的答卷,这些考点主要集中在Junagadh和giro - somnath区。
The 959 students wre ditto answers for the same questions, in the same sequence and even committed the same mistakes, said sources in GSHSEB.
GSHSEB的消息人士称,959名学生的答案相同、顺序相同、甚至错误都相同。
At one of these centres, as many as 200 students wre the essay "Dikri Ghar Ni Divdi (daughter is earthen lamp of the family)" in the exact same way from begng to end, said sources.
有消息称,在其中一个考点,多达200名学生写了同一篇文章《Dikri Ghar Ni Divdi(女儿是家中的瓦灯)》,从头到尾都一样。
The subjects in which the mass copying instance took place included Accounting, Economics, English Literature and Statistics.
涉及大规模作弊的科目包括会计学、经济学、英国文学和统计学。
"The board is planning to cancel examination centres at Amrapur (Gir-Somnath), Visanvel (Junagadh) and Prachi-Pipla (Gir-Somnath) for class I general stream," said an offi al of GSHSEB.
GSHSEB的一名官员称:"委员会计划取消12年级的阿姆拉布尔 (girg - somnath)、维桑维尔(Junagadh)和prachii - pipla (girg - somnath)的考试中心。"
The board decided to withhold the results of the 959 candidates after they were summoned by the exams reforms committee to verify the cms of mass copying.
在959名考生被考试改革委员会核实大规模作弊的指控后,委员会决定不公布考试成绩。
Some of the students told the committee that they were dictated answers by the teachers at the exam centres.
一些学生告诉委员会,他们的答案是由考试中心的老师口授的。
印度时报读者的评论:
译文来源:三泰虎 http://www.santaihu.com/48046.html 译者:Jessica.Wu
外文:https://timesofindia.indiatimes.com
Himmat Patil
Whole of India should adapt the Gujarat model so that the country produces intellectuals by mass copying.
整个印度都应该采用古吉拉特邦模式,这样这个国家就可以放任大规模抄袭,以此来培养知识分子。
Umesh Chinnappa
As PM wants one nation one tax..one nation one law..so as same way students of next generation from Gujarat wants one question same answer..funny worl...
总理想要"一国一税,一国一法"…所以古吉拉特邦的学生也效仿,一个问题,一种答案。有趣…
Rambharosey
Lol. Gujarat Model. This is how Chowkidar passed his MA exam. Maybe he also won ion like this only....by feeding same answer to EVM machines.
哈哈,古吉拉特邦模式。莫迪就是这样通过硕士考试的。也许他也是通过作弊赢得了选举,给电子选票机设定了相同的投票结果。
Sidvtec•19 hours ago
Funny and shameful, this state does not have discipline.
可笑而又可耻,这个国家没有纪律可言。
Anis Shaikh•19 hours ago
Gujarat, worst go nment worst education & the worst state to leave in.
古吉拉特邦最不宜居,教育是最差的。
Shivkumar Mohite•RAJKOT•20 hours ago
And we thought that such things happened only in Bihar, UP and MP.
我们以为只有在比哈尔邦,北方邦和中央邦才会发生这种事情。
Kailash•21 hours ago
May be they have same teacher.
也许他们是同一位老师。
Kailash•21 hours ago
What a coin dence!
太巧了!
Madan Mohan Siddhanthi•Mumbai•22 hours ago
Shame to the whole nation
整个国家应感到羞耻
AC Mathew•Dubai•22 hours ago
Jai Ho! Gujarat Model!
古吉拉特邦模式!
印度必胜
Jason•22 hours ago
that's the reason this country are producing educated nuts
所以这个国家培养出来的都是傻子
abdul sami Abdullatif•India•22 hours ago
No one will understand but actually jawahar lal nehru is responsible for this
无法理解,尼赫鲁应该对此负责。
Ganesan GV•22 hours ago
The headline should be that private schools and candidates in connivance of unscrupulous teachers cheats tge sy em.
标题应该是:在老师纵容下,私立学校考生肆无忌惮地作弊。
Mushtaq•23 hours ago
The matter should be investigated since how many years this is happening and how many fake degrees have been awarded by these institutions.
对这起事件进行调查吧,这种现象已经存在多少年了,相关机构颁发了多少假学位。
Pappu Pass or Fail•Unknown•23 hours ago
is Guj becoming another infamous Bihar-UP in cheating..!! hehehe
古吉拉特邦成了继比哈尔邦和北方邦之后的下一个臭名昭著的作弊邦…哈哈
Sunil K Mehrotra•LUCKNOW•23 hours ago
Matter of shame. It is good that result of such students has been with held. Th stern action must also be taken ag inst the staff involved in the matter .
丢人。幸好不公布这类学生的成绩。还必须严惩与此事有关的工作人员。
Rajesh Singhal•23 hours ago
900 students cannot write the same answer, in the same sequence making the same mistake. This is impossible. Probably, the invigilator, too is involved in this form of mass copying.. It is quite possible that the answers were not written at all. The invigilator had helped them out through a photo copying machine making 900 copies and the students were to only write their names and roll number and submit.
900名学生都写出同样的答案,顺序和错误都相同,这是不可能的。也许监考老师也参与了作弊。很可能学生根本就没有作答。监考老师复印了900份答案相同的卷子,学生们只需要写下自己的姓名和学号,然后提交考卷就行了。
Vivek•23 hours ago
And this Modi wants to make all of India like Gujarat
莫迪想让整个印度都步古吉拉特邦的后尘