29 killed as bus falls into drain on Yamuna Expressway
印度亚穆纳高速公路上,一巴士坠入水沟,致29人死亡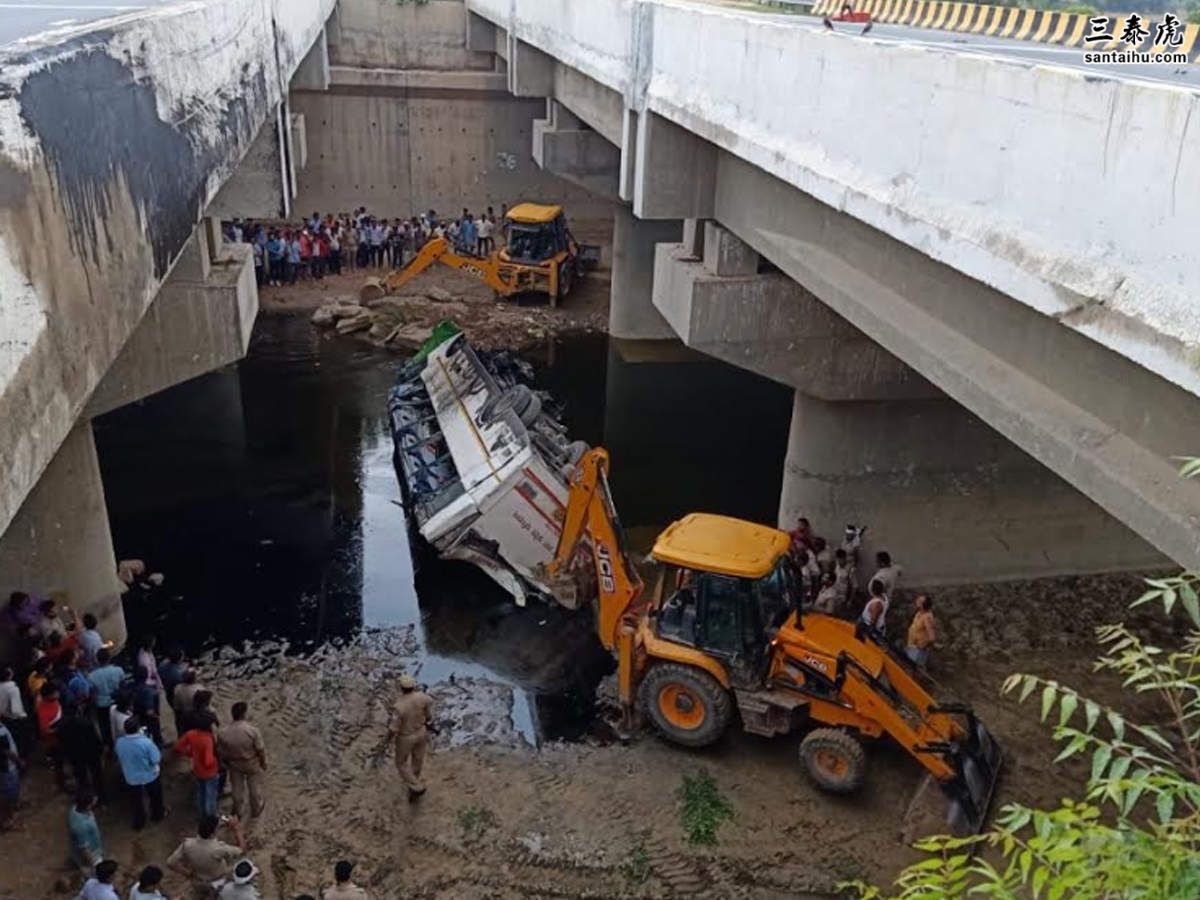 AGRA: At least 29 people were killed and 23 others injured when a passenger bus fell into a drain on the Yamuna Expressway early Monday morning.
阿格拉: 周一清晨,一辆客车在亚穆纳高速公路上坠入水渠,造成至少29人死亡,23人受伤。
Initial probe revealed that the mishap occurred after bus driver of the UPSRTC Jan Rath dozed off at the wheel.
初步调查显示,巴士司机在驾驶时打瞌睡,引发事故。
The bus, after hitting the divider, fell into the 40-feet-deep gap between two flyovers on the Expressway near Milestone 161 (Jharna nullah) under Etmadpur police jurisdiction of Agra district at around 4.15am.
上午4时15分左右,这辆巴士在阿格拉地区附近高速公路上坠入两座立交桥之间排水沟里,高度为40英尺。
According to Major (retired) Manish Singh, in-charge coordinator of Yamuna expressway, "It seems the bus driver of the UPSRTC Jan Rath fell asleep on the wheel, breaking the divider and taking the bus into 40-feet shallow gap between two flyovers of Yamuna Expressway."
据亚穆纳高速公路主管协调员曼尼什·辛格少校(已退休)表示:"似乎是巴士司机在驾驶时睡着了,结果巴士开进了两座立交桥之间的浅沟里,高度为40英尺。"
Senior superintendent of police, Agra, Babloo Kumar said, "Our teams have completed the rescue operation. As of now 29 casualties have been reported. The injured have been shifted to hospital."
阿格拉高级警司巴布洛·库马尔称:"我们已经完成了救援行动。截至目前,已报告29人死亡。伤者已被送往医院。"
Prime Minister Narendra Modi expressed grief over the tragedy through a tweet.
莫迪总理通过推特表达了对这场事故的悲痛。
The Yamuna Expressway has reported 127 deaths in 247 road accidents this year so far, while 110 deaths were reported in 659 road accidents during the year 2018.
截至目前,今年亚穆纳高速公路已报告247起交通事故,导致127人死亡。2018年,发生659起交通事故,造成110人死亡。
印度时报读者的评论:
译文来源:三泰虎 http://www.santaihu.com/47986.html 译者:Jessica.Wu
外文:https://timesofindia.indiatimes.com
Amit • 7 hours ago
Untrained drivers, sleep deprivation, poor fitness buses...
Very Sad news... Rip
司机未经培训、睡眠不足、疲劳驾驶,巴士车况差……
何其不幸,安息吧
Ramesh Sargam • Bangalore • 4 hours ago
You are absolutely right.
你说得太对了
MOHD SALEEM AHMED• 2 hours ago
Congress& Nehru responsible.
国大党和尼赫鲁要对此负责
Sudipta Bhowmick• 3 hours ago
Corruption under BJP is no different than congress. Still fitness and driving license are issued with bribe while Feku continue with his jumla and lies.
人民党执政和国大党执政期一样腐败。塞点钱就能拿到驾照。莫迪仍在继续吹牛、撒谎。
Nation First• Others • 6 hours ago
All accidents happen during Morning 3 to 4 am. At least two drivers should be in every Night Express.
所有事故都发生在凌晨3点到4点之间。夜间行车至少要有两名司机轮着开。
mayank paliwal• 6 hours ago
Like pilots.. These bus drivers also need to go through daily pre drive medicals. Company must ensure that drivers gets adequate rest in day..
和飞行员一样,巴士司机每天都要接受行前体检。公司应确保司机们在白天有充足的休息。
Ramesh K• Pune • 6 hours ago
Agreed, but who will implement such law, Modiji is busy 24*7, so he will get time for these only after 4-5 decades :)
同意,但是谁来执行呢,莫迪每天24小时都很忙
Bharat • 7 hours ago
No safety barricade poles or wall on the edge of Bridge either sides. Who is that ch00thiya engineer allowed traffic on this bridge without safety.
两侧无安全护栏。工程师怎么没考虑到这个安全问题?
Work is Worship • 6 hours ago
The bridge has no protection on sideways!! Drivers slee is a perennial issue. Hope the state government wouldn''t sleep over these calamities.
两侧没有护栏!!
司机打瞌睡是一个长期备受诟病的问题。希望邦政府不要对这些问题置之不理。
Anil • 6 hours ago
Unfortunate . There are devices available which alerts driver from dozing off . All long distance buses be fitted with such devices .
不幸啊。有一些设备可以提醒司机不要打瞌睡。所有长途汽车都应该装这种设备。
Proud Indian • 7 hours ago
lack of proper sleep and maybe lack of proper training. So many families shattered. RIP
司机不仅仅是睡眠不足,可能训练也不足。导致这么多家庭支离破碎。安息吧
Mumtaz Hussain • Dubai, UAE • 4 hours ago
There is a need to investigate properly the cause of the accident. According to a survey, most road accidents take place due to lack of sleep of drivers, using alcohol while driving or using mobile phone.
有必要对事故原因进行调查。根据调查,大多数交通事故不是司机睡眠不足造成的,就是开车时喝酒或打电话。
DrArpan Jain • Bangalore, India • 5 hours ago
Two drivers should be must compulsory during night shifts so that if one fall asleep other will overtake to avoid accidents.
开夜班车时,必须配两名司机,如果一名司机想睡了,另一名司机就能接替,以避免发生事故。
Ritchie • NYC • 6 hours ago
Daily routine in India. Life is cheap and useless.
印度日常啦,生命太廉价了
MOHD SALEEM AHMED• 1 hour ago
Life of humans may be cheap, but surely cows are safe.
人命可能很廉价,但奶牛肯定是安全的。
Dravidian Country Toronto • 6 hours ago
driver must have been delivering gutkha laden spit from the door and has lost control
司机一定是在往外吐口水,导致车子失控了
Nk • New Delhi • 7 hours ago
Probably SPEED is responsible.
可能是因为车速太快了
Mandar • 1 hour ago
good let people die.its a natural phenomenon.thats occurr when population gets out of control.especially for UP and bihar.indias population should not exceed 60-70 crore.
死就死吧,这是自然现象。刚好印度人口也失控了,特别是北方邦和比哈尔邦。印度人口不应超过六-七亿。
wreck it ralf • 1 hour ago
Even 60 70 crores us too high , max is 20 to 25 crores
6-7亿都太多了,最多不应超过2-2.5亿。
Mandar Kale• 1 hour ago
haha i Don care . whoever reply. die every one of u.
我不在乎,人皆有一死
Frequent Flyer • Bhubaneshwar • 4 hours ago
Human life is very cheap in India.
在印度,人命是非常廉价的。
DrArpan Jain • Bangalore, India • 5 hours ago
Time to take strict action on this bus drivers who drives negligently,drunken,sleep during drive, overspeeding buses and then lead to killing of people.
是时候对酒后驾驶,疲劳驾驶,超速驾驶的司机采取严厉措施了,这些疏忽会害死人的。
Ritchie • NYC • 6 hours ago
Why isnt there no side rail for crash? WTF is this country. It will never develop. For sure.
为什么高速公路两侧没有防护栏?这是个什么国家,永远发展不起来。
Mudi Ji• Gujriot • 5 hours ago
@chakra is that why Indians line up like animals begging for USA visa?
这就是印度人排队申请美国签证的原因
ps murthy • Ingeku • 5 hours ago
In India, so many people die every year in incidents like these.
在印度,每年都有很多人死于车祸
Ash D • 5 hours ago
The road YE is nothing but a death road
这条高速公路是一条死亡之路
Manoj • Bangalore • 6 hours ago
Unprofessional Drivers !
司机不够专业!