Over 2 lakh women apply for 100 jawan posts
逾20万印度女性申请参军,名额仅100个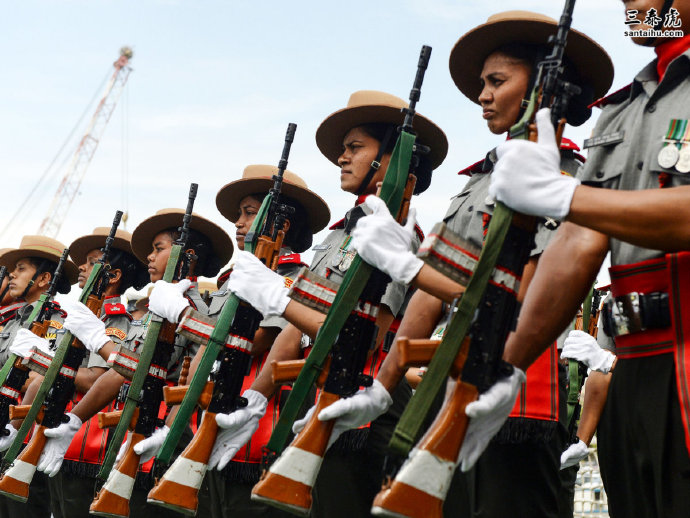 NEW DELHI: Given half a chance, women would jump at joining the armed forces in far larger numbers, even as jawans for the first time. They are even gung-ho about combat roles, like the six women fighter pilots undergoing training in the IAF have proven in the battle against entrenched mindsets.
新德里:只要有机会,女性就会踊跃申请入伍,即使申请人数远远超过招募人数。这些女性甚至青睐作战角色,在印度空军接受训练的六名女飞行员在与根深蒂固的观念的斗争中证明了自己的能力。
Yet another glass-ceiling in the 15-lakh strong armed forces is all set to be shattered soon, with over two lakh young girls applying online for just 100 vacancies for women jawans in the Corps of Military Police (CMP).
然而,150万军队中的另一个无形障碍即将被打破,超过20万名年轻女孩在网上申请加入宪兵部队(CMP),名额仅100个。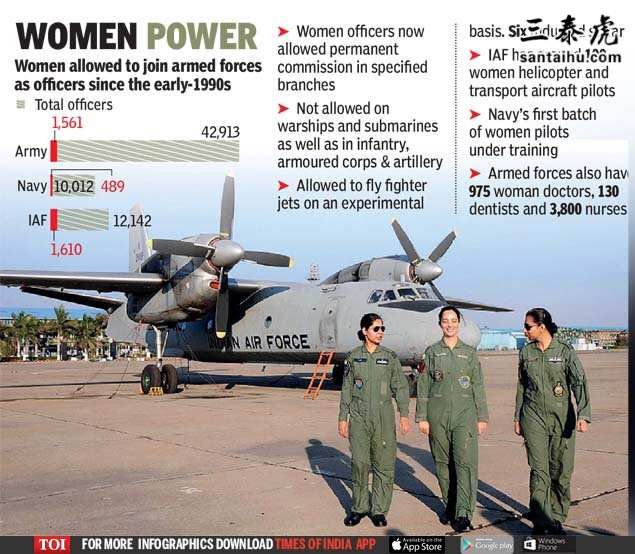 The armed forces till now have inducted women only as officers, and kept them firmly away from serving on board warships and submarines as well as joining "fighting arms" in the Army like infantry, armoured corps and artillery.
到目前为止,军队只招募女性作为军官,并坚决禁止她们在军舰和潜艇上服役,禁止加入步兵、装甲部队和炮兵等作战队伍。
"Recruitment of women as soldiers (general duty) in the CMP is a path-breaking step. With over two lakh women registering online since April 25, the recruitment rally is now slated to be held at Belgaum before this month-end," he said.
一名高级军官表示:"招募女性士兵(普通职务)是开创性的一步。自4月25日以来,已有超过20万名女性在网上申请,这次招募集会将于本月底前在贝尔高姆举行。"
The Army plans to induct 1,700 women in the PBOR (personnel below officer rank) category in the CMP in a phased manner over the next 17 years.
印度陆军计划在未来17年分阶段招收1700名妇女,担任宪兵部队的PBOR(军官以下人员)职务。
This is certainly true. Women can serve on warships in many countries ranging from Malaysia and Singapore to Sri Lanka and Bangladesh. Women in the US serve even on nuclear submarines with ballistic missiles. Much before India, there have been women fighter pilots in several countries like the US, Russia, Turkey and Pakistan.
从马来西亚、新加坡到斯里兰卡和孟加拉国,许多国家的女性都可以在军舰上服役。在美国,女性甚至在携带弹道导弹的核潜艇上服役。早在印度之前,美国、俄罗斯、土耳其和巴基斯坦等国就有女战斗机飞行员。
印度时报读者的评论:
译文来源:三泰虎 http://www.santaihu.com/47957.html 译者:Jessica.Wu
外文:https://timesofindia.indiatimes.com
Dreet • 12 hours ago
Don't confuse patriotism and joblessness. Desperate souls wanting a decent job and nothing else
不要把爱国和失业混为一谈。这些绝望的人只是想要一份体面的工作
thiru• Mumbai • 7 hours ago
High unemployment under illiterate chaiwala government
在文盲卖茶人执政期间,失业率太高了
Vande Matram • Earth • 12 hours ago
This is not patriotism, this is an evidence of high joblessness, and a desire for govt job with retirement benefits.
这不是爱国,恰恰证明了失业率高,以及对政府工作和退休福利的渴望。
ONE LINER Challenge • 13 hours ago
JUST ROLL BACK INDIA 25 YEARS AND INTRODUCE POPULATION CONTROL- WE WOULD HAVE HAD 100 APPLYING FOR 100 JOBS-THATS THE INDIA WE NEED TO ACHIEVE
如果印度在25年前实行人口控制——那现在申请100个职位的人数就只有100人。
John Verghese• Mumbai • 8 hours ago
sir this will take centuries to achieve this target.
先生,需要几个世纪才能实现这个目标。
thiru• Mumbai • 7 hours ago
Quality of life is drop day by day, also our government not interested in improving it
生活质量日益下降,我们的政府也无意改善
Naval • 11 hours ago
Now some people may confuse this as patriotism, This is the pathetic situation of joblessness.
有些人可能会把这误认为是爱国,这恰恰反映了严峻的失业形势。
Suresh • 11 hours ago
India heading to no.1..............in population
印度即将成为人口第一大国
John Verghese• Mumbai • 8 hours ago
yes sir and will overtake very soon. area is three times the area of India and India will be very densely populated country in the long run
是的,印度人口很快就会超过口。的国土面积是印度的三倍,印度是一个人口密集的国家。
Jay • 12 hours ago
Why these people need jobs? I thought Indians need cows, statues & temples
干嘛要工作?我以为印度人只需要牛、雕像和寺庙
thiru• Mumbai • 7 hours ago
Well said, illiterate chaiwala only interested in wasting tax payers money on statues, foreign trips
说得好,不识字的卖茶郎喜欢把纳税人的钱用来修雕像,用来去国外旅行
Rajesh • 11 hours ago
joblessness to the core....another article says 7lakh vacancies in govt posts...
失业率太高了……另一篇文章说,政府职位有70万个空缺。
John Abraham • 11 hours ago
Indian need to watch more TV or play outside.. less fukinng less breeding will be the only option..
印度人要多看看电视,多到国外走走…减少人口将是唯一的解决办法。
Hello There • 13 hours ago
So Pakistan and Bangladesh are way ahead of us in recruiting women officers...
That's a shame
巴基斯坦和孟加拉国招募的女性军官比我们多多了。

VIJAY SAHAJPAL • 10 hours ago
All due to accute unemployment in this country.
都是因为失业率太高了。
Indian • India • 9 hours ago
SEE THE LEVEL OF UNEMPLOYMENT.2 LAKHS VS 100.MODI HAI TOH MUMKIN HAI.
20万VS 100,看看这失业率有多高。
ONE LINER Challenge • 13 hours ago
WE SHOULD WIND UP RESERVATIONS TOTALLY AND HAVE THE JOBS SHARED 50-50 BETWEEN JUST MEN AND WOMEN-THAT''s LIKE ACHIEVING EQUAL RIGHTS
我们应该完全取消预留制,让男女平等地分享工作机会
Raghunandan Padhi• 9 hours ago
Govt shouldn''t create job at all.... When there will be no jobs at all no one will worry about reservation or equality
政府根本不应该创造就业机会……没有工作的话,就不会担心分配不公平了。
K Mohan • Hyderabad • 6 hours ago
This proves women are ready to take any job that includes national security too. And this also reveals the plight of unemployment.
这证明女性愿意做任何工作,包括保家卫国,也揭示了失业困境。
K Gopalakrishna • 10 hours ago
So where are the promised jobs ! No chance in the next five years !
承诺的工作岗位在哪呢?在接下来的五年里都没希望!