Kolkata schoolgirl left chilling ne describing final moments
加尔各答女学生留下了一张令人不寒而栗的纸条,述说其生命的最后时刻
KOLKATA: "Give me a nice funeral. A NAICE one," Krittika Paul had written in the suicide ne found next to her in the school washroom where she killed herself on Friday. Respecting her last wishes, her family, relatives and friends gave the 14-year-old an emotional send-off at a crematorium in Baruipur on Saturday evening.
加尔各答: 星期五,克里蒂卡·保罗在学校的卫生间自杀,遗体旁边的一封遗书写道:"给我办一个体面的葬礼。"为了尊重她的遗愿,星期六晚上,她的家人、亲戚和朋友在巴鲁布尔的一家火葬场为这位14岁的女孩举行一场了感人的送别仪式。
A few family members and very close friends of the family accompanied Krittika's distraught father to the crematorium in Kirt khola in Baruipur on the southern fringes of the city at 3.30pm.
当天下午3点30分,克里蒂卡的几名家人和非常亲密的朋友陪其悲痛欲绝的父亲来到位于巴鲁普尔南部基尔坦科拉的火葬场。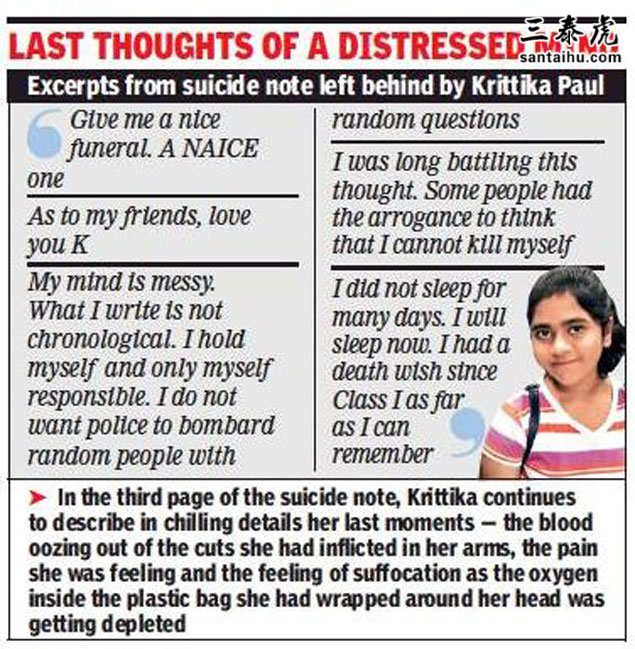 "We wanted to keep her last rites a very private affair, and so the choice of this crematorium. The Pauls' ancestral house is in Baruipur. Krittika's maternal uncle also lives here," said a close family friend. "We all have very fond memories of Krittika. I can't believe she is no more. The reality is yet to sink in. We had high hopes she would do well in life as she was both intelligent and compassionate," said a family member.
一位亲属称:"我们希望她的葬礼仪式保密,所以选择了火葬场。克里蒂卡的祖屋在巴鲁布尔,舅舅也住在这里。我们都对克里提卡有非常美好的回忆。我不敢相信她已经不在了,还无法接受这个事实。我们对她寄予厚望,她既聪明又富有同情心。"
Earlier in the afternoon, Krittika's body was handed over to the family at SSKM hospital after post mortem. The initial report confirmed her injuries were ante mortem (before death) and death may have been caused due to lack of oxygen. "She had wrapped her face with a polythene bag and tucked its edges inside her shirt, possibly to suffocate herself. There were multiple slash injuries on her wrist but those were unsure cuts and non-lethal in nature," a police officer said.
当天下午早些时候,克里蒂卡的遗体在SSKM医院进行了尸检后移交给了她的家人。最初的报告证实她的伤是死前造成的,死因可能是缺氧。一名警官称:"她把塑料袋套在头上,可能是为了让自己窒息而死。她的手腕上有多处划伤,但这些伤口不是致命的。"
But what shook even the most hardened of police officers was her three-page suicide ne in which she graphically described her suffering leading to her death. Written in a hand that increasingly became unsteady as she bled and suffocated, she wre about the pain as blood dripped off her wrists and how breathing was getting difficult due to lack of oxygen. Police believe she wre this page in the washroom while the first two in steady hand were written earlier.
令警察也感到震惊的是,她在长达三页的自杀遗书中详细描述了导致她死亡的痛苦。在流血和窒息时,她写字的手越来越抖,她写下了手腕流血时的疼痛,以及由于缺氧,呼吸变得越来越困难。警方认为,这一页是她在洗手间写的,而前两页则是在手还不会发抖时写的。
In the first two pages, written in lucid English without a scratch mark, Krittika wre that she had spent several sleepless days and would find sleep at last. She also mentioned that she had a death wish since she was in Class I
在前两页中,克里提卡用清晰的英语(没有涂改)写道,她度过了好几个不眠之夜。她还提到,自从她上一年级起,她就有想死的想法。
Her mobile, laptop may carry evidence: Cops
警方称,她的手机、笔记本电脑里面可能有一些关于她为何会自杀的线索。
印度时报读者的评论:
译文来源:三泰虎 http://www.santaihu.com/47893.html 译者:Jessica.Wu
外文:https://timesofindia.indiatimes.com/india/kolkata-schoolgirl-left-chilling-ne-describing-final-moments/articleshow/69910148.cms
Shamb Purohit• Valdosta, • 1 day ago
Stupid of news paper to describe such detail. Children will do copy-cat act and more lives will be lost.
愚蠢,刊登这么多细节,孩子们会模仿的,更多人会丧命。
DrSathishankar Kth • 1 day ago
Useful news
How else Parents will learn lessons
Never pressurize your kids to work harder than their capacity
See that they get enough sleep
这新闻有意义,家长们将吸取教训,永远不要给孩子施加过多的压力,让孩子有足够的睡眠。
LeMarque• India • 1 day ago
First, Indians should control the population by adopting one child policy at will
印度应该实施一孩政策,控制人口。
NS Talekar • 1 day ago
I am afraid this girl was suffering from depression. This disease is spreading - more amongst females than males. Please be friendly with such people so that they will see hope and not do such thing.
这个女孩可能患有抑郁症。患这种疾病的女性比男性多。请善待抑郁症患者,让他们看到希望,不要去做傻事。
Rohan Chowdhury• Bengaluru • 8 hours ago
It was really unnecessary to bring gender into discussion, globally, men suicides outnumber female suicide by a margin
没必要提性别问题,在全球范围内,男性自杀人数远远超过女性自杀人数。
Dev • australia • 1 day ago
People who are depressed should do manual work or work in farm
抑郁症患者应该去干体力活,去农场劳动
mlgajria• Mumbai • 1 day ago
People who are depressed can not think themselves what to do?For them life becomes burden.The people around them fail to understand this and instead of listening and supporting them laugh at them.That is the root cause of such situation.
患抑郁的人不知道自己该做什么?对他们来说,生活成了负担。星期围的人不能理解这一点,不听他们倾诉,不帮助他们,反而嘲笑他们。这是造成这种背景的根本原因。
Hiten Indie• Delhi • 1 day ago
Suicide by wrap plastic bag around neck to suffocate self also sounds suspicious. Police should conduct some investigation before shutting the case as pure suicide case.
套塑料袋自杀,听起来有点可疑。警方应进行调查,然后才能将案件作为纯粹的自杀案件结案。
Varun Singh• 1 day ago
You do have a point. It really hints at some foul play. This case should be investigated
你说的有道理,从这点看,可能是谋杀。应该调查一下这个案子。
Smarty • 1 day ago
Please don't blame the parents without knowing the facts. Sometimes it is a case of undiagnosed clinical depression.
Let's not be judgemental here.
Condolences to her near and dear ones.
请不要在不了解事实的情况下责怪父母。这可能是抑郁症导致的。
不要妄下结论,向她的亲人表示慰问。
Mohandas MT• 1 day ago
You shouldn''t have published this kind of psychological disorders. The news may seduce other children living in the banks of suicide brim.
不该报道这种新闻的,可能会让其他徘徊在自杀边缘的孩子效仿。
Rajeshwar Dayal• 1 day ago
It''s a warning call to the parents and teachers not to ignore even small signs of depression and take timely remedial steps.
对家长和老师而言,这是一个警告,不要忽视抑郁症,要及时采取补救措施。
Daddy Kool• 1 day ago
Whatever is your condition, suicide is not the solution.. you shud hav killed few criminals instead.. World would have been thankful to you
无论你有什么遭遇,自杀都不是解决问题的办法。要自杀的话,你至少先杀几个罪犯,全世界都会感谢你的。
Proud Indian• 1 day ago
severe case of depression gone UNTREATED
严重抑郁症,没有得到治疗
Dharmendra• 1 day ago
Stressed society !!!
这个社会充满压力!!!
Saquib Khan• 1 day ago
This is black magic ... stress is not a reason here ...
这是黑魔法,跟压力没关系。
Indian• 1 day ago
sick minded people. can't imagine what the parents must be feeling.
无法想象其父母的心情。
Varun Singh • 1 day ago
A child who can eme articulate and write with such sense cannot be utterly depressed. There is a huge chance of foul play in this case and should be thoroughly investigated.
一个能把自己的感受写得这么清楚的孩子应该没得抑郁症,很有可能是谋杀,应该彻查。
Sdhan Jadhav• Pune • 1 day ago
Behavioural changes could not b assessed by parents n resulted in such accident.
父母没有察觉孩子的行为异样,导致了这样的悲剧。
Yogesh Sharma• Location • 1 day ago
Don't force children to study. If they want to leave the studies and schools, they should be allowed to leave. There are lakhs of many other options for livelihood like agricultural, skill training, business and other professions. Life is important. it must be saved and prected.
不要强迫孩子读书。如果孩子不想读了,想离开学校,那就让他们离开,还有很多其他谋生的选择,比如种地、学技能当技工、做生意等等。
Aam Aadmi• 1 day ago
Younger generation is tense and feeling suffocation. Thanks to our reservation policies !
年轻一代压力大,快喘不过气来了,这都怪预留制。
Rakesh Mohan• 1 day ago
Parents are undoubtedly responsible. She was not loved or given enough attention. Why make babies if u cannot be responsible?
父母无疑是有责任的。女孩没有得到足够的爱和关怀。没有责任心,为什么要生孩子呢?
highs• 1 day ago
It''s not entirely the parents'' fault. It''s just another ignorant society who fails to acknowledge depression as a serious illness. :"")
这不完全是父母的错。社会的无知,没有承认抑郁症是一种严重的疾病。
Anubhav Agrawal• 1 day ago
People who never had Depression would never understand what a terrible illness it is. It''s one of the most painful things in this world and I would not even want my enemy to suffer this. Feel sad for the girl but also a bit content that she is free from all the pain now.
从未患过抑郁症的人永远不会明白抑郁症是一种多么可怕的疾病。这是世界上最痛苦的疾病之一,我甚至不忍心让敌人遭受这样的痛苦。为这个女孩感到难过,也感到些许欣慰,因为她现在从痛苦中解脱出来了。
Priya K• 23 hours ago
Parents need to spend more time with children. Money isn''t everything in life but children are. So as parents we need to be more attentive n focused on our children.
父母需要多花时间和孩子在一起。金钱不是生活的全部,但孩子是。作为父母,我们需要更加关注我们的孩子。
Nindak• India • 1 day ago
Nobody is responsible for her death besides herself. Stop blaming others.
除了她自己,没人要对她的死负责。不要责备其他人了。
Kiranpreet Kaur • 1 day ago
..purely case of mental illness
纯粹是精神病
Dean • traveller • 1 day ago
let her die, many take birth and many die everyday. what is so special about her?
死就死了吧,每天都有很多新生命诞生,每天都有很多人死去。她有什么特别之处?
Amit Thakkar• 1 day ago
depression is a grave disease. refer anyone known with depression to a psychiatrist doctor as Soon as possible.
抑郁症是一种严重的疾病。要尽快去看精神病医生。
Mango Man• Corrupted Country • 1 day ago
Sad that parents are not spending enough time with their children to discover these underlying problems.
遗憾的是,父母没有花足够的时间和孩子在一起,不然就能发现这些潜在的问题。
ASHISH CHOUDHARY• 1 day ago
it's cutthroat competitive world where only money is God and it rules
这个世界竞争残酷,只有金钱是上帝,它主宰着这个世界。