44 dead, 29 injured as bus plunges into gorge in Kullu
库鲁一巴士冲入峡谷,造成44人死亡,29人受伤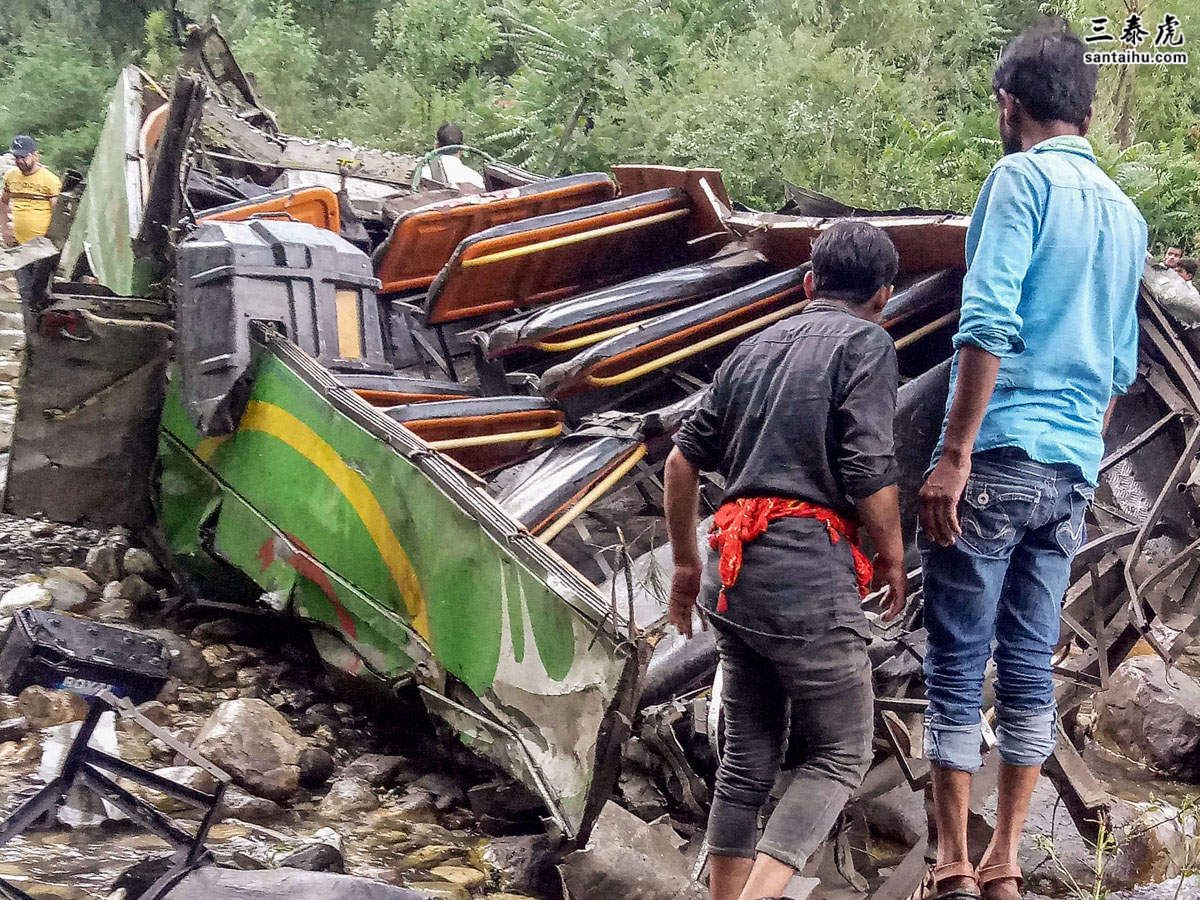 MANALI: At least 44 people have died and 29 sustained injured on Thursday when a bus fell into a gorge in Himachal's Kullu district. Kullu superintendent of police (SP) Shalini Agnihotri said several women and kids were among the injured.
马纳利:周四,一辆巴士在喜马偕尔邦库鲁地区坠入峡谷,造成至少44人死亡,29人受伤。库鲁警长沙利尼·阿格尼霍特里称,伤者中有数名妇女和儿童。
The vehicle had started its journey from the Banjar bus stand around 4pm and covered barely 2km when it met with an accident. The driver apparently lost control while negotiating a sharp turn at the Bhiyoth Mor, which has a gradient of more than 75 degrees. Eyewitnesses said the bus veered off the road to scrape the mountain face before hurtling down the gorge.
该巴士于下午4点左右从Banjar公交车站出发,行驶了不到2公里就发生了事故。在急转弯时,车子失控,事发地的弯度超过75度。目击者称,大巴偏离了道路,擦着山崖,冲向峡谷。
Between 2009 and 2018, Himachal Pradesh recorded 30,993 road accidents in which 11,561 people were killed and 53,909 injured. This year alone, as many as 430 people died in 1,168 road accidents in the state till May 31.
2009年至2018年,喜马偕尔邦共发生30993起交通事故,造成11561人死亡,53909人受伤。截至今年5月31日,该邦就发生1168起交通事故,造成的死亡人数多达430人。
印度时报读者的评论:
译文来源:三泰虎 http://www.santaihu.com/47878.html 译者:Jessica.Wu
外文:https://timesofindia.indiatimes.com
Kalmokta Banchanbali • University of Medaram • 11 hours ago
Motu Gadkari or Feku dont even have a plan for laying brand new type zing road bridges to forever eradicate these ancient cavemen roads that are called highways in HP ..
在喜马偕尔邦,这种路居然也被认为是公路。该邦首席部长和莫迪没计划在喜马偕尔邦修桥,修那样崭新的公路桥,以防止类似事故的发生。
Doer • US • 10 hours ago
Let''s build bigger statues with Tax Payer''s money.
还是用纳税人的钱修雕像吧,修更大的雕像
Rod • Raipur • 11 hours ago
All transport ministers of hilly state be it in North, East , west or South need to ensure road security measures which are lacking. ministers are busy only in making money. When I go to Coorg in Karnataka hill station I m always scared by road conditions
各个邦的交通部长要确保道路安全。然而他们只忙于捞钱。每次坐大巴去卡纳塔克邦,我总是提醒吊胆的。
Vishal Kadam • Pune, Maharashtra • 9 hours ago
I m a bjp suporter but equally a critic.
HP has bjp govt and they are not doing abything on road safetys
喜马偕尔邦是人民党执政,人民党没有改善路况
Adri• TRICHY • 1 hour ago
HP is the worst administered amongst the BJP ruled states. Cor ion and inefficiency rampant with poor administration. An industrial town like Baddi , which is over 15 years since its inception for industrialization has the worst infrastructure and the most backward town despite many MNC''s operating there.
在人民党执政的邦中,喜马偕尔邦是最差的。由于治理不善,腐败横行、效率低下现象猖獗。像拜迪这样的工业城镇,尽管有许多跨国公司入驻,从工业化开始到现在已经超过15年了,但这里的基础设施最差,最落后。
Prakash Kumar• 6 hours ago
You are fake and are really from Pakistan. How dare you question the Go nment?
你是巴基斯坦来的吧。你凭什么质疑印度政府?
Sai Krishna• 9 hours ago
why nothing happens to Feku, Tadipar and Jhootley..why they don't die of heart-attact or something like that..why God why???
为什么莫迪这些政客不出点意外?为什么他们不会死于心脏病…为什么? ? ?
BOOTOUT SARKAARICLASS• ChowkidarJail • 3 hours ago
De ls don't suffer
好人不长命,祸害遗千年
Bharatiya • lol • 5 hours ago
44 29=73.. clearly a case of overloading and negligence by the bus operator...
44+29 = 73 . .很明显,这是车祸是超载造成的。
BOOTOUT SARKAARICLASS• ChowkidarJail • 3 hours ago
BJP gobarmint has eliminated co ption.
人民党消除了腐败。
John Abraham • 9 hours ago
And we sending mangalyan ..not even good road...
印度连像样的路都没有,还搞什么载人航天
Vinod • 5 hours ago
In our country, the most illeterate, uncivilized brainless idi0ts are bus drivers, auto and ta drivers. no one can change them.
在印度,最没文化、最不文明、最没有头脑的白痴就是巴士司机和出租车司机。没人能改变他们。
Desi Bhai• 5 hours ago
Lack of Infra, zero policing welcome my Himachal. Even before the start of rainy season the roads have degraded to "off road" condition. Police is busy saluting the netas and netas never take stock of worsening situation of roads and transport sy em in Himachal. This is not an accident but murder on the hands of police and go nment.
喜马偕尔邦缺乏基础设施。雨季来临之前,路况就很差,没法上路。印度交警从未对喜马偕尔邦日益恶化的道路和交通系统进行评估。这不是一起意外,而是谋杀。
Vinod Kumar• delhi • 5 hours ago
Illiterate and rowdy drives are playing with lives of people.. You can't educate them to drive safely..
文盲司机在拿人民的生命开玩笑。让他们安全驾驶,就是不听
Jack • 10 hours ago
Forget stealth submarines, exploding satellites in space and moon expeditions. Focus on this traffic lots of life and low tech infrastructure that India needs. Every single life is precious and this loss of life of criminal!
别想着造隐形潜艇了,别想着发射卫星了,也别想着月球探险。还是多修一些低技术含量的基础设施吧,基础设施是和普通大众息息相关的。每条生命都是宝贵的,出了人命就是犯罪!
Kl Gaur • 3 hours ago
We have so called express highways of guarantee death in all our hilly states. Who will take responsibilty. Every year, so many people die painful death all over India in bus and train accidents. India loses one lakh 50 thosand alone in road accidents, highest numer in world.
多山的邦都有夺命高速公路,谁来承担责任?每年,印度各地都有很多人命丧巴士和火车事故。道路交通事故造成的死亡人数,印度是全球最多的。
Swarup Paul • 4 hours ago
EVERY TIME ACCIDENT HAPPENS IN SAME SPOT BUT GOVT IS NOT PUTTING INFRASTRUCTRE HERE.
每次事故都发生在同一个地点,但是政府却没一点行动。
sapna tripathi• 5 hours ago
this wouldn't have happened had the roads been wider on turns , the bus quality been better and the driver was well trained. But ....
如果弯道宽点,巴士质量好点,司机技术好点,就不会发生事故了。
Rajasekharan Vichattu • 10 hours ago
The drivers in india are reckless..they drive at 100 no matter what. And behave as if they are the only ones in the road. Bus drivers just dont kill themself but take others with them...which sucks.
印度司机太鲁莽了…什么路都敢开到100码,好像路上就他一辆车似的。巴士车司机不仅害死了自己,还拉上其他人陪葬……
BOOTOUT SARKAARICLASS• ChowkidarJail • 3 hours ago
BJP has eliminated co ption completely
印度人民党彻底消除了腐败
Frequent Flyer • Bhubaneshwar • 8 hours ago
Human life very ch in India.. 44 dead does not matter
在印度,生命很廉价…死了44个人也不要紧
Stingray • 10 hours ago
Keep building stealth submarines, why spend money on infrastructure that can benefit the citizens.
继续造隐形潜艇吧,为什么要把钱用来修基础设施呢,会便宜了民众的。
Dilip Basumatary • assam • 2 hours ago
Too many deaths in road accidents nowadays...please improve road infrastructure Mr.Modi
交通事故造成的死亡太多了。莫迪先生,请改善道路基础设施吧
Lalit • Mumbai • 2 hours ago
Very narrow road , it's high time go nment do something, Manali is tourism place but transport a death trap.
路太窄了,政府该有所行动了,马纳里是旅游胜地,交通状况却很差劲,是一个死亡陷阱。
Ravi • 2 hours ago
These accidents are increasing more and more. Govt has to take ne of it and action as well. People dying in road accidents are becoming more and more common now a days.
事故越来越多,政府应警惕起来。死于交通事故的人越来越多了。
Vipul Bhagat • 3 hours ago
He will blame Nehru lol
他们会把责任推到尼赫鲁身上的
zak46 • Location • 9 hours ago
Where are the guard rails?
没有护栏吗?