Mumbai wastes more time in jams than any other city in the world: Report
报道:孟买交通拥堵造成的时间浪费比其他城市都更多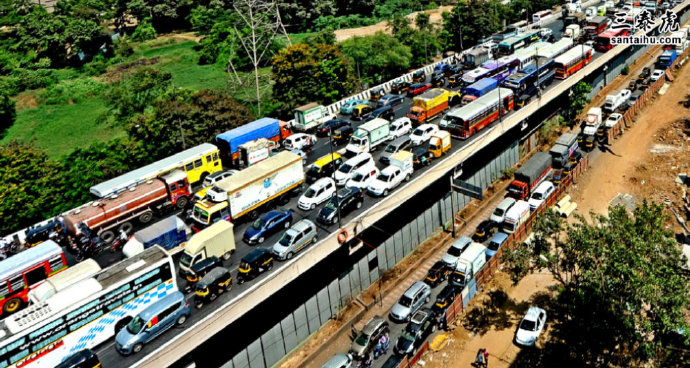 MUMBAI: Mumbai motorists face the worst traffic jams in the world, according to a recent global study based on statistical analysis of GPS data. The report said commuters in the city spend 65% more time on the roads during peak hours than when the roads are free. It put the city ahead of Bogota, Lima, Delhi, and others as the most congested city on its TomTom Traffic Index 2018. In comparison, a New Yorker spends 36% more time on the roads during peak hours.
孟买:根据最近一项基于GPS数据统计分析的全球研究,孟买的驾车者忍受着世界上最严重的交通拥堵。该报告称,在高峰时段,通勤者在路上花的时间比在畅通无阻时要多出65%。在2018年TomTom交通指数中,孟买排在波哥大、利马、德里和其他城市之前,成为最拥堵的城市。相比之下,纽约人在交通高峰期在路上花的时间要比其他时段多出36%。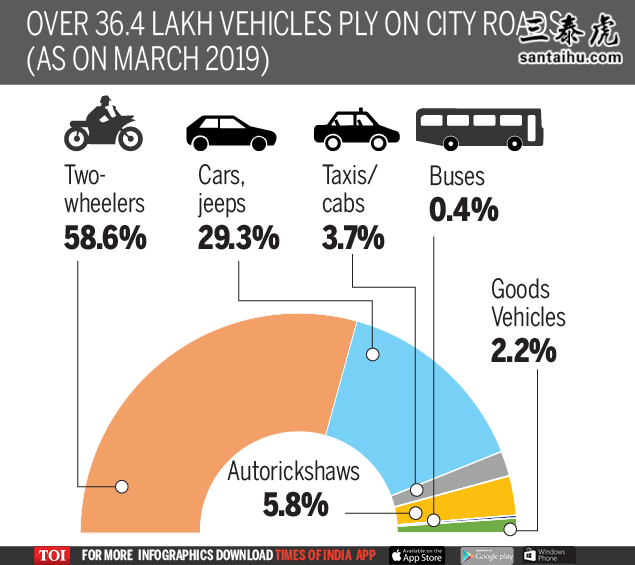 So, why did things come to such a pass and will it get any better? Activists point out that the situation may only get worse in monsoon.
为什么孟买的交通状况会恶化到这样的地步,能改善吗?活动人士指出,在雨季,情况只会更糟。
印度时报读者的评论:
译文来源:三泰虎 http://www.santaihu.com/47873.html
外文:https://timesofindia.indiatimes.com
Pete Daryl • 1 day ago
Illiterate drivers- educated ones are more illiterate. We create 3 lanes in place of 4 and so on, no one follows traffic rules, parking on the roads wherever the driver thinks based on his convenience is our traffic rule, now driving in reverse direction is so common that while crossing the road, pedestrians have to watch vehicles on both sides to prect themselves. Bribing policemen is so rampant that both - the giver and taker have no shame or guilt. Enforcing rules is not our motto - breaking rules is.
司机都是文盲, 不遵循交通规则,为了方便就把车随意停在路边。
现在逆向行驶也很常见,过马路的行人应注意来往的车辆,保护好自己。警察之风是如此猖獗,已经到了行贿者和行贿者都没有羞耻感和罪恶感的地步了。循规蹈矩不是我们的座右铭——打破规则才是。
Rn Nr• India • 1 day ago
MUMBAI RTO needs strict measures for Traffic voilations. for a city with around 25Million people man power fo agencies need to go up exponentially and technology should be used to fullest to have some improvement in situation. Sooner Metro under construction starts better for city
孟买应该严惩违反交规者。孟买是一个拥有2500万人口的城市,政府机构应该增加人手,充分利用技术,改善交通拥堵的状况。越早开始建地铁越好。
Raheel Ahmed• 1 day ago
Bombay losing its charm.
孟买正在丧失魅力。
Brendon Fernandes• Mumbai • 1 day ago
Yes hopefully with the Merto lines fully functional in 3 years time a lot of people may hopefully switch to commuting by Metro. The planned Metro coverage is very good actually.
希望孟买地铁能在3年内投入使用,到时候很多人会选择坐地铁上下班的。计划中的地铁覆盖范围实际上也挺大的。
Krish B• 23 hours ago
As if there was one in the first place
貌似已经有一条了吧
Hiten Indie• Delhi • 22 hours ago
How much can we fit into a box that is not scble? It will always overflow. The city is saturated and policy makers need to develop another location for industries. People under stress are more prone to break rules.
水满则溢,这个城市已经饱和了,政策制定者应开发另一个工业基地。压力大的话,开车更容易违规。
Truth• 23 hours ago
Gt is slee!
政府在沉睡!
Anil Thakur • 1 day ago
Ignorant Mumbaikars still consider Mumbai to be the top city in the world... Its basically a city of slums.
无知的孟买人仍然认为孟买是世界第一…实际上孟买是一个贫民窟。
Brendon Fernandes• Mumbai • 1 day ago
Its definitely not a top city at all but its not all bad you know. My sister can walk hope at 2 am in the morning and she still feels safe. Mumbai is a relatively safe city and if you are ever lost lots of people will help you with directions.
孟买绝对不是一个顶级城市,但也不算差。凌晨2点,我妹妹独自在路上走也很觉得安全。孟买是一个相对安全的城市,如果你迷路了,很多人愿意帮你指路的。
rahul ahuja• 23 hours ago
Its not safe anymore
已经不再安全了
Dreet • 1 day ago
And you spend money on majestic statues instead of building flyovers to ease the traffic.
宁愿花钱修雕像,也不拿钱去修可以缓解交通压力的立交桥
Dr Secularism • 23 hours ago
Maybe if Indians didn''t multiply like rats, there wouldn''t be a thousand people where there should be only 1.. learn to use contraception
印度人不拼命生,人口就不会那么多了。要学会避孕
Sabian Gonsalves• 23 hours ago
Gadha you don't marry
那你就不要结婚
Dreet • 1 day ago
Does Ambani Adani or Bajaj experience the jams?
Just for the common man
安巴尼、阿达尼或巴贾杰开车出门有碰到堵车吗?

Suresh Tekade• Location • 23 hours ago
They probably travel by helicopter, mostly
他们多半乘直升机出行
test tester• Location • 23 hours ago
Ambani, Adani do not travel during peak hours. They do travel either late night or early morning!
安巴尼,阿达尼不在高峰期出行。他们不是在深夜就是在清晨出门!
Jasvinder Singh • 22 hours ago
Wonder why people keep on buying bigger gas guzzling cars and SUV''s when they get speeds of 10 kmph only. Strange!!!!
在路上开车只能跑出10公里的时速,人们为什么还那么喜欢买排量大的轿车和SUV。奇怪! ! ! !
Thomas Cheenath • India • 23 hours ago
Indians are selfish... they do not care for others .. it is the main reason for the traffic jams
印度人自私,不关心别人,只顾自己。这是造成交通阻塞的主要原因
Shaun Parker • 1 day ago
People need to start using cycles for shorter commute. Even 1000s of people traveling by cycles in every suburb will reduce the pollution and congestion on the roads. And the offices should create a facility for the employees to work from home if possible.
人们还是骑自行车上下班吧,可以缩短通勤时间。即使有1000人骑自行车出行,也能减少污染,缓解道路拥堵。可能的话,公司应该为员工创造一个在家办公的机制。
Brendon Fernandes• Mumbai • 1 day ago
The situation should improve in 3 years time once the Metro lines start functioning. That should encourage a lot of people to keep their cars at home and use the Metro. The coverage map is very good.
一旦地铁开通,情况会在3年内得到改善。地铁开通后,很多人会把车留在家里,坐地铁出行。地铁覆盖区域很大的。
Modern • Bengaluru • 22 hours ago
What abt Bangalore? When it comes to traffic congestion, I do not think that any other city can beat Bangalore!
班加罗尔呢?
说到交通堵塞,我认为没有哪个城市的道路会比班加罗尔更拥堵
Vivek • 23 hours ago
Poor city planning, no city infrastructure, small roads, improper go nment , co ption and 70 yrs of Congress rule are the reasons for problems in today's Indian cities.
城市规划太差了、基础设施不足、道路狭窄、政府管理不当、国大党长达70年的统治,这些造成了当今印度城市的现状。
Mohammed Saif Khan • kolkata • 23 hours ago
mumbai is a big slum n bjp gt is to blame becoz they r in power for so many years. wot has bjp done to improve india n mumbai??? when monsoon comes all the ganda T A TTI ka pani flows on roads. sharm sey dhoob maro bjp ke logo. DARINDER MODI ek DHOKEBAAZ aadmi hai. he only wants power n does nothing to help comman man
孟买是一个大的贫民窟,人民党应该为此负责,人民党在孟买执政了这么多年,有什么成就吗?
Suresh Tekade • Location • 23 hours ago
At least,we are no 1 in something.
至少,我们在某些方面已经是世界第一。
Gaurav Prateek • 23 hours ago
Fake news.. Bangalore beats Mumbai hands down
假新闻. . 比交通的话,班加罗尔绝对比孟买更拥堵
Guru • 21 hours ago
Was Bangalore not part of the survey? people are scared to go out in Bangalore because of the traffic
班加罗尔不在调查范围内吗?班加罗尔的交通太拥挤了,人们都不敢出门
Rajiv Srivastava • 22 hours ago
Richest Municipality in the world but Dirtiest city to live .average commute time is 4-5 hours daily which is rediculous.
jams are more due to illegal encroachment , bad conditions of roads and illegal parkings on the roads.
孟买是全球最富裕的城市,也是最脏的城市。上班族每天平均通勤时间是4-5小时,太吓人了。

eshpremi • 22 hours ago
According to me it's not Mumbai but it's Bangalore.
在我看来,说到交通拥堵,第一应该是班加罗尔,不是孟买
RAJANBABU DALMIYAPURAM • 23 hours ago
Mumbaikars actually dont need to take out so many cars. The public transport is so good. Its only to show off their wealth.
很多孟买人其实不需要开车出行,搭乘公共交通就很好。开车只是为了炫耀他们多么有钱。
Ishita S • Pune • 23 hours ago
everybody wants to migrate to mumbai
人人都想搬去孟买
Dhivya Gad Pulcorner • 23 hours ago
Better migrate to a developed country.
最好移民发达国家。
nanksn • Planet earth • 21 hours ago
All the po iticians ed from Mumbai are cheating the Mumbaikars for many decades now.... Mumbai is a living hell on earth.
几十年来,孟买政客一直在欺骗孟买人……孟买其实是人间地狱…
Fossil By Then • 21 hours ago
Re gion, Caste and Regionalism are the PILLARS of Indian society.. These are highest priority in Indian life! NOTHING else matters for Indians.
、种姓和地区主义是印度社会的支柱,是印度人生活中最重要的方面!
对印度人来说,没有什么比这更重要的了。
Rajesh • 23 hours ago
reduce population
减少人口吧
Selfie • 23 hours ago
Mumbai is the best city in the world in terms of culture and the good nature of its people.Love you Mumbai
孟买文化全球第一,孟买是全世界最善良的人。爱你,孟买!
Jasvinder Singh • 23 hours ago
Speeds less than 10 kmph. Simply switch to cycling, you will easily get 15 kmph and less pollution, noise etc.
开车时速不到10公里,还不如骑自行车,时速随便都能骑到15公里每小时,产生的污染和噪音还更少。