Wreckage of IAF's missing AN-32 spotted in A Pradesh
在"a"(即我)发现印度空军失踪的安-32运输机残骸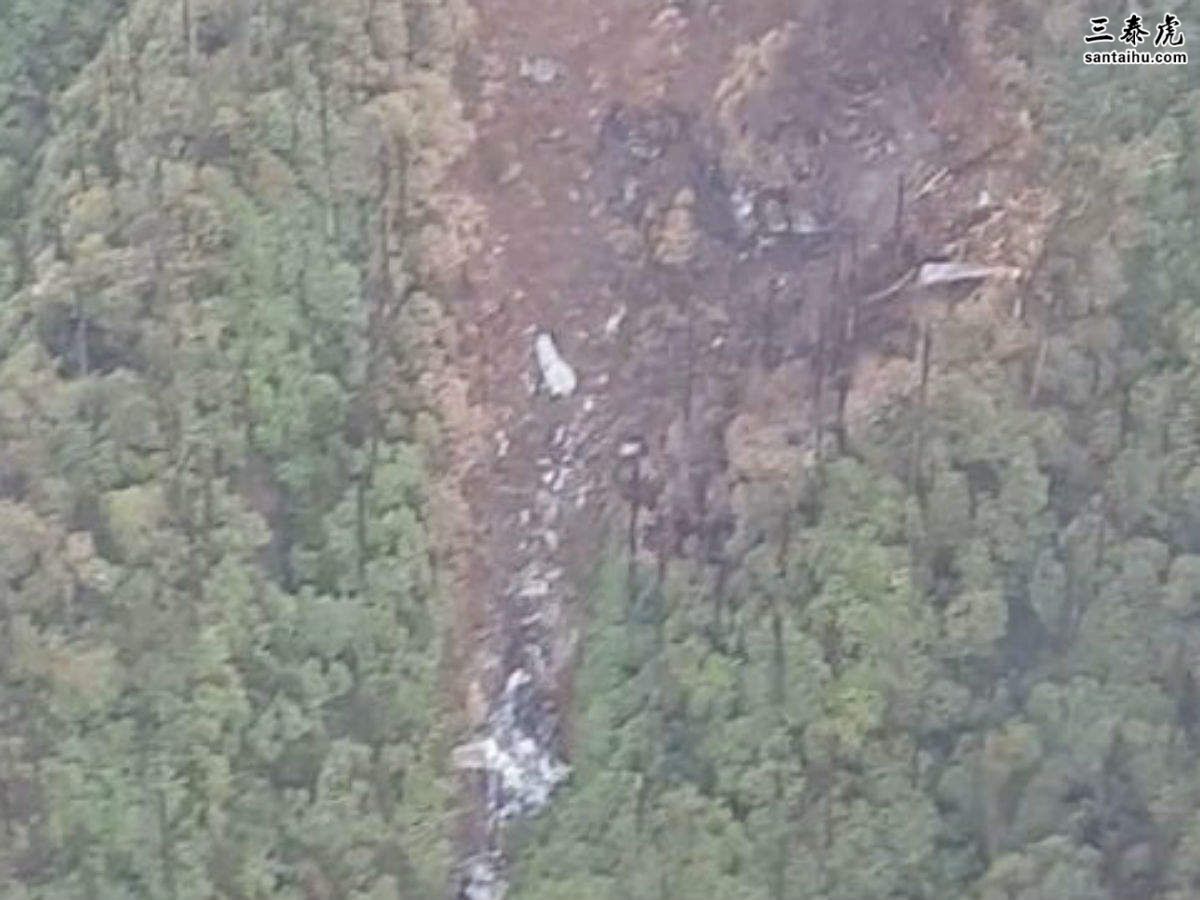 NEW DELHI: The wreckage of the Antonov-32 that went missing eight days ago has finally been "located" in a reme mountainous area in A Pradesh, in a development that may eventually bring at least some closure to the families of the six officers and seven other personnel on board the ill-fated medium transport aircraft.
新德里: 8天前失踪的安-32运输机残骸最终被"定位"在"a"的一个偏远山区,这一事态发展终于还是给这架中型运输机上的六名军官和其他七名人员的家属带来了音讯。
The IAF plans to "heli-drop" some Garud commandos, mountaineers and other personnel near the crash site, around 16-km north of Lipo, north-east of Tato in the West Siang district of A, after the wreckage was "spotted from the air" by Mi-17 helicopters on Tuesday afternoon. "Efforts are underway to establish the status of the 13 personnel on board," said an officer.
印度空军计划在坠机地点附近"空投"突击队员、登山员等人员。坠机地点位于利波以北约16公里处,位于"a"西桑朗的塔托东北处。一名官员表示:"目前正在努力确定机上13名人员的状况。"
印度时报读者的评论:
译文来源:三泰虎 http://www.santaihu.com/47823.html 译者:Jessica.Wu
外文:https://timesofindia.indiatimes.com
Devbrat Pradhan• 12 hours ago
Thanks sir Pumek for sharing a vital information. We pray and hope there could be survivors. Aswell we pray for the rescue team to come back safely.
希望能有幸存者,为他们祈祷,同时也祈祷救援队安全返回。
sandeep sunny• 16 hours ago
Isro cms that soil quality and under ground mines can be analysed by earth observation satellites. how come they don't find wreckage? one week time to find wreakage in this age of tele communication is not acceptable.
Isro声称印度的地球观测卫星能分析土壤质量和地下矿产,那为什么找不到飞机残骸?在这个通讯发达时代,花了一个星期才找到残骸,让人无法接受。
Balidan• New Delhi • 14 hours ago
I am sure that its easy to make statement but there might be REAL challenges. The entire world could not find the lost Mysian plane so pretty sure that its not straight forward.
站着说话不腰疼,全世界都找不到失踪的马航呢,这又怎么说
Sandeep • Balidan • Hyd
Mysian plane didnt lost in mainland.
Accept the truth.
马航不是在大陆失联的。
接受事实吧
Manmohan Sreedhar
Please don't jump to conclusions without a proper understanding of technical matters. IAF was not looking for a crashed aircraft on a flat pn. Remember this location is at an altitude of 12,000 feet on a montain slope with dense forests.
不要妄下结论。印度空军这架运输机并不是在平原上失踪的。记住,失踪地点位于海拔12000英尺深林茂密的山区。
Subash Chandra Bose • California
indians cannot manufacture a quality car, where can they try to make choppers or jets? they cannot even copy and produce like . only good at barking and presting for everything
印度人造不出好车,哪会造直升机和喷气式飞机呢? 至少会山寨,印度人连山寨都不会,只会抗议,抗议....
Blacky Paki
INDIANS cars through TATA MOTORS / MAHINDRA are world class where as your beggar Pakistan cannot even make a cycle tyre nor can stand on own legs , living on other nation''s borrowed money shamelessly...
印度的塔塔汽车/马恒达是世界级的车企,你们巴基斯坦连自行车轮胎都不会造,无耻地依靠借款度日……
Gatothkach • India • 16 hours ago
What''s the use of so many radars if you can''t track your planes. There should be a distress beacon in every plane.
如果连失踪的飞机都找不到,要那么多雷达有什么用呢?
每架飞机上都应该装一个失事信标。
Manmohan Sreedhar0
Ground radars were operational. Thats why the search location could be localised. The slow pace of several previous go nments is to blame for the poor state of IAF. It will take a while to recover
地面雷达有在用啊,要不然哪里找得到残骸。
arundas814
Ageing aircrafts were not replaced because all the money were stolen to make someone the 4th richest lady in the world.
老旧飞机没有淘汰,是因为买新飞机的钱都被贪了,某人由此成为了全球第四富有的女人。
Hindustani • hindustan
IAF is Force to use aging fleet of AN-32 and all thanks to con-gress for not buying new and advanced plane. desh ko lootne se time mile tab kahi aur nazar milena
印度空军被迫开老旧的安-32机群,这都怪国大党没有购买新飞机。
arpan walter• 4 hours ago
ok congress was loed india....but now what bhag janta peetegi is doing. Why they are not buying the new aircrafts and what they are doing with satellites. Why they are not using those satellites. Blaming congress everytime is not .
是哦,国大党洗劫了印度…不过执政的人民党又做了什么,为什么不买新飞机,卫星拿来干什么,为什么不让卫星搜寻。每次都把责任推给国大党。
Vladimir • NYC • 14 hours ago
India is way backward in defence tech. They are highly dependent on US and Russia which wont sell them the best products.. of course.
印度国防技术非常落后,太依赖美国和俄罗斯,而美国和俄罗斯肯定不会把最先进的武器卖给印度的
Tanmay Chakrabarti • 14 hours ago
RIP. Why India is still using AN 32, a forty years old plane?
为什么印度还在服役一架有40年历史的安-32运输机?
Okman• India • 3 hours ago
Sonia Gandhi
拜索尼娅·甘地所赐
Amandeep Garcha • 15 hours ago
The plane was behind clouds the modi ideology thats why it was not detected by radar i am not a congressman and not a bjpian
莫迪说,飞机躲在云层后面,雷达就探测不到,可能是因为这个原因哦
Manmohan Sreedhar• 12 hours ago
I think its shameful to joke about this tragedy
拿这种悲剧开玩笑是可耻的
Bronz Body • kanpur • 12 hours ago
We took 8 days and still we are unable to extract dead bodies (if left any from wild animals). What kind of superpower we are? We can''t find our own plan on our on soil? What should we expect next?
我们花了8天时间,仍然没找到遗体。
我们算哪门子超级大国?
在自己的地盘上都找不到失踪的飞机吗?
我们还能指望什么?
arpan walter • 4 hours ago
@manmohan.. why they are not using the satellites then?
为什么不使用卫星搜索呢?
Manmohan Sreedhar• 12 hours ago
Please read and understand something about the subject before commenting negatively. Taking 8 days is perfectly understandable given this plane didnt have locational beacons or ELT. Secondly, the location is at 12,000 feet altitude on the side of a montain which is thickly wooded. The army estimates 2-3 trek on foot to get their because of terrain. Helicopter cannot land at the site. Tomorrow they are heli-drop commandos. This is about the best possible in the circumstance
考虑到这架飞机没有定位信标,花8天时间才找到是完全可以理解的。其次,失事地点位于海拔12000英尺的山区,树木茂密。路不好走,军方估计步行2-3天才到达。直升机又无法降落。明天他们要空投突击队员。
Mudi JiGujriot • 5 hours ago
@manmohan are we living in stone age? Why doesn't an IAF aircraft have locational sy em? Even kaali peeli ta have that today.
我们还生活在石器时代吗?为什么印度空军的飞机没有定位系统?就连出租车都有了。
Manmohan Sreedha • 11 hours ago
If you understand the details of the terrain, you will appreciate that eight days is quite efficient.
如果你了解失事地点的地形状况的话,你会发现花八天找到是相当快的了。
Rajiv Tiwari • 12 hours ago
Thank God andh bhakt will say plane was taken by clould
有些人会说飞机是躲在云后面了。
Gururaj Babu • 16 hours ago
These are all the fault of the many years of Congress govt . They showed expenditure in defense but not implement it .
都是国大党政府的错
Bronz Body• kanpur • 11 hours ago
5 years past what feku done?
5年过去了,莫迪又做了什么?
Abhay Nair• 16 hours ago
Then why didn't BJP retire these planes?
为什么人民党不让老旧飞机退役呢?
Ramvinod Singh • aurangabad • 15 hours ago
The talented people want to move out of armed forces as the forces on the name of having sion boards give merit to academics rather than field service and experience... in our armed forces there are people who are tigers on the paper... as it is what is promed.. These kind of failures and accidents will keep happening when merit is overshadowed by flattery..
有能力的人想要离开军队,因为选拔委员会看重的是学术成就,而不是实战经验……在我们的军队里,有些人只会纸上谈兵。难怪意外事故不断发生。
R B• 10 hours ago
Yeah all nepotism in the sion.These top chaddis should be court marshalled and well educated,honest,professional people should be inducted in IAF.
都是任人唯亲。应该让受过高等教育、诚实、专业的人加入印度空军。
Prakash Kulkarni • Philadelphia • 7 hours ago
?
干的?
Sajeev • Ghaziabad • 11 hours ago
behind this.
幕后黑手是吗?