With $120.5 billion m-cap, TCS valued more than IBM
塔塔咨询服务公司(TCS)市值1205亿美元,超过IBM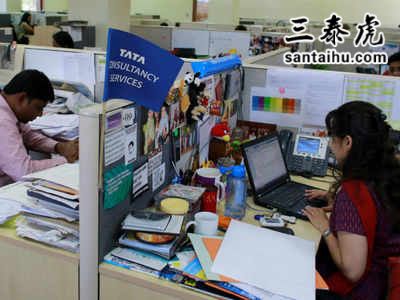 MUMBAI: Homegrown technology services major Tata Consultancy Services (TCS) on Monday overtook IBM, one of the global technology majors, in terms of market capitalisation. At close of Monday's trade, TCS's market capitalisation was $120.5 billion (Rs 8.37 lakh crore), while in early trade in New York, IBM was at $119.6 billion, translating into Rs 8.32 lakh crore, BSE and Bloomberg data showed.
孟买:周一,印度本土科技服务巨头塔塔咨询服务公司(TCS)的市值超过了全球科技巨头IBM。孟买证券交易所(BSE)和彭博社的数据显示,周一收盘时,TCS的市值为1205亿美元(合83700亿卢比),而在纽约早盘交易中,IBM的市值为1196亿美元,相当于83200亿卢比。
Incidentally, on Monday, TCS also pipped Reliance Industries (Rs 8.36 lakh crore), to take the top spot among the most valued Indian companies, BSE data showed.
BSE的数据显示,周一,TCS也超过信实工业(83600亿卢比),成为印度估值最高的公司之一。
For fiscal 2019, TCS had a net profit of $4.5 billion from a total revenue of $21 billion, while the corresponding numbers for IBM, for the year ended 2018, were $8.7 billion from $79.6 billion. Over the years, while TCS, which was set up in 1968 as a division of Tata Sons, has been recording higher growth in revenues and net profit, IBM's numbers had seen several ups and downs, Bloomberg data showed.
2018-2019财年,TCS的净利润为45亿美元,总收入为210亿美元,而截至2018年IBM的净利润为87亿美元,总收入为796亿美元。彭博社数据显示,TCS成立于1968年,是塔塔集团的子公司。多年来,TCS的营收和净利润出现了越来越高的增长,而IBM则经历了几次起落。
Known as 'Big Blue', initially IBM had entered India in the 1950s, but had to leave the country in the late 1970s. It then again entered India through a joint venture with the Tata Group, the promers of TCS, in 1992. In 1997, IBM parted with the Tata Group and now operates independently.
"蓝色巨人"IBM最初在50年代进入印度,但在70年代末不得不离开印度。1992年,它又通过与塔塔集团成立的合资企业进入印度。1997年,IBM与塔塔集团分道扬镳,现独立运营。
Both BSE and NSE opened flat on Tuesday and the rupee appreciated 16 paise to 69.49 ag inst the US dollar.
孟买证券交易所和印度国家证交所周二开盘持平,卢比兑美元汇率上涨16派萨,至69.49卢比。
印度时报读者的评论:
译文来源:三泰虎 http://www.santaihu.com/47819.html 译者:Jessica.Wu
外文:https://timesofindia.indiatimes.com
Sunil • 6 hours ago
It is equivalent to half of pakistan GDP.
塔塔的市值相当于巴基斯坦GDP的一半。
rajendran nair•Sunil Dhuper • 5 hours ago
Please do not compare with that rogue state. Any way thank for the info...
请不要和那个国家比
Moin The True Indian•Sunil Dhuper • 3 hours ago
LOL i was thinking the same.
哈哈,我也是这么想的。
Mehta Parag • 6 hours ago
Marvelous......Good that indian company is doing really good.
好极了……这家印度公司太棒了。。
Kevin• 372 • Mehta Parag • 6 hours ago
Good
很好
Pankaj Kumar•Pankaj • 5 hours ago
proud to be working with tcs
有幸在塔塔咨询上班,真自豪。
wake up please• Pankaj Kumar • usa • 4 hours ago
YOU ARE A SLAVE OF TCS..U IDIOT..U ARE TREATED LIKE A SLAVE ..
白痴,你不过是塔塔咨询的奴。人家只把你当作奴使唤。
Hemanth Times • 5 hours ago
Tata group is one of the most trusted brand in INDIA. Growing of TCS is growth of INDIA.
塔塔集团是印度最受信赖的品牌之一。塔塔的发展就是印度的发展。
Vladimir • NYC • 5 hours ago
Indians can compare maruti and BMW. Why not compare Tata and IBM lol
既然印度人可以拿马鲁蒂和宝马比,拿塔塔和IBM比又有何不可,哈哈
William India • MANGALORE • 5 hours ago
THIS IS REALLY A PROUD MOVEMENT TO ALL OF US INDIANS... THE U.S. IBM IS RENOWED IN THE WHOLE WORLD, BUT MORE THAN THAT TCS VALUED - REALLY REALLY GREAT...
每一位印度人都会为之自豪的……美国IBM在全球享有盛誉,塔塔咨询的市值已经超过它了——真的太棒了……
True • 5 hours ago
build on proprietary brands and patents like MNCs do, else long term revenue is difficult
要像其他跨国公司一样,建立自主品牌,拥有自己的专利。否则,公司将很难实现长期收益
Gaurav Kumar • 4 hours ago
All thanks to Modi ji for this.
这都多亏了莫迪。
Pranav Sharma • 3 hours ago
Congratulations to Tata and India
祝贺塔塔,祝贺印度。
The Truth • 5 hours ago
i can see disastrus future of tcs ahead huge job cut lost and projects loss in comming years be prepared tcs ur end is nearing
我能预见塔塔咨询在美国是没有前途的,未来几年将会出现大量裁员、项目亏损
Vivek • Chandigarh, India • 4 hours ago
way to go !
干得好!
GANESH DALAL • 4 hours ago
Great News. Wish TCS continue to do well.
好消息。希望塔塔咨询再接再厉,再创佳绩。
k UD • 4 hours ago
Congratulation TCS... Bravo
祝贺塔塔咨询……太棒了
Blooming Sunflower • 4 hours ago
zing..
真了不起
Vladimir • NYC • 5 hours ago
TCS is like uber of tech industry. If not TCS, some other staffing compny will get the work done. lol. But who will innovate like IBM ? Tata? In ur dreams! Lol
塔塔咨询就像科技行业的优步。没有塔塔咨询,其他公司会取而代之。哈哈,没有IBM的话,谁能有那样强大的创新能力?塔塔吗? 做梦吧,哈哈

Sunil Dhuper• 5 hours ago
we are the best,American can't do anything on its own.,they are master of killing the children in the schools,college .
印度人是最棒的,美国人光靠自己什么也干不成,校园枪击孩子,他们倒是行家里手
Vladmir • NYC • 4 hours ago
Sunil- this joker is using internet to bark about US who invented it. Lol. He doesnt even know the phone he is using to bark is having more than 20 patents from Qualcomm. Indians infact are only good for service industry
这互联网都是我们美国人发明的,你这个小丑还在网上对我们大吼大叫。哈哈,殊不知你的手机可用了高通的20多项专利。
印度人只适合从事服务行业
Shashi Kumar• 143 • Vladimir • 2 hours ago
Now don't tell me that Aryabhatta is an American. All Ur bloody research & mathematics is because of '0' & it's the invention of Great Indian.
别告诉我阿耶波多是美国人。没有他发明的数字"0",你们怎么研究。"0"是伟大的印度人发明的。
Vidyanand Shetty • pune • 5 hours ago
congratulations
祝贺!
Bhavani • 5 hours ago
Congratulations. We are all proud of your achievements. Keep it up.
祝贺,我们都为你的成就感到骄傲,再接再厉。
santosh • 2 hours ago
TCS is elephant of India, No one can beat them. Pride of India.
塔塔咨询是印度的大象,没人能打败他们。他们是印度的骄傲。
Krishna Garg • KOTA-Rajasthan • 2 hours ago
Started in 1968, TCS is Indian multinational IT service,Consulting & business solution commitment to provide excellence to clients all over the world. TCS helps customers achieve their business objectives by providing innovative, best-in-class consulting, IT solutions and services.
It is recognition for INDIA for brilliant performance better than IBM of 1950''s
塔塔咨询(TCS)成立于1968年,是一家致力于为全球客户提供卓越服务的印度跨国IT服务、咨询和商业解决方案公司。TCS通过提供创新、一流的咨询、IT解决方案和服务,帮助客户实现其业务目标。TCS超过了IBM,这是对其出色表现的认可。
Srn Rnujam • Kharagpur • 3 hours ago
Opening up of the economy translated into the emergence of companies like Wipro, Infosys, TCS, owned by the Tatas, and their IT brethren. Soon the Tatas, who had three top heavy engineering industries, TISCO, TELCO and Tata
Chemicals, saw their tiny TCS becoming the biggest Indian company all by itself.
经济开放催生了威普罗、印孚瑟斯、塔塔咨询等公司的出现。塔塔拥有三大重工业,分别是塔塔钢铁、塔塔电信和塔塔化,很快塔塔咨询将凭一己之力成为印度最大的公司。
Gnyana Sudha Vidyya • 5 hours ago
IBM is going down since they sold their brand to Lenovo moving from product based to service based.. If you take AI and cloud i think Amazon is still doing better than IBM.. IBM is filled with useless resources who are getting handsome pay for doing nothing managers who are more eager fill their own relatives.. Good n talented resources will leave the organization and what can you expect out of ppl sitting around for years without upgrading skills
IBM正在走下坡路,已经把个人电脑业务卖给了联想,从以产品为基础转向以服务为导向。论人工智能和云计算,我认为亚马逊比IBM做得更好。IBM养了很多废柴,他们无所事事却能得到丰厚的报酬,而经理们则更渴望把自己的亲戚都安排进去。优秀的人才纷纷离开公司,能指望那些多年无所事事、没有技能的人干成什么?
rajendran nair • 5 hours ago
Hindustan must have similar multinational companies to reach the target of 10 trillion economy in a short span of time. It is not impossible as long as Modi ji is on the saddle.
印度需要越来越多这样的跨国公司,才能在短时间内实现10万亿美元经济体的目标。只要莫迪在位,这并非不可能实现。