Why India is not retaliating ag inst the US
为何印度不对美国采取报复措施?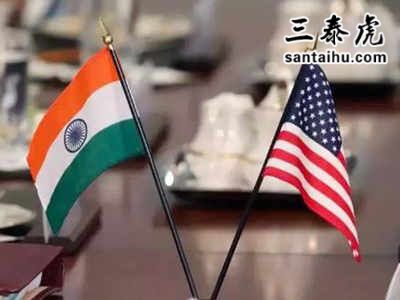 NEW DELHI: The US decision to end the Generalised Sy em of Preferences (GSP) for India from June 5, has surprisingly, come in for a mild criticism from the Indian go nment which described the US Presi nt Donald Trump's decision as "unfortunate." So why is New Delhi playing it so cool at the withdrawal of GSP?
新德里:美国决定从6月5日起终止对印度的普惠制待遇,然而令人惊讶的是,印度政府仅作出温和批评,称美国总统唐纳德•特朗普的决定是"不幸的"。"那么,为何新德里在得知普惠制待遇被取消时表现得如此冷静?"
Expiry date: The GSP was due to expire next year, in December 2020 — having been in force since 1975. All that Trump's decision does is to end it a year and a half before its deadline.
普惠制有效期限:自1975年起生效的普惠制将于明年2020年12月到期。特朗普的决定意味着,这一待遇会在最后期限前一年半结束。
Peanuts on offer: The bilateral trade between the world's oldest and largest democracies was $65.1 billion in FY 19 (April-December) and despite it being heavily tilted in India's favour — exports to US accounted for $38.8 billion while imports from US were $26.3 billion — the benefits from the GSP status due to savings on import tariffs amounted to just $190 million as only $6 billion worth of Indian exports are duty free.
全球最古老的国家和最大的国家之间的双边贸易在2019财年(4月至12月)达到651亿美元,其中印度对美国的出口为388亿美元,而从印度从美国进口额为263亿美元。由于印度只有60亿美元的出口额是免税的,因此普惠制为印度所节省的进口关税仅为1.9亿美元。
Why India isn't ruffled? For one, India has the option of taking the US' GSP withdrawal to the WTO — it already has a precedent when it won ag inst the EU's withdrawal of GSP in 2002 for being discriminatory ag inst develo countries. Secondly, the US has in the recent past reinstated GSP after withdrawing it — as it did in Argentina's case last year after certain criteria were met.
为什么印度没有被激怒?首先,印度可以选择将美国取消普惠制(GSP)这一情况看提交到世贸组织(WTO)。这是有先例可循的,2002年,欧盟(EU)取消印度的普惠制,当时印度提交到WTO,并胜诉。其次,美国最近在撤销阿根廷普惠制后又恢复了其普惠制待遇——去年阿根廷在满足某些标准后得以恢复。
Mutual need: The US is India's second largest trading partner, after — which also expns why New Delhi has postponed retaliatory tariffs on $200 million worth of American goods eight times since last year, in response to US tariffs on Indian steel and aluminum. On the other hand, several US companies like Amazon, Walmart, Google and Facebook have invested billions of dollars to expand operations in India — and any major economic retaliation could put these in jeopardy.
相互需要:美国是印度第二大贸易伙伴,仅次于——这也解释了为什么自去年以来,印度8次推迟对价值2亿美元的美国商品征收报复性关税,以回应美国对印度钢铁和铝征收的关税。另一方面,亚马逊(Amazon)、沃尔玛(Walmart)、谷歌和Facebook等几家美国公司已投资数十亿美元扩大在印度的业务,而任何大的经济报复都可能使这些企业陷入危险。
印度时报读者的评论:
译文来源:三泰虎 http://www.santaihu.com/47779.html 译者:Jessica.Wu
外文:https://timesofindia.indiatimes.com
Ashok Kth • Udupi • 20 hours ago
Ignoring USA actions is step by Indian Go nment...USA can not be no.1 super power without India...
无视美国的举动,印度政府这样做是对的…没有印度,美国不可能保持头号超级大国的地位…
Ru Acharya• 269 • Ashok Kth • 13 hours ago
That is not quite true. India needs US a lot more than the US needs India. I am sure in due time India will reach its pential. For now though, India is too small economically...
不完全正确。相比美国需要印度,印度更需要美国。我相信印度会在适当的时候发挥其潜力。但就目前而言,印度经济规模太小了……
Rajju• 7592 • Ru Acharya • 12 hours ago
It''s not about who needs whom but to be stronger on your own rather than to be dependent on someone by taking unnecessary favors
重要的不是谁需要谁,而是要依靠自己强大起来,而不是依靠别人的帮助
F • Australia • 18 hours ago
Well, India may be bit poor country for the time being, but, it is not "under-developed" country by any means. I do not think that India will suffer in any way ? The worry is trade deficit of $63 billions and increasing, because of, Indian massive demand of low tech, ch goods.
印度可能暂时有点穷,但目前无论如何都不是一个"欠发达"的国家。我认为印度不会受影响。令人担忧的是对630亿美元的贸易逆差,而且由于印度对廉价商品的需求太大了,中印贸易逆差还在不断扩大。
HSF • 12 hours ago
Well, India is indeed a poor country. millions of people live in below poverty and the lowest sanitation and poor hygiene.
印度确实是个穷国。数以百万计的人生活在贫困线下,卫生条件恶劣。
meredilkisuno• HSF • mumbai • 10 hours ago
Poverty is because of few most corrupt have been in power for too long ,hopefully new generation will end it
穷是因为最腐败的人太久,希望后代能脱贫
p • 19 hours ago
USA is true friend of India from the day Dr. Manmohan Singh d best friendship with USA. Narendra Modi has done better than earlier. USA just want India to be away from Russia. That''s it. However, India''s scoring would be high and better with days to come. Only windfall profits. No loss I foresee.
从曼莫汉·辛格与美国建立友谊之日起,美国就是印度真正的朋友。纳伦德拉•莫迪比前任做得更好。美国只是想让印度远离俄罗斯,仅此而已。然而,印度在未来的日子里会发展得更好。
Abvp • Philadelphia • 16 hours ago
US has no friend to any country, especially under Trump.
美国没朋友,尤其是在特朗普执政期间。
Vladimir • NYC • 20 hours ago
Beggars dont retaliate
乞丐哪敢报复
Blacky Paki• 3844 • azbz969 • 13 hours ago
The truth is that u are a Pakistani BEGGAR
你是一个巴基斯坦乞丐吧
Ashis • 14 hours ago
India has developed into a more matured nation now. Country moving in the est direction under Modi-Shah. Coming 5 years will prove to be the golden period in Indian history.
印度现在已经发展成为一个更加成熟的国家。在莫迪的统治下,这个国家正朝着正确的方向前进。未来5年将是印度史上的黄金时期。
Boopathi• Ashis Biswal • Bangalore • 2 hours ago
Let us watch
那就拭目以待吧
John Doe• 1326 • John • 15 hours ago
if there is no America all the IT employees will be on roads. even a single product doesn't own by great indian it companies.
如果没有美国,印度IT员工都要睡大街。
King Pathak• John Doe • 14 hours ago
if there is no Indian IT talent all american will be under pacific ocean.
如果没有印度的IT人才,美国人都喝太平洋的水去吧
Manoj• 1605 • John Doe • 15 hours ago
Indian IT companies are mainly into service sector dear...tell me why major US techno companies are after Indian talent?.from Indian premier institute like IIT, IIS...so don't just see only one side of the coin ok.
为什么美国各大科技公司都在追求印度人才?凡事不能只看一面。
Hindustan Hindu Rashtra • 15 hours ago
Super Power Hindustan dont need discounts.
超级大国印度斯坦不需要优惠待遇
Hindustan Hindu Rashtra youtub • 11 hours ago
Hahah.....define superpower Mr. Moron.
哈哈,怎么说的国家算是超级大国?
Anand Deshpande • Singapore • 15 hours ago
Trump to US is like Modi to India. Nation First
莫迪之于印度就像特朗普之于美国,他们都把各自国家摆在首位。
Kosmic Power• 8025 • Kosmic Power • 14 hours ago
India doesn''t need the US, the US needs India more. The status doesn''t change anything much as India is a growing economy. is the largest only export economy and is having issues and problems now, Europe is nothing, Arabs, Mus ms or Middle East are nothing, except for oil. For India most trade will be with Russia, Japan and the US. Eventually, the ch and inferior products will not be needed.
印度不需要美国,美国更需要印度。印度是一个不断增长的经济体,这种状况不会有太大改变。是全球最大的出口型经济体。要不是有石油,中东啥也不是。印度大部分贸易与俄罗斯、日本和美国进行。最终,印度将不再需要廉价的商品。
Ravie • Chandigarh • 13 hours ago
rather than dependent on these tariff relief, we should strengthen our manufacturing by cost optimisation and improvement in efficiency.
我们不应依赖关税减免来过日子,应通过降低成本和提高效率来提升制造业。
Truth Always • 15 hours ago
what can India do and how can they react..? Trump is real Papa and has guts. On the other hand Modi cannot influence him or American lobby.
印度能做什么回应? 特朗普是干爹。再者,莫迪无法左右特朗普,也影响不了美国游说团体。
juntao67• reality checker • Location • 14 hours ago
whether you laugh or cry, who cares.
你是笑还是哭,谁在乎呢。
Mudi • Gujriot • 14 hours ago
What a bunch of lame reasons. There is only reason why India can't retaliate and it's not written here because it's humiliating, it's because we are not powerful enough to dictate terms to USA whereas they can dictate terms to us. Same reason we won't buy Iranian oil.
真是一堆站不住脚的理由。印度为什么不能报复,还不是因为我们没有足够的实力向美国发号施令,而美国可以向我们发号施令。不同样的,由于忌惮美国,我们也不敢买伊朗石油。
Upnorth• 3653 • Mudi Ji • USA • 12 hours ago
Not really. India has a trade surplus with the US and the going is too good. To pick a fight on $190 million impact is to wake a slee giant and make India the target for higher reciprocal tariffs. I hope you know average US tariffs is less than 5% and average Indian tariffs is 25%. So you want to pick a fight? What will be the outcome?
不对。印度对美国可是贸易顺差,形势大好。为1.9亿美元而进行报复,无异于唤醒沉睡的巨人,会让印度成为靶子的。美国的平均关税低于5%,印度的平均关税是25%。怎么开战?结果会怎样?
Rafael Federer • 13 hours ago
Can India retaliate, does it have the pential? NO, a definite NO, because India is not . No point in trying to mimic when we are far far behind interms of development of money.
印度能报复吗,有这个能力吗?绝对没有,印度可不是。资金实力远没有强大,邯郸学步又有何意义。
Dreet • 15 hours ago
Make in India was nothing but a damp squib.Admit it.
"印度制造"只不过是一句空话,承认吧。
Bllog Suri • NA • 15 hours ago
Has modi ever stood upto usa for anything. He feels proud and top of the world to get to visit the white house
莫迪有怼过美国吗? 去了一趟白宫,都让他感到自豪,感到身处世界之巅。
Truth• 3462 • Truth • 15 hours ago
Trump is getting jealous of New India! Neverthless India will shine b.
特朗普嫉妒新印度!

Batman• 629 • Truth • 11 hours ago
LoL.....$20 trillion is jealous of $2 trillion......Hahah
哈哈,20万亿美元的经济体嫉妒2万亿美元的……哈哈
Isaacbenjaminraj • Location • 15 hours ago
Modi govt foreign policy failure ....shame
莫迪外交政策失败了…可耻
hum hindustani • 13 hours ago
A blessing in disguise ... being self reliant builds a journey of a thousand miles ... now Indian business men who looked at the USA for easy business will expand globally ...
塞翁失马,焉知非福。自力更生吧,千里之行始于足下……现在,印度商人把目光投向美国以外的地区,在全球扩张业务……