India is shutting down ATMs even as people use them more
印度正在关闭自动取款机,尽管人们用得更多了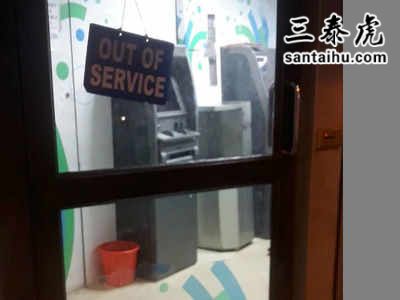 NEW DELHI: Finding an ATM in India is getting tougher even as dependence on cash persists, thanks to tighter regulations that make it more costly to run the machines.
新德里: 尽管对现金的依赖依然存在,但在印度,要想找到一台自动取款机正变得越来越困难。这要归咎于更严格的监管,导致自动取款机的运营成本更高。
The number of automated teller machines in the country shrank in the past two years despite an increase in transactions, Reserve Bank of India (RBI) figures showed Saturday. India already has the fewest ATMs per 100,000 people among BRICS nations, according to the International Monetary Fund (IMF).
印度储备银行(RBI)上周六公布的数据显示,尽管交易量有所增加,但印度的自动取款机数量在过去两年中却出现了下降。根据国际货币基金组织(IMF)的数据,在金砖国家中,印度已沦为每10万人拥有自动取款机最少的国家。
The drop may continue as banks and ATM operators struggle to absorb the cost of software and equipment upgrades mandated by the central bank last year to bolster security. That risks undermining Prime Minister Narendra Modi's campaign of increasing financial inclusion in a nation where cash remains king less than three years after he pulled most banknotes from circulation.
由于银行和自动取款机运营商难以负担去年央行为加强安全而强制要求的软件和设备升级成本,这一降幅可能还会继续。这可能会削弱印度总理莫迪推动普惠金融的努力。在莫迪实施废钞令之后不到三年,现金仍然是王道。
"Declining numbers of ATMs will impact a large segment of the population, especially those who are socio-economically at the bottom of the pyramid,'' said Rustom Irani, managing director at Hitachi Payment Services Pvt Ltd, a provider of the machines. "Penetration in the country is already very low."
日立支付服务有限公司总经理鲁斯通•伊拉尼表示:"自动取款机数量的下降将影响很大一部分人口,尤其是那些社会经济地位处于金字塔底部的人。"
The declining number of ATMs is likely to further boost mobile banking, which is growing rapidly in a country with the world's largest millennial and Generation Z populations. The number of mobile banking transactions grew 65 times in the past five years alone.
自动取款机数量的下降可能会进一步推动手机银行业务的发展。在印度这样一个千禧一代和Z一代人口居世界首位的国家,移动银行业务正在迅速增长。仅过去5年,手机银行交易数量就增长了65倍。
"People are shifting to mobile apps," said Ashutosh Khajuria, chief financial officer at Federal Bank Ltd. "It's too early to write an obituary on ATMs but it's certainly declining. No one will invest in a declining proposition."
联邦银行首席财务官Ashutosh Khajuria表示:"人们正在转向移动应用。现在就自动取款机写讣告还为时过早,但它肯定在走下坡路。没有人会对一个衰落的东西进行投资。"
印度时报读者的评论:
译文来源:三泰虎 http://www.santaihu.com/47642.html 译者:Jessica.Wu
外文:https://timesofindia.indiatimes.com/business/india-business/india-is-shutting-down-atms-even-as-people-use-them-more/articleshow/69345624.cms
Saltnpepper • 15 hours ago
the bhakts are praising such a govt backed move but they can't really understand that our country is close to bankruptcy
有些人称赞政府的这一举动,殊不知我们的国家正濒临破产
Saltnpepper Fg • Mother INDIA • 13 hours ago
Ur wrong India is not bankrupt..it''s vibrant..only problem is there r more mouths to feed than working hands..that''s all..even the western countries have no excess money..
你错了,印度没有破产,它充满活力。唯一的问题是吃饭的人比干活的人还多。不过就连西方国家也没有闲钱。
Rajeev S • Jhumri Talaiyya • 15 hours ago
Digital payment is the best thing.
数字支付是最好的选择。
Rajeev S • Bengaluru • 14 hours ago
And what about small cities and towns?? What do they when there is no proper Internet service???
那小城镇呢?没有互联网服务,他们怎么办?
Election Fever • Delhi • 15 hours ago
The transactions should all be done through credit and debit cards as against Cash.
所有的交易都应该通过信用卡和借记卡进行,不要用现金。
Election Fever • Bharth • 11 hours ago
What about the Million laborers who have NO Bank Account or ATM Cards ???
那么数百万没有银行账户和银行卡的劳动者呢,他们怎么办?
X
Modi was the first to do digital payment in 1980 when he sent 1 rs 25ps to Advani via digital banking. lol .
莫迪是第一个尝试数字支付的人,在1980年,他通过数字银行向阿德瓦尼转了1卢比25派萨,哈哈
Arvind Chitale • Haryana • 9 hours ago
Just shut down all ATMs. Barely a decade ago, most of these b000sadeeewalas never knew how to operate debit cards and used to stand in queues at banks. Let them do it now as well.
撤掉所有的自动取款机。在十年前,大多数人都不知道如何使用借记卡,过去常常在银行排队。现在也让他们去银行排队吧。
Vijay Banga • new delhi • 14 hours ago
There is deep conspiracy behind this, it has global roots.India is partly again slave country in some ways.Modi is no economist, e knows not even simple Arithmetic.Zero
这背后有很大的阴谋。印度在某种程度上将再次成为一个奴隶国家。莫迪不是经济学家,连简单的算术都不会
Anis Shaikh • 16 hours ago
Big big trouble for poor people as have to be in queue.
这对排队取钱的穷人来说是个大麻烦。
Dinesh • 12 hours ago
this is an extremely bad news for a cash driven economy.
对于一个现金驱动的经济体来说,这是一个坏消息。
Robindro • 15 hours ago
please go for cashless.... don't encourage cash transactions
无现金化,不要鼓励现金交易
Vivek • 14 hours ago
All these blind Bhaks praising reduction of ATM, its the poorest people who are going to be affected the most.
这些家伙在盲目赞扬ATM的减少,最穷的人受到的影响最大。
Pratham Adhyay • 14 hours ago
Ban all currency notes above 100
禁止100卢比以上的纸币流通
Roshan R • 12 hours ago
More uncontrollable frauds on digital platforms will happen. People lose but can''t do a thing to retrieve
以后会发生更多的数字欺诈,这是无法控制的。人们的损失将无法挽回。
Asif Vahora • 13 hours ago
10000 rs note should be brought to help BJP politicians easily carry cash iduring election time.
应该发行1万卢比面值的钞票,方便人民党政客在选举期间轻松携带现金。
Azam Syed • 14 hours ago
Bjp is anti social and anti middle class party
印度人民党是反社会、反中产阶级的政党
Azam Syed • 14 hours ago
Are you anti indian ??
那你就是反印度的
Truth is Bitter • 10 hours ago
Digital banking is disaster ? You got zero knowledge of banking then.
数字银行是灾难?那说明你对银行一窍不通。
Venkata Ramkumar Nakka • 15 hours ago
Why 2000 note in the first place?
那为什么要发行2000面额的纸币?
Chamnan M. • 12 hours ago
E-wallet facility is also reducing the usage of ATM card.
电子钱包也减少了ATM卡的使用。
YE HAI MERA HINDUSTAN MERA • Doha • 14 hours ago
Feku destroyed India economy destroyed jobs growth communal harmony
India on brink of collapse as a country
莫迪破坏了印度经济,造成就业减少,破坏了社会和谐
印度处于崩溃的边缘
YE HAI MERA HINDUSTAN MERA • 10 hours ago
go back to Bangladesh or Pakistan then
那你就回孟加拉国或巴基斯坦吧
Jaswinder Kaur • Mumbai • 10 hours ago
Feku will bring India down
莫迪将把印度拖垮
Jaswinder Kaur • India • 8 hours ago
Stupid! It's already down after 60 years of Congress rule and Modi is trying to lift up...
愚蠢! 国大党执政60年,印度已经陷入低谷,莫迪正努力推动发展……
Ramesh • Bangalore • 12 hours ago
Even otherwise most of the ATMs either doesn't work or with 'no cash' display board. So it's better to shut down.
大多数自动取款机要么是坏了,要么提示"没有现金",所以最好关掉。