Delhi businessman stabbed to death for protesting daughter's harassment
德里一名商人因抗议女儿受到骚扰而被刺死
NEW DELHI: A 51-year-old businessman paid with his life for complaining about a group of youths harassing his daughter in west Delhi's Moti Nagar area.
新德里: 在德里西部Moti Nagar地区,一名51岁的商人抱怨一群年轻人骚扰其女儿。后来为此他付出了生命的代价。
The victim, Dhruv Raj Tyagi, had gone to the house of one of the youths with the intention of complaining about his behaviour to the youth's parents late on Saturday night. He got into an altercation there with the youth and his father. Four people allegedly ganged up against Tyagi and his son, stabbing them multiple times. Tyagi died on Monday while his son is battling critical injuries. The main accused, his father and two youths have been arrested.
周六深夜,受害人亚吉去了其中一名年轻人的家,打算向他的父母告状。他在那里与该年轻人及其父亲发生了口角。据称,有四人联手殴打了亚吉和他的儿子,并捅了他们好几刀。亚吉于周一去世时,他的儿子受了重伤。主犯及其父亲和两名年轻人已被逮捕。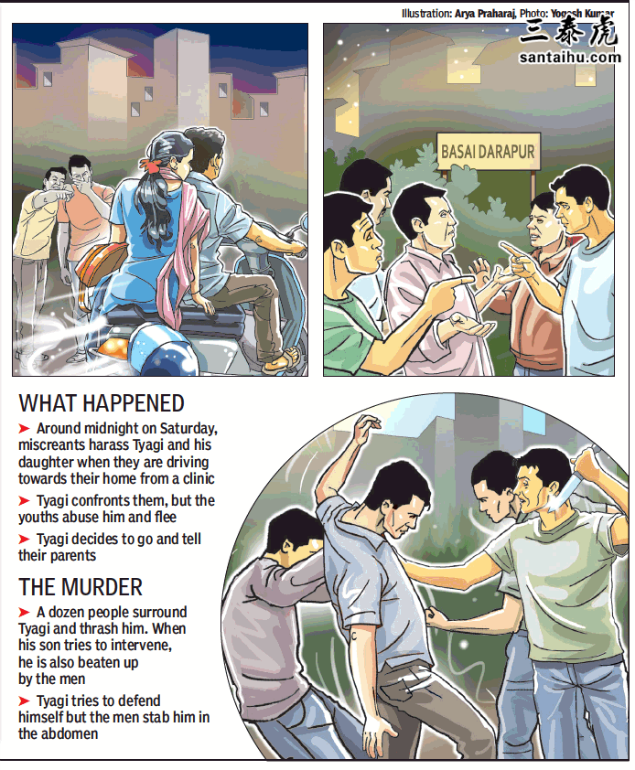 Tyagi's ordeal began when he was returning with his 24-year-old daughter from a trip to the doctor on Saturday night. The youths passed lewd comments and made gestures at the girl. An incensed Tyagi dropped his sick daughter home and took his son with him to the house of the main culprit, Mohd Shamsher Alam, to complain to his parents.
亚吉的悲剧始于周六晚上,他带着24岁的女儿从医院回来。那些年轻人对其女儿说了一些下流的话,并向那女孩做手势。愤怒的亚吉把他生病的女儿送回家后,便和他的儿子到主犯阿拉姆的家里,向他的父母告状
A planned attack, say victims' kin
受害者家属称,这是一起有计划的袭击
The initial autopsy report says Tyagi had three fatal wounds in his liver, kidney and intestines. He died of heart failure due to severe bleeding. DCP (west) Monika Bhardwaj said a case under sections of attempt to murder was registered on Sunday, which would now be converted into a case of murder against the accused.
初步验尸报告显示,亚吉的肝、肾和肠道有三处致命伤。他死于大出血引起的心力衰竭。警方表示,周日已经登记了一起企图谋杀的案件,现在将以被告犯谋杀罪立案。
According to the Tyagi family, the attack took place around midnight at the WZ block of Basai Darapur village near Moti Nagar. Tyagi had gone to the doctor to get his daughter treated for migraine. On their way back, when they were turning into a lane leading to their house, the group of youths chatting at a street corner started gesturing at his daughter.
据亚吉的家人说,案发在午夜时分。亚吉当时带女儿去看偏头痛。回家的路上,当他们拐进一条通往他们家的小巷时,一群在街角聊天的年轻人开始向他的女儿打手势。
Tyagi stopped and warned them but they continued to harass the girl. "This was not the first time the youths had misbehaved. My uncle had decided to end it once and for all by complaining to their parents, ho that this would change their behaviour," said Amit, Tyagi's nephew. But instead of taking his child to task, Jehangir allegedly started hurling abuses at Tyagi which led to a scuffle.
亚吉停下来警告他们,但他们继续骚扰女孩。亚吉的侄子阿米特说"这些年轻人已经不是第一次行为不检点了。我叔叔决定向他们的父母投诉,希望他们以后不再这样做。"。但是年轻人的父亲Jehangir并没有责备他的孩子,反而开始对亚吉施暴,结果扭打起来。
During the altercation, Alam and a few others from his group entered the house and catching hold of Tyagi, they threatened to teach him a lesson and started thrashing him. Alam picked up a knife and stabbed Tyagi a few times in his abdomen.
在争执中,阿拉姆(主犯)和几个同伴进入房子,抓住了亚吉,并开始殴打他。阿拉姆拿起一把刀,在亚吉的腹部刺了几刀。
Meanwhile, Tyagi's son Anmol, 19, heard his father's calls for help and rushed in. But Anmol too was stabbed on his neck and abdomen. Both Tyagi and Anmol managed to free themselves and come out of the house. Their family members and police had reached the spot by then. "It seemed to be a planned attack as the men were ready with weapons," said Amit.
与此同时,亚吉 19岁的儿子安摩尔听到了父亲的呼救,冲了进去。但安摩尔也被刺伤了脖子和腹部。亚吉和安摩尔设法脱身离开了现场。他们的家人和警察赶到了现场。阿米特说:"这似乎是一次有计划的袭击,因为这些人已经准备好了武器。
Tyagi and Anmol were taken to a private hospital, where they were admitted to the ICU. Tyagi succumbed to his injuries on Monday afternoon. A police team from the Moti Nagar police station caught Alam and his father from the area. During interrogation, the men revealed the names of the two teenagers who were present during the assault. Cops have apprehended them from the locality. A probe revealed that Alam was earlier jailed in an attempt-to-murder case and was recently released. He has also been involved in minor cases of assault in the locality.
亚吉和安摩尔被送往一家私立医院,在那里他们被送进了ICU。周一下午,亚吉因伤去世。警察在该地区抓获阿拉姆和他的父亲。在审讯过程中,这两名男子透露了在场的另外两名青年的名字。警察已逮捕了他们。
印度时报读者的评论:
译文来源:三泰虎 http://www.santaihu.com/47637.html 译者:Jessica.Wu
外文:https://timesofindia.indiatimes.com
Rajesh • Great India • 1 day ago
This is indeed a sad incident.Whereas if a Hindu get killed all these liberal gangs maintain silence. Islam is a curse to humanity.
令人伤心。一个印度教徒被杀,所有自由主义团伙都保持沉默。
Rajesh • 8 hours ago
They must be given death sentence as early as possible .every culprit must be strictly punished without looking at his religion
尽早判处死刑。每个罪犯都必须受到严厉惩罚,无论来自什么宗教。
Sanjay • New Delhi • 1 day ago
This is not a simple murder case. The killers were Muslims. They were targetting a Hindu girl. Her father and brother went to their house to complain and were murdered in a frenzied act of brutality. The killers were notorious rogue elements of the locality. One of 5hem was earlier arrested in an attempt to murder case.
这不是一起简单的谋杀案。凶手是有预谋的,他们盯上了一个印度教女孩。她的父亲和哥哥到他们家去告状,反而被杀。凶手是当地臭名昭著的流氓。
Vikkram Aaditya • 1 day ago
Dear don''t make it a religious war, the culprits shud be hanged as they did a crime. By the way in most cases of rape the accused are always a Hindu, do u then also ask your community to save themselves from Hindu rapists???? Clean your mind of poison
别把这当成一场宗教战争,罪犯应该被绞死。顺便说一下,大多数强奸案,被告是印度教徒。
Avnishvarma76 • 1 day ago
Targating female and killing male family members was the modus operandi in past.
以女性为目标,杀害男性家庭成员是他们的惯用手法。
avnishvarma76 • 2 hours ago
Correct obsv. Actually targeting female members to PROVOKE AND ATTACK male members..
实际上是以女性为目标,挑衅并攻击男性成员。
Ashwani Monga • FARIDABAD • 1 day ago
Shocking to see that secular media is totally silent in planned murder of the family head of a Hindu Family
令人震惊的是,媒体对一起有计划地谋杀印度教徒的案件保持完全沉默,
Suchint • New Delhi • 1 day ago
Is this a civilised society? Where is DelhiPolice Crime team? Do you want another agitation at India Gate to wake you up?????
这是一个文明社会吗?德里警方在干嘛?想再来一次印度门骚乱,才能惊动你们吗?
Puneet sharma • india • 1 day ago
hindus need to arm themselves now,govt and the system in total is toothless whether modi wins or not
印度教徒现在需要武装自己,不管莫迪能不能赢得竞选,印度政府和整个体系都是)没有权威的。
Dreet • 1 day ago
Law and order in Delhi and NCR region is worse than Syria Gaza and Darfur today.
如今德里和首都辖区的治安比叙利亚、加沙和达尔富还糟。
Varun • Varun • Riverside • 1 day ago
We have to end such cases of domestic terrorism on Hindus. Why is this not being looked as a case of lynching by owasi, award Wapsi losers and now that mental kamal? These Arab converts are dangerous!
我们务必终结国内针对印度教徒的恐怖主义案件。
Sanjay Khannah • 23 hours ago
they jus need to be sent to pak
把这些人送到巴基斯坦去
Kapoor A • 2 hours ago
The same thing happened to me long back. I was a Mahatma Gandhi fan and very very very secular as my parents were all Congress lovers,,, esp my mother. BUT NEVER ANYMORE and now I''m hardcore Hindu because of this sham secularism. Even my mother has stopped loving Congress.
很久以前,同样的事情也发生在我身上。我是圣雄甘地的粉丝,非常非常世俗,我的父母都是国大党追随者……尤其是我的母亲。但再也不会了,这种是伪世俗主义,我现在是印度教的铁杆信徒。甚至我母亲也不再喜欢国大党了。
satpal gera • 2 hours ago
If it were my womenfolk, I would have butchered the entire family and happily gone to jail with my head held high.
如果是我的女人,我会把他们全家都杀了,然后昂首挺胸进监狱。
Captain Shreekant Tyagi • Captain Shreekant Tyagi • Greater Noida • 1 day ago
Whenever dealing with such criminal minded people, police should be informed first.
I demand a capital punishment for criminal
无论什么时候和有犯罪意识的人接触,都应该事先通知警方。
我要求对罪犯判处死刑
Dreet • 1 day ago
Delhi NCR region looking identical to Syria and Iraq these days
德地区最近和叙利亚和伊拉克一样乱啊
Anwar Hussain • 16 hours ago
Culprits should be punished without any bias.
罪犯应该受到惩罚,绝不偏袒。
Parveen • 1 day ago
where is law n orders and police. this was happened due to corrupt police system
警察在哪里,法治呢? 警察系统太腐败,这种案件才会发生
Parveen Sahrawat • 1 day ago
But if any kin of a cop is killed all the criminals r lifted n hanged in thana upside down.
如果一个警察的亲属被杀,所有的罪犯都会被绞死。
Anil • 1 day ago
such rogues must be hanged. but India's justice is so slow that it itself needs lots of justice.
这样的流氓必须被绞死,但印度的司法太拖沓了。
KP • KP • USA • 1 day ago
The murderers should be hanged immediately.
应该立即绞死凶手。