Mayawati, PM Modi spar over dalit woman's rape in Alwar
就达利特妇女在阿尔瓦尔遭强奸一事,莫迪和玛雅瓦蒂爆发"口水战"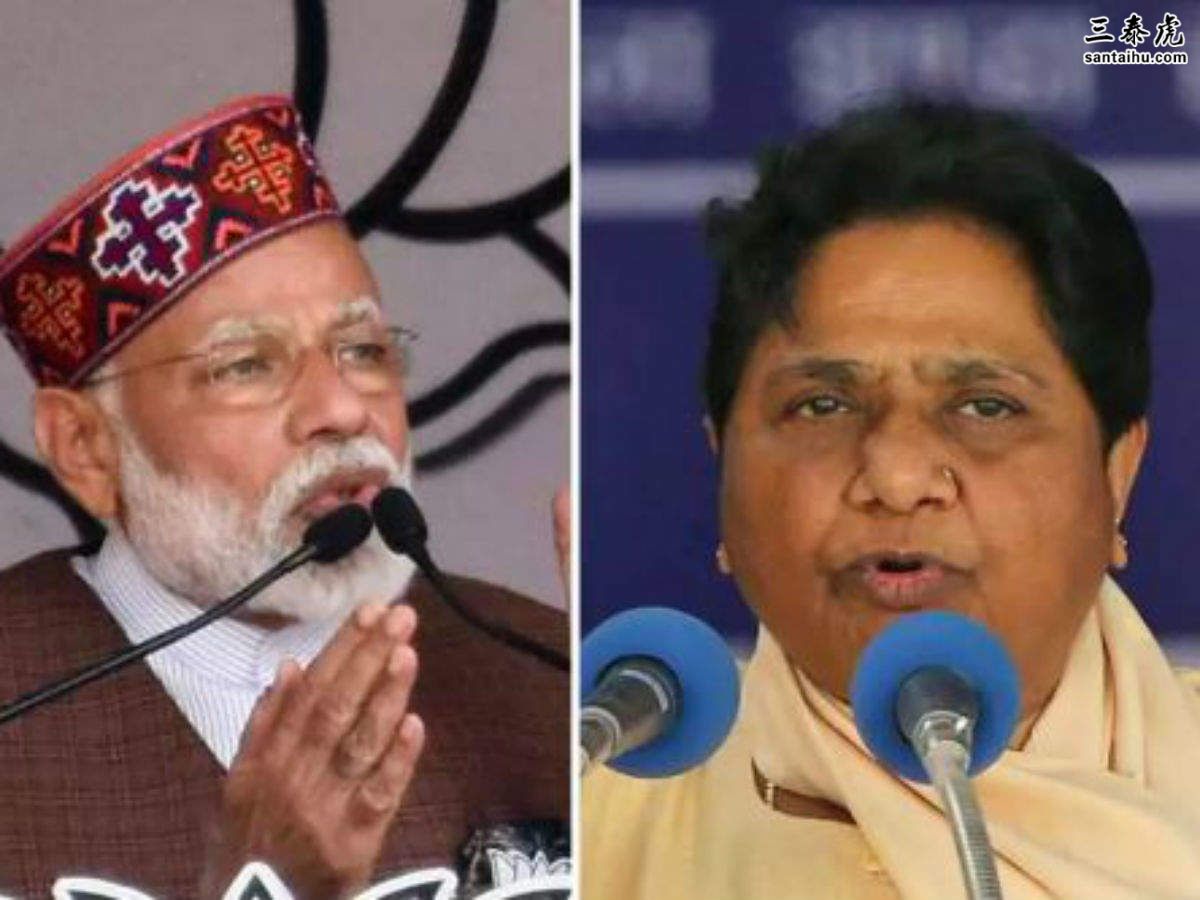 KUSHINAGAR/LUCKNOW: A war of words erupted between Prime Minister Narendra Modi and BSP supremo Mayawati on Sunday on the issue of dalit atrocities with the PM accusing the latter of hypocrisy and asking her why her had not withdrawn support to the Congress go nment in Rajasthan after the gang rape of a dalit woman in Alwar recently.
勒克瑙/库什那加尔: 周日,印度总理纳伦德拉·莫迪和印度社会党(BSP)最高领导人玛雅瓦蒂就达利特问题爆发了口舌之战。莫迪指责后者虚伪,并质问她,在最近阿尔瓦一名达利特妇女遭轮奸后,其政党为何没有撤回对拉贾斯坦邦国大党政府的支持。
Soon after Modi's multipronged attack on her at a rally in Kushinagar, the BSP chief issued a statement asking him why he hasn't resigned owning moral responsibility for atrocities on dalits in BJP-ruled states, including the Una case in his home state of Gujarat where seven persons from the Scheduled Castes were flogged by upper caste people in the name of cow prection. Modi attacked Mayawati on the Alwar gang-rape issue and accused her of "shedding crocodile tears" by issuing statements on the crime.
莫迪在库什那加尔的一次集会上对玛雅瓦蒂发起轮番攻击,这位BSP领袖随即发表声明,称莫迪应对达利特在人民党统治的邦遭遇的承担道德责任,包括在其家乡古吉拉特邦发生的Una案件,高种姓以"护牛"的名义对七名低种姓进行鞭打,并质问莫迪为何还未引咎辞职。莫迪在阿尔瓦尔轮奸案上攻击了玛雅瓦蒂,并指责她在犯罪问题上发表的言论,是"惺惺作态"。
During a rally in UP's Kushinagar, PM Narendra Modi said, "The Rajasthan go nment is running with the support of Behenji (Mayawati) and if she cares for dalits, she should immediately withdraw support to the go nment by writing to the governor. Behenji, you will have to answer, why didn't you withdraw support to the Congress go nment after a dalit daughter was gang-raped in the state?" The PM added that when Mayawati was attacked by SP workers at the state guest house in Lucknow in 1995, women were shocked.
在北方邦库什那加尔的一次集会上,印度总理纳伦德拉·莫迪称:"拉贾斯坦邦政府是在玛雅瓦蒂的支持下运作的,如果她关心达利特,她应该立即写信给该邦首席部长。玛雅瓦蒂,你必须回答,为什么在一个达利特女儿在这个邦被轮奸后,你不撤回对国大党政府的支持?"
"What is the reason that you are not feeling the pain of the Alwar woman?" he said. Mayawati hit back, asking Modi not to indulge in "disgusting po itics" over the Alwar gang-rape case, adding that she would take appropriate step if strict action was not taken by the state go nment.
"你为什么没有感受到阿尔瓦女人的痛苦?"" 莫迪问道。玛雅瓦蒂回击称,她要求莫迪不要把阿尔瓦而轮奸案拿来说事,并补充说,如果邦政府不采取严厉措施,她将采取适当的措施。
Reiterating that he was most backward by birth, Modi said he always worked to take the country forward.
莫迪重申,他生来就是最落后阶层,他一直致力于带领国家前进。
Modi also accused the Congress-led state go nment of trying to hush up the Alwar gang-rape case, saying: "Nyaya Nyaya cheekhne wali Congress ke naamdar ke moonh par btkariyon ne t laga diya hai. (Congress leaders had been screaming about justice, but the rapists have sealed their lips now)."
莫迪还指责国大党领导的邦政府试图掩盖阿尔瓦尔轮奸案,他说:"国大党领导人一直在大声疾呼正义,但面对这些强奸犯,他们却默不作声。"
印度时报读者的评论:
译文来源:三泰虎 http://www.santaihu.com/47620.html 译者:Jessica.Wu
外文:https://timesofindia.indiatimes.com
manish • BLR • 3 hours ago
There needs to be no investigation...One has to loot at the 55,000 sq ft mansion she has built - That itself is proof enough on how she has loed Dalits and the country....And her Mercedes Maybach which costs more than 4 crore....Pervert witch...
大家直接去玛雅瓦蒂那5.5万平方英尺的豪宅里抢劫——从豪宅可以看出,她洗劫了达利特和这个国家多少财富……还有她那辆价值4千多万卢比的奔驰迈巴赫……她是个变态的女巫……
Logical Indian • Chowkidar Zed • International • 4 hours ago
Exactly, nobody is blaming RJ gov for this. Had this happened in BJP ruled state, we would have had half of the bollywood shouting ag inst BJP and Modi. Any unfortunate in dent like rape or suicide or murder etc. should not be piliticised, but unfortunately that''s what likes of Kejari, Didi, Bua, RG etc have been doing since past 5 years. now when PM gave them the taste of their own medicine, they have nowhere to hide
如果这个轮奸案发生在人民党统治的邦,宝莱坞有一半的人会站出来大声反对人民党和莫迪。任何不幸的事件,如强奸、自杀或谋杀等,都不应该扯上政治,但不幸的是,这是玛玛塔、拉胡尔等人从过去5年以来一直这么做的。现在,莫迪总理让他们自食其果了。
Murali Raghavan • 7 hours ago
Mayawatiji., You May shout from the roof top. But you are not going to become the PM of India.
玛雅瓦蒂,你尽管大喊大叫,你是当不上印度总理的
Bhartiya • 6 hours ago
Behenji means business & money. Khangress has given her loads then why make noise t4 totally silent about Dalit woman rape in Alwar. Na baap bada na bhaiya. Sabse bada rupaiyah. She should have voiced her serious concerns to Rajasthan Govt for their slow action and initial hush-up. She choose to remain silent which is very intriguing.
玛雅瓦蒂就想着捞钱。国大党给了她那么多钱,她为什么要为阿尔瓦尔达利特妇女强奸案发声呢?
New Voice • 6 hours ago
mayawati is so cunning that she can stage anything
玛雅瓦蒂太狡猾了,太能演了
amit sharma • 3 hours ago
Modiji you are great
莫迪,你很棒
Moderator sahee • 6 hours ago
What else can we expect from these goons?
我们还能指望这些徒做些什么呢?
Funny that Modi asking why support was not withdrawn.
Did he even take responsibility or step down as PM when demonetisation failed? He promised that everything will be OK in 50 days. Had this been western countries he would not have survived such false promises.
"废钞令"失败了,莫迪是否承担了责任,是否辞去了总理一职? 他曾经保证50天后一切都会好起来的,结果呢。如果是在西方国家,他说话不算数,就必须承担责任。
Mohamed Ibrahim • mumbai • 6 hours ago
Genius who told you demonetization failed?when you went for nz
天才,谁告诉你"废钞令"失败了?
Think About • Aryavart • 4 hours ago
Richest Dalit in the world, how did she turn around her fortunes within 20 years....hope dalits understand this....
玛雅瓦蒂是全球最富有的贱民,她是怎么在20年内改变自己命运的,希望达利特们能看清这一点……
Think About • Aryavart • 4 hours ago
This idiotic female is a curse for Dalits....she has only loed in the name of dalit welfare....
这个愚蠢的女人是达利特的诅咒…她打着贱民福利的口号抢劫……
Rkjain Jain • 1 hour ago
Not a single Dalit benefitted under Maya. She has given tickets to non dalits. She has joined hands with Akhilesh whose is totally anti dalit.
玛雅瓦蒂没给达利特带来一点福利。
Vinod • 3 hours ago
Most Disgraceful PM never found in any history before.
印度历史上最可耻的总理
Hvstik Anju • 3 hours ago
Proved, she is just doing po itics to earn her bread, not really concerned to voice for dalits.
事实证明,玛雅瓦蒂只是为了谋生而从政,并不真正关心达利特的福祉。
Rajiv Nayan • 3 hours ago
Po itics was always dirty, but, it''s getting dirtier now. Now, common people are being targetted for garnering ves. Very dangerous.
政治向来是肮脏的,现在,为了拉选票,都盯上普通民众了。
selvarajc • 4 hours ago
No other job. Why to fool people. Maya makes statues at public expense and modi make very big statue at public expense to fool people. Both justifies their action. Poor people ves for rich. Gap between poor andrich increasing.
玛雅瓦蒂用公款修雕像,莫迪也用公款修雕像,他们都在忽悠民众,都为自己的行为辩护。穷人投票给富人,导致贫富差距越来越大。
selvarajc • 4 hours ago
mayavathi makes her own statues where as we dont have a single statue of modi across india.. thats the difference
区别在于,玛雅瓦蒂用公款给自己修雕像,而莫迪从未给自己修过一尊雕像。
Vikas Rajput • Muzaffarpur • 4 hours ago
Much better just hang the culprits don''t blame each other
把罪犯绞死,不要互相指责了
Srinivas Dhangar • Pune, Maharashtra • 5 hours ago
Please don''t po iticise this
请不要把这件事政治化
Rak • 4 hours ago
Oh, the po iticains of my land,have shame.it is human tragedy do not play it as a game for ves.
这就是我们的政客们,真丢人。这种案件是人类的悲剧,不要把它当作一场拉票游戏。
Pradeep • 3 hours ago
A vicious and ambitious woman she is, Mayawati
玛雅瓦蒂是一个恶毒而野心勃勃的女人。
Rkrishnan • Ker • 5 hours ago
While Mayawati became billionaire by passing off as Dalit Messiah, Dalits did not benefit by her brand of po itics. Once in power she started behaving just like her upper caste counterparts.
玛雅瓦蒂是达利特,也是亿万富翁。他搞的那套政治,达利特并没有受益。一旦,她就开始像高种姓一样行事。
Dreet • 6 hours ago
What about UP? Life of women is worse than Syria Darfur and Libya.
在北方邦,妇女活得比叙利亚和利比亚的人还苦。
Rahul Gaikwad • Pen • 1 hour ago
You all fraud people now completely exposed....
你们这些骗子现在完全暴露了…
Suraj • 1 hour ago
soon after the congress comes to power this happens,for 70 years those congress te rorts have ruined india
国大党上台后不久,这种事情就发生了,70年来,国大党毁了印度
chanakya • Mumbai • 1 hour ago
She is the worst po itician of india after kejriwal
她是印度最坏的政治家,仅次于克利瓦尔。
Jj Dd • 5 hours ago
Answer Mr Modi. Why not resigned or order resignation ? Love of money or else ???
莫迪,为什么不引咎辞职?是爱钱还是为了别的?