In Gujarat, dalit cop gets police cover to ride horse in his wedding
古吉拉特邦达利特警察获警方维护秩序,在婚礼上骑马
PALANPUR: This was no ordinary baraat. Over 200 people including, executive magistrate including senior officers, were part of a Dalit man's wedding procession in Sitwada village of Sabarkantha's Prantij taluka on Friday.
帕兰普尔: 这不是一场普通的婚礼,超过200人,包括地方执法官在内的高级官员,参加了周五在萨巴尔坎塔Sitwada村举行的某达利特男子的婚礼游行。
But most cops were not baraatis. In fact, they were providing a security cover to the groom Sanjay Rathod, 27, who rode on a horse in his marriage procession. Rathod himself is a police constable at Jadhar police station in Idar taluka, but his relatives and other community members were extremely wary about earning the wrath of upper caste members in the village.
这些警察是在为27岁的新郎桑杰·拉托德提供安全保障。这位新郎要在婚礼游行上骑马。拉托德是一名警官,其亲戚和其他社区成员生怕此举会惹怒村里的高种姓人士。
"The upper caste people of the village had warned me not to take out procession on a horse. Late on Thursday night, the electricity suddenly got snapped and the guests got frightened thinking some people may be trying to obstruct the celebrations. Some informed the police and team of cops rushed to the village. At the end, I was able to take out the procession peacefully under security cover," Rathod told TOI.
拉托德告诉《印度时报》:"村里的高种姓警告过我,不要骑马游行。周四晚上,电力突然中断,宾客们担心有人阻挠婚礼庆典。一些宾客通知了警方,一队警察赶到村里。最后,在他们的维持下,我顺利完成了游行。"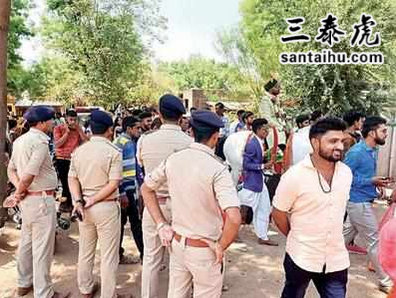 Sub divisional officer, Prantij, Sonalba Padheriya said, "The family apprehended trouble and sought police protection." Ranjit Rathod, husband of sarpanch Ramaba, added that some villagers had earlier asked the Dalit family not to take out the wedding procession.
这家人担心会有麻烦,向警方寻求保护。拉托德说,早些时候,一些村民要求达利特不得举行婚礼游行。
There were around 150 policemen including police inspectors, sub-inspectors, walking along with the groom riding on the horse. The police contingent will camp in the village till the celebrations end, said KS Brahmbhatt, police inspector, Prantij.
大约有150名警察,包括巡警、副巡警,随骑在马上的新郎一起游行。Prantij督察称,警察特遣队将在村里扎营,婚礼结束才离开
The development comes just a day day after five persons including sarpanch and deputy sarpanch of Lhor village near Kadi in Mehsana were arrested for announcing boycott of Dalit families after a groom from the community decide to ride horse on his wedding.
就在一天前,包括迈哈萨纳卡迪附近Lhor村村长和副村长在内的五人因宣布抵制达利特家庭而被捕,此前该社区的一名新郎决定在婚礼上骑马。
印度时报读者的评论:
译文来源:三泰虎 http://www.santaihu.com/47613.html
外文:https://timesofindia.indiatimes.com
AROP • 1 day ago
Time is always forwarding, change yourself otherwise will be wiped out. Rajput of this region, remember your small kingdoms vanished in 1947, now you are ordinary citizen, behave like ordinary people. Today SC/ST community are educated and working, no logic in suppressing.
时代在进步,如果不改变自己,你就会被淘汰。这个地区的拉吉普特人要记住,你们的小王国在1947年就消亡了,现在你们就是普通公民,要像普通人一样行事。如今的低种姓是有文化的,没理由受压迫。
Amit • 1 day ago
I don't understand why these so called upper cast morons are so obsessed by the horses. In this new era grooms can come in BMWs and helicopters also. Who are these people to decide what the groom ride? Just because of these morons acts the rest of India suffers.
我不明白为什么这些所谓的高种姓傻子会对人家骑马这么纠结。在这个新时代,新郎可以坐宝马或者直升机去迎亲。这些人凭什么决定新郎应该选择什么交通工具?
Tsupon • 1 day ago
He is either very lucky or brainy enough to fix his wedding date during election time. Wish him a very happy married life.
他很幸运,也很聪明,把婚礼定在选举期间。祝他新婚快乐。
Shasti Brata • 1 day ago
Terrible that humans will treat fellow humans in this despicable manner in this village! The groom was influential and thus got the protection he deserved, but what about ordinary people? Hope that the couple stays safe after the revelries are over.
这个村子里的人竟然如此卑劣地对待自己村里的人,太可怕了!新郎有背景,因此得到了应得的保护,但是普通人呢?希望这对新人在狂欢结束后也能平安度日。
Shasti Brata • Hyd • 1 day ago
@SB. That too in Modi's state.
莫迪所在的邦就是这样。
narasarao • United States Of INDIA • 1 day ago
Modi has nothing to do with this. Even prosperous south states have caste mentality
莫迪与此事无关。就连发达的南方各邦也存在种姓歧视。
Notes of a Madman • Hyd • 1 day ago
Very true but I thought Modi's rule brought some change to Gujarat.
没错,我认为莫迪执政也给古吉拉特邦带来了一些改变。
Abram Siddiqui • 1 day ago
Feku kind of people are responsible as Time magazine says- King of dividing people based on religion is feku pm of India.
就像《时代》杂志说的那样,印度总理莫迪是根据宗教划分人民的国王。
Ashfaq • 1 day ago
shame on him it's his Gujarat.
莫迪真丢人,这是他的老家古吉拉特邦。
amber tyagi • 1 day ago
Modi is the most incompetent administrator ever
莫迪是有史以来最无能的总理。
Raj • 23 hours ago
what a story...in Modi's Gujarat even a Dalit Police constable needs police protection for his life then imagine what suffering normal dalits, OBCs, Minorities, SC/ ST will be facing for daily survival...
这都什么事儿啊……在莫迪的古吉拉特邦,即使是一个达利特警察也需要警察保护,可想而知,普通达利特人、落后阶层、少数族裔、表列种姓/部落要怎么生存…
Prashant • Mumbai • 1 day ago
It is surprising in today's world dalits are to face such situation.
如今达利特人还这样的处境,真是令人惊讶。
Prashant • 23 hours ago
Religion, Caste and Regionalism are the three PILLARS of Indian society. Everything revolves around these. Even in YOUR home..! Only in India, the majority of the people are born inferior to others. That is the "RICH CULTURE" of India!
宗教、种姓和地方主义是印度社会的三大支柱。一切都围绕着这3点,甚至在你自己家里也是…!只有在印度,大多数人生来就不如别人,这就是印度的"文化"!
Fossil By Then • 23 hours ago
Of course! ONLY IN INDIA a handful are born superior and the rest are inferior. What beautiful, intelligent, well-meaning tradition and CULTURE! Waah Waah! In the name of "culture" animals have a better life in that hideous place..!
只有在印度,少数人天生高人一等,其余的人则低人一等。多好的传统文化啊!!,在这个可怕的地方,人活得还不如动物呢。
Dead • Nation Bleeding Daily • 1 day ago
Great news...At least police did its part...rest depends on society...
好事……至少警方尽了自己的职责,其他的就取决于社会了
Dead Citizen • 1 day ago
Yes the society can decide not to deal with a particular group.
是的,上流社会可以决定不与特定群体打交道。
Kvs • 1 day ago
they should stop riding horse during weddings altogether. meaningless nomadic traditions.
他们应该取消在婚礼上骑马的传统
Joy Das • 1 day ago
Well true hinduism is being followed in gujrat including food code and caste restrictions.
古吉拉特邦信奉的是正统的印度教。
Mohamed • 21 hours ago
Is this the Gujarat model, you want every state to emulate ?
这就是古吉拉特邦模式,你希望每个邦都效仿吗?
Francis • Dubai • 22 hours ago
Shame on Gujrat Model casteisum.
古吉拉特邦模式可耻,种姓主义。
Gaana User • 23 hours ago
Wish him a happy married life
祝他婚姻幸福
sanjoy • 22 hours ago
Good, it is symbol of empowerment but I say we shouldn't hate each other. Caste system is irrelevant in our society now.
我们不应该互相憎恨,种姓制度在我们的社会中已经不重要了。
Indian • 1 day ago
These are done for show off today and it is politically motivated, As if, if he did not take a ride on Horse his marriage is incomplete. Such practices dont exst in South India. North Indians are full of pomp and show. The kshatriyas of past felt it attractive to show valour by coming in horse
这都是为了炫耀,而且是出于政治动机,好像不骑马,他的婚姻就不完美一样。印度南部并不存在这种做法。北印度人虚荣心很强,觉得骑马可以显示自己很勇猛。
Indian • 1 day ago
not valour, that was the only available transport those days. they had no choice. such meaningless traditional should be stopped potrivit.
不是为了显示勇猛,早年马是唯一可用的交通工具。他们别无选择,这种毫无意义的传统应该取消。
Rajan • Rajan • USA • 1 day ago
That's Modijis Gujarati what will go on in India under him god save India
莫迪是古吉拉特邦人,在他的领导下,印度将何去何从,愿神保佑印度