42-year-old Vasai woman loses 214 kg to discover new life
42岁瓦塞女子减肥214公斤,重获新生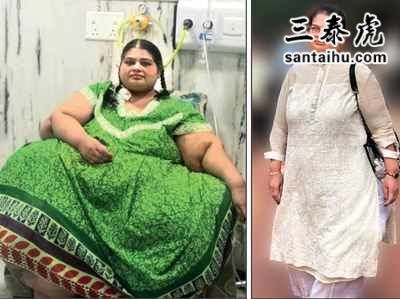 MUMBAI: It took Vasai resi nt Amita Rajani four years and two surgeries to lose 214 kg and walk independently.
孟买:瓦塞居民阿米塔·拉贾尼花了四年时间,做了两次手术,减了214公斤体重,方能独立行走。
On Wednesday, Rajani spoke about her "life-changing transformation" from 300 kg to 86 kg and her quest to get into The Limca Book of Records. The surgeon who performed bariatric or weight-loss surgery on Rajani, Dr Shashank Shah, cmed 42-year-old Rajani was the heaviest woman in Asia until she reduced to 86 kg.
周三,拉贾尼谈到了她从300公斤减到86公斤这一"改变人生的转变",以及她想要载入"林姆卡纪录大全"的愿望。为拉贾尼做减肥手术的外科医生沙尚克·沙阿博士称,在减到86公斤之前,42岁的拉贾尼是亚洲体重最重的女性。
"Prior to surgery, life was a mess," said Rajani who needed help to perform even the most basic activities such as walking and changing clothes. "I was bedridden for eight years. I never once left my house in all those years, never saw sunlight. I was depressed," she said.
拉贾尼说:"在做手术之前,我的生活一团糟。我卧床8年,在那些年里,我从未离开过我的房子,从未见过阳光,我感到很沮丧。"
The sight of her would scare her six-month-old nephew who used to start crying on seeing her, she added.
她补充说,她6个月大的侄子以前一看到她就哭。
Apart from being obese, Rajani also had kidney dysfunction, type II diabetes and breathing problems. The pivotal moment came when Rajani met Dr Shah, who has performed 6,000 bariatric surgeries till date. "Obesity is the mother of all diseases, including cancer, and is more common among women than men," said Dr Shah. Obesity now affects every third Indian, he added. Not surprisingly then, doctors say bariatric surgery, though complex and costing between Rs 3 and Rs 5 lakh, has takers in India.
除了肥胖,拉贾尼还患有肾功能障碍、II型糖尿病和呼吸困难的问题。直到拉贾尼遇到了沙阿博士,人生才有了转机。迄今为止,沙阿博士已经做了6000例减肥手术。沙阿博士说:"肥胖是所有疾病的根源,包括癌症,女性比男性更常见。"他补充说,现在每三个印度人就有一个受到肥胖的困扰。医生表示,尽管减肥手术很复杂,花费在30万到50万卢比之间,但在印度也有人愿意做。
Bariatric surgery involves reducing the size of the stomach so that it can hold a smaller portion of food, restricting the amount of food that can be consumed so that it results in weight loss. Considering it is a major surgery, it carries risks such as infections, blood clots, kidney failure due to diabetes and so on. Rajani admits she initially refused to undergo the procedure because of the side-effects. "But Dr Shah eventually convinced me," she added.
减肥手术包括缩胃,这样胃能容纳食物会更少,可以限制食物的摄入量,从而达到减肥的目的。鉴于这是一项大手术,它有引起感染、血栓、糖尿病引起的肾衰竭等风险。拉贾尼承认,由于害怕副作用,她最初拒绝接受手术。"但沙阿博士最终说服了我,"她补充道。
She underwent two bariatric surgeries at Lilavati and Hinduja hospitals. The medical team mon ored her for 30 days after surgery, giving injections to prevent blood clots and carrying out physiotherapy and breathing exercises. "I'm in heaven now. I can wear what I want and eat normal food. After the surgery, I travelled across India," said Rajani.
她分别在Lilavati和Hinduja医院接受了两次减肥手术。术后,医疗队对她进行了30天的监测,注射预防血栓,进行物理治疗和呼吸练习。"我现在觉得很幸福,就像身处天堂一般。我想穿什么就穿什么,想吃什么就吃什么。手术后,我游遍了印度。"拉贾尼说道。
印度时报读者的评论:
译文来源:三泰虎 http://www.santaihu.com/47591.html 译者:Jessica.Wu
外文:https://timesofindia.indiatimes.com
kumar satpriya • 4 hours ago
Wish you all the very best and a wonderful life
祝你万事如意,生活美满
Chokidar • Earth • 1 hour ago
Marketing Article
软文营销
Anushka • Surat • 1 hour ago
Hope, she maintain it.
希望她能保持身材
Mohammed Yusuf Khan • jeddah • 1 hour ago
i am looking for a third wife n if this woman can cook n clean n take care of 10 kids i would like to meet her. rajni if u r reading this connect wid me n let us meet in mumbai
我正在找第三任妻子,如果这个女人会做饭、会打扫卫生、能照顾10个孩子,我想见见她。拉贾尼,如果你看到我的留言,请和我联系,我们可以在孟买见个面。
Mohammed Yusuf Khan • 18 mins ago
Niw he started living and u want to jail him again..
10 kids all yours?????
她刚重获新生,你又想束缚她?另外,这10个孩子都是你的??
sameer shaikh • jeddah • 5 mins ago
yes all 10 r my kids. i need another wife to look after them
对,10个都是我的。我要再找一个老婆来照顾孩子
Chennai • 1 hour ago
The amount what she was spending on her food can be now diverted to get new clothes for her new physic.
她过去用来买吃的钱现在可以用来买新衣服了。
Deepak Kumar • 1 hour ago
good recovery
身材恢复得不错。
Deepak Kumar • 1 hour ago
great transformation
改头换面了
Paranthn S • TN • 1 hour ago
What a transformation. Yes, what was she doing till gaining 200 kg. Have a watch on intake of FOOD..Before fasting was part of life.. Today, we have more food than needed and get many unneeded diseases..
变化真大啊。她之前的体重是怎么到200公斤的。要注意食物的摄入量。如今,我们吃得太多了,反倒得了许多病。
Prem • 5 hours ago
India grate country with grate doctors.
印度有很多优秀医生。
amber tyagi • Mum Bhai • 1 hour ago
but she is veggie what did she eat to gain weight
她是素食主义者,吃什么了长那么胖?
Javed Badshah • uae • 3 mins ago
Gluttony is major cause for obesity. Eat healthy, exercise regularly and enjoy a good life.
暴饮暴食是导致肥胖的主要原因。健康饮食,经常锻炼,方能享受美好生活。
Muthuswami • Amritsar • 6 mins ago
Excellent Congrats God bless you.
Y Muthuswami
太好了,恭喜你,愿神保佑你。
Santhosh Reddy • hyderabad • 7 mins ago
You are reborn, enjoy every minute of your life. God bless you with good health
你重获新生了,享受生命中的每一分钟吧。愿神保佑你身体健康
titopandm • 15 mins ago
It''s only because MODI Govt
这都是莫迪政府的功劳
Murugavel • 18 mins ago
Great job..but be careful. don't get back to 300kg duty to over excitement
非常好,但是要注意点,不要过度兴奋后大吃大喝,结果回到300公斤。
Gopal Sriniwasan • Sydney Australia • 20 mins ago
Kudos to the Indian Doctors and the Young Women who has regained her Zest for Life.
这名年轻女性重拾了对生活的热情,向印度医生致敬。
sachin agarwal • 33 mins ago
Congratulations to the patient and the team of doctors.
祝贺这位患者,也祝贺医生团队。
sanjoy • 38 mins ago
Wish you a healthy life.
祝你健康。
Meri Soch • 58 mins ago
Good job done by doctors if in future it is safe for the girl. It shouldn''t be for a short period and in future with complications.
如果以后也没事的话,那医生做的手术算是很成功。希望效果不是暂时的,希望将来不会出现并发症。
Ram Sridhar • 1 hour ago
Good to see this. At the same time this person has to lead a healthy life eating healthy food and enough exercises to keep becoming fitter and fitter and do not go back to overeating!
现在,这个女子应当保持健康的生活方式,吃健康的食物。多锻炼,让自己变得越来越健康,不要再过度饮食了!
Dr Vidyadhar Yellutla • Bangalore • 1 hour ago
Hit gym madam, that can only help you further no more surgeries.
去健身,这样才不会胖起来,就不用再去做减肥手术。
Ranjith Sanjay • Hyderabad • 1 hour ago
Inspiration for all of us!!!
看得都很励志。
Amit B • 1 hour ago
Health is wealth. Hope now she takes care to not reach such a state again..
健康就是财富。希望她能多注意,保持身材,不要再打回原形。
True Indian • India • 1 hour ago
She was alive for so many years with that huge weight is itself a Miracle.
这种吨位能活到她这个岁数本身就是一个奇迹。
Narendra Kedari • Pune • 1 hour ago
what was she doing till gaining 200 ?
她吃了什么,长了200公斤 ?
Saline Peoples • 2 hours ago
Inspiring
励志