Army to induct 460 Russian-origin t ks to add muscle on Pak front
印度陆军将引进460辆俄罗斯产,以增强巴基斯坦方向的前线部队实力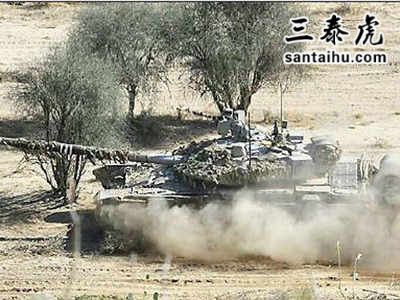 NEW DELHI: The Indian Army will induct an additional 464 Russian-origin upgraded T-90 'Bhishma' main-battle t ks at a cost of Rs 13,448 crore in the 2022-2026 time frame to bolster its "shock and awe" capabilities on the western front, even as Pakistan is also discussing a deal with Russia for acquiring about 360 such t ks.
新德里:印度陆军将斥资1344.8亿卢比,在2022 - 2026年期间从俄罗斯引进464辆升级版T- 90"Bhishma"主战,以增强在西线的威慑力,尽管巴基斯坦也正与俄罗斯商谈购买约360辆此类。
Defence ministry sources on Monday said the "indent" to produce the 464 T-90 t ks would soon be placed on the Avadi Heavy Vehicle Factory (HVF) under the Ordnance Factory Board after the cabinet committee on security cleared the licence acquisition from Russia over a month ago.
印度国防部消息人士星期一表示,在内阁安全委员会一个多月前从俄罗斯获得许可后,生产464辆T-90的"合同"将交付给军械工厂委员会下属的阿瓦迪重型汽车工厂 (HVF)。
The Army already has around 1,070 T-90 t ks as well as 124 'Arjun' and 2,400 older T-72 t ks in its 67 armoured re gients. After the first 657 T-90 t ks were imported for Rs 8,525 crore from Russia from 2001 onwards, another 1,000 are being progressively licenced and produced by HVF with Russian kits. "There has been some delay in the indent for the remaining 464 t ks, which will also have night-fighting capabilities. Once it is done, the first 64 t ks should be delivered in 30-41 months," said a source.
印度陆军67个装甲团里已装备大约1070辆T-90,124辆"阿琼"和2400辆T-72。2001年,耗资852.5亿卢比从俄罗斯引进首批657辆T-90,之后,HVF获得许可使用俄罗斯配件生产1000辆T-90。消息称:"其余464辆的订单有些延迟,这些也将具备夜间作战能力。一旦完成,首批64辆将在30-41个月内交付。"
"Pakistan has plans to upgrade its esting mechanised forces, which includes over 50 armoured re gients of Ukrainian T-80UD and -origin t ks. It wants to acquire new Russian T-90 t ks and indigenously produce others with 's help," said a source.
消息称:"巴基斯坦计划升级现有的机械化部队,包括采购50多辆乌克兰T-80UD和。巴基斯坦也想购买俄罗斯T-90,并在的帮助下自主生产其他。"
印度时报读者的评论:
译文来源:三泰虎 http://www.santaihu.com/47576.html 译者:Jessica.Wu
外文:https://timesofindia.indiatimes.com
HSF • Australia • 9 hours ago
Pakistan is a bankrupt country, from where they are getting crores of rupees to buy such equipment ? USA, IMF and World Bank should be very careful when they consider resque plan for Pakistan.
巴基斯坦是一个破产国家,哪有钱买这种? 真考虑救助巴基斯坦,美国、国际货币基金组织和世界银行应该慎之又慎。
Srinivasan Rchandran • Chennai • 5 hours ago
The Kashmir issue drains the wealth of nation heavily. Above all the human loss.
克什米尔问题大量消耗了国家的财富。最重要的是造成很多人的牺牲。
Srinivasan Rchandran • 4 hours ago
Still, India is a bigger economy and can survive. But the pain and disaster is for Pakistan. Pakistan''s Kashmir policy has turned them bankrupt. Inside Pakistan life is hell.
不过,印度经济体量更庞大,买得起这些。巴基斯坦就苦了,克什米尔太费钱,造成了他们破产。巴基斯坦是人间地狱。
R • USA • 2 hours ago
Inside Pakistan, the average Pakistanis are way much better than dirt poor India where millions of farmers commit suicide every year out of sheer poverty, families failing to perform the funeral throw the dead bodies in to Ganga making it holier everyday, or every day norm rape nade it the rape capital of the world!
巴基斯坦人的日子比穷困潦倒的印度人好过得多。印度每年有数以百万计的贫穷农民因绝望而自杀,没钱举办葬礼的家庭直接把尸体扔进恒河,每天都有强奸发生,印度由此成为世界强奸之都!
Naveen Kumar • 8 hours ago
What happend to make in India ??
"印度制造"计划呢,怎么样了?
Thakur • 5 hours ago
Army is kee the fingers crossed that ... hopefully BJP comes back again to power... if congress comes then again we will be comparing ourselves with Pakistan and not (like now)
And by the way where did pakistan grabbed the money to buy 360 T-90s
印度陆军正在祈祷人民党再次…如果国大党上台,我们只能和巴基斯坦比,没法和比。
顺便问一下,巴基斯坦从哪搞钱买360辆T-90?
Thakur • 5 hours ago
Pakistan has already signed a deal of 600 t ks with Russia.
巴基斯坦已经与俄罗斯签署了购买600辆的协议。
Lumteeng Chapaktu • 4 hours ago
RUSSIA will sell their outdated t ks to you B1ackies
俄罗斯将把过时的卖给你们
Jagdish Madan • Vancouver BC • 5 hours ago
India''s defence is now getting the attention it merits.
印度国防现在得到了关注。
Jagdish Madan • 4 hours ago
CONGRESS swallowed money and indulged in co ption...
国大党太了,只会吞钱
India t k • India t k • USA • 8 hours ago
Russian T70 and T90 t ks are for fighting Pakistan. Indian Arjun t ks are for Independence Day Parade.
俄罗斯的T70和T90是用来对付巴基斯坦的。印度阿琼是为独立日准备的。
Rajesh • 7 hours ago
What are you doing on front ? He is more powerful than Pak. and strong economically & militarily and friend of Pak
我们在方向有啥动作吗?比巴基斯坦更强大,经济军事力量更强,还有巴基斯坦这个朋友。
rajesh kumar • 2 hours ago
We always should avoid the super power unless they enter our border in which case it is world war.
我们应该避开这个超级大国,除非他们越界,而这将意味着世界大战。
Subham • 5 hours ago
India and Pakistan will keep fighting and Us Russia will be rich by selling wons
印度和巴基斯坦将继续鹬蚌相争,而美国、和俄罗斯将通过出售武器而"渔翁得利"
subham sen • Hyderabad • 1 hour ago
That''s why no one wants Kashmir issue to be resolved.
所以没人希望克什米尔问题得到解决。
Secunderabad • 9 hours ago
Why is india buying the same product that is being supplied to Pakistan? Where is surprise n special status?
巴基斯坦要买这款,为什么印度也买? 这有什么特别之处?
wise modi • Sl • modi temple • 8 hours ago
Smart decision of the greatest ever Modi. Why you question?
史上最伟大的莫迪做的英明决定。你凭什么质疑?
Common • 4 hours ago
Modi making a muscular India which was portrait as a starved begging nation by congress for so long.
莫迪正在打造一个强大的印度。之前在国大党统治下,印度一直是个饥寒交迫的国家。
Nagura Shaik • 4 hours ago
The day India develops its own wons including parts required for manufacturing, all countries will respect India and doesn''t dare to talk ag inst it
一旦印度自己会造武器,所有国家都会尊重印度,不敢说印度的坏话。
Nagura Shaik • Bengaluru • 4 hours ago
That's why India always goes for countries which agree for technology transfer & local manufacturing s..
要不然印度干嘛选择从那些同意技术转让,并允许在印度本土生产的国家购买武器。
himwant prasad • South Asia • 7 hours ago
Arms race should be avoided by Pak and India.
巴基斯坦和印度不应陷入军备竞赛。
Uday Gohil • 4 hours ago
If by default Raga gt comes as such country is finished with co ption.
如果拉胡尔上台,这个国家就会成风。
Vinod • Bengaluru • 3 hours ago
No penny to feed it's people but spends every penny to fight India?
巴基斯坦没钱养活人民,把钱都花在了对抗印度上?
Bonny Moraes • Goa • 3 hours ago
Another feather in Modi's cap?
又是莫迪的功劳?
Swapnil jain • hyderabad • 4 hours ago
Instead of giving billions of dollars to other countries, why can''t we manufacture such wons on our own.
为什么我们自己不会造,非要花费数十亿美元向其他国家购买?
Arnab Ghosh • Location • 6 hours ago
Stop buying russian junk . MBT Arjun is a far superior t k which performed better than these T90's .
别购买俄罗斯的垃圾。阿琼的性能远远优于T90。