Arvind Kejriwal slapped by man during roadshow, cops say attacker an AAP supporter
阿尔温德·克里瓦尔在巡回宣传中遭男子掌掴,警方称袭击者是平民党的支持者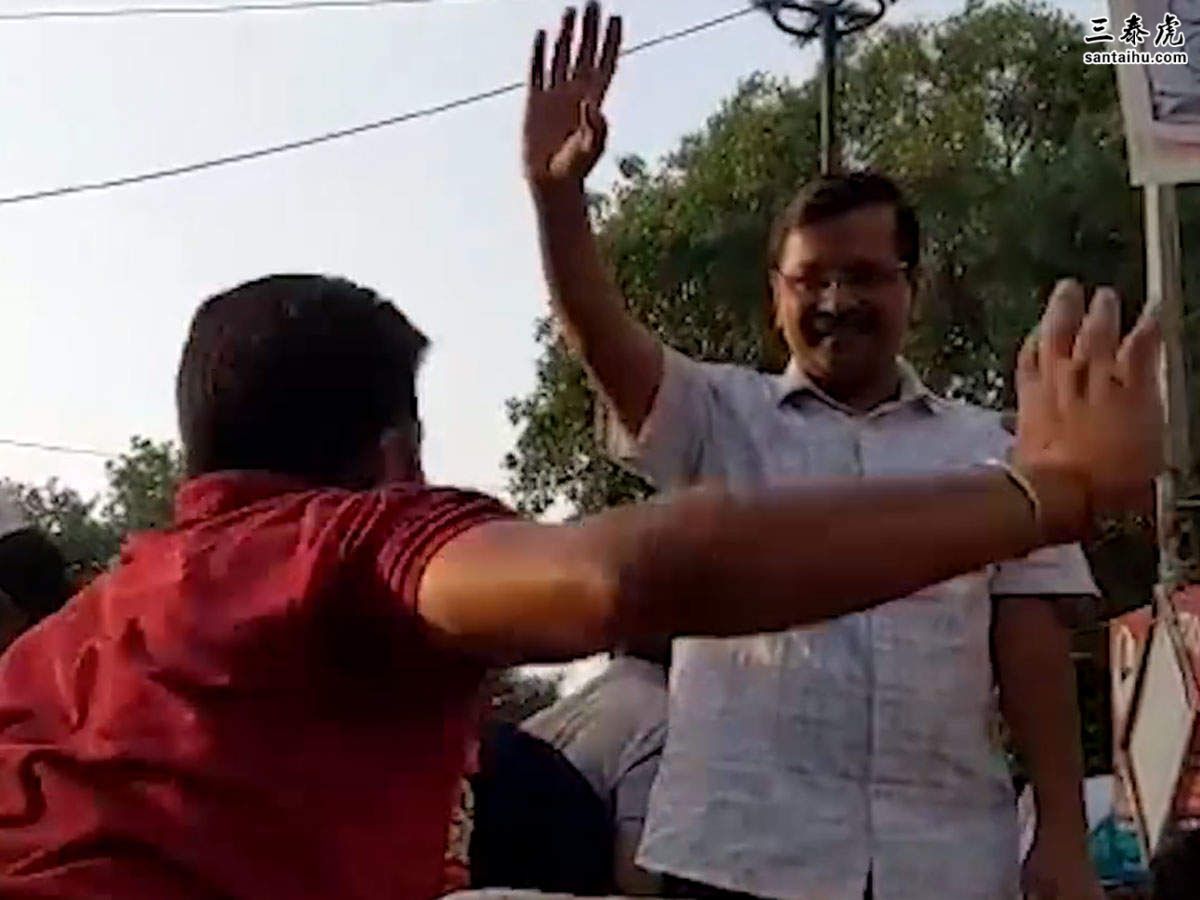 NEW DELHI: Delhi chief minister Arvind Kejriwal was assaulted by a man while campaigning for Aam Aadmi Party's New Delhi constituency candidate Brijesh Goyal at Moti Nagar on Saturday. The assailant, Suresh Chauhan, climbed on the bonnet of the Maruti Gypsy that Kejriwal was on and appeared to slap him. He was caught by AAP supporters and thrashed before cops deployed for the event rescued the man and admitted him to hospital.
新德里:周六,德里首席部长阿尔温德·克里瓦尔在为印度平民党(APP)新德里选区候选人Brijesh Goyal做竞选宣传时遭一名男子袭击。袭击者为苏雷什·乔汉爬上凯杰里瓦尔乘坐的马鲁蒂吉普赛的引擎盖上,似乎要扇他一巴掌。平民党支持者将其抓住,并殴打了他,随后现场警察救下了这名男子,并将其送往医院。
AAP expressed outrage at the laty in the security around the CM. Kejriwal is entitled to Z-category security cover and is accompanied by a detail of 25 police personnel and a pilot car.
平民党对首席部长的安保松懈表示愤怒。克里瓦尔享有Z级安全保护,并配备25名警察和一辆先导车。
While deputy CM Manish Sisodia tweeted, "Do Narendra Modi and Amit Shah now want to get Arvind Kejriwal assassinated?", spokesperson Saurabh Bharadwaj alleged that Delhi Police "lowers its guard while precting the CM". AAP MP Sanjay Singh, too, alleged a conspiracy behind the attack.
副部长曼尼什·西索迪亚在推特上写道:"纳伦德拉·莫迪和阿米特·沙阿现在想暗杀阿尔温德·可里瓦尔吗?" 平民党发言人Saurabh Bharadwaj称,德里警方"在保护首席部长时放松了警惕"。平民党议员桑杰·辛格也声称这次袭击背后有阴谋。
More controversy followed when Delhi Police cmed that their probe showed Chauhan, 33, was an AAP supporter and was in the reception group at Moti Nagar and as such the in dent could not be blamed on police carelessness. They also said his name was on the list submitted by AAP before the event. Bharadwaj refuted the contention that Chauhan was an AAP supporter, and cmed that the attacker's wife, Mta, had herself told the media that her husband was a "Modi bhakt".
随后德里警方声称,调查显示,33岁的乔汉是平民党支持者,也是Moti Nagar的接待小组成员,这起事件不能归咎于警方的粗心大意,此举引发了更多争议。警方还称,活动前乔汉的名字就在AAP提交的名单上。Bharadwaj驳斥了乔汉是平民党支持者的说法,并声称袭击者的妻子玛玛塔告诉媒体其丈夫是"莫迪的追随者"。
This is the not the first time that the CM has been attacked at a public rally. In 2014, a man had climbed on to his jeep and slapped him when Kejriwal was campaigning ahead of the Delhi assembly ions. In November 2018, a man had entered the Delhi Secretariat and attacked Kejriwal with chilli powder. The AAP leader was also attacked with ink and a shoe during public functions before assuming office as chief minister.
这并不是该首席部长第一次在公众集会上遭到袭击。2014年,克里瓦尔在德里议会选举前竞选时,一名男子爬上他的吉普车,扇了他一巴掌。2018年11月,一名男子进入德里秘书处,用辣椒粉袭击了克里瓦尔。在担任首席部长之前,这位平民党领导人还在公共活动中被泼过墨水、被扔过鞋子。
印度时报读者的评论:
译文来源:三泰虎http://www.santaihu.com/47562.html 译者:Jessica.Wu
外文:https://timesofindia.indiatimes.com
Manohar Sharma • 8 hours ago
This is a DRAMA staged by Kanjriwal himself to put blame on Modi. Shameless person.
这是克里瓦尔自导自演的闹剧,就为了指责莫迪,真无耻。
Butel Bolriy • 4 hours ago
It is quite possible that the attacker is an AAP supporter. This Chauhan fellow might have been brived/threatened into doing this. I just hope that Kejriwal doesn't have acid thrown at him.
袭击者很可能是平民党的支持者。这个叫乔汉的家伙可能是收了或者被威胁了才这么做的。我只希望克里瓦尔没被泼硫酸。
Arijit Thakur • 4 hours ago
Ch AAP TACTICS AT ITS BEST
平民党的卑鄙招数
ONE LINER Challenge • 9 hours ago
IT MEANS - TIME FOR KEJRI TO GO!!!!!!!!BJP TO COME IN!!!!!!!!
这意味着-克里瓦尔该下台了!! 印度人民党要来了!!
ONE LINER Challenge • India • 6 hours ago
When Kejri wants more funds, he gets slapped by AAP member. When popularity goes down, again another slap from AAP member. How come, these slaps happen only during ion time?
当克里瓦尔想要更多经费时,他被平民党成员扇了一巴掌。当支持率下降时,平民党成员又给了他一记耳光。为什么只在选举期间被扇?
ONE LINER Challenge • Location • 6 hours ago
BJP is power the MCD of Delhi, and they have made Delhi garbage place, if they come in power Delhi will become an Adda for gundas. All development in Delhi is thanks to AAP
人民党是德里的执政党,他们把德里变成了垃圾场。德里的所有发展都归功于平民党。
ONE LINER Challenge • 9 hours ago
KEHJRI SHOULD QUIT AND IT CONFIRMS HE IS A CHEAT!!!!
克里瓦尔应该辞职,他是个骗子!!
ONE LINER Challenge • 4 hours ago
Yeah, you Modi bhaktas desperately need Kejriwal to resign on his own as there is no indication that he will lose the next assembly ion.
是的,莫迪迫切需要克里瓦尔自己辞职,没有迹象表明他会在下次议会选举中失败。
Arijit Thakur • Dekhu • 3 hours ago
Lose assembly ion? On the other hand AAP would win all the seventy seats and three bonus seat
平民党将赢得全部70个席位和3个额外席位。
Shyamsunder • Bangalore • 8 hours ago
This is not first time where Kejriwal was attacked.Earlier also there were many such in dents.He is prone to such attacks because of his crass behaviour.He has not learnt any lesson event after so many slaps.He is in the company of Hardik patel, Kanhayya kumar, Mevani etc.In the present case, the attacker is a AAP man, so stop blaming BJP.
这不是克里瓦尔第一次遭到攻击。早些时候也发生过许多类似事件。他行为粗鲁,容易招来攻击。挨了那么多耳光,他还是没吸取教训。在此次案件中,袭击者是一名平民党支持者,所以不要指责人民党。
Yash Parmar • New Delhi • 4 hours ago
Yes everyone is afraid as the country had been ruined
人人自危,这个国家已经被毁了
Shail • India • 5 hours ago
Then how come an AAP supporter himself was unhappy with him. Please don''t be biased. Think rationally and objectively. How will vision-less leader like Rahul Gandhi shape India? Moreover his becoming the presi nt is not based on merit; its just that Congress will lose its appeal without Gandhi. How can I support Arvind who was supposed to be an anti-co ption Crusader but ended-up sharing stage with Congress, Lalu, etc.?
为什么一个人民党支持者会对他不满呢?请不要有偏见,要理性、客观地思考。拉胡尔·甘地这样缺乏远见的领导人将如何塑造印度?
此外,他成为国大党主席并不是靠政绩。没有甘地这个姓氏,国大党将失去吸引力。为什么要支持阿尔温德?他本应是反腐斗士,最终却与国大党同流合污。
Rai Saheb • 6 hours ago
This could have been sponsored by AAP to gain sympathy. Such kind of things were done during Delhi Assembly ion.
这可能是印度人民党为了博取同情而自导自演的。这种事情在德里议会选举期间就发生过。
Rk • 8 hours ago
All clealry pre planned by the mango !
明显是事先策划好的。
Rakesh • Singapore • 6 hours ago
looks like a stunt to get sympathy ves !!!
看起来像是为了博取同情选票!!
Brajesh Singh • Location • 6 hours ago
why every ion he stages slap gate controversy!
为什么每次竞选,他都会挨耳光,惹争议?
Ravi Patel • 6 hours ago
I dont understand what is he living for? Just to get slapped
我不明白他为什么而活?难道是为了挨耳光?
Ravi Patel • 5 hours ago
1 slap = 10000 ves.
一巴掌= 10000票。
Sanjoy Pandey • Kolkata • 7 hours ago
This is really shocking. The great Kejriwal arranged for such a show to win ve !!!
真是令人震惊。伟大的克里瓦尔安排了这样一个节目来拉票!!
Prashantrgowda • 7 hours ago
"Surgeical strike" on himself... with proof
对自己发动"外科手术式袭击"
Aniken • 7 hours ago
The AAP supporter Slapper found mosquito on Honorable Shri Kejariwal ji s cheek and then he killed the Mosquito with one slap.
平民党支持者发现克里瓦尔脸上有只蚊子,然后一巴掌打死了蚊子。
Anitha • 6 hours ago
He ly deserved the slap, he's another Pappu.
他活该,他和拉胡尔一个样
Mukesh • 8 hours ago
stage managed and well orcested show by Kejriwal to garner the ve . This is his tried and tested strategy , which has given very encouraging results to Kejriwal in past . Unfortunately , this time people have understood him and he shall be loosing badly in the ion.
为了拉票,自导自演的闹剧。这种策略屡试不爽,过去很凑效。可惜人们已经看穿他的把戏了,这次他将在选举中惨败。
Modi • Bengaluru • 7 hours ago
He deserves it.
他活该
Rkrishnan • Ker • 7 hours ago
Delhi people who reposed lot of fa th in this man appear to be disillusioned this time. you cannot fool all the people all the time
德里民众对这名男子寄予厚望,这一次他们似乎大失所望。欺骗一次也就算了了,你不可能一直欺骗大家的
Raja • New Delhi • 2 hours ago
He might have planned this himself to grab few ves
可能是他自己策划的,为了拉选票
True Hindu • 4 hours ago
It was a slap from 1.25 b people..
这是替12.5亿人打的一记耳光。
Debasish • 4 hours ago
one more please.
再来一巴掌
Rohitpratap Singh • 4 hours ago
Salute to this man
Why kejeriwal wants to equate himself with modi ?????
Modi is international leader
向这名男子致敬
为什么克里瓦尔觉得自己和莫迪一样牛?
莫迪可是国际领袖