Why are the Chinese so good at table tennis?
为什么中国人乒乓球打得那么好?
Quora读者的评论:
Jeremy Easterbrook, Competed at the international level in racket sports.
Originally Answered: Why are Chinese so good at table tennis?
I have been in China and have seen the culture of training there with my own eyes:
1.Kids start really young, under the age of 8 old is normal;
2.Their parents leave them at clubs / national centers and they are isolated to do only that. They are funded well;
3.Training there can be excruciatingly difficult. Eat, train, eat, train, sleep. Repeat;
4.Best pool of players in the World. China Table-Tennis Team D could easily beat most other countries' A Team. A kids train with older age groups (D or C teams);
5.Coaches: They have either done it, or coached legends. The same way the USA has the best american football & basketball coaches, they have unparalleled coaching techniques;
6.Talent pool: If a young upcoming athlete gets injured or demotivated, ten are there to take his place.
7.Wng an olympic gold medal for your country will make you a hero. It is a way of elevating your social status while not having to really do grinding work. You are family.
8.Fame: Being the best at table tennis will have your face on media billboards, TV talkshows, buses, big events, etc. They can become millionaires.
最初的问题是:为什么中国人乒乓球打得这么好?
我去过中国,亲眼见识过中国的培训文化:
1.孩子开始练球的时候很年轻,8岁以下都很正常;
2.他们的父母把他们留在俱乐部或国家中心,他们孤孤单单,只能练球。他们拥有充足的经费;
3.训练可能很苦。吃,训练,吃,训练,睡觉。日复一日地重复;
4.中国有世界上最优秀的球员库。中国乒乓球队的D队可以轻松击败大多数其他国家的A队。A队的孩子会跟年龄较大的(D组或C组)的孩子一起训练;
5.教练:他们要么自己出类拔萃,要么培养出了传奇运动员。就像美国拥有最好的美式足球和篮球教练一样,他们拥有无与伦比的教练技巧;
6.人才库:如果一个年轻的运动员受伤或者状态下滑,有十个人可以立刻 代替他。
7.为祖国赢得奥运会金牌会让你成为国家英雄。这是一种无需太过苦累就能提高社会地位的方式。
8.名气:乒乓球打得最好的人会出现在媒体广告牌、电视脱口秀、公共汽车、大型活动等场合。他们会成为百万富翁。
Jeff Stevens
Originally Answered: Why are Chinese so dominant in table tennis?
Lots of answers to this one. First, it's their national sport so they have huge resources to put into it and train the heck out of their players from an early age - way more so than most other countries. This has been true for most of the last 50 years.
I have another theory on why their men are dominant now (not the women, as they've always been dominant since the early 60's). I would love a top level player to speak to this one. The Chinese were not dominant at all from the late 80's through most of the 90's. They did win some big ones but the Swedes and a lot of other Euros were at least as good if not better. Even when they developed the RPB, Waldner especially was better than almost all of them until around 2000.
Then, the ITTF made the stupid decision to change things up. Bigger ball, no glue and shorter games. I think the bigger ball is what killed it. The Chinese have much more resources to develop players who adapted to the new game and left the rest of the world behind. Serves with the bigger ball are just not as effective. I could be wrong on this but watch Waldner from years ago and from recently. His serve and tactics were so strong but now it seems like no one good really has trouble with his s anymore.
I still enjoy watching the sport but I think it's much more monotonous and boring compared to how it was in the 80's and 90's.
译文来源:三泰虎 http://www.santaihu.com/47544.html 译者:Joyceliu
最初的问题是:为什么中国人在乒乓球上优势这么大?
这个问题有很多答案。首先,这是他们的国球,所以他们投入了巨大的资源,从小就培养出优秀的球员——比大多数国家都要多。在过去50年的大部分时间里,情况都是如此。
我有另一种理论来解释为什么他们的男性现在占主导地位(而不是女性,因为她们从60年代早期就一直占主导地位)。我希望有一个顶级球员来谈谈这个现象。从80年代末到90年代的大部分时间,中国人根本没有占据统治地位。他们确实赢得了一些重要的比赛,但是瑞典人和其他很多欧洲国家的运动员也跟他们不相上下。尤其是瓦尔德内尔实力比大多数中国球员要强,直到2000年左右。
然后,国际乒联做出了一个愚蠢的决定——改革。改用大球,缩短赛程。我认为大球改变了一切。中国拥有更多的资源来培养适应新比赛规则的球员,将世界其他地区的球员甩在了身后。用大球发球杀伤力减弱了。在这一点上我可能是错的,但看看瓦尔德内尔几年前和最近的经历。他的发球和战术都很强大,但现在似乎好球员都能应付他的旋转球了。
我仍然喜欢看体育比赛,但我认为与80年代和90年代相比,现在更单调、更无聊了。
Nam Nguyen (EmRatThich), Table Tennis Coach in France since 2012
As any sport, there are 2 factors that you can become so good.
跟其他运动一样,有两个因素可以让你变得非常优秀。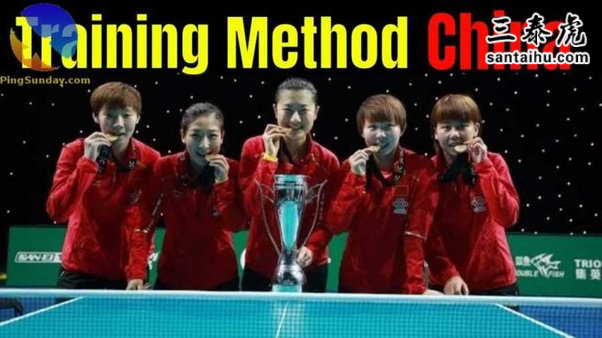 1.Coaching sy em: China has the best training program. Started at the very young age. Very good coach with the step-by-step tutorial. Master the foundation of table tennis, and focus on the speed, power, quality of the shots at the begng.
2.Players: Chinese peoples love this sport. That's why the go nment continues to investigate to the sy em. They deved their life for this sports. From generation to generation.
3.Ne: Some peoples say, "Hey, China so good because they have so many players". Wrong! That's the quality of training that decide your level, not the quantity. The number of table tennis players around the world is much more important than the Chinese player. But they are the best, because they sacrifice many things to this sport.
So my answer is simple: It's due to the "Training Quality" in China.
1.教练体系:中国拥有最好的训练大纲。从球员很小的时候就开始训练了。有非常出色的教练,也有循序渐进的指导。夯实乒乓球的基础,并从训练伊始就重点训练速度、力量和击球质量。
2.运动员:中国人喜欢这项运动。这就是政府持续研究训练系统的原因。他们为这项运动奉献了一生。一代又一代。
3.注:有些人会说,"嘿,中国这么强,是因为他们的球员太多了"。错了!决定水平的是训练的质量,而不是数量。全球乒乓球运动员的数量比中国运动员的数量多得多。但中国运动员是最棒的,因为他们为这项运动牺牲了很多东西。
所以我的回答很简单:原因在于中国的"培训质量"。
Rahul Verma, table tennis fanatic!
Originally Answered: Why are Chinese so dominant in table tennis?
I have seen a full documentary of chinese pong training and what i have come to know is the dedication with which they practice ... even top ranked players like ma long , wang hao , xu n , zhang jike including some legends like ma lin and wang liqin have to face each other to get into the final team which represents the chinese table tennis team .. players are sed by a competition held within them .. so no po itics involved ...the coaches are like a hard nut to crack .. they keep pushing the players to improve their game until it becomes flawless...their gaming style is completely different from the rest of the world which is to attack and once on attack never go back to defence , convert defence into attack ( take example of ma long )... also huge amounts of funding goes into their department ... so this makes chinese dominant in the world of table tennis ... last but not the least ITS IN THEIR GENES !!!
最初的问题是:为什么中国人在乒乓球上如此占优势?
我看过一部关于中国乒乓球训练的完整纪录片,我所知道的是他们训练时的奉献精神。即使是像马龙、王浩、徐欣、张继科这样的顶级选手,包括一些传奇人物,如马琳和王励勤,也必须战胜彼此才能进入中国乒乓球代表队的决赛。运动员是通过在他们内部赛中选拔出来的。所以不涉及政治…教练就像一个难对付的家伙。他们不断地督促球员在比赛中精益求精,直到无可挑剔……他们的比赛风格和世界其他地方完全不同,那就是进攻,一旦进攻就再也不退回防守,把防守变成进攻(以马龙为例)…还有充足的训练经费……所以这使得中国人在乒乓球世界上占据了统治地位…最后但同样重要的是他们的乒乓球基因!
Johnny Chao, Always looking for similar patterns
It's not so much about many advantages vs the lack of disadvantages. Chinese people are on avg shorter and less built than Caucasians and Africans.
But in this game too much strength is useless, it's about precision, focus, reaction time, hand eye coordination, flebility of upper limbs/torso, those areas there doesn't seem to be any significant differences at all.
Also I would say height/size is a disadvantage given how small the ball is and how low the table is. now the rest of the answers are absolutely correct that table tennis is a very popular sport people in china played from a very young age, so it's easy to find out who the prodigies are. The hard work obviously is a big factor as well.
与其说它有很多优点,不如说它没有缺点。中国人平均体重比白种人和非洲人要低,身高也更矮。
但在这个比赛中,力量没多大用处,更重要的是精确度,焦点,反应时间,手眼协调,上肢/躯干的灵活性,这些领域并没有显著的差异。
我还想说身高/尺寸是一个劣势,因为球那么小,桌子那么低。现在剩下的答案是绝对正确的,乒乓球在中国是一项非常受欢迎的运动,人们从很小的时候就开始打球,所以很容易挖掘出天才球员。努力训练显然也是一个重要因素。
Anonymous
Because hundreds of millions of Chinese truly like the game.
These two are good representatives of Chinese players. They both migrated to western countries. They have conformable lives. They still play in their 50s and they went to Olympic 2012. They didn't do it for money or fame, they do it because this is what they do.
因为数以亿计的中国人都发自内心低喜欢这项运动。
这两名球员都是中国球员的优秀代表。他们都移居到西方国家,过着舒适的生活。他们50多岁还在打球,参加了2012年奥运会。他们这样做不是为了名利,而是因为这就是他们的事业。
Anonymous
There is no scientific evidence that I am aware of that this has anything at all to do with genes.
I would say that it is much more likely that because it is a ubiquitous sport in China, many people experience and practise it from an early age. Children play it all the time, develop their reflexes for it, and most importantly, face informal competition among friends which drives them to improve their skills. So those that choose to take it on as a professional sport have a huge headstart from childhood.
It's not unlike the childhood pastimes of Europeans and football ("soccer"), or Americans and basketball, or Indians and cricket.
没有科学证据表明这与基因有任何关系。
我想说,更有可能的是,因为它在中国是一项无处不在的运动,许多人从小就打过球,经常练球。孩子们经常打球,锻炼他们的反应能力,最重要的是,面对朋友之间的非正式竞争,促使他们提高自己的技能。因此,那些选择将乒乓球作为职业运动的人,从童年起就拥有了巨大的领先优势。
这与欧洲人和橄榄球("英式足球")、美国人和篮球、印度人和板球的童年消遣没有什么不同。
Jeffrey Moche, Comedy magician. Self-taught in economics, & po itics
Simple. Size of population plus interest.
It is the national sport in a country of over 1.3 billion people, supported intensely by the go nment, played by most from very young as a sport that relies on fundamental technique.
In America, we barely care about it, and it's typically played as basement fun, with no technical formal training. Tournaments winners receive pathetic award money that doesn't even pay for travel. If you're the best, no one outside of the sport cares.
When all this conspires together, each generation stands on the shoulders of the previous and exceeds their accomplishments.
很简单。人口规模加上兴趣使然。
这是一个拥有13亿多人口国家的国球,得到了政府的大力支持,作为一项依赖于基本技术的运动,大多数人从很小的时候就开始玩这项运动。
在美国,我们几乎没有关心过这项运动,通常只是地下室的乐趣,没有正式的技术培训。锦标赛冠军获得的奖金少得可怜,连差旅费都不够。就算你是最棒的,也没有人关心。
当这一切结合在一起,每一代人都站在上一代人的肩膀上,超越他们的成就。
Kar Chun, Born , Living London, Uni Student
China dominates table tennis (TT) for a couple of reasons.
1.Huge population pool- What I mean by this is China is a country of 1.3 billion and therefore there is always huge number of pential players that can dominate the game. Not only this but the huge population means that competition is fierce, players are more competitive in this environment as they have to compete with so many other players in order to make it into their provincial teams, let alone the national team.
2.Their Coaches- The general trend is good players end up as good coaches and since China has dominated TT for a good number of decades now, the players get taught from the very best.
3.Incredible facilities- TT is China's national sport and therefore they get great facilities often funded by the go nment in order to produce the best players in the world. They have a huge amount of resources and they often study and analyse their opponents so much that they even find Chinese players that play in a similar style so that their top players can practice. This is along with their closed training before major competitions like the WTTC or Olympics.
I could probably go on, there are many more reasons but in general it's due to the dedication and resources they have.
乒乓球在中国占据主导地位有几个原因。
1.巨大的人口规模—我的意思是,中国是一个拥有13亿人口的国家,因此总有大量的有潜力的球员可以制霸比赛。不仅如此,巨大的人口意味着竞争很激烈,球员在这种环境下更有竞争力,他们必须与很多别的球员竞争,才能进入省队,更不用说国家队了。
2.他们的教练—一般而言,优秀的球员最终会成为优秀的教练,因为中国几十年来一直称霸乒乓球界,所以球员都是从最优秀的球员那里学进步的。
3.一流的设施—乒乓球是中国的国球,因此他们拥有一流的设施,政府提供了资金,以培养世界上最好的球员。他们有大量的资源,他们经常研究和分析他们的对手。这是他们在世界乒乓球锦标赛和奥运会等重大比赛前的封闭训练。
我还可以继续说下去,原因还有很多,但总的来说,这要归功于他们的奉献精神和丰富资源。
Sudeep Sahni
Practice and hard practice that chines so dominant in table tennis and other game
练和艰苦的练让中国在乒乓球和其他比赛中占据了统治地位。
Phani, lives in Mumbai, Maharashtra, India
People always say Chinese are good at reflexes
Table Tennis is one of the games that need strong reflexes and may be naturally makes the Chinese strong in that.
人们总是说中国人反应力很强。
乒乓球是一项需要很强的反应能力的运动,可能这自然而然地让中国人在这方面十分强悍。
Tina Müller, interested in a lot since 1991
Originally Answered: Why are Chinese so dominant in table tennis?
Table tennis is a huge thing in China. One can compare its role with the role football plays in european countries. Since a large percentage of a large population plays table tennis, stakes are high, that they find most of the talented ones. Those follow the path to become a professional athlete since it is highly rewarded. Hence, there are many world class chinese table tennis players.
最初的问题是:为什么中国人在乒乓球上如此占优势?
乒乓球在中国是一件大事。这跟足球在欧洲国家一样。因为大部分人都打乒乓球,所以他们能找到许多有天赋的球员。这些人选择成为职业运动员,因为这是高回报的运动。因此,有许多世界级的中国乒乓球运动员。
Mahmoud Asfour, physicist at Alfa Scan (2008-present)
Progressing To Higher Levels, Learn From China
向更高水平迈进,向中国学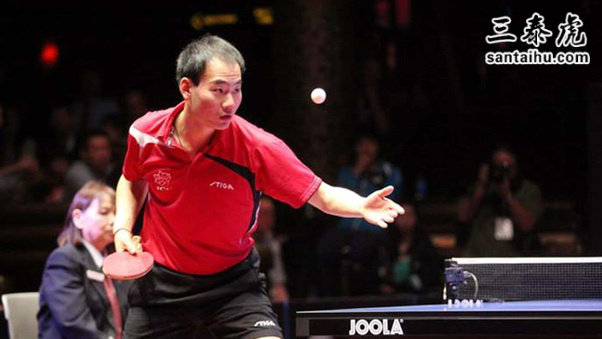 Aspiring players in abundance in China, there is an embarrassment of riches; at the other side of the world, in recent years talented young players a have emerged in the United States.
However, do the American players have shortcomings? How can they improve their technical abilities in order to first reach the international level and then progress to what might be termed world level?
Comparison of the table tennis sy ems
The difference between the United States and China is one of sy ems and organizations.
China's sports sy em is primarily go nment led with a focus on directing human, material and financial resources towards achieving results in international competitions. From local level organizations to city training schools, provincial teams, and the national team, a pyramid-shaped sy em is designed to produce players who can excel at the high level.
Established daily training schedules, strict supervision and enforcement added to strategic training methods require not only the effort of players but also motivated coaches and knowledge; this is why in the modern era the results of the Chinese national team have been so consistently high.
In contrast, the United States model is very different. It does not have go nment support; it is self-funded and is very fragmented across the country. The control from the National Olympic Committee and from the national association is limited. Athletes pay for all training and competition; they practice in private clubs and can practice anywhere they wish.
Training for players in the United States is fleble since there is no set training schedule and no national or even state level supervision. The number of days one practice in a week is determined individually. United States players spend much of their time on academics and other extracurricular activities or hobbies.
在中国,有抱负的球员众多;在世界的另一端,近年来有才华的年轻球员出现在了美国。
美国球员有不足之处吗?他们如何才能提高自己的技术能力,先达到国际水平,再达到世界水平呢?
乒乓球系统的比较
美国和中国的区别在于体制和组织。
中国的体育体制主要由政府主导,组织人力、物力和财力在国际比赛中取得成绩。从地方机构到城市培训学校、省级球队和国家队,金字塔形的体系旨在培养出能够在高水平上出类拔萃的球员。
制定每日训练计划,战略训练方法加上严格的监督和执行,不仅需要运动员的努力,也需要教练和知识的激励;这就是为什么在现代中国国家队的成绩一直很出色的原因。
相比之下,美国则大不相同。它没有政府的支持;靠自筹资金,在全国范围内非常分散。来自国家奥委会和国家协会的控制十分有限。运动员需要支付所有训练和比赛费用;他们在私人俱乐部练,可以在任何他们想去的地方练。
在美国,球员的训练很灵活,因为没有固定的训练时间表,也没有国家甚至州一级的监督。每星期练的天数由个人决定。美国球员把大部分时间花在学和其他课外活动或爱好上。
National policies for table tennis in the United States and China
Among table tennis players in the United States, children and parents emphasize academics values. During high school, table tennis is merely a secondary supplement for college applications.
There is no recruitment or examination exempting policy. Colleges favor sports like basketball, athletics and swimming over table tennis.
In China, table tennis is a highly valued national sport. Athletes in China can enjoy many benefits. If a person excels at table tennis, from elementary school through college, there will be many "bonuses" offered; for example, if an athlete has sound technique, good results in competitions, a high national ranking, colleges, and universities will recruit without requiring a high school examination. In fact, in addition, some prestigious colleges provide free tuition and scholarship opportunities.
Conversely, in the United States, companies often focus more on the comprehensive abilities of an individual, the level of education and internship experience. United States college graduates must pass through detailed sion procedures before they can successfully be hired; no preference is given towards table tennis expertise.
In China, the level of play in table tennis and a national athletic certificate are both highly beneficial for finding a job. In some work departments, those with table tennis expertise receive priority. Sometimes, companies specifically seek national level table tennis players. Many table tennis players rely on their athletic skill to enter universities and companies.
美国和中国乒乓球的国家政策
在美国的乒乓球运动员中,孩子和父母强调学术价值。在高中时,乒乓球只是大学申请的加分项目。
没有招聘或考试豁免政策。大学更喜欢篮球、田径和游泳等运动,而不是乒乓球。
在中国,乒乓球是一项非常受重视的民族运动。在中国,运动员可以享受很多好处。如果一个人从小学到大学乒乓球打得好,就会有很多"奖励";例如,如果一个运动员有良好的技术,在比赛中取得好成绩,在全国排名很高,学院和大学可以豁免高中考试,直接录取。事实上,一些名牌大学还提供免费的学费和奖学金。
相反,在美国,公司往往更注重个人的综合能力、教育水平和实经历。美国大学毕业生必须经过详细的选拔程序才能被成功录用;没有优先考虑乒乓球专业知识。
在中国,乒乓球水平和国家体育证书对找工作都非常有好处。在一些工作部门,拥有乒乓球专业知识的员工优先考虑。有时,公司还会专门录用国家级乒乓球运动员。许多乒乓球运动员凭借运动技能进入大学和公司。
Jamy Storm, table tennis advocate and coach
Table tennis, just like basketball or football, is a competitive sport, and the Chinese have gotten very good at it. And games are more interesting to watch at the highest level, so more people enjoy watching it because they have such high level players. It turns into a positive feedback loops that keeps interest. This has made the game gain a lot of popularity and it has stayed popular. It has become China's baseball.
乒乓球,就像篮球或足球一样,是一项竞技运动,中国人非常擅长这项运动。观看最高水平的比赛更有趣味,因为中国有许多高水平的球员,所以很多人喜欢观看比赛。它成了一种保持兴趣的积极反馈循环。这使得这款游戏获得了很大的人气,并且一直很受欢迎。它已经成为中国的棒球。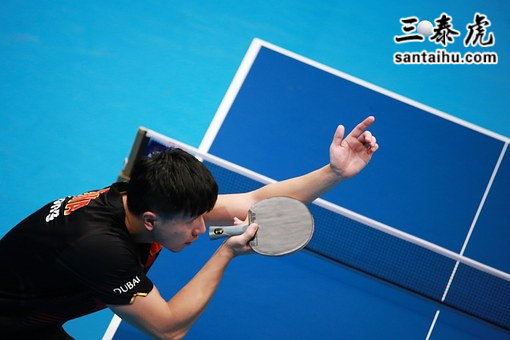 If you yourself start to watch table tennis, you can see it's a very fast paced game which requires top performing athletes at the professional level. Table tennis requires some of the fastest reactions out of the sports because the ball is travelling so fast over such a short distance. In addition, the rubber has a remarkable ability to make the ball s, so that adds another layer of depth, especially when it comes to serves, serve return, and defensive style play.
如果你开始观看乒乓球比赛,你会发现这是一种节奏非常快的比赛,需要专业水平非常出色的运动员。乒乓球需要最快的反应,因为球在这么短的距离内移动速度极快。此外,橡胶能使球旋转,所以增加了难度,特别是涉及到发球,发球回击和防守风格的发挥。
Tony Dusk, Heroic Spirit at Chaldea Security Organization
It's not table tennis, it's actually pong. It's popular cause it requires extremely fast reaction and reflexes to be good at it. It's very exciting when you are playing. Have you ever seen an extremely intense Volley Ball game? With impossible countless saves after saves, each time you think it'd be over the other team manages to save it, even if it's a spike, and the other team does the same, pong is like that but at a closer range and every moment is like that.
不是桌球,而是乒乓球。乒乓球很受欢迎,因为它需要非常快的反应速度。打球的时候,令人非常兴奋。你看过激烈的排球比赛吗?在无数次扑救之后,每一次你都认为已经结束了,但另一支球队会尽力扑救,即使是一个扣球,另一支球队也会这样做,乒乓球就是这样,但距离要更短。
Patrick Mccoy, Love table tennis and racket sports
As table tennis is one of the most popular sports in the world (it is typically said to be number 2, behind soccer), a more appropriate question might be, "Why is table tennis not very popular in North America?"
I should add that I doubt that more people in the world play soccer than table tennis, though more may watch soccer.
Check below for some highlights from the career of one of the greatest players of all time. Check it out and you might see why many like table tennis.
由于乒乓球是世界上最受欢迎的运动之一(人们普遍认为这是仅次于足球的第二大运动),一个更合适的问题可能是:"为什么乒乓球在北美不是很受欢迎?"
我应该补充一点,我怀疑世界上踢足球的人比打乒乓球的人多,尽管观看足球比赛的人可能更多。
以下是史上最伟大的球员之一职业生涯的一些亮点。看看这个,你可能就会明白为什么很多人都喜欢乒乓球。