TOI exclusive: India working on robots that may patrol borders
印度时报独家报道: 印度正在研发可用于边境巡逻的机器人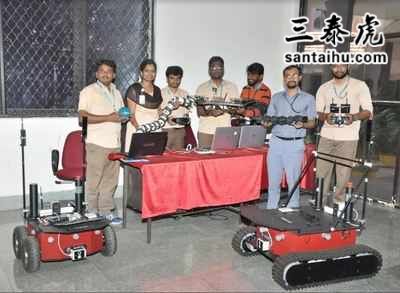 BENGALURU: As part of enhancing India's defence capabilities, scientists have been quietly working on all-terrain artificial intelligence (AI)-enabled robots that may eventually patrol the country's borders.
班加罗尔: 为增强印度国防能力,科学家们一直在悄悄研制全地形人工智能(AI)机器人,这些机器人最终可能会部署在印度边境巡逻。
Scientists from defence PSU Bharat Electronics Limited's (BEL) Central Research Laboratory (CRL) in Bengaluru, who began work on this first responder robot in December 2018, are confident of having the first prototype by December 2019.
印度国防企业巴拉特电子有限公司(BEL)位于班加罗尔的中央研究实验室(CRL)的科学家们于2018年12月开始研究机器人,他们有信心在2019年12月之前制造出首个原型机。
BEL CMD Gowthama MV told TOI: "AI will change how some critical operations are conducted by the armed forces, and our robot will even been able to patrol the borders."
BEL市场营销总监Gowthama MV告诉印度时报:"人工智能将改变军方执行一些关键任务的方式,我们的机器人甚至能够在边境巡逻。"
Globally, companies like Irobot Corporation, Northrop Grumman Corporation, Mitsubishi, Thales Group, BAE Systems, General Dynamics Corporation, et al, have been working on first responder border patrol robots. Korea has been building completely different kind of robots—some reports describe them as machines inspired by the Avatar movie.
在全球范围内,像Irobot公司、诺斯罗普格鲁曼公司、三菱、泰利斯集团、BAE系统公司、通用动力公司等一直在研究边境巡逻机器人。韩国也在造其他类型的机器人——一些报道称它们的灵感来自电影《阿凡达》。
Experts TOI spoke with—security observers, former military commanders and members of think-tanks —say India is likely to take at least a decade, if not more, to have a functional robot that can perform this task.
《印度时报》采访的专家包括安全观察员、前军事指挥官和智库成员。他们说,印度可能至少需要10年,甚至更长时间,才能制造出能够执行任务的机器人。
At present, the estimated cost of each of these robots—if and when orders are placed—would be in the range of Rs 70 lakh and Rs 80 lakh per unit for small orders. "The cost can come down if there are large orders," Gowthama said.
目前,如果订单量小的话,这款机器人每台成本估计介于700万卢比和800万卢比之间。Gowthama说:"如果订单量大,价格会下来。"
印度时报读者的评论:
译文来源:三泰虎http://www.santaihu.com/47538.html 译者:Jessica.Wu
外文:https://timesofindia.indiatimes.com
paarth d • 7 hours ago
This is the future. Lets focus on tech rather than statues and mandirs. This is how we defeat Pakistan because of the superioirty of our technology. We have to be like Israel
这才是未来。我们应搞高科技,而不是修雕像和寺庙。要打败巴基斯坦,我们就得这样。我们的技术是超一流的。我们得向以色列学习
paarth d • Location • 2 hours ago
mixng defense with Mandir/masjid is irrelevant.
不要把国防和寺庙混为一谈。
Santosh Rawlo • 7 hours ago
Scientists have been silently working and media is shouting it loud...
科学家们一直在默默工作,媒体在大喊大叫…
Santosh Rawlo • 6 hours ago
Prototype for the perfect robot is Manmohan. Also works with remote.
这款机器人的原型是曼莫汉辛格,他也是受别人遥控的。
sharatchandra • Bangalore • 8 hours ago
Research and development in every field - be it in defence, space, manufacturing etc, is flourishing under the Modi Regime. No previous central government has been so successful as Modi Government as well. India needs him for at least the next 15 years.
在莫迪政府的领导下,各个领域的研发都在蓬勃发展,包括国防、航天、制造业等等。此前印度没有哪个中央政府像莫迪政府这样成功。至少在未来15年,印度都需要莫迪。
Jay • 8 hours ago
Good initiatives , Robots need for forward firing as well. Casualties can be avoided, cost is not a matter.
做得好。可以避免伤亡,成本不是问题。
Harsh • Mumbai • 6 hours ago
No big deal ! We Congi''s had invented a Robot who ran the country for 10 years ...
什么大不了的! 国大党发明了一个机器人,这个机器人统治了印度10年…
SHRIKANT HEGDE • 4 hours ago
This is excellent! Hope, extensive use of robots will reduce to a large extent loss of life and injury to our brave armed forces personnel!
太棒了! 希望,机器人的广泛使用能在很大程度上减少印度军队的伤亡!
Sumita Kulkarni • 6 hours ago
This would be a positive use of technology ! Safety of our country as well as our soldiers should be our prime concern!
这是对技术的积极利用! 士兵的安全应该是我们最需要关注的!
sanjoy • 2 hours ago
Great initiative, wish you all the best.
做得好,祝一切顺利。
nitin sharma • Canada • 7 hours ago
Anything is possible due to Modijee. Modijee in 2019 and 2024.
有了莫迪,一切皆有可能。莫迪将在2019年和2024年连任。
Gaana User • 7 hours ago
If this becomes successful. This will be a great milestone for India.
如果成功的话。这将是印度的一个重要里程碑。
Madhusudan Machingath • 7 hours ago
Great Job, India can do in a year what others took decades as we are everywhere and we have basics right
干得好,印度用一年就能完成别人花了几十年才完成的事情。
Madhusudan Machingath • Mum Bhai • 6 hours ago
Bhakt these projects are going on for last 15 years
这个项目已经进行了15年
Captain • 8 hours ago
parallelly pakistan planning to mount cameras on cattles And send them to guards their borders
巴基斯坦计划在牛群身上安装摄像头,并派它们守卫边境
Ali MJ • 2 hours ago
Very good....India is progressing....
很好...印度正在进步……
Pankaj • Mumbai • 5 hours ago
Kudos to Make In India Team...
向"印度制造"团队致敬
Balachandramenon Vengasserry • Alappuzha • 6 hours ago
Patrolling not enough, these robots shall be programmed into firing AK 47 bullets onto the heads of intruding terrorists also.
仅仅用来巡逻还不够,给这些机器人编好程序,让它们能用AK-47向恐怖分子开火。
Presstitutes R Curse • Universe • 6 hours ago
Great job.
做得好