Karnataka girl who ran away from home to escape child marriage scores 90%
卡纳塔克邦女孩为逃避童婚而离家出走,获得90%的成绩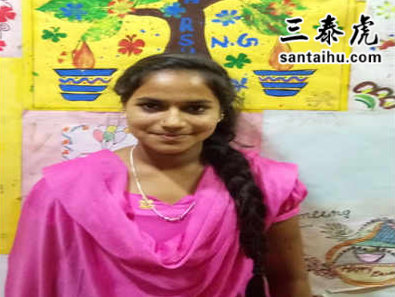 MYSURU: She left home in a Chikkaballapura village after her mother asked her to get married. Rekha V, 18, who is determined to become an IAS officer, secured 90.3% in the recently announced II PU examination results.
迈索尔:母亲要求她结婚,18岁的Rekha V选择离家出走。在最近公布的II PU考试成绩中,Rekha V获得90.3%的成绩。
A resi nt of Kotturu village in Bagepalli taluk, Chikkaballapura district, Rekha left home two years ago after scoring 74% in SSLC examination. Her mother, who works as a domestic help, and other family members started forcing Rekha to get married. Rekha opposed the child marriage proposal and landed in Bengaluru with one of her friends. Not wasting time, she joined a computer training centre in Hebbal.
Rekha两年前在SSLC考试中取得74%的成绩后离开了家。她的母亲是一名家政服务人员。其他家庭成员也开始逼Rekha结婚。Rekha反对童婚,和她的一个朋友来到了班加罗尔。为了不虚度光阴,她加入了Hebbal的一个计算机培训中心。
Not satisfied with the computer course, she called child helpline 1098 seeking help in continuing her education. Later, members of the Child Welfare Committee (CWC) visited her Hebbal PG and shifted her to Sparsha Trust in Mathikere. They also helped her get a seat in Go nment PU College in Gollahalli, Nelng.
由于对计算机课程不满意,她拨打了儿童热线1098寻求继续学业方面的帮助。后来,儿童福利委员会的成员访将她转到位于Mathikere的Sparsha Trust。他们还帮助她进入了位于内拉曼加拉Gollahalli的公立PU学院。
Her two-year struggle bore fruit on April 18 when the PU results were announced. Rekha scored 542/600, with a centum in history. Now, she wants to pursue BA in history, economics and po itical science. "Rekha was determined and focused. She was rescued by the CWC after she sought their help. We are proud of her achievement," said R Goath, managing trustee of Sparsha Trust.
4月18日,PU学院公布了Rekha近两年的学成绩,满分600分,她得分542,历史这门课程获得100分。现在,她想攻读历史、经济和学学士学位。Sparsha Trust的R Goath称:"Rekha很坚定,也很专注。向儿童福利委员会求助后,她获得了我们的帮助。我们为她的成绩感到骄傲。"
Want to become advocate first
I lost my father when I was a kid. I left the house as I was ag inst child marriage and wanted to continue my studies. Now, I have a clear goal in life. I want to become an advocate first and then appear for the civil services examination.
立志成为律师
Rekha说:"我自幼丧父,因为反对童婚,我离家出走,想继续我的学业。现在,我有一个明确的人生目标,我想先成为一名律师,之后参加公务员考试。"
以下是印度时报读者评论:
译文来源:三泰虎 http://www.santaihu.com/47474.html 译者:Jessica.Wu
外文:https://timesofindia.indiatimes.com
Makdxb • INDIA • 2 hours ago
That''s really nice. She is courageous and she could be an IAS officer in the future as wished as she is a determined person.Wish her all the best in all future eandeavors
真的很不错。她很勇敢,将来可以当公务员,她是一个坚定的人。祝她在未来的日子里一切顺利
Mainak • 4 hours ago
Congratulations and best wishes. God is always with brave persons like you.
祝贺你。神总是与你这样勇敢的人同在。
Htharya • 2 hours ago
thts wht is called derermination to achieve
这就是所谓的决心。
Javed Badshah • uae • 1 hour ago
Brave girl, and proved herself to be intelligent student.
勇敢的女孩,证明了自己是一个聪明的学生。
V Ravi Kanth • 1 hour ago
It gives so much zement and heartening to see such type of young people with so many odds proving that they are made with a separate material by the almighty.
看到年轻人不畏险阻,证明自己是与众不同的,真让人振奋。
Darede l Nerd • 1 hour ago
some happy and positive news at last
终于来正面新闻了
Anthony • goa • 1 hour ago
Inspiration to the world, best of luck to you may you shine
鼓舞了全世界啊。祝你好运,愿你光芒四射
Umesh Chandra Thakuria • 13 mins ago
hats up to her.
向她致敬。
Chandrasekaran Krishnamurthy • 22 mins ago
All the best. If there is a will and intelligence there is bound to be a clear way to fulfill the ambition.
祝一切顺利!只要有决心、有天分,就一定会有一条实现抱负的康庄大道。
Narendra Kumar Patel • bangalore • 1 hour ago
I have full fa th that one day she will crack civil services exam...
我坚信将来她会通过印度公务员考试的。
Jai Ho • India • 2 hours ago
Congratulations and good wishes for future. You will achieve many good things if you don''t join Congress at any point in your life.
祝贺你,并祝你未来一切顺利。如果这辈子不参加国大党,你肯定会成就斐然
Kothalo • Mars • 31 mins ago
so inspiring....good job keep it up.
如此鼓舞人心....干得好,继续努力。
Ranjan Prakash • 32 mins ago
Congratulations Rekha! God help you further in your studies. .. TO!,
恭喜Rekha! 愿你在学上更上一层楼!

Dipak Acharya • 32 mins ago
Good news
好消息
Srinivas Bhairavabhatla • 34 mins ago
Great she will definitely be successful
太棒了,她一定会成功的。
Srinivas • Chennai • 37 mins ago
excellent.. power of women
太棒了. .女性的力量
Anshu • 43 mins ago
congrats courage and determined
祝贺你、有勇气,有决心。
Pravin Puthur • 58 mins ago
She has set a great example of giving importance to education before marriage.
她树立了一个重视婚前教育的好榜样。
Sudhip Kumar Sen • 1 hour ago
As it seems CWCs of Karnataka are better and organised than ones in Bihar and other places
看起来卡纳塔克邦的"儿童福利委员会"比比哈尔邦做得更好。
Vivek Ekbe • 1 hour ago
great keep it up
很好,继续努力
Krishankant gar • 2 hours ago
Blessings to the brave child.
祝福这个勇敢的孩子。
Nationcomesfirst • Mother INDIA • 2 hours ago
Congratulations and hope she got the same will to serve India with utmost pride and make a difference in the society..I wish her best..
祝贺,希望她能为国家服务,在社会上有所作为。祝她一切顺利。
S P R • 3 hours ago
Super !! She is destined for bigger things in life. Wishing her the very best
超级棒!!她注定要干出一番事业。祝她一切顺利
Rikesh • Vadodara • 7 mins ago
Bravo, she is the future of India. Thank you for making us proud.
太棒了,她是印度的未来,让我们感到骄傲。
Alan • Alan • Mumbai • 51 mins ago
I would like to contribute to her further studies
我愿意资助她今后的学业。
Dev • australia • 1 hour ago
well done! but why she studying history?..my chennai sisters domestic help''s daughter has just completed engineering ,too.
做得好! 但是她为什么要学历史呢? 我钦奈姐妹有个家佣,她女儿刚刚读完工程学。
Shovan Kumar Sikdar • 1 hour ago
Always be focussed on your Aim & Object and then success will be your birth. Congratulations and all the best.
始终专注于实现目标,必定能成功。恭喜你,祝你一切顺利。
Swaraj Mandal • 1 hour ago
we need this type of courage. all the best to you.
我们需要这种勇气。祝你一切顺利。
Sumit • 1 hour ago
blaze the trail brave girl!
闯出自己的路,勇敢的女孩!
Arindam Basu • Bangalore, India • 2 hours ago
Congratulations. After so many years after passing the rule Child marriage is a pain in Indian society. Brave girl. After becoming advocate help those children who are the victim of this wrong sy em.
祝贺。经过这么多年,在印度社会,童婚是一大弊端。这女孩真勇敢。成为律师后,她将帮助那些受童婚所害的孩子。
Snkumar • 2 hours ago
Great going. Keep going, if you are determined, you can achieve anything with the hard work.
太棒了,坚持下去。如果下定决心,付出努力,必能实现抱负。
Pranav Sharma • 2 hours ago
She should be honored like Mla Yousufzai as UN brand ambassador,
以前马拉拉·优素福扎伊被任命为联合国和平使者,她也应获此殊荣