US decision to end Iran oil sanctions waiver won't affect India's investments in Chabahar port
美国终止对进口伊朗石油的制裁豁免,不影响印度在恰巴哈尔港的投资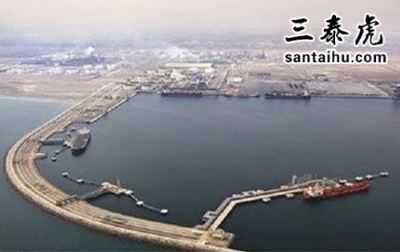 NEW DELHI: US' decision to end the Iran oil sanctions waiver will not affect India's investments in Chahbahar port in Iran. The revocation of the "significant reductions exemption" (SRE) which allowed eight countries, including India, to continue to source Iranian oil for the past six months ends on May 2, following which the US expects oil imports from Iran to go down to zero.
新德里:美国终止对伊朗石油制裁豁免的决定将不会影响印度在伊朗恰巴哈尔港的投资。包括印度在内的8个国家继续从伊朗进口石油的"重大削减豁免"(SRE)将于5月2日终止,此后美国预计伊朗出口的石油将降至零。
While India may have been insulated on the Chahbahar front, its current plan on using a rupee payment account for Iran's oil may be in danger. India has been paying for a large percentage of its oil imports through a rupee mechanism that is deposited in an escrow account in an Indian bank. Iran uses that money to buy essential items like foodstuff, medicines etc from India. After May 2, US has told India it would not allow India to add to the corpus, although Iran would be able to continue to use whatever is left in the account. Indian officials say there is little "clarity" on the matter.
印度在恰巴哈尔问题上可能免受影响,但其目前为伊朗石油设立卢比支付账户的计划可能面临风险。印度一直通过一种卢比机制支付其石油进口款项的很大一部分,该款项存入印度一家银行的托管账户。伊朗用这些钱从印度购买食品、药品等必需品。5月2日之后,美国已告知印度,不再允许印度向这个账户打款,尽管伊朗将能够继续使用账户中剩余的款项。
US officials have been careful to show they are trying to ensure market stability (although crude prices are at a six month high after Monday's announcement) and they want to "partner" with allies as they move to a zero Iranian oil state. Pompeo's announcement clarified there would be no more waivers.
美国官员一直谨慎地表明,他们正努力确保市场稳定(尽管在周一声明宣布后,原油价格处于6个月高点),他们希望在伊朗走向零石油出口国家的过程中,与盟友"结成伙伴"。蓬佩奥的声明澄清了不会再有任何豁免。
The UAE and Saudi Arabia have told the Indian government that they would ensure adequate supply of oil to meet India's needs. The US too intends to step up its oil exports, though its pipeline infrastructure needs to be augmented. Under the waiver, India was reportedly allowed to import 300,000 barrels per day. India will suffer quite a bit, because its refiners, are configured for the particular variety of Iranian crude.
阿联酋和沙特阿拉伯已向印度政府表示,他们将确保充足的石油供应,以满足印度的需求。美国也打算增加石油出口,尽管其管道基础设施需要扩大。据报道,根据这项豁免,印度被允许每天进口30万桶原油。印度将遭受相当大的损失,因为其炼油商需要特定品种的伊朗原油。
The "maxmum pressure on Iran", sources said, would only ease if Tehran agreed to renegotiate the nuclear deal.
消息人士称,"对伊朗的最大压力"只有在德黑兰同意重新谈判核协议后才会缓解
If India violates the sanctions and continues to buy oil from Iran, India risks inviting "secondary sanctions" on Indian companies and entities. Sources said these would include a ban on using the international SWIFT system, forfeiting dollar assets as well as any assets in the US. Most Indian companies have refrained from engaging with Iran.
如果印度违反制裁,继续从伊朗购买石油,印度公司将面临"二次制裁"。消息人士称,这些措施包括禁止使用国际SWIFT系统,没收美元资产以及美国境内的任何资产。大多数印度公司都已避免与伊朗接触。
At this moment, despite Iran, Venezuela and most of Libya not being in the international oil market, oil prices are hovering around the $70 mark. If prices rise significantly, its not clear how India will deal with the situation.
目前,尽管伊朗、委内瑞拉和利比亚的大部分地区没有进入国际石油市场,但油价仍在每桶70美元左右徘徊。如果价格大幅上涨,目前还不清楚印度将如何应对这种局面。
印度时报读者评论:
译文来源:三泰虎 http://www.santaihu.com/47465.html 译者:Jessica.Wu
外文:https://timesofindia.indiatimes.com
Santosh Iyer - 6 hours ago -Follow
So Modi''s hugging diplomacy has failed with Trump !
莫迪对特朗普的"拥抱外交"失败了!
Konfucius Ken - 7 hours ago -Follow
which opposes US sanctions will gain favour with Iran and together with Russian and Syrian augmentation would manage to keep Iran buoyant and probably better off. The Pakistan PM''s visit to Iran in May definitely would be on behest of mutual trade(including oil products) ..
反对美国制裁的将赢得伊朗的好感,再加上俄罗斯和叙利亚的支持,将设法让伊朗保持活力
Anis Shaikh - 7 hours ago -Follow
India will loose big time in. Chabahar port after sanction.
制裁后,印度将在恰巴哈尔港大获成功。
Kapalee - 1 hour ago -Follow
India need to work on a long term Energy strategy. This should include ways and means of reducing dependence on oil, alternative sources of energy and CAPEX planning for the same.
Harnessing hydro power by building more dams across perennial rivers, increase wind power generating capacity etc including responsible increase in nuclear power generation.
印度需要制定一项长期的能源战略,包括减少对石油依赖的方法、替代能源以及相应的资本支出计划。多修水坝,利用水力,增加风力发电能力等,包括增加核能发电。
Swaminath Giri - pune - 5 hours ago -Follow
Yes, US rules the world. Whether Democrats or the Republicans in power, it does not matter. They try to squeeze the world to keep them under their toes. So much dependence of most of the third world nations on one Country called US.
是的,美国统治着世界。无论是民*党还是共和党掌权,这都无关紧要。他们试图压榨这个世界,把别的国家踩在脚下。大多数第三世界国家非常依赖一个叫美国的国家。
Santosh Iyer - 5 hours ago -Follow
Why is Modi quiet ? He is a tiger before Pakistan but seems to be a mouse before USA !
莫迪为什么保持沉默?他在巴基斯坦面前是一只老虎,但在美国面前似乎是一只老鼠!
Ravendra - 7 hours ago -Follow
US is an evils country. they can do and will do anything for their benefit.
美国是一个邪恶的国家。为了自己的利益,为所欲为。
Ulhas - Navi Mumbai - 7 hours ago -Follow
US wants "SANCTION" Iran because it SUSPECTs that Iran is making nukes. In that case, WHY didn't it "SANCTION" the TERRORIST REPUBLIC of PAKISTAN when it announced its intentions to make nukes in 1966?
美国希望"制裁"伊朗,怀疑伊朗正在制造核武器。为什么巴基斯坦在1966年宣布要造核武器,美国没有对它实施"制裁"呢?
Sundara - 6 hours ago -Follow
Govt is doing blunders in the matter of Iran. GCC always dance to the tune of US. We are going to loose the trust worthy of Iran for the unwanted political drama of US.
印度政府在伊朗问题上犯了错误。海湾合作委员会总是追随美国的节奏。我们将失去伊朗的信任。
No Reply - NYC - 8 hours ago -Follow
Indians are extremely funny and confused. Sometimes they say has invaded Doklam we need to work woth USA and sometimes they say we need ro work with the co unists to counter most powerful country in the world? WHAT JOKERS..
印度人非常有趣,也非常困惑。有时他们说入侵了洞朗,我们需要和美国合作,有时他们说我们需要和合作来对抗世界上最强大的国家。真是个小丑.
proud Indians - USA - 14 hours ago
Obvious:
Modi says to Trump: Aye Aye Sir.
BJP Indians all Hail Modi.
Rahul: My best chance to dethron Modi, thanks to our White master the USA
Indian Farmers: we kill ourselves, ho a better next life, not in India but as an Indian IT talent in USA
莫迪对特朗普说:遵命,先生。
印度人民党都称赞莫迪。
拉胡尔:感谢我们的白人主子美国,这是我推番莫迪的最好时机
印度农民:我们要自杀,希望来世过上好日子,不是在印度过上好日子,而是做个印度IT人才,然后去美国过好日子。
Mohammed AbdulMalik - 1 hour ago -Follow
Why should US dominate or dictate..; No body questions? Just because Indian friend IRAN wants to progress on nuclear technology it is punished. Actually, US wants to protect it''s illigimate child ISRAEL.
NOW, on other hand India wants wepons from Israel, but it is not a fully recognized state... So, INDIA should go for getting oil from Iran which is good for the national interest than for a short time,/term wepons from US and Israel.
为什么让美国发号施令……没人质疑吗?印度的朋友伊朗,仅仅想要在核技术上取得进展,就受到了惩罚。事实上,美国想要保护它的以色列宝宝。
另一方面,印度希望从以色列进口武器,而以色列不是一个完全被认可的国家。印度应该从伊朗进口石油,这比短期内从美国和以色列进口石油更符合国家利益。
ONE LINER Challenge - 1 hour ago -Follow
WHY FEAR WHEN MODI JI IS HERE!!!!! JAI MODI JI KI JAI
在这件事情上,莫迪干嘛要害怕! 莫迪必胜!
Tarak Bond - 1 hour ago -Follow
Thumb rule - when media says "wont affect", it means it will definitely affect.
经验法则-当媒体说"不影响",意思就是一定会影响。
Anshu - 5 hours ago -Follow
triumph is big daddy. india can ask USA to give its oil free of cost to India. if not allowed to import from iran
特朗普是老大。如果不允许从伊朗进口,印度可以要求美国免费为印度提供石油。
Wasim - 6 hours ago -Follow
Feku is dancing in the tune of trump, he has become puppet of US. India will loss Chabahar port just bcos of this feku jhumlabaaz chor chowkidar...
莫迪追随特朗普,成了美国的傀儡。印度将会失去恰巴哈尔港口,就因为莫迪这个卖茶人。
Ulhas - Navi Mumbai - 6 hours ago -Follow
BOYCOTT US. Throw its colas and burgers on its face. Turn down its WORTHLESS "INVESTMENTs" in insurance, share market etc
抵制美国。抵制美国的可乐和汉堡。拒绝投资美国的保险、股票市场等,毫无价值。
Sukumar Kamath - Cloud 9 - 25 mins ago -Follow
Chabahar port is of very strategic importance and a great success in our diplomatic ties with Iran.. Well done Modiji... Because of you, India has gained a beautiful & strong image in front of the world...
恰巴哈尔港具有非常重要的战略意义,我们与伊朗的外交关系取得了巨大的成功。做得好,莫迪…因为你,印度在世界面前树立了强大的形象。
Mukesh Thakkar - 27 mins ago -Follow
America has started journey towards self destruction, iran is going to survive with the help of and Russia but America will loose it''s grip on the Asia and Middle East , it will take some time but by 2030 it is going to be a reality,This time we are in to a delicate situation ,India need solid Govt;lead by an assertive P.M.to sail us through the rough water.
美国已经开始自我毁灭之旅,在和俄罗斯的帮助下,伊朗将挺过去。但美国将失去对亚洲和中东的控制。到2030年,这将成为现实。这一次我们面临一个微妙的局面,印度需要一个坚实的政府
Sylent Screamer - INDIA - 31 mins ago -Follow
one the whole why India & should listen to USA.
为什么印度和要听美国的。
LOVE IS LIFE - DXB - 44 mins ago -Follow
Russia, , France and Germany accepted these sanctions by U.S,? If yes, then U.S is controlling the World.
俄罗斯、、法国和德国接受了美国的制裁吗?如果是,那么美国仍控制着这个世界。
narasarao - Hyd - 49 mins ago -Follow
Credit goes to Modi!
莫迪功不可没!
Ashok - 1 hour ago -Follow
Is US UN? Why is not bringing this up using VETO?
美国是联合国吗?在这个问题上,为什么不行使否决权?
Ulhas - Navi Mumbai - 1 hour ago -Follow
India needs to look for a source of energy that US can't cut off at its whims.
印度需要寻找一种能源,美国不能随意切断的那种。
Surendranath Mudaliyar - 1 hour ago -Follow
Instead of Hugging, Modi should have locked lips with Trump.....
莫迪应该和特朗普接吻,而不是拥抱。
Sanjoy Pandey - Kolkata - 7 hours ago -Follow
India should focus on battery operated vehicles.
印度应该推广电动汽车。
Sujoy Sen - 3 mins ago -Follow
Iran is a very important country for India and US too.
对印度和美国来说,伊朗都是一个非常重要的国家。
ONE LINER Challenge - 1 hour ago -Follow
TRUMP IS DECONSTRUCTING/DEMOLISHING THE WORLD TO BENEFIT AMERICA-
MODI IS CONSTRUCTING THE WORLD TO BENEFIT THE WORLD
特朗普为了美国的利益,正在毁灭世界
而莫迪正在造福世界。
umesh patel - 1 hour ago -Follow
Surely, they will waive it again
他们肯定会再次提供豁免的。