Hot potato: Gujarat farmers sued for copy-farming
烫手山芋:古吉拉特邦农民因"非法种植"而被起诉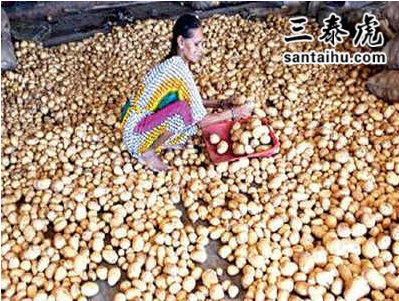 AHMEDABAD: The US food and beverages giant PepsiCo has sued three farmers in Gujarat complaining that they have been illegally growing and selling a variety of potato exclusively registered by the company. PepsiCo claimed it has sole rights to grow them to manufacture chips of its brand - Lay's.
艾哈迈达巴德: 美国食品饮料巨头百事可乐公司起诉3名古吉拉特邦农民,称他们非法种植和销售该公司独家注册的土豆品种。百事公司声称他们拥有独家权利生产其品牌薯片-Lay's。
Looking at the company's registration of the potato variety in country's Plant Variety Registry, the commercial court here last week stayed the farmers - Chabilbhai Patel, Vinod Patel, Haribhai Patel - from growing and selling the potatoes till April 26. The court has also sought reply from the three over company's claims of infringement on its rights.
查看过百事公司在印度植物品种登记处登记的土豆品种后,上周当地商业法庭阻止这3名农民种植和销售这类土豆。法院还要求三人就该公司的侵权指控作出回应。
On company's request, the commercial court judge Moolchand Tyagi appointed advocate Paras Sukhwani as court commissioner to conduct an inquiry into the dispute and prepare a report.
应百事公司的请求,商业法庭法官穆尔昌德•泰吉(Moolchand Tyagi)任命律师帕拉斯•苏赫瓦尼(Paras Sukhwani)为法庭专员,对争议进行调查,并准备一份报告。
PepsiCo India Holdings Pvt Ltd has informed the court that it uses the registered variety of potatoes called FL 2027, which is a hybrid of FL 1867 and Wischip varieties, for manufacturing chips for its brand. The company is the registered breeder of FL 2027 under the Protection of Plant Varieties and Farmers' Rights Act, 2001.
印度百事公司(PepsiCo India Holdings Pvt Ltd .)已通知法院,该公司使用已注册的马铃薯品种FL 2027制作其品牌薯条,FL 2027是FL 1867和Wischip的杂交品种。该公司根据2001年《植物品种和农民权利法案》注册了FL 2027。
In India, this variety was first put to commercial use in 2009 and is traded under the trademark FC5. It has granted licence to some farmers in Punjab to grow the variety on the buyback system. By growing these potatoes without licence, these farmers in Gujarat are violating its statutory rights.
在印度,该品种于2009年首次投入商业使用,并以FC5商标进行交易。该公司已向旁遮普邦的一些农民发放种植许可证,允许他们在回购制度下种植该品种。这3名古吉拉特邦农民未经许可种植这些土豆,违反了古吉拉特邦法律。
The company further said that it came to know about the farmers growing this potato variety in January. It collected samples and sent for verification to the in-house laboratory as well as the ICAR and Central Potato Research Institute at Shimla for DNA analysis. The results showed that the respondents were growing the registered variety. It placed the report before the court.
百事公司进一步表示,他们是在1月份了解农民在种植这些土豆的。百事收集了样本,送到内部实验室、ICAR和希姆拉的中央马铃薯研究所进行DNA分析。结果表明,这些是他们公司注册的品种。百事已将报告提交法院。
On hearing the company's submissions, the court said, "At this stage, it appears that the plaintiff has prima facie case in its favour." It said that if the farmers are not temporarily stayed from growing and selling potatoes, the company would suffer irreparable loss and it would defeat the justice.
在听取了该公司的陈述后,法院表示,"在现阶段,原告似乎有初步证据支持自己的说法。如果农民不停止种植和销售这些土豆,该公司将遭受无法弥补的损失。"
印度时报读者评论:
译文来源:三泰虎 http://www.santaihu.com/47400.html 译者:Jessica.Wu
外文:https://timesofindia.indiatimes.com
tejas shah - gujarat - 8 hours ago -Follow
This is outrageous. Mutations of life can not be anyone''s monopoly even if they are done in laboratory. Tomorrow, if science comes up definite proof about where ape mutated into human, that country may claim ownership over every human being and ask for license for anyone having baby.
这太离谱了。如果哪个国家能够提供确凿证据证明猿类是从他们那开始进化成人类的,那么这个国家就可以宣称对每个人的拥有所有权,并要求任何生孩子的人都须提供生育许可。
Nandkishor - 5 hours ago -Follow
Many of Indian products of thousands of years are patented by us companies, they even tried to patent turmeric also, we should avoid all PepsiCo products
很多拥有几千年历史的印度产品都被美国公司申请专利了,美国公司甚至还想申请"咖喱"的专利,我们应该抵制百事公司的所有产品
Bhartiya - 2 hours ago -Follow
Do not buy pepsi and lays..
不要买百事可乐和Lay's薯片。
Chowkidar Gung Ho - Ra - 3 hours ago -Follow
How can potatoes be copy righted. This is dangerous. The court should strike down Pepsico.
土豆怎么有版权。法院应该驳回百事公司的诉求。
Yogesh - 2 hours ago -Follow
Stop eating Lay's in India. Anyhow 75% of lays packets is filled with Air. Indian chips are far more better
抵制Lay's薯片,一包Lay's,75%都是空气。印度薯片好吃多了。
Paresh Kamani - 4 hours ago -Follow
Now potatoes become Intellectual Property rights
现如今土豆都有知识产权了。
Nilesh - 3 hours ago -Follow
We Indians can give simple solutions to our troubled farmers. Boycott LAYS for few months. And if its genetically changed it's bad for us. Support a Indian chips manufacturer( chips are injurious to health) with our cultivated potatoes. Understand the power of common man. Any one goes on badly intentioned strike we all should boycott them for some time. Masses first.
我们印度人可以给这3位陷入困境的农民提供简单的解决方案,抵制百事几个月。他们的土豆是转基因的,对我们是有害的。我们要支持印度本土薯片,它们是用我们自己种的土豆做的。人多力量大,我们一起抵制他们一段时间。
Pradeep - 3 hours ago -Follow
Law of the land must be supporting the local farmers and not the multi national corporate entities.
印度法律必须支持本地农民,而不是支持跨国公司。
2 hours ago -Follow
This is how they start.let them get lost. Pepsi is a junk food manufacturer . Bad for health. One can live happily without thier products.They have destroyed the environment of palghat District. No more.!
让百事滚出印度。百事是一家垃圾食品生产商,他们的产品对健康有害。没有百事,我们也可以幸福地生活。他们破坏了我们的环境。再也不买百事!
Aditya - 2 hours ago -Follow
patato itself is not an american vegetable.we should sue the americans for copying patato farminy
土豆不是美国作物,我们应该起诉他们非法种植。
RahulJain - India - 3 hours ago
Hahahahaha. PepsiCo needs to be shown the door. Balaji Chips are best!!!
把百事赶出印度。印度薯片才是最好吃的!!
ANJOY KUMAR ROY - 3 hours ago -Follow
Pepsico is now looking for trouble.
百事公司这是在作死。
Pawan Kumar - 3 hours ago -Follow
Abysmal depths of Western power influence. Money rules. Pepsi is a poison drink and the world is getting fooled by these Western cola companies. When will the government ban these poisons? Will they? Westerners are patenting pranayama, yoga, other spiritual exercises, apart from native plant and animal species. Our media channels are least bothered about these. We now need a 2nd national independence movement from foreign dependence on most products (from toys and pins to trains and planes).
西方势力影响之深令人深恶痛绝。百事可乐是一种有毒饮料,全世界都被这些西方可乐公司忽悠了。政府什么时候才会禁止?他们会吗?除了 西方人还为调息法、瑜伽等申请专利。我们的媒体从不理会这些。我们现在需要进行第二次国家独立运动,摆脱对大多数外国产品(从玩具、别针到火车和飞机)的依赖。
Sunder Swami - 3 hours ago -Follow
Was this potato genetically invented by Papsico?
土豆是百事公司发明的吗?
Sham Shastry - 1 hour ago -Follow
Throw PEPSICO out of India.
把百事可乐赶出印度。
Anshu - 1 hour ago -Follow
farmers are free to grow anything in their fields.
农民可以在他们的土地上种植任何作物。
Javed Badshah - uae - 2 hours ago -Follow
Get lost pepsico, we will grow what ever we like.
百事滚出去,我们想种什么就种什么
Kartik - 2 hours ago -Follow
Get lost Pepsi. You will suffer the fate of Coke years ago. We do not need you here..
百事滚出去,我们不需要你,你将重蹈多年前可口可乐的覆辙。
Vijay Soni - 1 hour ago -Follow
We should protect our farmers.
我们应该保护自己的农民。
A - 1 hour ago -Follow
boycott pepsico forever.
永远抵制百事可乐。
Ravindra Munvar - Bangalore - 54 mins ago -Follow
Boycott Pepsico products. That will teach them a real lesson - not to infringe in normal people''s lives.
抵制百事,给他们一个真正的教训——不要破坏普通老百姓的生活。
Sampath - 2 hours ago -Follow
Kick them out.
把他们踢出印度
Darius - 1 hour ago -Follow
Do we need permission from Donald Trump to grow potatoes.
我们要得到唐纳德·特朗普的许可,才能种土豆吗?
Remo Remo - 48 mins ago -Follow
Very soon these corporate criminals will sue us for using water, air and every part of our basic survival.
很快,这些公司就会起诉我们赖以生存的一切,比如喝水、呼吸新鲜空气。
SYED GHUFRANALI MURTUZA ALI - 42 mins ago -Follow
Let the farmer sell potato and earn. This PepsiCo sells packed AIR with chips. Why are they afraid of a few farmers. Farmers don''t even have money for advertising and branding.
让这些农民卖土豆赚点钱吧。百事公司出售的薯条里面大部分是空气。他们为什么怕几个农民?农民们甚至没有钱打广告。
Gokul - 31 mins ago -Follow
Thus is inadmissible nature of corporates. did they invented potatoes. how can you abstain someone from growing a vegetable.?
土豆是他们发明的吗?凭什么不让别人种呢?
Diksha - London - 2 hours ago -Follow
gujju can never be trusted
永远不能相信古吉拉特邦人。
Sumit Bhattacharya - 37 mins ago -Follow
Typical gujju behaviour
典型的古吉拉特行为
Hi Sudip - 49 mins ago -Follow
The farmers to take license & then produce !!
农民要先拿到许可证后才能种!!
Deepak - 6 mins ago -Follow
ban Pepsi..
封杀百事
Kamlesh - Mumbai - 9 mins ago -Follow
Go ahead and copy all over India. Copy so much that it will be difficult for Pepsi to initiate legal proceedings. grew like this.
继续在印度各地种植。种得多了,百事就难以提起诉讼。就是通过这种方式发展起来的。