Meet the not-so-famous Gandhi family
来看看不那么有名的甘地家族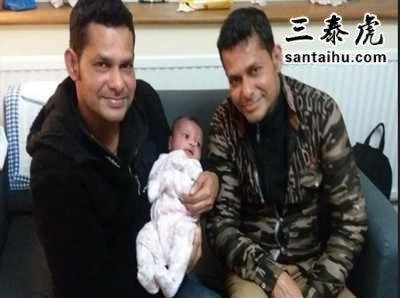 The Nehru-Gandhi name has quite a cachet in po itics but so does it in a Goan household. For almost 50 years, a family in St Cruz on the outskirts of Panaji has named its members after India's most famous po itical family. It's a tradition that was passed on for three generations till the 'Nehru-Gandhis', who have since migrated to the UK on Portuguese passports, ran out of inspiration.
尼赫鲁-甘地这个名字在政坛颇有声望,在果a一家族中也是如此。近50年来,帕纳吉郊区圣克鲁斯的一个家族一直以印度最著名家族的名字来命名家庭成员。这一传统一直延续了三代人,直到"尼赫鲁-甘地"持葡萄牙护照移民至英国后才"灵感枯竭"

It all started 48 years ago when Mariquin Sequeira gave birth to twins. Her husband, Felix John Sequeira, was a die-hard Congress supporter and had a friend who was affectionately called Nehru. So, while the family wanted to name the twins Anthony and Alvarinho, they honoured Felix's wish by using Nehru and Gandhi as their middle names.
这一切始于48年前,当时Mariquin Sequeira生下一对双胞胎。她的丈夫菲利克斯·约翰·塞凯拉(Felix John Sequeira)是国大党的铁杆支持者,曾有个朋友叫尼赫鲁。尽管他们想给双胞胎取名安东尼和阿尔瓦里尼奥,但为了满足菲利克斯的愿望,他们以尼赫鲁和甘地作为这对双胞胎的中间名。
Nehru, named after India's first Prime Minister, continued the tradition when he named his son Rahul, while Gandhi— the other twin—followed suit by naming his son Rajiv and daughter Indira. That's not all. Libania, their sister, married die-hard Congress supporter Socorro, and when they had their first child, they combined words from their names to name their daughter Sonia.
尼赫鲁,以印度第一任总理的名字命名,延续了这一传统,他给儿子取名为拉胡尔,而甘地给儿子取名为拉吉夫,女儿取名为英迪拉。他们的妹妹Libania嫁给了国大党的铁杆支持者Socorro,有了第一个孩子的时候,他们给女儿取名为索尼娅(Sonia),结合了夫妻的二人的名字。
"'So' is for the first two letters of my name, while 'Nia' are the last three letters of my wife's name. Combined, we had Sonia," expned Libania. Priyanka was the "most obvious" choice for their second daughter, Priyanka.
"'So'是Socorro的头两个字母,'Nia'是Libania的最后三个字母,组合起来就是"Sonia"。"他们的第二个女儿取名普里扬卡。
But that's when the tradition hit a roadblock. "We didn't find any other worthy name from the Nehru-Gandhi family. Who could we have named the kids after?" asked Socorro Fernandes, Priyanka and Sonia's father.
但这个传统遭遇了障碍。"我们在尼赫鲁-甘地家族中找不到其他有价值的名字。我们可以用谁的名字给孩子们取名呢?"普里扬卡和索尼娅的父亲Socorro Fernandes问道。
When Priyanka gave birth to a baby girl two years ago, the family did mull over Maneka but that didn't find favour with Socorro. "Maneka is from BJP. That wouldn't be acceptable. If it was a son, Varun is another name that could have been considered, but he is from BJP too. I remember the name of Sanjay crop up (earlier) but he was too controversial, making news for all the wrong reasons," said Socorro.
两年前,当普里扬卡生下一名女婴时,这家人确实考虑过"莫妮卡"这个名字,但Socorro并不满意。莫妮卡属于印度人民党,他们无法接受。Socorro称:"如果是儿子,"瓦伦"这个名字还可以考虑,但他也来自印度人民党。我记得"桑杰"这个名字也考虑过,但是这个人太有争议了。"
Sonia ended up naming her daughter Snaion, while Priyanka chose Ziah—which means the first rays of the sun—when she gave birth to a baby girl last year.
索尼娅最终给她的女儿取名为Snaion,而普里扬卡去年生下一名女婴时,选择了Ziah这个名字——这意味着第一缕光芒。
"Everywhere we are identified as supporters of the Congress. BJP guys don't even visit us while campaigning, and sometimes pamphlets are just scattered outside our doorstep," said Nehru, who is now employed with a manufacturing unit in London.
尼赫鲁现在在伦敦的一个制造部门工作,他说:"不管在哪里,我们都会被认为是国大党的支持者。人民党成员在竞选时甚至不来拜访我们,有时就把小册子放在我们家门口。"。
印度时报读者评论:
译文来源:三泰虎 译者:Jessica.Wu
外文:https://timesofindia.indiatimes.com/ions/lok-sabha-ions-2019/goa/news/meet-the-not-so-famous-gandhi-family/articleshow/68870232.cms
Chokidar - 7 hours ago -Follow
Waste of time to read such "no value" news.
Not worth publishing such information.
读这种"毫无价值"的新闻,就是浪费时间。就不该发布。
Kumar Bakshi - 7 hours ago -Follow
Wow just wasted my precious two minutes on this wastage of news ..what happend TOIZ u r not getting any scam reports or any better news ?
看这篇报道,我浪费了宝贵的两分钟。就没更有价值的新闻可发布了?
Amol - 7 hours ago -Follow
Idiots. They have no to impose any ideology on their kids. It will be unnecessary expenses to their kida when they grow up to change the names.
白痴。他们没有权利把任何意识形态强加给孩子。孩子们长大后还得花钱改名字,这对他们来说是不必要的花费。
Vipul Vajpayee - 6 hours ago -Follow
What is waste of time , writer need to be sacked
浪费时间,应该让这作者下岗。
Shahnaz Pardeshi - 7 hours ago -Follow
when you become die hard FOR A POLITICAL PARTY YOU END UP IN BLINDNESS AND MESS.
当你为一个政党拼命工作时,你最终会变得盲目和混乱。
Ravi Anghan - 6 hours ago -Follow
I would pray that his son Rahul don't be disastrous and unmature like Rahul Gandhi.
我祈祷他的儿子拉胡尔不要像拉胡尔·甘地那样不成熟。
Manas Sarkar - 5 hours ago -Follow
If you search, can find many such Gandhi family, as Nehru was a Rangila man...
去搜索一下,你会发现很多这样的甘地家族
Sandeep - Mumbai - 5 hours ago -Follow
Wow what an assssslicking article!
拍马屁的文章!
Samuel - 5 hours ago -Follow
zero value news of sycophant
阿谀奉承的新闻, 毫无价值
Anitha - 5 hours ago -Follow
crazy family
疯狂的家族
Dinesh - 4 hours ago -Follow
Such news are not news .
这根本不算新闻。
Kannan - 6 hours ago -Follow
Completely stupid
愚蠢至极
Sooraj - 4 hours ago -Follow
That''s typical Goan & Ker converts always side with anti Hindu the Scamgrass.
这是典型的果a和喀拉拉邦的皈依者,总是站在反印度教政党的那边。
Sandeep - Mumbai - 5 hours ago -Follow
I have a question. Did this family ended up with any scams or frauds..Just like Gandhi Nehru family is famous for?
我有个问题。这个家族有没有搞过诈骗?在这方面是甘地·尼赫鲁家族是出了名的。
Santimay Basu - New Delhi - 6 hours ago -Follow
Wastage of time to read such useless article. I do not know whether this media house has no other news to publish.
读这种没意义的文章就是浪费时间。没有其他新闻可发布了吗?
Jayaram - 8 hours ago -Follow
No doubt Nehru was a popular leader at his time and resulted in Congress coming to power time and again. The decline in his popularity slid only after the bluffs he made were uncovered.
毫无疑问,尼赫鲁在当时是一位受欢迎的领导人,并让国大党一次又一次上台。虚张声势被揭穿后,他的声望才有所下降。
Dave Patel - 3 hours ago -Follow
RaGa ka naam jis bachhe ko dega wo bechara to faltu mai hi thuk jayega! Hats off to this family and it's tradition.
向这个家族致敬,这是传统。
Shekar Natesh - Bangalore - 8 hours ago -Follow
Sincerely hope these fake Gandis do not become the corrupt congress Presi nt and Prime Minister in future. These days it is the fake Gandis who are in demand in the corrupt congress . Scared to hear the name Gandi
真心希望这些伪甘地不要当上国大党主席,将来也不要当选总理。
Andrew - Cambridge - 4 hours ago -Follow
And when these kids get teased in school they will go running to change their names !
在学校被取笑时,孩子会跑去改名字的!
Guest - 1 hour ago -Follow
Nothing but fake and loers of India.
什么都不是,都是赝品。
sunilsts56 - Toronto - 1 hour ago -Follow
It is interesting to see how people are brain-washed to name their child after Nehru-Gandhi; who, in fact made mess of Indian po itics..
看到这些人被洗脑,用尼赫鲁-甘地的名字给孩子取名,真是有趣。事实上,尼赫鲁-甘地当年把印度搞得一团糟。
Nationcomesfirst - Mother INDIA - 2 hours ago -Follow
Waste of ink..
浪费墨水。
True - 4 hours ago -Follow
No comments! Best of luck to them!!.
不予置评!祝他们好运!
Nrupan Sudhakaran - 45 mins ago -Follow
Wish the family the very best and really wish that none of them turn out to be like any of the Congress Gandhis.
祝这个家族一切顺利,也真心希望他们都不要像国大党里的甘地那样。
Gaana - 58 mins ago -Follow
is this news?
这是新闻吗?
Prince - 1 hour ago -Follow
Gandhi ok .....but why Nehru?
甘地是个好名字,为什么要用尼赫鲁这个名字呢?
Guest - 3 hours ago -Follow
All fake Gandhis
全都是伪甘地