Bengaluru businessman kills wife & dog, jumps to death
班加罗尔商人杀了妻子和狗之后,跳楼身亡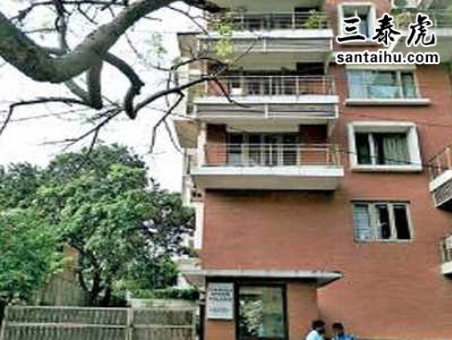 BENGALURU: A 55-year-old businessman jumped to his death from the terrace of a six-floor resi ntial complex in upscale Sadashivanagar, minutes after bludgeoning his wife to death and hurling his dog from the rooftop on Tuesday morning.
班加罗尔: 星期二上午,一名55岁的商人从高档社区Sadashivanagar一栋六层住宅楼的阳台上跳楼身亡。几分钟前,他打死了自己的妻子,并将他的狗从屋顶扔了出去。
Atul Upadhya was CEO of travel agency NockNock Analytics on Nandidurg Road. His wife Mtha Upadhya, 53, was a homemaker.
阿图尔 厄帕提亚是NockNock Analytics旅行社的CEO。他53岁的妻子玛玛塔·厄帕提亚是一名家庭主妇。
According to police, Atul lived with his wife, nephew and the pet at a rented flat (No. 4) on the fourth floor of Sycon Polaris. The couple had no children. Atul's nephew was in college when the in dent took place.
据警方称,阿图尔和妻子、侄子以及宠物狗住在Sycon Polaris四楼的一套出租公寓(4号)里。这对夫妇没有孩子。事发时,阿图尔的侄子在学校。
Around 10.30am, security guards and housekee staff of the apartment heard a thud near the main gate, and found Atul and his Labrador dead on the ground. Sadashivanagar police were informed about the in dent. "We found Atul's wife dead in a pool of blood in the hall of their flat and a bloodstained dumbbell next to her," an officer said, adding Atul might have hit his wife on the head with a dumbbell before taking the fatal l.
上午10点半左右,公寓的保安和保洁人员听到大门附近传来"砰"的一声,之后发现阿图尔和他的拉布拉多犬死在了地上。他们随即通知了Sadashivanagar警方。一名警官称:"我们在公寓客厅发现阿图尔的妻子死在血泊中,旁边还有一个血迹斑斑的哑铃。阿图尔可能是用哑铃打了妻子的头部,然后自己跳楼。"
"We've no clue why Atul took the extreme step, besides coming across an envelope that has nes, mostly about cancer," S Girish, DCP (central), said. Police said they didn't know until evening that Atul's nephew, studying law in a private college, was also living with them. "The boy told us his uncle and aunt were talking to each other in the hall when he left for the college around 9am," a police officer said.
警方称:"我们不知道为什么阿图尔会做出这种极端的事情。我们偶然发现一个信封,上面有很多笔记,主要是关于癌症的。"直到晚上,警方才知道阿图尔的侄子也和他们住在一起,他在一所私立大学学法律专业。一位警官称:"这名男孩告诉我们,他早上9点左右去学校时,他的叔叔和婶婶正在客厅里聊天。"
Ne hints cancer triggered couple's murder-suicide
笔记暗示可能是癌症引发了这对夫妇的的谋杀
Police sources said Atul's ne indicated either he or his wife was suffering from an advanced stage of cancer. "Cancer is a dangerous disease. This is better than cancer. This is not selfishness," the ne read.
警方称,阿图尔的笔记表明,他或者是他的妻子正处于癌症晚期。笔记上写着"""癌症是一种危险的疾病。自杀总比被癌症折磨而死更好,这并不是自私的做法。"
An officer said, "He did not mention who - he or wife - was suffering from cancer. He didn't mention why he killed his wife and dog. We will collect the medical reports to know who was ailing."
一位警官称:"他没有提到是他还是他的妻子患有癌症,也没有提到他为什么杀了他的妻子和狗。我们将查看医疗报告,以了解是谁患了癌症。"
Forensic experts collected evidence from the scene of crime. "We've preserved the carcass of the dog in hospital and will conduct its postmortem upon request," a police officer said.
"We traced the contact number of Mtha's sister in the US and informed her about the in dent. She requested us to wait for her arrival before conducting autopsy. We also informed Atul's relatives in Mumbai," a police officer said.
法医已从犯罪现场收集了证据。一名警官称:"我们已经将这只狗的身体保存在医院里,并将根据要求对其进行尸检。我们查到了玛玛塔在美国的姐姐的联系电话,并将此事告知了她。她要求我们等她回来后再进行尸检。我们也通知了阿图尔在孟买的亲戚。"
After cleaning the fifth and sixth floors, Murthy, a housekee staff of the apartment, said he heard a huge thud when he came down to switch on the water-sump motor and found the dog and Atul dead.
公寓的客房服务员穆尔西称,在打扫了五楼和六楼后,他下楼打开水箱电机时听到一声巨响,发现阿图尔和狗都死了。
Another staffer at the building said Atul would leave his residence around 9.30am daily in his car and a fitness-conscious Mtha would visit a gym daily. He added Atul treated the dog like his child. "I have been working here for six years, and the couple ded only on the dog," he said.
大楼的另一名工作人员称,阿图尔每天早上9点半左右开车离开住所,注重健康的玛玛塔每天都会去健身房。他补充说,阿图尔对待这只狗就像对待自己的孩子一样。他说:"我在这里工作6年了,这对夫妇非常宠爱那条狗。"
According to Atul's profile on a professional networking site, he worked with Great Eastern Ship group from 1984 to 1996 in its newly formed property development division. His portfolio included Mumbai, Pune and Chennai markets.
根据一个专业社交网站上关于阿图尔的个人资料,1984年至1996年,他在大东航运集团(Great Eastern Ship group)新成立的房地产开发部门工作,负责孟买、普纳和钦奈市场。
After a four-year sabbatical, he set up G:Corp in Bengaluru in 2001 as its managing director. G:Corp undertook property development projects in Bengaluru, Pune and Chennai. Since 2006, he was involved in non-commercial activities as well as consulting. He had recently set up NockNock Analytics, which was into travel, leisure and tourism.
休假四年后,他于2001年在班加罗尔成立了G:Corp,担任总经理。该公司承接了班加罗尔、普纳和钦奈的房地产开发项目。2006年,他开始从事非商业活动和咨询工作。最近他成立了NockNock Analytics旅行社,专注于休闲、旅游业务。
印度时报读者评论:
译文来源:三泰虎 http://www.santaihu.com/47316.html 译者:Jessica.Wu
外文:https://timesofindia.indiatimes.com
Rswami Narayanan - chennai - 3 hours ago -Follow
Who was suffering from cancer. It''s beyond doubt that india cant afford treatment for cancer even by rich mainly because of inflated costs on account of commission all over from recerral yo lab tests to medicines.
We are struggling
是谁得了癌症?毫无疑问,即使是印度富人也负担不起癌症治疗费用,这主要是因为就医成本被抬高了。我们都在挣扎度日。
VESHAL ARORA - Amritsar - 3 hours ago -Follow
He was not sure who could take care of the pet.
他不知道让谁来照顾这只宠物。
Rod - Raipur - 1 hour ago -Follow
We all are becoming lonely in our professional world
在这个世上,我们变得越来越孤独
Bharat - 6 hours ago -Follow
why did he kill the dog? Why? why?
为什么要杀了那只狗?为什么?为什么?
Vichitr - India - 1 hour ago -Follow
Food for thought: Can money & success buy hapess?
引人深思:金钱和成功能买到幸福吗?
Patriot Kashinath - Dubai - 1 hour ago -Follow
Maybe the dog was suffering from cancer
也许是那只狗得了癌症
William India - MANGALORE - 1 hour ago -Follow
FOR EVERY SICKNESS THERE IS SOLUTION.... BUT CERTAINLY AND SURELY NOBODY HAS GIVEN THE RIGHT TO US TO KILL OUR SELF OR TO KILL OTHERS... THIS IS DEFINETLY NOT THE SOLUTION TO THE END...
每一种疾病都有治疗方法……没人有自杀或杀死他人的权利……自杀绝不是最终的解决办法……
Mahesh - Bangalore - 1 hour ago
Reporter says that Businessman after killing his wife went to terrace and jumped from there.
Security only heard the sound but did not see jum.
If sum one saw,could have made an attempt to stop.
I assume Reporter has gone through CCTV footage to say that he went to terrace and then jumped from it.
Anyway, May soul rest in Peace.
记者说,这名商人在杀死妻子后去了阳台,并从那里跳了下去。
保安只听到了声音,但没有看到他跳楼。
如果有人看见,可能会试图阻止他。
我猜记者应该是看了录像后才知道他去了阳台,然后从上面跳了下来。
无论如何,愿逝者安息。
Ramesh - Bangalore - 2 hours ago -Follow
Everyone knows how horrible it is to live with cancer. But taking life like this instead of fighting cancer is not a solution to overcome cancer. Recently in few in dents of cancer, I come across people how boldly they face cancer and come out completely cured. It's only with ones strong will power and belief in God one might fight cancer and overcome that deadly disease.
每个人都知道癌症有多么可怕。但是像这样自杀并不是战胜癌症的方法。在最近发生的几起癌症事件中,我遇到过一些人,他们勇敢地面对癌症,最终完全治愈。只有当一个人有坚强的意志和时,他才有可能战胜癌症这种疾病。
Ranjit Kr - 2 hours ago -Follow
He did what he wants,Rip .Now people will come up with there there own version of stories ,Ha ha this is life ...
他做了自己想做的事,安息吧。现在人们会编出各种版本的故事,哈哈,这就是生活……
Uniqueness - Is Present - 45 mins ago -Follow
God Bless All.
愿神保佑所有人。
Last line of defence The End times are near - 2 hours ago -Follow
If it was cancer.... In any case.
Why plan a horrific murders.
Killing is loving wife with dumbell that is not a loving husband does.
Who throws a loving pet from fifth floor..
I do not buy this cancer murder story.
如果是得了癌症,为什么要策划一场可怕的谋杀。
用哑铃敲打心爱的妻子,不是丈夫该做的事。
他还把一只心爱的宠物从五楼扔下去。
我不相信这个关于癌症谋杀的故事。
Doc - 4 hours ago -Follow
why the dog. what has that innocent animal done. it could have been adopted by any person.
为什么要杀死这只狗。那只无辜的动物做了什么?可以让别人收养它的。
Rao Bamini - Karnataka - 15 mins ago -Follow
Very sad that even educated, well-off people are unable to face the realities & face the challenges of life! May their Souls Rest in Peace! Feel terribly sorry for the dog too!
很遗憾,即使是受过高等教育的有钱人也无法面对现实,无法面对生活的挑战!愿他们的灵魂安息!我也为这只狗感到难过!
Girish Winchester - BengaLuru - 4 hours ago -Follow
People living in flats in apartments are the weirdest and craziest people who have ever lived in bengaLuru.
住在班加罗尔公寓里的人是最奇怪、最疯狂的。
only facts - 2 mins ago -Follow
Honestly what happens in the so called treatment for Cancer is just loot and a average Indian just cant afford the scale at which he is loed.
But the truth is all the recent advances in the treatment are nowhere near in curing the patient as the foll up is never ending and a utter waste.
The mental stress of the patient and his family is a curse.
Its clear he could not take it all up
老实说,所谓的癌症治疗就是抢钱,普通印度人根本负担不起这么高的费用。而且又治不好,不停的做手术,完全是浪费钱。
病人及其家人的精神压力太大了。很明显,他无法接受这一切
Rene Fernandez - juffair - 3 mins ago -Follow
Cancer treatment is most expensive for the rich and is the most expensive disease to treat n India because of the huge costs of treatment thanks to the horrible commissions taken by the lab and doctors for referrals etc . SAD . RIP . Why did the guy have to be so brutal with his own wife and hit her with a dumbbell ????
即使对富人来说,癌症治疗也是最昂贵的,这是印度最昂贵的疾病。治疗成本高昂,是因为医院和医生收了大笔回扣。安息吧!为什么这家伙要对自己的妻子如此残忍,要用哑铃打死她?
Smoking - Land of Cannabis Indica - 3 mins ago -Follow
May this sc0undrel rot in hell for killing the most lovable and friendly breed of dog..
杀了最可爱、最友好的狗,愿这个混蛋下地狱
Smoking - Land of Cannabis Indica - 5 mins ago -Follow
Why TF Dog??
为什么要杀狗?
Kanth King - 6 mins ago -Follow
Money can''t make your happy in life for sure.. the fate of future is unknown.. educated are the most un-educated in life today..
钱并不能给你带来幸福的生活。未来的命运是未知的。在现实生活中,受过教育的人是最无知的。