Budgam: Indian missile fired before Mi17 V5 chopper crash
巴德加姆:米-17 V5直升机坠毁前,印度发射了一枚防空导弹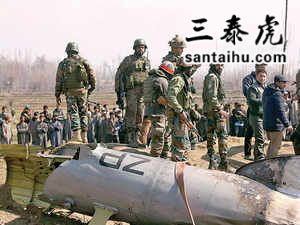 NEW DELHI: Investigators have found that an Indian air defence missile was fired shortly before the crash of a Mi17 V5 helicopter at Budgam, near Srinagar on February 27, which resulted in the deaths of six air force personnel and a citizen on ground. The investigators are examining the sequence of events which preceded the crash.
新德里:调查人员发现,2月27日,一架Mi17 V5直升机在斯利那加附近的巴德加姆坠毁前不久,印度发射了一枚防空导弹。调查人员正在调查事故发生前的一系列事件。
The final moments preceding the crash, including if the IFF (Identity, Friend or Foe) sy ems were switched on or not, are being carefully looked at to determine what went wrong. The air force brass, highly placed sources told ET, has made it clear that it would not shy away from initiating court martial proceedings ag inst personnel if they are found blameworthy in the inquiry.
调查人员正在仔细调查坠机前最后时刻发生的事件,包括敌我识别系统是否开启,以确定出了什么问题。消息人士告诉《印度经济时报》,印度空军已经明确表示,如果在调查中发现相关人员有责任,他们不会回避,将对其提起军事诉讼。
ET has learnt that the focus of the investigation now is to determine if multiple layers of safeguards meant to prect assets from friendly fire failed and how sy ems need to be improved to prevent any such in dent in the future. Sources said that the missile – believed to be of Israeli origin – was activated after an air defence alert was sounded over Jammu and Kashmir, besides other parts of the border, after a over 25 Pakistani air force jets were detected along the border on the morning of February 27.
《经济时报》获悉,目前调查的重点是确定旨在保护资产免遭误射火炮袭击的多层保障措施是否失效,以及需要如何改进系统,以防止未来发生此类事件。消息称, 2月27日上午,在查谟和克什米尔以及边界上空,发现了25架以上巴基斯坦空军战机,随后防空警报响起,印度空军随即发射了一枚以色列导弹。
The alert, sources said, indicated that Pakistani jets may be trying to breach the border for a strike on Indian military targets and there were concerns that armed UAVs available with that country may also have been deployed. A slow moving target like the Mi 17 V 5 helicopter could pentially be mistaken for a low flying armed UAV homing into an air base, according to these sources.
消息称,这一警报表明,巴基斯坦战机可能试图穿过边境,对印度军事目标发动袭击,印度担心巴基斯坦可能也部署了武装无人机。缓慢移动的目标,如米- 17v 5直升机,可能被误认为飞向空军基地的低空飞行武装无人机。
"When an air defence alert is sounded, several things take place. There are a set of rules that transport aircraft and helicopters need to follow and there are set entry and egress routes demarcated for aircraft flying. Also, aircraft are to switch on their IFF (Identify, Friend or Foe) sy ems," sources told ET.
消息人士告诉《经济时报》:"当防空警报响起时,运输飞机和直升机需要遵守一套规则,为飞机飞行划定进出路线。此外,飞机还将开启敌我识别系统。"
They added that all angles are being probed to determine if lapses took place and where. A senior officer is conducting the court of inquiry into the crash and has been given access to all inputs available with ground controllers as well as the actions of the helicopter in the ten minutes that it was in the air. As reported by ET, the chopper crashed in the 10-minute span when IAF jets were engaged in an aerial battle with the Pakistan Air Force fighters, along the Line of Control in the Nowshera sector, and air defence sy ems were on operational alert. Command and control sy ems were under immense pressure as reports of attempted intrusions were sounded along the border.
他们补充称,所有方面都在接受调查,以确定失误是否发生以及发生在哪里。一名高级官员正在对坠机事件进行调查,并获得了地面控制人员提供的所有信息,以及该直升机在起飞后10分钟内的行动。如《经济时报》所报道,这架直升机在起飞后10分钟内坠毁,当时印度空军战机正沿着瑙谢拉地区控制线与巴基斯坦空军战机进行空战,防空系统处于作战警戒状态。指挥和控制系统承受着巨大的压力,边境沿线传来了企图入侵的报告。
The Indian side offi ally acknowledged the crash but has not mentioned it in offi al statements on the aerial battle and the current conflict with Pakistan. In its offi al statement, the Pakistani military acknowledged the aerial battle over Nowshera but said its fighters were not involved in the chopper in dent.
印度官方承认了飞机坠毁,但没有在有关空战和当前与巴基斯坦冲突的官方声明中提及此事。巴基斯坦军方在其官方声明中承认了在瑙谢拉上空的空战,但表示其士兵并未参与击落直升机事件。
Mi17V5 is one of the sturdiest choppers in service across the world and is not usually prone to technical faults of catastrophic nature. Eyewitness reported that a loud explosion was heard in the air before the chopper crashed in a trail of smoke, indicating a possible catastrophic external event contributed to the in dent.
米-17V5是全球服役最久的直升机之一,通常不会发生灾难性的技术故障。目击者报告称,直升机在浓烟中坠毁前,从空中传来一声巨大的爆炸声,这表明可能是灾难性的外部事件导致了这一事故。
印度经济时报读者评论:
译文来源:三泰虎 http://www.santaihu.com/47301.html 译者:Jessica.Wu
外文:https://economictimes.indiatimes.com
Sergical strikes areminly a ve earning tactics. how many solgiers we lost in that chopper crash, we are cming, shot down one f16, but no proof, pakistan showing everything with its proof. India must be develop its own sophisticated ammunition, dont go to france and russia.. need to develop new techs, dont allow the engineers and high skilled personalities to nasa and usa
外科手术式打击是赢得选票的一种策略。直升机坠毁,我们损失了多少士兵。我们声称击落了一架F16战机,却没有证据,而巴基斯坦用拿出了证据。印度务必发展自己的尖端武器,别从法国和俄罗斯买。我们要开发新技术,不允许工程师和高技能人才跑到美国NASA工作。
Gstmd Kc
What type of kabaadi army and air force we have got? Pakistan did not even enter India and fired only one missile but the Indian jets, helicopters and planes were falling like nines on their own. How will we fight with this kabaad jets and helicopters? Looks like we are good only in making Uri type fake movies.
我们陆军和空军都是什么素质?巴基斯坦战机都还没进入印度,就发射了一枚导弹。然后印度的直升机自行坠落。就这样的水平,我们如何对抗? 看来我们只会拍电影。
Minhaj Kazmi
Pakistan is super power and it has the capability to distry its enemies, insia should stop become a sevent of Israel and america, world is laughing on india just because of Rafael modi serkat, wakeup india wakeup
巴基斯坦是超级大国,有能力震慑敌人,印度不能再当以色列和美国的仆人了,莫迪采购"阵风"战机,全世界都在嘲笑印度。醒醒吧,印度!
Satish Pareek
All people who comment on the news like this just think few things - if you are in that situation, many who are being abusive here will be peeing in pants. Secondly, operations of any type, civilian or armed, mistakes can happen. Thirdly, India is de acy so this much debate, hue and cry. Let us all be sensible. Express but not in a way that your opponents are hurt.
在这里吐槽的人都是站着说话不腰疼,要是你们在那种情形下,可能已经吓尿了。其次,任何行动,不论是平民还是武装行动,都可能发生失误。第三,印度是国家,所以才有这么多的争论。我们都明智些吧,你可以表达自己的想法,但不要以一种伤害对手的口吻。
Patel
So after Bkot, in a 15 minutes dogfight, we lost a pilot, a jet and a helicopter with several men. Just imagine what would have happened if this had continued for 1 week or more. This is how country becomes strong under a idiot PM. Ghar me ghus kar maraga. Kiske ghar or kisko? Don''t know the difference between a friend and foe?
巴拉科特空袭之后的15分钟混战,我们失去了一名飞行员,一架喷气式飞机和一架直升机,外加几个人。想象一下,如果这种情况持续一周或更长时间,会发生什么。在一个白痴总理的领导下,国家怎么能变得强大。敌我都分不清吗?
Stan Smith
If FEKU took credit for Bkot strikes ( modi unke ghar mein gaya) then he needs to take responsibility for the failures too. Gadhaa sa
如果莫迪认为巴拉科特空袭是他的功劳,那么他也要为这种失误承担责任。
Sudhir
Wipe out Pakistan from the face of the Earth. All problems of the armed forces will be resolved.
把巴基斯坦从地球上抹去。军队的一切问题都将迎刃而解。
Prabhat Tevatia
How casually you take things in this high tech age.
在这个高科技时代,居然还发生这样的失误
Hamid Javaid
IAF has always been outsmated by a far more Superior PAF
印度空军总是被更先进的巴基斯坦空军击败
AMD MR
pakistan told india that their own jet killed their helicopter but indian meda wes too busy with fake progenda from past month now they got time and started to write about this ?
巴基斯坦早就告诉印度,是印度的直升机是被自家导弹击落的,但是印度媒体从上个月开始就忙于粉饰报道。
Hsi S
I agree. PAF is way more capable man.
我同意,巴基斯坦空军更厉害。
Ashok Kansal
Looks like our own missile downed the chopper ,by mistake ,a costly mistake?
看来是我们的直升机被自己的导弹误击了,这个失误的代价太大了
Rme
Feku will make sure truth never comes out and news on this will be totally barred to be published or shown...
莫迪会让真相永远不曝光,有关这方面的新闻将被完全禁止发表
P Prasad
Entire defence forces have learnt how to LIE from MASTER BORNLIAR NARENDRA MODI.
印度军队从天生的骗子-纳伦德拉·莫迪那里学会了如何撒谎。
Hari Ram
Pulw is probably a inside job, it should be investigated by the UN.
普尔瓦马袭击事件可能是内部作案,应该由联合国进行调查。
Rohith
Insane.
真是疯了
Mohammed
Since chaukidar days, Indian military suffered tremedously especially airforce. Howmany flights were fallen since pulw attack. It looks like these flights are not maintaining properly. By the way India is growing at 7% while jobs are falling. In economic classes I was learned that Growth in economy directly propotional to growth in Jobs or viceversa.
自莫迪上台以来,印度军队遭受了可怕的打击,尤其是空军。自普尔瓦马袭击以来,有多少战机坠毁。看来这些战机没有得到妥善维护。顺便提一下,印度经济增长了7%,但就业却在减少
Harinarayanreddy Challa
Seems brain growth stopped at child age
似乎他们的大脑发育在儿童时期就停止了
Saqib
this is really sad that indians are killing their own soldiers and then blame back to Pakistan for everything, i am quite sure if independent inquiry is possible for Pulw attack, you will find things back to Modi, i can bet on that.
印度人杀害自己的士兵,然后把一切都归罪于巴基斯坦,这真的很悲哀。我很确定,如果对普尔瓦马袭击事件进行独立调查,你会发现矛头会指向莫迪,我敢打赌。
Saqib
Oh my God and these fakes media houses were cming they hit F-16 what a shame for indians today, project shakti haha, good jokes....
天啊,有些媒体还报道说印度击中了F-16,真丢人。"沙克提任务"就是个笑话…