Hinduja family tops UK's richest Asian list for sixth straight year in 2019
2019年,辛杜佳家族连续六年荣登英国亚洲富豪榜榜首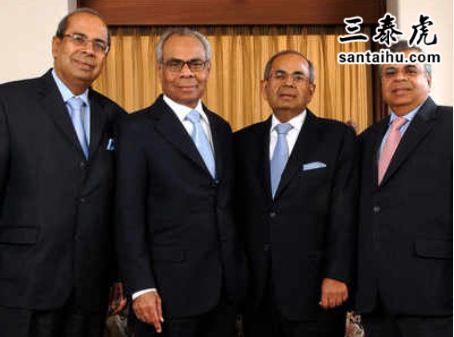 LONDON: Leading London-based NRI industrial tycoons, the Hinduja family has topped the 'Asian Rich List' for the sixth successive year in 2019 with an estimated net worth of 25.2 billion pounds, an increase of over 3 billion pounds over the previous year.
伦敦: 作为总部位于伦敦的印度裔工业巨头,辛杜佳家族在2019年连续第六年荣登"亚洲富豪榜"榜首,净资产估计为252亿英镑,比上一年度增加了30多亿英镑。
According to the 'Asian Rich List 2019' released at the Asian Business Awards here on Friday night, steel magnates Lakshmi Mittal and his son Aditya Mittal remained in second place, with a total wealth of 11.2 billion pounds, down 2.8 billion pounds from last year.
根据星期五晚在亚洲商业奖上公布的"2019年亚洲富豪榜",钢铁巨头拉克希米•米塔尔及其子阿迪蒂亚•米塔尔仍位居第二,他们的总财富为112亿英镑,比去年减少了28亿英镑。
India's High Commissioner to the UK Ruchi Ghanashyam released the list which is a compilation of the 101 wealthiest Asians in Britain, highlighting exceptional entrepreneurial achievement over the last 12 months.
印度驻英国高级专员鲁奇•甘纳斯哈姆发布了这份榜单,榜单汇集了英国101位最富有的亚洲人,突显出过去12个月企业家取得的非凡成就。
S P Lohia (Petrochemicals) took the third place with 5.8 billion pounds.
S P洛希亚(经营石油化工企业)以58亿英镑的资产排名第三。
The entries of the 'Asian Rich List 2019' have a combined wealth of more than 85.2 billion pounds.
"2019年亚洲富豪榜"的上榜者总财富超过852亿英镑。
The figure is increasing year on year and this year's overall wealth increases by over 5 billion pounds.
这一数字逐年增长,今年的总财富增加了50多亿英镑。
The list features seven new entries, including helier Joginder Sanger and his son Girish Sanger who enter at number 40 on the list with an estimated value of 300 million pounds.
该榜单共有7位新上榜者,其中包括酒店经营者乔京德尔•桑格及其子子吉里什•桑格,他们以3亿英镑的身价名列第40位。
Leading NRI entrepreneur Lord Swraj Paul and family are 17th in the list with a net worth 900 million pounds- an increase of 100 million pounds over the previous year.
海外印度裔著名企业家斯瓦拉杰·保罗勋爵及其家族以9亿英镑的净资产排在第17位,比去年增加了1亿英镑。
Shailesh Solanki, executive editor of Asian Marketing Group (AMG) publisher of the Rich List said, "The Asian Rich List is carefully compiled by a team of experts and it is the definitive guide to Asian wealth in Britain."
"亚洲富豪榜"出版商、亚洲营销集团执行主编沙伊莱什•索兰基表示:"亚洲富豪榜是由一组专家精心编撰的,是了解亚洲人在英国财富状况的权威指南。"
Gopichand Hinduja, co-chairman of the Hinduja Group said "our esting portfolio of companies is all in the sunrise sectors. Our focus is on banking and financial services, healthcare and of course, philanthropy."
辛杜佳集团联席董事长Gopichand Hinduja表示:"我们现有的公司投资组合都在朝阳行业。我们的重点是银行和金融服务、医疗保健,当然还有慈善事业。"
In London, the Hindujas are continuing with the conversion of the Old War Office, on which they have a 250-year lease, into a luxury resi ntial and 125-room Raffles Hel complex.
在伦敦,辛杜佳家族正在继续将旧英国陆军部改造为豪华住宅和拥有125间客房的莱佛士酒店。
He said in India, there has been investment worth Rs 1,000 crore (108 million pounds) in car and bus manufacturers Ashok Leyland, where Gopi's younger son, Dheeraj Hinduja, is chairman.
Gopichand Hinduja称,已经投资100亿卢比(合1.08亿英镑)在印度汽车和公共汽车制造商Ashok Leyland,由Gopichand的次子Dheeraj Hinduja担任董事长。
It recently inaugurated a cutting edge ric vehicle facility in its Ennore plant at Chennai. Ashok Leyland is introducing battery-operated technology in its buses.
该公司最近在其位于金奈的恩诺尔工厂引进了先进的电动汽车设施。Ashok Leyland正在其公交车上引入电池驱动技术。
Gopi said "All our businesses are going through a digital transformation journey."
Gopichand表示:"我们所有的企业都在经历一场数字转型之旅。"
For example, "Hinduja Global Solutions (HGS) is ram up its headcount in the US, with plans to add 600 more people by June 2019 by setting up a new centre in Florida."
例如,"Hinduja Global Solutions (HGS)正在增加其在美国的员工数量,计划到2019年6月在佛罗里达州建立一个新中心,再招募600人。"
HGS, rebranded from HTMT Global, has a presence in 12 countries including the Philipes, the US, the UK, Canada, France, Germany, Italy, the Netherlands, Mauritius, the UAE and Jica. In India, it has 68 "delivery centres" in Bengaluru, Chennai, Hyderabad and Mumbai as well as in growing cities such as Mysore, Nagercoil, Durgapur, Siliguri and Guntur.
HGS更名自HTMT Global,业务遍及菲律宾、美国、英国、加拿大、法国、德国、意大利、荷兰、里求斯、阿联酋和牙买加等12个国家。在印度,该公司在班加罗尔、金奈、海德拉巴和孟买以及迈索尔、纳格普勒、杜尔加普尔、西里古里和贡图尔等不断发展的城市拥有68个"配送中心"。
The Hinduja National Power Corp recently acquired Kiran Energy Solar Power for Rs 1,000 crore (108 million) to "augment our presence in the renewable and alternative energy space," Gopi expned.
Gopi解释说:"Hinduja National Power Corp最近以100亿卢比(1.08亿英镑)收购了基兰能源太阳能公司,以"扩大我们在可再生能源和替代能源领域的存在"。
印度时报读者评论:
译文来源:三泰虎 http://www.santaihu.com/47245.html 译者:Jessica.Wu
外文:https://timesofindia.indiatimes.com
Ayudhapurusha - 20 hours ago -Follow
The comments here are obnoous. How is Your PM responsible to make you rich ? those working hard for their money generates wealth. They dont hold others accountable for their failures.
有些评论令人反感。让你变富,是总理的责任吗?那些为钱而努力工作的人才能创造财富。他们不会让别人为自己的失败负责。
titopandm - 22 hours ago -Follow
Shame on modi... No business man grow in India .. they hv to become NRI
莫迪真丢脸…在印度,商人没发展空间,他们都跑到国外,变成了海外印度裔。
Jumla Expert - 22 hours ago -Follow
Businessmen are failing in India due to Low IQ Chaiwalla-nomics.
在印度,商人失败是因为低智商的卖茶人搞的那一套经济学。
Logic - 21 hours ago -Follow
confused fellow in comment section trying their best to bring modi name even in this news
在这种新闻的评论区,都有人扯上莫迪的名字。
Kl Gaur - 19 hours ago -Follow
Which philantropy by these people, the world wants to know ? Their Amas bank in Switzerland has all the money of Indian po iticians and others. I say this with challange, if, i am wrong. I was seeing Indian po iticians coming out of Amas bank gate in Geneva, often, when, I lived there.
这些人做了哪些慈善? 我住在日内瓦的时候,经常看到印度政客从银行走出来。
Raga Bosdka - 18 hours ago -Follow
Hindujas, Ambanis, Adanis shud learn something from Azim Premji & Tatas..While the 1st 3 above were born stinking rich & will die stinky richer..Premji & Tatas will end up there lives gracefully with blessings from lot of needy they have helped..
辛杜佳,安巴尼,阿达尼应该向阿齐姆·普莱姆基和塔塔学。前3位生下来就很有钱,钱花不完。普雷姆吉和塔塔斯将优雅地活着,并得到他们帮助过的许多穷人的祝福。
B Srinivasan - saginaw USA - 19 hours ago -Follow
BREXIT might be a pential threat for these RICH NRIs in UK.
英国脱欧可能对英国这些富裕的"新移民"构成潜在威胁。
Sam - UP - 20 hours ago -Follow
These are business only acclumating wealth.
他们的生意只是为了积累财富。
Dev Anand - INDIA - 22 hours ago -Follow
RICH WILL BE ALWAYS RICH ----------------- THESE RICH PEOPLE SHOULD BENEFIT THE POOR PEOPLE LIKE GIVING EMPLOYMENT.THERE ARE VERY VERY FEW RICH PEOPLE REALY HELP THE MASSES
富人永远是富人——这些富人应该造福穷人,比如提供就业机会。真正帮助普通老百姓的富人很少。
Muthu - 22 hours ago -Follow
Ve feku again.
再次为莫迪投票
Mark Vaz - Delhi - 14 hours ago -Follow
These hindujas extract all the money from their bussinesses in india and spent it in britain. I dont like them at all . They are also involved in crony capi ism
辛杜佳家族从他们在印度的生意中榨取钱财,然后在英国花。我一点也不喜欢它们,他们还搞裙带zb。
Dhat Teri - Urdu Bazaar, Gorakhpur - 5 hours ago -Follow
is this an Indians only list or does it also include other Asians living in UK ???
这是榜单是针对印度人的,还是包括其他生活在英国的亚洲人?
truth is god god is truth - Supreme lord Krishna space - 11 hours ago -Follow
Another overseas Hindu shining just like jahadi porky blowing up is usual news nothing unusual hahahahahha.
又一个杰作的海外印度裔。这种新闻司空见惯,没什么不寻常的,哈哈哈。
Shiva Narayan - 17 hours ago -Follow
Nice
很好
The Laughing - 20 hours ago -Follow
Traitors. Why is this news
叛徒。为什么这也上新闻