300% jump in 2 years in Indians 'buying' green card
印度"买"绿卡人数两年内增长300%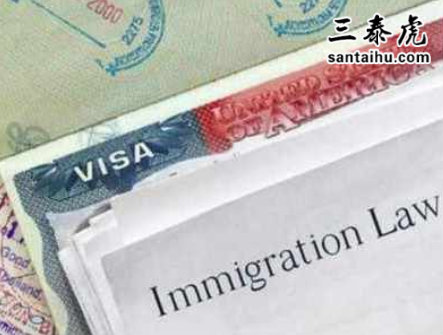 MUMBAI: The number of Indians getting investment linked EB-5 visas in the US, also known as "cash for green card", has risen nearly four-fold in the past two years.
孟买:在过去两年中,获得美国EB-5签证(又称"现金换绿卡")的印度人几乎翻了4番。
According to statistics issued by the US Department of State, 585 such conditional green cards were issued to Indians during the 12-month period ending September 2018, as ag inst 174 in fiscal 2017.
据美国发布的统计数据显示,截至2018年9月的12个月里,美国向印度发放了585张此类绿卡,而2017财年为174张。
Compared with the allotment of just 149 conditional green cards during fiscal 2016, this reflects a massive increase of 293% over a two-year period. In terms of number of visas granted, India to led South Korea and T to take the third spot behind and Vietnam in fiscal 2018.
与2016财年仅发放149张绿卡相比,反映出在过去两年里,这一数字大幅增长了293%。就签证发放数量而言,印度超过韩国和台湾,在2018财年排名第三,仅次于大陆和越南。

Over the past few years, hundreds of Indians, including those already working in the US have been lining up to apply for EB-5, an investment linked visa. The wait has borne fruit, going by the huge jump in numbers.
过去几年,很多印度人,包括那些已经在美国工作的人,一直在排队申请EB-5投资类签证。等待已有了结果,人数大幅增加。
The EB-5 program requires an investment of $1 million and creation of at least 10 jobs. This limit drops to $500,000 for investments in certain targeted employment areas. Investments via regional centres that pool in money for various projects, especially in the real estate sector, are more popular than setting up one's own operations. After holding a conditional green card for 21 months, an investor can apply for permanent residence, subject to fulfillment of conditions.
EB-5项目需要投资100万美元,并创造至少10个就业机会。对特定目标就业区的投资上限降至50万美元。通过为各种项目(尤其是房地产领域)筹集资金的区域中心进行投资,比自主创业更受欢迎。持有有条件绿卡21个月后,投资者可以在满足条件的情况下申请永久居留。
Interest from Indians for the EB-5 visa has spiked in recent years, given that obtaining H-1B visas, including extensions, are now more difficult.
近年来,由于获得包括延期在内的H-1B签证变得更加困难,印度人对EB-5签证的兴趣大增。
"Extension of H-1B visas are also being subject to the same rigorous scrutiny with denial rates on the rise," says Mitchell L Wexler, partner, Fragomen, a global immigration law firm.
"Also boosting the demand is the fact that work authorisations available to certain category of H-1B spouses will be rescinded. Children of several H-1B workers, especially those who are in the queue for a green card under the employment category, are also ageing out. Post 21 years, they can no longer hold the dependent H-4 visa, but need to migrate to another visa (say student visa) or self-deport to India," says Wexler.
全球移民律师事务所Fragomen合伙人Mitchell L Wexler表示:"H-1B签证的延期也受到了同样严格的审查,拒签率正在上升。另一个提振需求的因素是,某些H-1B签证配偶的工作授权将被撤销。很多H-1B员工的子女,尤其是那些正在排队申请就业类别绿卡的员工的子女,也逐渐超龄。21岁后,他们不能再持有附属申请人H-4签证,而需要申请另一类签证(比如学生签证)或自行回到印度"。
Given the backlog which Indian investors could face in the near future under EB-5, investments must be planned in advance to prect the child's interest," he adds.
鉴于在EB-5计划下,印度投资者可能在不久的将来面临大量积案,所以必须提前计划投资,以确保孩子能一同申请。"Wexler补充道。
TOI has reported earlier that even rich families based in India tend to gift the investment sum to a child studying in the US. After completion of studies, the EB-5 visa enables him or her to work without having to throw the hat in an H-1B lottery.
《印度时报》早些时候报道称,为了在美国读书的孩子着想,即使是印度富裕家庭也倾向于作此类投资。在完成学业后,EB-5签证可以让孩子留在美国工作,而不必依赖H-1B签证,此类签证需要抽签。
Only 10,000 EB-5 visas are issued annually, with a 7% per country cap. If a country doesn't meet the cap, the unused visa quota is redistributed to other countries. Currently, and Vietnamese investors are facing a retrogression (which arises when the applications exceed the cap set) and the waiting time for is nearly 14 years. The current waiting period for Indians, to obtain a conditional green card after making an investment ranges roughly between 18 and 30 months, depending on how fast the application (526 petition) is approved.
EB-5签证每年只签发1万张,每个国家的签证限额为7%。如果一个国家没有达到限额,未使用的签证配额将被重新分配给其他国家。目前,和越南的投资者正面临排期延长(当申请超过上限时就会出现这种情况),而投资者的等待时间接近14年。目前印度人在投资后获得有条件绿卡的等待期大约在18到30个月之间,这取决于申请(526申请)获批速度。
Indian investors too could face retrogression from July or August this year, which would increase the waiting time further by a few years. This will still be significantly shorter than the wait time for standard employment-based green card applications where the waiting time is upward of 17-plus years.
印度投资者今年也可能从7月或8月开始面临排期延长,这将使等待时间进一步延长几年。这仍然比基于就业的绿卡申请的等待时间短得多,此类申请的等待时间超过17年。
The US Department of State has also released figures of pending applications, as of September 30, 2018. The mamum pending applications were from at 8,180, followed by 1,633 applications from India. A proposed hike in investment limits and recent investor scams has made investors more careful, but the interest has not waned.
截至2018年9月30日,美国也发布了待处理申请的数据。申请数量最多,为8180份,其次是来自印度的1633份。提高投资限制的提议和最近的投资者骗局让投资者更加谨慎,但投资者的兴趣并没有减弱。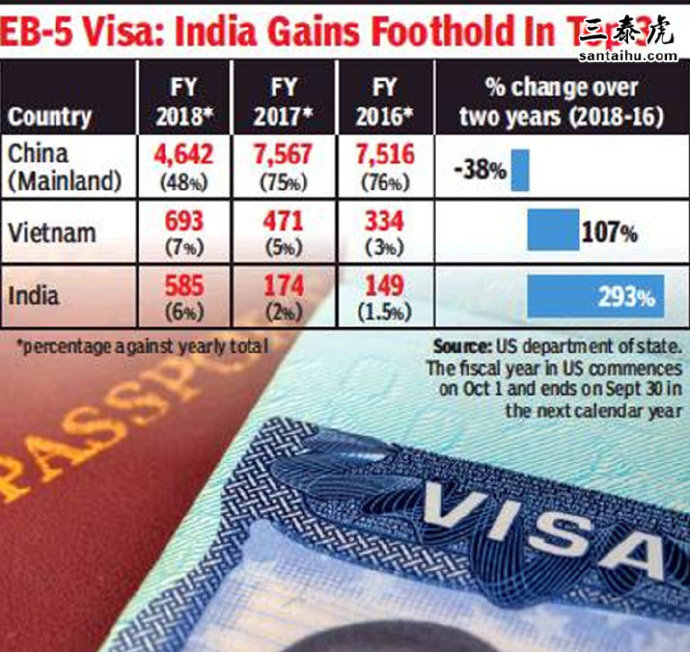 印度时报读者评论:
译文来源:三泰虎 http://www.santaihu.com/47231.html
外文:https://timesofindia.indiatimes.com
ONE LINER Challenge - 11 hours ago -Follow
SO MUCH SO FOR PATRIOTISM- CANNOT BLAME THEM
BLAME THE COUNTRY THAT NEHRU DESTROYED AND MODI IS RESTRUCTURING
他们的爱国心就那么点,也不能怪他们,
都怪尼赫鲁摧毁了这个国家,而莫迪正在重建我们的国家。
Spaceman - Earth - 11 hours ago -Follow
India is facing a wealth drain. No cash left
印度正面临财富流失,快没有钱了。
ONE LINER Challenge - 11 hours ago -Follow
WHEN OUR GRASS TURNS BROWN - THE OTHER SIDE OF THE HILL LOOKS GREENER
NO COMPLAINTS
没什么好抱怨的。那边的生活更好,我们这条件太差了。
Arun - Delhi - 11 hours ago -Follow
due to recent change in immigration policies of USA many went in panic and sold their Indian propertied and brought the half million wealth to buy the green card which is given under investors visa.
由于最近美国移民政策的变化,许多人慌里慌张地卖掉了他们在印度的房产,拿着50万美元去购买美国投资者签证。
Human - 9 hours ago -Follow
It has nothing to do with the present or past or future go nments in India. It is because of the recent immigration policies by US go nment making immigration tougher. Whereas Indians in US are more respected for their peaceful nature and being loyal. There are millions of illegal immigrants in US and while Indians are going there legally by investing, which is much better.
这与印度目前、过去或未来的政府无关。这是因为美国政府最近出台了更严格的移民政策。在美国的印度人则因为他们的和平天性和忠诚而更受尊重。美国有数百万非法移民,而印度人通过投资合法进入美国,这种做法好多了。
PakisareHomosandSuck - Kalooooo Gandu Pakistan - 8 hours ago -Follow
USA is the land of cops. One wrong move and you are heavily penalized.
美国遍地是警察,只要走错一步,你就会受到重罚。
PakisareHomosandSuck - Kalooooo Gandu Pakistan - 8 hours ago -Follow
GOTO USA and find out for yourself how much you will be taxed...you focking tax evaders!!!!! ha ha ha...revenge of karma will be so sweet....They will tax you from every orfice...penalize you for speeding and breaking traffic rules. Forget about olesting any female or kid...you will be locked up and they will clean your whole property and bank bnce out!!!! They will turn you upside down and shake every loose penny out of your pocket!!!!! Especially when you are crooked and prone to breaking the law.
你们这些逃税者,去美国看看自己要交多少税!!哈哈哈……他们会在每一个路口收罚款,处罚你超速和违反交通规则。别想性骚扰女人,你会被关起来的,他们会没收你所有的财产和银行存款!!他们会把你家翻个底朝天,把你口袋里的每一分钱都抖出来!!尤其是当你触犯法律的时候。
Rafael Federer - 11 hours ago -Follow
It''s a win-win situation both for US go nment and for Indians who aspire to settle in US. All the cream and financially strong people from India want to escape from India. At end of the day there is no such thing called patriotism it''s all about personal comforts and good life. India will remain India, same old po itics, zero development, re gious fights, poor / slum / and re gious people breeding like pigs and growing population. I might sound harsh but that''s the reality.
这对美国政府和渴望在美国定居的印度人来说是一个双赢的局面。所有来自印度的精英和经济实力雄厚的人都想逃离印度。说到底,没有所谓的爱国主义,只关乎个人对美好舒适生活的向往。印度还是老样子,旧政治体制,没有发展,宗教斗争,穷人越穷生得越多。我说的可能有点难听,但事实就是这样。
PakisareHomosandSuck - Kalooooo Gandu Pakistan - 8 hours ago -Follow
Indians seem to be think that Indians are running to USA because of Modis policy??? Joke eh??? Everyone in USA pays into the tax sy em. They will have income tax in most states...property tax and tax on goods also. You cannot avoid it as IRS will crack down swiftly. That is how their public services and infrastructure is funded. But in India they dont want to pay tax???? How will that work??? You have to pay tax so the govt can build up infrastructure. Dont cheat the govt and compn India is not as modern as USA.
印度人移民美国,是被莫迪的政策逼得??真是笑话。在美国,每个人都须按税收制度纳税。在大多数州都须缴纳所得税,还有财产税和商品税,你无法避免,否则就等着美国国税局采取严厉措施。税金是他们的公共服务和基础设施的资金来源。但是在印度,他们不想交税??那国家如何运作?你必须交税,这样政府才能建设基础设施。别欺骗政府,别抱怨印度不如美国现代化。
Jumla Expert - 6 hours ago -Follow
Country needs PM, not Chaiwallas and Chowkidaars.
印度需要的是总理,不是卖茶郎,也不是守望者。
Hayat - 9 hours ago -Follow
It indicates that people of India are not happy in Narendra Modi's go nment. No foreign investment coming to India due to communal violence in India during last five years. Talents of India going out for their future requirements. NRIs are increasing. Indian De acy is in danger. Divisive Communal BJP has to be defeated mercilessly else India will be called Syria.
这表明印度人民对莫迪政府并不满意。由于过去五年印度的社区暴力,没有外国投资进入印度。印度的人才正在流失,海外印度裔越来越多。印度的正处于危险之中。必须让印度人民党下台,否则印度将成为下一个叙利亚。
PakisareHomosandSuck - Kalooooo Gandu Pakistan - 8 hours ago -Follow
Get prepared to experience racism first hand. LOL
准备好亲身体验种族主义,哈哈
PakisareHomosandSuck - Kalooooo Gandu Pakistan - 8 hours ago -Follow
Once they goto USA then they will e for India. Humans are never satisfied.
一旦他们去了美国,他们就会想念印度的。人类永远不会满足。
Mohan Kumar - Bengaluru - 7 hours ago -Follow
Indians are not poor just that no one wants to stay and build this country. Po itics of all these years has played a major part in letting this country down
印度人并不穷,只是没人愿意留下来建设这个国家。这些年来,政治在让这个国家走下坡路的过程中起了很大的作用
waseem thakur - 10 hours ago -Follow
Under this fa ist everyone running
在这个分子的统治下,每个人都在逃离
Spaceman - Earth - 3 hours ago -Follow
BJP raj has been negative for majority of indians...whether hindu, Chr tian sikh or Mus m. Incomes are down, unemployment up, consumption down, rich getting richer, suicidal farmers....only handling of Pak was good.
大多数印度人都对人民党持消极态度,无论是印度教、、锡克教还是。收入下降,失业率上升,消费下降,富人越来越富,农民自杀……只有在处理巴基斯坦问题上做得不错。
Satendra Yadav - 2 hours ago -Follow
Those who think india going forward think again...people with brain moving out leaving garbage behind...
那些认为印度会向前发展的人再好好想想
有脑子的人都走了,剩下的都是垃圾…
Shinto James - Location - 3 hours ago -Follow
EVERY BODY KNOWS FEKUS JUMLAS SO RUN AWAY FROM INDIA
每个人都知道莫迪只会做虚假承诺,所以还是离开印度吧
romeoind2000 - usa - 4 hours ago -Follow
No one wants to stay in bjp ruled India. They have dest yed all the de ratic institutions of the country Troll me you dogs. That's the only thing they can do
没人想留在人民党统治下的印度。他们摧毁了这个国家所有的制度。这是他们唯一能做到的,
Indian Marine - 1 hour ago -Follow
This is what happens when po iticians themselves run to US for all minor health issues.
当政客们有点小病痛就跑去美国就医时,就会发生这种情况。
BE INDIAN - 2 hours ago -Follow
This just proves Modi is a failed leader.
这恰好证明莫迪是一个失败的领导人。
Jumla Expert - 10 hours ago -Follow
Ambani''s Dog FEKU will be pelted with stones shortly.
安巴尼的狗-莫迪很快就会被扔石头。
Nitin Hirey - Mumbai - 2 hours ago -Follow
Thanks Nehru that you built IITs and IIMs and IISc without it India wont be able to progress now. Modi is rea the Fruits of a tree which was sowed by Nehru, MMS and Narasimha Rao. Thanks MMS for making India a 2 trillion $ economy.
感谢尼赫鲁建立了印度理工学院、印度管理学院和印度信息系统学院。没有这些,印度现在就无法进步。莫迪正在收获尼赫鲁、辛格和纳拉辛哈·拉奥种下的每一棵树的果实。感谢辛格让印度成为一个2万亿美元的经济体。
Prashant - Mumbai - 2 hours ago -Follow
Modi ji in 2014 you said there will be reverse brain drain. After 5 years we have 300% jump. FEKU No. One.
2014年,莫迪曾说印度人才会回流。5年后,外流人员增长了300%。
Mudi - Gujriot - 2 hours ago -Follow
It's natural that people would want to move to a better country.
人们想移居到一个更好的国家,这很自然的。
Kayin - India - 3 hours ago -Follow
even I don't want to live in this country under fake Modi lies if I have money. bhakts are all misled by Feku. fools believe everything can be blame for the past.
如果我有钱,我也不想生活在莫迪的虚假谎言之下。印度人都被莫迪误导了。傻瓜才会认为过去的一切都是错的。
Ne lle - 2 hours ago -Follow
Nobody wants to live in this cow and rape country All want a better life to get away from this filthy country
没有人想生活在这个神牛国度,强奸之都,所有人都想离开这个肮脏的国家,过上更好的生活。
Krantikari - 2 hours ago -Follow
If modi is so good then why Indians leaving India.
如果莫迪真有那么好的话,为什么印度人要离开自己国家。
Jag - 3 hours ago -Follow
Ache din aagaya, hence leaving....LOL
好日子没指望了,所以都走了 ,哈哈