Indian tech billionaire gives an incredible £5.7BILLION to charity - the country's biggest ever donation to good causes
印度科技亿万富翁向慈善机构捐赠57亿英镑,这是该国有史以来对慈善事业的最大单笔捐赠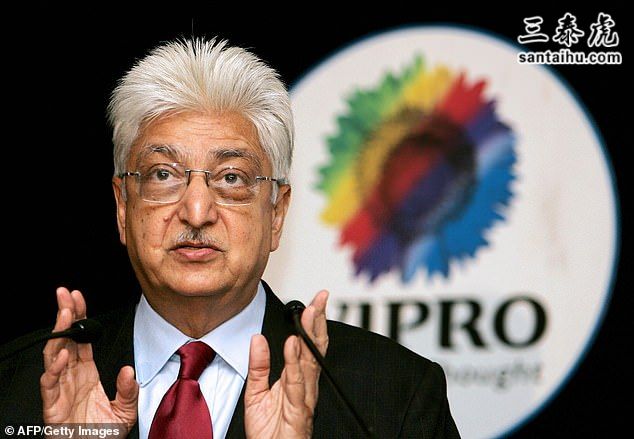 One of India's wealthiest billionaires has given £5.7 billion to charity, in the country's largest single charitable donation.
印度最富有的亿万富翁之一向慈善机构捐赠了57亿英镑,这是该国最大的单笔慈善捐款。
It brings the total donated by Wipro chairman Azim Premj, 73, to nearly £16 billion in cash and shares.
这使得Wipro董事长、73岁的阿齐姆·普莱姆基的现金和股票捐赠总额达到近160亿英镑。
Mr Premj is India's second-richest person with an estimated current net worth of £14 million.
普莱姆基是印度第二富有的人,目前净资产估计为1400万英镑。
The tycoon, who built his father's vegetable oil business into global software conglomerate Wipro, has made several donations to his own charitable trust over the years.
这位大亨将父亲的植物油企业打造成了全球软件企业集团Wipro。多年来,他已向自己的慈善信托基金捐款数笔。
The Azim Premji Foundation now owns 67 per cent of Wipro's shares, the foundation said in a statement reported on CNN.
CNN报道,阿齐姆•普雷姆基基金会在一份声明中表示,该基金会目前持有Wipro 67%的股份。
Mr Premji was the first Indian to sign the Giving Pledge, a campaign started by Warren Buffett with Bill and Melinda Gates to encourage billionaires around the world to commit most of their wealth to charity.
普莱姆基是首位签署"捐赠承诺"的印度人。"捐赠承诺"是沃伦•巴菲特与比尔•盖茨、梅琳达•盖茨共同发起的一项活动,旨在鼓励全球亿万富翁将大部分财富用于慈善事业。
His foundation works directly in education and supports over 150 other non-profits serving under-privileged and marginalized Indians through financial grants, Bloomberg reported.
据彭博社报道,普莱姆基的基金会直接从事教育工作,并通过拨款支持150多家其他非营利组织,为贫困和边缘化的印度人服务。
The foundation set up the Azim Premji University to develop professionals in education and related human development domains, offer degree and education programs, and conduct research.
该基金会成立了阿齐姆普莱姆基大学,旨在培养教育和相关人类发展领域的专业人才,提供学位和教育项目,并开展研究。
The foundation will scale up significantly in the coming years, it said in the statement.
该基金会在声明中表示,未来几年该基金会的规模将显著扩大。
The team working in education will grow from the current 1,600 people and grant-making activities will triple.
从事教育工作的团队将从目前的1600人增加到现在的三倍。
The Bengaluru-based university will expand to 5,000 students with over 400 faculty members. The foundation intends to set up another university in northern India.
这所位于班加罗尔的大学将扩大到拥有5000名学生,400多名教职员工的规模。该基金会打算在印度北部再建一所大学。
Anurag Behar, chief sustainability officer at Wipro and chief executive officer of the Azim Premji Foundation, said: 'The visibly wealthy and the newly wealthy in India are clearly not as generous as the wealthy in, say, America.
'But India also has a substantial culture of philanthropy that is not conspicuous.'
Wipro的首席可持续发展官、阿齐姆普莱姆基基金会的首席执行官阿努拉格•比哈尔称:"印度的富人和新贵显然不像美国的富人那么慷慨。印度的慈善文化也相当深厚,但并不引人注目。"
英国每日邮报读者评论:
译文来源:三泰虎http://www.santaihu.com/47222.html
外文:https://www.dailymail.co.uk
zbc123, Gibraltar, Gibraltar, 4 days ago
Good guy Azim!
好人阿齐姆!
Jupiter1, London, United Kingdom, 4 days ago
Great to see kind people in the world. Other rich people take ne.
看到世界上有这么善良的人真是太好了。其他富人也应学习。
ExPat2003, Nanaimo, Canada, 5 days ago
He should set up a foundation that ex tes rapists. There's certainly enough of them in India.
他应该建立一个处死强奸犯的基金会。印度强奸犯太多了。
Cenzored, Laguna Hills, United States, 5 days ago
Faith in humanity nudged a little in the direction today.
对人性的信仰稍稍朝着正确的方向迈进了一步。
dlin2709, London, United Kingdom, 5 days ago
Why not food
为什么不捐食物
Nnull, londinium, United Kingdom, 5 days ago
Well they won¿t be needing our aid then hopefully ,but no doubt this stupid country will carry on giving while people live on the streets here.
希望到时他们不再需要我们的援助,但毫无疑问,这个愚蠢的国家(英国)会继续提供援助,而这里的人们则生活在街头。
magic man, manchester, United Kingdom, 5 days ago
Uk stopped aid to india a while back. Lol
英国不久前停止了对印度的援助。哈哈
llII, East, United States, 5 days ago
Wow! Fantastic news!
哇!好消息!
Bob Smith III, columbus, United States, 5 days ago
sounds like a wait and see situation. he gave the capital in shares to his foundation, which did not sell them to raise cash for charitable purposes. now this charity donation is just idle stock in his own charity's hands.
听起来像是在观望。他将这些资金以股票的形式捐给了自己的基金会,而基金会并没有出售这些股票来筹集资金用于慈善事业。现在,这笔慈善捐款放在他自己的慈善机构中,相当于闲置的股票。
On2Thought, Bury St. Edmunds, United Kingdom, 5 days ago
The share wouldn't be worth such an amount, if the company wasn't highly profitable. Consequently the foundation can do a lot of good just spending the dividends from the share. this is great news.
如果这家公司的利润不高,那它的股票就不会有这么高的价值。因此,基金会可以利用股息做很多有益的事。这是个好消息。
stephenjjj2, Tampa, United States, 5 days ago
Awesme. Well done mate.
做得好,太棒了。
Brylcreamboys, WORCESTER, United Kingdom, 5 days ago
Remind me how much we give to India in charity donations
我们给印度捐了多少钱?
Themeaningoflife, Toronto, Canada, 4 days ago
Did you study history? Do you have any idea how much your country loed from us?
学过历史吗?知道你们英国从我们国家掠夺了多少吗?
James GG, Boston, United States, 5 days ago
That is what a call a great man and a real human being.
这就是所谓的伟人。
SandyPandyBrown, London, United Kingdom, 5 days ago
He is a good person. Bless him.
他是个好人,愿上帝保佑他。
kafka85, Newcastle, United Kingdom, 5 days ago
Wow that's an incredible donation. Hopefully the money is put to good use. India has a lot of problems.
哇,这是一笔令人难以置信的捐赠。希望这些钱能得到很好的利用。印度存在很多问题。
Ré Cee, Brooklyn, United States, 5 days ago
Dude, how about you spend it fing on your SEVERELY POLLUTED WATERWAYS like the Ganges? It's one of the most tragic things happening on the planet, and nobody is talking about it.
把钱花在治理像恒河这样严重污染的水道上怎么样?这是这个星球上发生的最悲惨的事情之一,而且没有人谈论它。
Version9, Naughty Corner UK, United Kingdom, 5 days ago
A billion people? Still reproducing at an unsustainable rate. Most of them poor and uneducated. His actions are generous but Indias problems are HUGE.
十亿人?而且仍在以不可持续的速度繁殖。他们大多数人贫穷,没有受过教育。阿齐姆的行为是慷慨的,而印度的问题是严重的。