Pakistan airspace shut, Mumbai sees near-miss
巴基斯坦领空关闭,两架国际航班险在孟买上空相撞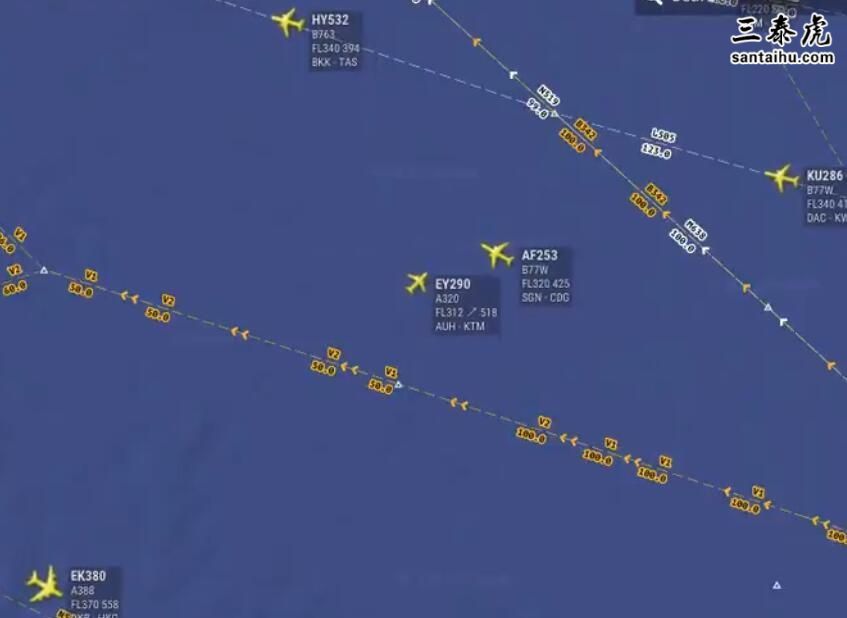 NEW DELHI: Two international flights got dangerously close to each other in Mumbai's mega crowded skies on Friday afternoon. They were seconds apart from each other when the collision avoidance sy em kicked in and pulled them apart. An air traffic controller has been grounded.
新德里消息:周五下午,在孟买拥挤的空域中,两架国际航班的距离非常靠近,异常危险。防撞系统启动时,它们之间只相差几秒钟的飞行距离。一名空中交通管制员已被停职。
Both the flights were passing through this route due to the closure of Pakistan airspace since February 27. The Mumbai airspace has seen a sharp rise in overflying aircraft since then and the ATC has been putting in a superhuman effort + to manage this spurt in traffic.
由于2月27日以来巴基斯坦领空关闭,所以这两架飞机才经过同一条航线。自那以来,孟买领空的飞机数量急剧上升,空中交通管制部门一直在投入超人的努力,以应对这一交通高峰。
The scare happened at 1.40 pm Friday when an Air France Boeing 777 was cruising at 32,000 feet en route from Ho Chi Minh City to Paris as AF 253. And an Etihad Airbus 320 was winging its way from Abu Dhabi to Kathmandu as EY 290 at 31,000 feet.
星期五下午1点40分,法国航空公司一架波音777客机(AF 253航班)在从胡志明市飞往巴黎的途中,以3.2万英尺的高度巡航。阿提哈德航空一架空客320(EY 290航班)从阿布扎比飞往加德满都,飞行高度为3.1万英尺。
"At 1.40 pm, Mumbai air traffic control (ATC) asked the Etihad flight to climb to 33,000 feet. During climb, this aircraft came almost face-to-face with AF 253 that was coming from the opposite direction. The two aircraft were just three nautical miles away, seconds apart, from each other," said sources.
下午1点40分,孟买空中交通管制(ATC)要求阿提哈德航班爬升到3.3万英尺。在爬升过程中,这架飞机几乎与来自相反方向的AF 253迎面相撞。两架飞机相距仅3海里,只有几秒钟的飞行距离。"
The "traffic collision avoidance sy ems" (TCAS) equipment on these two aircraft got activated, after which pilots pulled the two planes apart.
两架飞机上的"空中防撞系统"(TCAS)被激活,飞行员将两架飞机拉开。
Confirming this serious near miss, a senior ATC offi al said: "This happened and the matter is under investigation. The air traffic controller has been off rostered (taken off duty). Traffic density was very high (in Mumbai flight information region) due to Pakistan airspace closure."
一名高级空中交通管制官员证实了这一严重的失误,他表示:"确实发生了,目前正在调查中。空中交通管制员已停职。由于巴基斯坦领空关闭,孟买飞行情报区的交通密度非常高。"
A senior offi al of the Directorate General of Civil Aviation also confirmed the near miss and said a probe has been ordered.
印度民航总局一名高级官员也证实了这一险情,并表示已下令进行调查。
Pakistan has repeatedly deferred reopening its airspace. The latest date for that to happen is Monday, but no one knows when that will indeed happen.
巴基斯坦一再推迟开放领空。最迟的开放日期是星期一,但是没有人知道是否会开放。
The over fortnight-long closure is now begng to strain resources of both airlines and Mumbai ATC that is handling the entire diverted traffic.
长达两个多星期的领空关闭已经开始给航空公司和孟买空中交通管制中心带来压力。
Flights between west and south/southeast Asia are taking a longer route. For airlines that has meant adding a stop on ultralong and long nonstops, like Delhi-New York, which translates into higher crew and fuel requirement.
西亚和南亚/东南亚之间的航线正在延长。对于航空公司来说,这意味着在超长直飞航线上增加一个停靠点,比如德里-纽约航线,这意味着机组人员和燃油需求更高。
The implications are no longer just on finances and network. The effect, as is clear from Fridays near miss near Mumbai, is on safety too due to overworked and stressed out controllers who have been putting a superhuman effort since February 27. But stress may be showing now.
其影响不再仅仅局限于财力和网络。从周五孟买的险情就可以看出,这对安全也有影响,因为自2月27日以来,劳累过度、压力过大的空管人员一直在付出超人的努力,现在压力可能正在显现。
The mid-air collision was averted by the collision avoidance sy em which issues two types of advisories to pilots: first a traffic advisory (TA) to give an advance warning to crew of two planes that they are headed in the same direction and in second stage resolution advisory (RA) that asks crew to take evasive action to avoid mid-air collisions.
防碰撞系统向飞行员发出警告,以避免发生空中碰撞: 首先是交通咨询(TA),向两架飞机的机组人员提前发出警告,告诉他们正朝着同一个方向飞行;其次是决断咨询(RA),要求机组人员采取规避行动,避免在空中相撞。
印度时报读者评论:
译文来源:三泰虎 http://www.santaihu.com/47218.html 译者:Jessica.Wu
外文:https://timesofindia.indiatimes.com
Anuj Gupta - 1 day ago -Follow
Pakistan created by Nehru and Gandhi, root of all problem is Gandhi.
巴基斯坦是由尼赫鲁和甘地一手建立的,所有问题的根源都是甘地。
x x - 1 day ago -Follow
khangress could not solve te rorm for more than 20 years
20多年来,国大党一直解决不了主义问题
BharatD Sharma - Bombay - 1 day ago -Follow
Waiting for the expert to say something. Mr. Pappu.
等着拉胡尔这个专家来点评。
Manisha - 1 day ago -Follow
All those who are feeling that BJP replied by air strike in Pakistan was for ion purpose are of sick mind. They give a strong reply to te rort saying that we are not cowards.
所有那些认为印度人民党空袭巴基斯坦是为了赢得选举的人都有病。他们这是向分子作出强硬回应,表明我们不是懦夫。
shailendra singh - 1 day ago -Follow
Some people are so psycho path that they blame Modi for everything
有些人太变态了,什么都怪莫迪
Amitava Ghosh - 1 day ago -Follow
Pakistan closes its air space so that we suffer
巴基斯坦关闭了领空,我们才遭受了损失。
Krishan Kumar Totlani - Jaipur - 1 day ago -Follow
Pakistan seem to be still shivering from an air Attack from India as they have shut its Air space.
巴基斯坦似乎仍在遭受来自印度的空袭,所以他们关闭了空域。
Nitin Wani - 1 day ago -Follow
If everyone wants comfort and no trouble then te rorm cannot be tackled. We have to be ready for sacrifice to ensure Pakistan kneels down.
如果每个人都想要安逸,怕麻烦,那主义就无法消灭。我们必须做好牺牲的准备,确保巴基斯坦屈服。
RCH - 1 day ago -Follow
Pakistan think tank is celebrating Pulwara attacks as it finest hour since 1947.
巴基斯坦智库庆祝普尔瓦拉袭击事件是1947年以来最光荣的时刻。
Mohit - 1 day ago -Follow
Something messy about Pakistan airspace shut till date. May be ISI and army is plotting something revengeful war or attack on India. Our forces have to be high alert. Jai Hind.
到目前为止,巴基斯坦领空一直处于关闭状态。或许巴基斯坦三军情报局或军方正在策划对印度的报复性袭击。我们的部队必须保持高度警惕。印度必胜。
Vikram S. - 1 day ago -Follow
Those reader calling Indian anti te rort act as ion gimmick, should be kicked in their bigass and thrown out of India to Pakistani dogs.
那些把印度的行动称为选举噱头的人,应该被踢出印度。
Honest - 1 day ago -Follow
Pakistan is soooooooo scared. Hahahah
巴基斯坦非常害怕,哈哈
Yogesh - Location - 1 day ago -Follow
A fanatic terror nation must always live in terror and fear. This time India must use missiles.
一个狂热的主义国家必须永远生活在恐惧之中。这次印度必须使用导弹。
Jagdish Madan - Vancouver BC - 1 day ago -Follow
Pakistan will finger itself into economic doom and chaos!
巴基斯坦将陷入经济灾难和混乱!
Jahangeer Khurshid - Mumbai - 1 day ago -Follow
All this is due to Modi. In the last 5 years, te rorm has increased in Kashmir like it did under Vajpayee. All he has done is talk and create tension.
这一切都是因为莫迪。在过去5年里,克什米尔的主义像瓦杰帕伊统治时期一样有所增加。莫迪所做的一切只是夸夸其谈,制造紧张气氛。
Chandan - 1 day ago -Follow
Please open other alternatives and permanent routes leaving Pakistan alone.
请开辟其他替代路线,让巴基斯坦自生自灭。
Indianexpert - 1 day ago -Follow
Once for all divide Pakistan in three to deal with all the issues. We will have ongoing problems with them unless we intervene with full scale war.
除非我们发动全面战争,否则我们和巴基斯坦的争端将继续存在。
Krishna - 1 day ago -Follow
PAKISTAN THY NAME IS HELL.EVEN AIRLINES ARE HAPPY TO AVOID FLYING OVER THE HELL.
巴基斯坦,你的名字叫地狱。就连航空公司也乐于避免飞越地狱。
Amarendra - delhi - 1 day ago -Follow
Mumbai is the busiest airport in India. Every minute there is a flight landing or taking off. Air controllers doing a great job.
孟买是印度最繁忙的机场。每一分钟都有飞机降落或起飞。空中管制员做得很好了。
Priti Shilpa - 1 day ago -Follow
Good that pakistan arispace is closed. They are really paying a high price now.
很好,巴基斯坦关闭了空域,他们现在确实付出了高昂的代价
Pilot Suresh Para - 1 day ago -Follow
Pakistan should mature up and stop causing unrest in the world. I hope soon it will become a civilised country, May God bless us all,
巴基斯坦应该成熟起来,别再制造动乱了。我希望不久它将成为一个文明的国家,愿神保佑我们所有人。
Ranjit Kr - 1 day ago -Follow
Need to take back whole pakistan which belongs to india probelm solved ...
夺回整个巴基斯坦(本就属于印度),问题解决…
Gopal - Pune - 1 day ago
Hi I don't know why people kept quiet when Bombay attacks happened
Did congress not sacrificed innocent Indians?
Modiji is doing thing for Indians
Let's support anyone Genuine like Modiji
We don't want Anti Nationals in Power that cannot prect represent India
我不知道为什么孟买袭击发生时人们都保持沉默
难道没有无辜的印度人牺牲吗?
莫迪做的是对的
让我们支持莫迪