Chopper crash in J&K kills 6 IAF men, 1 civilian
印度空军一架直升机在查谟克什米尔坠毁,致6名空军、1名平民死亡
SRINAGAR: Six IAF men and one civilian were killed in an IAF MI-17 helicopter crash in central Kashmir, about 7km from district headquarters of Budgam, at about 10.10 am on Wednesday. Soon after take-off at 10 am from Srinagar airfield, the MI-17 V5 crashed with a "big bang", said locals, triggering panic in the area called Garend Kn.
斯利那加:星期三上午10时10分,印度空军一架米格-17直升机在克什米尔中部地区坠毁,造成6名印度空军士兵和1名平民死亡。事发地点距离巴加姆地区总部约7公里。当地居民称,这架米格-17 V5飞机上午10点从斯利那加机场起飞后不久便坠毁,伴随一声"巨响",此事在加伦德卡兰地区引发了恐慌。
It broke into two and caught fire immediately, local offi als said. It was on a routine mission, a go nment statement said. A court of inquiry has been ordered. The crash killed two pilots and four personnel of the Air Force. Locals said they heard at least three blasts when the chopper crashed. A portion of the craft exploded and reportedly hit a civilian, who died on the spot. Three others had a miraculous escape, a local, said.
当地称,飞机断成两截,随即起火。一份政府声明称,这是一次例行任务,已经下令进行调查。飞机坠毁造成两名飞行员和四名空军人员死亡。当地居民称,直升机坠毁时,他们至少听到了三次爆炸声。据报道,飞机爆炸时。碎片击中了一名平民,该平民当场死亡。一位当地居民称,另外三人奇迹般地幸免于难了。
The civilian, Kifayat Ahmad Ganaie (30) was on a call some 15m away from the site of the crash.The crash, the cause of which is yet to be ascertained, sparked panic. Visuals of the wrecked fuselage ablaze came early in the day in the backdrop of reports of Pakistani intrusion near Nowshera in north Kashmir. One of the pilots killed was Squadron Leader Ninad Mandavgane (32) of Nasik.
事发时,平民Kifayat Ahmad Ganaie(30岁)在距离坠机地点约15米的地方打电话。飞机坠毁的原因尚不清楚,引发了恐慌。当天早些时候,在报道巴基斯坦入侵克什米尔北部瑙谢拉附近地区的新闻时,出现飞机残骸燃烧的画面。其中一名丧生的飞行员为纳西克空军中队指挥官尼纳德·曼达瓦甘(Ninad Mandavgane, 32岁)。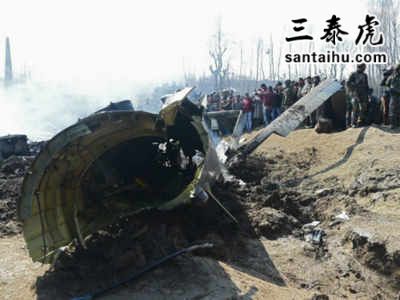 印度时报读者评论:
译文来源:三泰虎 http://www.santaihu.com/47124.html 译者:Jessica. Wu
Stud Baker - 6 hours ago
Delapidated outdated old fatigue and crash prone equipment! All the blame goes to the precious gt who took decades to finalize deals and upgrade hardware.
Its a shame so many crashes are happening without any combat.
印度空军都是一些老掉牙的战机!都怪国大党政府,花了几十年时间才升级武器。没上战场就摔了这么多,真是丢人。
Vijay Reddy - 5 hours ago
The blood of mother india is on the hands of sonia gandhi and congress. What a shame?!!!?
索尼娅·甘地和国大党的手上沾满了印度人的鲜血,真丢人! ! !
diwal - 6 hours ago
Did Pakistan have a hand in this??
这事儿和巴基斯坦有关吗?
Sumeet - 2 hours ago -Follow
thanks to scamgress, it ensured that our armed forces are never upgraded and maintained for decades which has resulted in old degraded units. to add to the misery, they now want to delay Rafael... with Bofors, chopper scam, Gandhis & Nehru are the biggest traitors. they should be issue jailed for risking National security for personal gains for years. feel sad when people still advocate for them and their allied ghatiyabandhan. sense must prevail. de acy is often misused.
这都拜国大党所赐,几十年来从不升级装备,印度军队只能使用老旧的装备。更糟糕的是,他们现在还想拖延"阵风"战机交易。甘地家族和尼赫鲁是印度最大的叛徒,"博福斯"火炮交易和直升机采购丑闻就是他们干的,他们应该被判入狱,罪名是多年来为了个人利益而枉顾国家安全。当人们还在为他们呐喊助威时,我感到很难过。大家应该理智点,不要滥用。
Touch Me - 4 hours ago -Follow
Feku is Panvati for India. Five of his appointed cabinet ministers went to ICU but they are lucky that they came back alive because of AIIMS hospital built by Nehru. Now aircraft are falling from sky even without enemy fire.
莫迪是印度的灾星,他任命的五名内阁部长都进了ICU,幸运的是,在尼赫鲁AIIMS医院的救助下,他们捡回了一条命。如今,即使敌人没有开火,我们的飞机一架接着一架坠毁
jksal35 - 2 hours ago -Follow
Feku and his bhakts are blaming Congress for the failure of air crafts. They should also mention that 300 Kg of RDX got smuggled from Pakistan during Congress era.
莫迪和他的追随者会将飞机坠毁归咎于国大党。
Bhai Sahab - 3 hours ago -Follow
Precious lives armymen lost !!! Because of low value equipment or internal negligence!!! Dont let congress come for next 1000 years
印度军人失去了宝贵的生命!! 这都怪印度军队装备太差!! 让国大党1000年都赢不了大选
MrBoobs - Right Here - 4 hours ago -Follow
The mission that Modi has been forced to start ag inst Pakistan must not stop. It must continue till ISI is wiped off
莫迪千万别停止针对巴基斯坦的行动。
Nuzhat Vani - 1 hour ago -Follow
saw this chopper crashing and falling at around 10am in the morning and it fell near to my house barely 50 meters away. What I wanted to say is that the Pilot saved my house and neighbours by taking the falling chopper away from the underneath houses and saved us from the disaster. We owe our lives to him and we salute him for that..
When I rushed to the spot it was all in flames and it was impossible for us to save any one among the seven including my neighbour Kifayat whom I saw burning. . One more thing.. there was a loud bang as if something hit it before it fell down. . After one hour police and other personnel came and brought out the seven dead bodies with local assistance.
It was the worst day of my life as I saw seven people charred to death before my eyes.. May them all rest in peace
我看到这架直升机在早上10点左右坠毁,就在离我家50米远的地方。我想说的是,坠毁时,飞行员操纵直升机避开房屋,挽救了我和我邻居的房子,也让我们幸免于难。我们的命是他们救的,向他们致敬。
当我冲到现场时,飞机着火了,7个人,我们一个都没有救下。还有,飞机坠毁时,伴随砰的一声巨响,坠毁之前好像被什么东西击中。一小时后,警察和其他人员在当地居民的协助下把七具尸体抬了出来。
这是我一生中最糟糕的一天,亲眼看见七个人被烧死。愿他们安息。
ONE LINER Challenge - 6 hours ago -Follow
THESE ARE SACRIFISES BEYOUND NORMAL EXPECTATIONS- - WE LOSE LIVES FOR THE NATION- JIHADISTS TAKE LIFE FOR ILLEGIT GAINS.
我们的士兵为国家牺牲生命,而分子是为了非法所得而丧命。
Msguptaece - 3 hours ago -Follow
Extremely sad. Thanks to the corrupt Congress , we are forced to use old and outdated equipment.
非常难过。都怪国大党,我们不得不使用陈旧过时的装备去打仗
Chandran - 6 hours ago -Follow
How stupid this happen, even you not go for war lost 6 lives! rip to those family member.
居然发生这么可笑的事情,还没上战场就送了6条命! 愿逝者安息,向他们的家人表示慰问。
Zsking - Parliament - 6 hours ago -Follow
Modi and his criminal gang responsible for all indian army life loss..
莫迪和他的犯罪团伙要为印度军队的伤亡负责。
Kartik - 59 mins ago -Follow
Mig crashes in India itself. Can it be used in war? Russian helicopters are flying coffins too
米格战机在印度本土坠毁,这战机还能派上战场吗?俄罗斯直升机也是飞行棺材。
Samit - 2 hours ago -Follow
truly embarrassing to have 1 fighter plane and 1 chopper crash. more soldiers die in crashes than in real war
一架战斗机和一架直升机坠毁,真的很尴尬。死于坠机的士兵比在战场上牺牲的还多。
Raj Pandey - Bangalore - 2 hours ago -Follow
Everyday we are seeing precious lives of our soldiers getting lost just because btch didn''t get her commisson in Augusta and Rafale deal !!
每天都看到我们的士兵失去宝贵的生命,就因为某些人没能在"阵风"交易中拿回扣,一直拖着不买!!
Kundan Kumar - 3 hours ago -Follow
Please bring Rafel Jet ASAP The value of Rafel jet is not more then that of our soldiers, let congress bark on Rafel deal, Its need of time to use rafel.
NO NEED TO. USE OUTDATED AIRCRAFTS
请尽快引进"阵风"战机。"阵风"战机并不比我们士兵的生命更值钱,让国大党尽管去叫嚣吧,我们不能再开过时的飞机
Blackbelt - Karachi - 2 hours ago -Follow
Jihadi enemies have penetrated even the maintenance crew at Air Force bases . Need to carefully review their credentials & flush out enemies.
分子甚至渗透到了空军基地的维修人员当中。需要仔细检查他们的证件,清除这些敌人。
Pulkit - 55 mins ago -Follow
All Congress bought planes are going down..
国大党购买的飞机都坠毁了。
GD - USA - 2 hours ago
This is performance of Sonia Gandhi and her servant Manmohan Singh. Just paralysis and International studies say 70% of Indian military equipment is vintage.
这是索尼娅·甘地和她的仆人曼莫汉·辛格的杰作。印度军队70%的装备都过时了。
Nn Sachdeva - New Delhi - 3 hours ago -Follow
CONGRESS is to be blamed for this. They never upgraded or bought new fighter jets, deliberately kee India vulnerable as they never wanted India to be a strong military power. This shows the consequences when people don''t exercise their voting power correctly. People of India, make sure Modi comes to power again else India would see a downfall again
这都怪国大党。没有升级现有战机,也没有采购新战机,从未希望印度成为一个军事强国。都怪人们没有投好票。印度人民,请让莫迪再次,否则印度将再次面临垮台。
Anil - 3 hours ago -Follow
It has been only 2 days, 1 Chopper down, 1 MIG down, 6 IAF persons got killed, 1 Wing Commander captured and all Pakistan lost is 1 F16 that too not sure, wonder if we are ready for the war? Why we lose so many soldiers even in encounters?
仅仅两天时间,一架直升机坠毁,一架米格战机坠毁,6名印度空军人员死亡,一名空军中校被捕,巴基斯坦只损失一架F16战机,而且还是不确定的,不知我们是否做好了开战准备?为什么这次遭遇战,我们损失了这么多士兵?
Canad - 4 hours ago -Follow
i hope its not shot by the intruding f16 of Pakistan air force. lets pray for these bravehearts
希望这不是被入侵的巴基斯坦空军F16战机击落的。让我们为勇敢的士兵祈祷
Nirmal Kumar Shee - Calcutta, India - 1 hour ago -Follow
IAF needs Rafale ASAP (demand from 2K2).They spend all Indian taxpayer money (2k4 to 2014) to increase their own bank bnce. Why congress not procured upgrade fighter jet? Shame on them
印度空军需要尽快引进阵风战机。为什么国大党不升级现有战机,为什么不采购新战机?

Anand v - 1 hour ago -Follow
Even during Kargil war we saw the same thing,Mig-21 ,Mig-27,Mi-17 down.It shows that our po iticians are forcing the forces with outdated wons.
早在卡吉尔战争期间,坠毁的也是这些米格-21,米格-27,米格-17战机
我们的政客在逼着军队使用过时的武器。
Sunny Parti - 1 hour ago -Follow
RIP, salute to brave soldiers.
Jai Hind, Jai Bharat
安息吧,向勇敢的士兵致敬。
印度必胜!
Shanker - 1 hour ago -Follow
what is happening with IAF too many mistakes, men are dying, it's disappointing
印度空军犯了太多错误,不断有士兵牺牲,真让人失望。
Logic - 4 hours ago -Follow
we lose 1 pilot to pakistan, but these pilots were killed due to corrupt and lazy po iticians of congress and bjp
我们在巴基斯坦失去了一名飞行员,都怪国大党和人民党的那帮政客,这些士兵才丧生的。
Logic - 4 hours ago -Follow
shame on congress and bjp for not providing proper planes to iaf, same in dent happened in Bangalore HAL few days before.
indian go nments is bigger enemy thn pakistan
印度国大党和印度人民党没有为印度空军提供先进战机。几天前,班加罗尔哈尔机场也发生了类似坠机事件
Bharat Army - 6 hours ago -Follow
F16 block 70 cost 80 million usd! Lca tejas 23 million usd!!
F16一架要8000万美元! 而印度国产光辉战机一架只要 2300万美元!!