Meet China's AI-powered robot host: Life-like female presenter wows audience in new entertainment show
中国AI机器人主持人:栩栩如生的女机器人主持人在新档娱乐节目中惊艳全场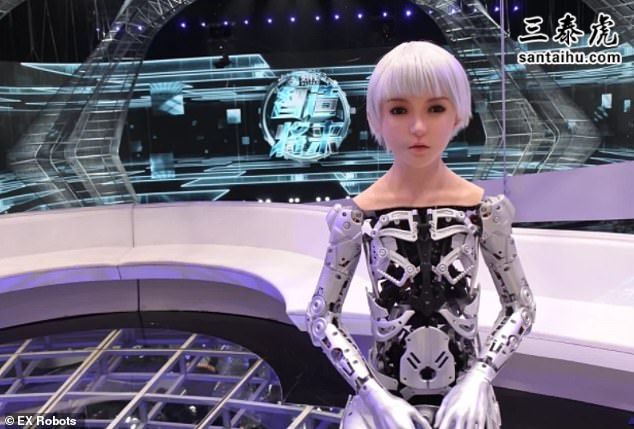 Sporting a stylish sliver bob, realistic silicone skin and exposed mechanical parts, China's new entertainment robot host is a hit among viewers nationwide.
时尚的银色波波头,逼真的硅胶皮肤,裸露的机械部件,中国新娱乐机器人主持人在全国观众中大受欢迎。
Jiang Lailai, a stunning humanoid female robot powered by artificial intelligence, joined her human co-host in presenting 'Creating the Future with Intelligence', a variety show dedicated to showcasing and explaining new technology and innovation in China.
蒋莱莱,一个由人工智能驱动的类人女机器人,和她的人类搭档主持了一档名为"智造将来"的综艺节目,该节目主要介绍中国的新技术创新项目。
After airing the first episode in prime time on January 6 on Zhejiang Television, the show, with its remarkable human-robot host duo, quickly attracted the attention of curious viewers, making it one of the most-watched shows from the station.
自1月6日在浙江卫视黄金时间播出第一期以来,这部由真人和机器人搭档主持的真人秀迅速吸引了好奇观众的注意,成为该台收视率最高的节目之一。
Each episode of the show explores a different topic on technology: the latest development of prosthetic limbs, 3-D printing technology, facial recognition technology, Big Data and mobile payments.
每期节目都探讨不同的技术话题:假肢的最新发展、3D打印技术、人脸识别技术、大数据和移动支付等等。
According to a poster by Zhejiang Television introducing the female robot host, Jiang Lailai is 18 years old and loves to sing, read comic books and 'eat snacks'.
据浙江电视台介绍这名女机器人主持人的海报显示,18岁的蒋莱莱喜欢唱歌、看漫画和吃零食。
It added that the robot has special expertise on areas of Big Data analysis, information storage and processing, and notably, 'being cute'.
该机器人在大数据分析、信息存储和处理等领域拥有特殊技能,而且外形还特别"可爱"。
Images and trailers released by the station show the female robot host standing on stage and presenting the episode's theme, demonstrating rather natural lip movement and hand gestures while talking in a soothing voice.
电视台发布的图片和预告片显示,这名女机器人主持人站在舞台上,以舒缓的声音讲述这一期的主题,展示了相当自然的口形和手势。
The android was developed by EX Robots, the first domestic lifelike robot producer based in north-east China's Liaoning province.
这款机器人是由EX Robots公司开发的,为中国本土首家仿生机器人生产商,位于东北辽宁省。
The female bot has been gaining a following since her debut on television, with videos of her being viewed more than one billion times on short video apps Douyin and Kuaishou, according to the publicity department of the go nment of Panjin city.
据盘锦市政府宣传部介绍,这款女机器人自亮相电视以来就获得了大量粉丝,其视频在短视频应用抖音和快手上的点击量已超过10亿次。
英国每日邮报读者评论:
译文来源:三泰虎 http://www.santaihu.com/47098.html 译者:Jessica.Wu
外文:https://www.dailymail.co.uk
VanGed, Shrewsbury, United Kingdom, 6 hours ago
Put her the BBC, she'll cost less and won't be biased.
BBC也需要引进这种主持人,她不要多少工资,也不会抱偏见。
Tee Hee, Weil am Rhein, Germany, 7 hours ago
Can it pour me a coffee while checking my mail?
她能在我看邮件的时候帮我倒杯咖啡吗?
cloots, nyc, 9 hours ago
life like?? looks like plastic death.
栩栩如生?看起来就像死板的塑料
MrBlackie, Wirral , United Kingdom, 10 hours ago
Can it push a Hoover about ?
她会用吸尘器吗?
Nordstjernen, Oviedo, Spain, 10 hours ago
She says a naughty four-letter word beginning with S and ending in T at least twice!
她说了脏话,一个四个字母的单词,以S开头,以T结尾(shit),至少说了两次!
Completely Average, Somewhere, United States, 11 hours ago
Looks like something I saw at Six Flags in the 1990s.
在1990年代的时候,我在六旗公园也看到过这样的机器人。
madscotsman59, lubec maine, United States, 12 hours ago
Needs Work.....a lot
还需要下大功夫改进
Mondays Child, Central, United Kingdom, 12 hours ago
Pity she wasn't ready in time to host the BAFTA's!
可惜她没能来主持英国电影和电视艺术学院奖!
The Fox, Larimore, United States, 12 hours ago
I had hoped our future robotic rulers would be benevolent, but if they are "AI overlords with Chinese characteristics," we're all DOOMED! "
我原本希望我们未来的机器人统治者是仁慈的,如果他们是"中国特色的人工智能霸主",那我们都难逃一死!"
Jacquie T, here, Canada, 12 hours ago
ghost in the shell
空壳里的幽灵
Boredomlevels9000, Downtown Wakanda, Uganda, 13 hours ago
The AI robot host 'loves singing, reading comic books and eating snacks' Now we all know this ain't true so it's obviously defective.
这位AI机器人主持人"喜欢唱歌、看漫画和吃零食",我们都知道这不是真的,她显然有缺陷。
fluidfree, Kenosha, United States, 13 hours ago
It seems they are concentrating on creating female robots. I can understand why.
他们似乎一门心思造女机器人。哦,我知道为什么。
Sixstar, Heathrow, United Kingdom, 13 hours ago
If it's artificial intelligence, can it be artificially pregnant?
如果是AI女机器人,那她会人工受孕吗?
HappyCmpr, Anytown, United States, 14 hours ago
Yeah but does it swallow?
她会吃东西?
Petrus Barba, Definitely not the EU, United Kingdom, 14 hours ago
'She' looks disconcertingly juvenile.
"她"看上去幼稚得很
Huang Long, Southampton, United Kingdom, 14 hours ago
Artificial she may be, but at least she has a great personality.
虽然她是机器人,但至少很有个性。
The Fox, Larimore, United States, 12 hours ago
Naughty human!
作死的人类!
Marshminkmellow, Crawley, United Kingdom, 15 hours ago
How many robot apocalypse movies do there have to be
要出多少部机器人启示录的电影,他们才明白其中的厉害关系
RAddison, New York City, United States, 15 hours ago
Stupid.
愚蠢
parthenon99, philadelphia, United States, 15 hours ago
I believe there's an opening on oscars night!!
我相信她将在奥斯卡之夜作开场白!!
Prince of the North, Freedom Fighter, United Kingdom, 15 hours ago
This is cool, but very creepy and unsettling at the same time. People beware, we are being replaced.
这很酷,但同时也令人毛骨悚然和不安。人类要当心了,我们正在被取代。
N.McC.., Birmingham, United Kingdom, 15 hours ago
It's the Borg Queen.
像博格女王(星际迷航)
Nat from Notts, Nottingham, 15 hours ago
And so it begins........
就这样开始了
Roger Shost, Witch City, United States, 15 hours ago
Is she available for the Oscars?
她能参加奥斯卡颁奖典礼吗?
Badpuppy, LONDON, United Kingdom, 16 hours ago
When you say lifelike 'journo'..... I'm assuming you've met actual people before.
栩栩如生?搞得你们见过似的
Tony Lara, Portland, United States, 16 hours ago
I'm sure she will offend someone?
她肯定会冒犯某些人的。
DKMOUNTAIN, Rockledge, United States, 16 hours ago
Yea I'm surprised someone hasn't already claimed this AI is whitewashing Chinese culture somehow.
让我吃惊的是,居然没有人说人工智能正在以某种方式粉饰中国文化。
AnotherAngryVo1ce, Devon, United Kingdom, 16 hours ago
Stunning isn't the word for it. Creepy or scary would perhaps be more appropriate.
用惊艳这个词来形容是不合适的。令人毛骨悚然或害怕也许更合适。
Relativity, Somerset, United Kingdom, 16 hours ago
Think of all the money the BBC could save, by axing those grossly overpaid autoque reading cuties!
想想看,如果BBC用这种主持人,可以节省多少钱,炒掉那些薪水过高的主持人吧!
Jim, London, United Kingdom, 14 hours ago
The BBC isn't interested in saving our money!
BBC对省钱不感兴趣!