Army to decide time, place of response: PM Modi on Pulwama attacks
莫迪总理就普尔瓦马袭击事件发表讲话:印度军队将决定何时何地作出回应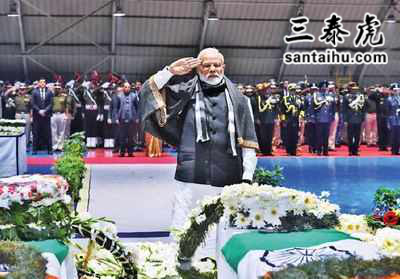 JHANSI/NEW DELHI: The possibility of a military strike against Pakistan appeared to loom large on Friday after the Modi government directed the armed forces to start preparing to avenge the killing of 40 CRPF personnel by ISI-controlled terrorist outfit Jaish-e-Muhammed.
占西/新德里: 周五,莫迪政府指示武装部队开始准备就40名中央后备警察部队人员被杀的事件进行报复,这似乎加大了对巴基斯坦发动军事打击的可能性。
The political clearance for a military response was given by the PM-led Cabinet committee on security against the backdrop of mounting anger and horror over the biggest-ever terror attack on security forces in J&K and a growing clamour for retaliation against Pakistan, which has been held responsible by the government for the atrocity.
对发生在查莫克什米尔有史以来规模最大的恐怖袭击的愤怒和恐惧与日俱增,以及要求对巴基斯坦进行报复的呼声日益高涨,由印度总理领导的内阁安全委员会批准进行回应,政府认为巴基斯坦应对此次暴行负责。
Sources said the CCS meeting factored in the possibility of an armed confrontation with a bellicose neighbour, but resolved not to be deterred by the risk of escalation. "They are going to get a nasty surprise yet again," said a senior government source familiar with the deliberations which were attended by home minister Rajnath Singh, foreign minister Sushma Swaraj, finance minister Arun Jaitley, defence minister Nirmala Sitharaman, NSA Ajit Doval and Army chief General Bipin Rawat among others.
有消息称,内阁安全委员会会议考虑到了与好战邻国发生武装冲突的可能性,但决不被升级的风险吓倒。印度内政部长拉杰纳特•辛格、外交部长斯瓦拉吉杰、财政部长阿伦•贾特里、国防部长西塔拉曼、国家安全局局长阿吉特•多瓦尔和陆军上将比平•拉瓦特等人出席了此次会议。
Sources also indicated India's response will focus, just like the surgical strikes launched in the aftermath of the attack on the Army camp at Uri, on terror infrastructure inside Pakistan. "Let them try to thwart us," one of the participants said. The stand was articulated by Modi who, while addressing a public meeting in Jhansi in UP, said, "Our brave jawans have sacrificed their lives in the service of the nation. Their sacrifice will not go in vain. I am giving this assurance to 130 crore Indians from the land of Jhansi, the land of the brave," he said.
印度的回应将集中在巴基斯坦境内的恐怖基础设施上,就像在乌里军营遇袭后发动的外科手术式袭击一样。莫迪在北方邦占西的一次公开会议上发表讲话时明确表示,"我们勇敢的士兵为国家牺牲了自己的生命。我在勇士之乡-占西向13亿印度人保证,他们不会白白牺牲的。"
"The next steps will be taken by our armed forces. What should be the time, what should be the place and what should be the form, they have been authorised to take all these decisions," he added.
"我们的武装部队将采取下一步行动。他们已获授权决定何时何地以何种形式作出回应。"莫迪补充道。
印度时报读者评论:
译文来源:三泰虎 http://www.santaihu.com/47058.html 译者:Jessica.Wu
Matam - 11 hours ago -Follow
This time we must also clean up our enemies within India.
这次,我们还必须清除印度内部的敌人。
Rafael Federer - 12 hours ago -Follow
Ofcourse it''s a mistake, a grave mistake and Pakistan and the anti-nationals/terrorists have to pay heavy price for this. India should go all out and punish them, well not just them, their families too. Only when India does this such crimes will reduce. We can''t let our brave soldiers to die like this. We stand by our brave soldiers.
这是一个错误,一个严重的错误,巴基斯坦得为此付出沉重的代价。印度应该全力以赴惩罚他们,不仅是他们,还有他们的家人。印度只有这样做,类似事件才会减少。我们不能让勇敢的印度士兵这样死去。我们与勇敢的士兵同在。
Iron - New Delhi - 11 hours ago -Follow
If Modi government does not take serious action now, no one can. It's right time to press the button!!!
如果莫迪政府现在不采取行动,以后就没人敢行动的。该按下按钮了
Keshava Murthy - 11 hours ago -Follow
Pakistan is at the brink of bankruptcy.... They cannot afford to escalate into a full fledged war. It''s high time we should launch an attack and get back the POK once for all!!
巴基斯坦正处于破产的边缘…他们承担不起全面战争的后果。现在是我们发动进攻,彻底夺回巴控克什米尔的时候了!
Rafael Federer - 11 hours ago -Follow
Enough of worlds, and let''s do some action. These idiots will not listen to words or threats they only deserver the harshest punishment. India should go all out. This is a clear invitation for India to do some hard hitting than being a master of words.
说的够多了,让我们行动起来吧。这些白痴听不进去的,也不怕威胁,他们应该受到最严厉的惩罚。除了夸夸其谈之外,印度还应该采取一些强硬措施。
raghavendra GS - 10 hours ago -Follow
Respected Modi Sir, We all Indians are there with you and stand with our Indian Army Brother''s. All enemies of our country( internal or external) who are involved in this attack has to be tortured like in hell and killed....
尊敬的莫迪,我们印度人都支持你,与我们印度士兵站在一条战线上。所有参与这次袭击的敌人(无论是国内的还是国外的)都必须受到地狱里一样的折磨……
Bharat Sharma - 11 hours ago -Follow
NOW thats how a leader speaks...
这就是领导者说话的方式……
MAHADEV KUMAR - 6 hours ago -Follow
Donot blame pakistan for everything. This is our intelligence failure
不要把一切都归咎于巴基斯坦。这是我们的情报失误。
Anil - 7 hours ago -Follow
Modi proving biggest failure as PM. Only Speeches & Jumla Baazi.....
莫迪是最失败的总理,只会说不会做。
Kosmic Power - 9 hours ago -Follow
Modi on the move... Stand with him Hindus, for no other Government will do it.
莫迪在行动…与他站在一起的是印度教徒,其他政府都不会这么做。
Rajesh Patel - 5 hours ago -Follow
Step 1: Immediately stop the flow of Indus River Waters to Pakistan.
Step 2: Prepare an army attack.
Step 3: Give a free hand to army in J&K from now on.
Step 4: Cripple their economy by isolating Pak. They are on the brink of bankruptcy.
No water, No money, Army Attack.
第一步:立即截断流向巴基斯坦的印度河流。
第二步:准备军队进攻。
第三步:从现在开始,放手让军队驻扎在扎谟克什米尔。
第四步:孤立巴基斯坦,削弱他们的经济。他们正处于破产的边缘。
他们没水又没钱,我们的军队发起进攻。
Varinder - 5 hours ago -Follow
dear Modi ji, big talk , people are not forgetting these incidents and also what you spoke during your 2014 election. you have been disaster on many front. kashmir is one of them . or you have now realised that when in power life is not easy.
莫迪只会说大话,人们不会忘记这些事件,也不会忘记你在2014年大选中所说的承诺。
Krishna Darooka - newyork usa - 6 hours ago -Follow
this is the work of Modi who thought he could fool public
friends Modi will try now anything to win loksabha election
莫迪认为他可以愚弄公众。为了赢得人民院的选举,他会不惜一切代价。
pradeep kumar Sahu - 6 hours ago -Follow
This is another jumla from our dalal modi
这又是莫迪的口头承诺。
Dilip Kapasi - Mumbai, India - 6 hours ago -Follow
The damage Modi should look for to do should be in the mainland of Pakistan, not just in PoK
莫迪不仅仅要在巴控克什米尔做出回应,还应该在巴基斯坦本土展开行动。
Raut Babarao - 7 hours ago -Follow
There is no need to attack Pakistan, they have already no food to eat , they will die fighting each others, at first kill the handfull supporters of Pakistan military living in India.
没必要袭击巴基斯坦,他们已经没有饭吃了,他们会自相残杀的。
Smart Boy - 11 hours ago -Follow
We need to clean pakistan from the map...... make it possible modi .. only u can do it
我们要把巴基斯坦从地图上抹去…只有莫迪能做到
Ram ji - America - 11 hours ago
I never see Gujarati in army or crp.they are coward.
我从来没见过古吉拉特邦人参军,他们是懦夫。
Kabir - 3 hours ago -Follow
Dear respected PM. In my view it needs to clean our own home first before blaming the neighbour.
敬爱的莫迪总理:在我看来,"攮外必先安内",需要先肃清内部敌人,然后再找邻居算账。
Premal Shah - 3 hours ago -Follow
Mr. Modi is the only PM who can avenge the deaths of ourJawans. NRI''s like me in USA are awaiting his next move. Mr. Modi, time to stop Pakistan permanently and prove your word, because only you are capable of doing this!
莫迪是唯一能为印度士兵的死复仇的总理。海外印度裔,比如我,就在美国等待他的下一步行动。莫迪先生,是时候兑现你的诺言了,只有你有能力这么做!