Mission complete: Nasa announces demise of Opportunity rover
使命完成:NASA宣布"机遇号"探测器"死亡"
WASHINGTON: During 14 years of intrepid exploration across Mars it advanced human knowledge by confirming that water once flowed on the red planet - but Nasa's Opportunity rover has analyzed its last soil sample.
华盛顿:在对火星进行了14年的大胆探索后,"机遇号"探测器证实火星上曾有水流过,丰富了人类的知识。
The robot has been missing since the US space agency lost contact during a dust storm in June last year and was declared offi ally dead Wednesday, ending one of the most fruitful missions in the history of space exploration.
自去年6月在一场沙尘暴中失去联络以来,"机遇号"探测器一直下落不明,并于星期三正式宣布"死亡",从而结束了太空探索史上最富有成果的任务之一。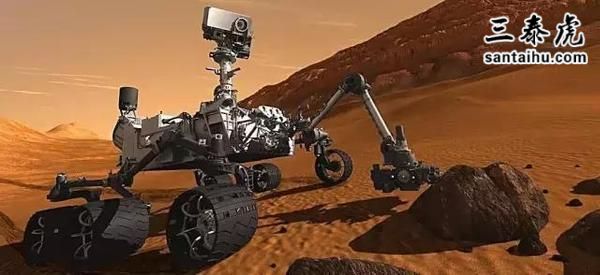 Unable to recharge its batteries, Opportunity left hundreds of messages from Earth unanswered over the months, and Nasa said it made its last attempt at contact Tuesday evening.
由于无法给电池充电,"机遇号"在过去几个月里留下了数百条未回复的信息。NASA表示,在星期二晚间进行了最后一次联络尝试。
"I declare the Opportunity mission as complete," Thomas Zurbuchen, associate administrator of Nasa's Science Mission Directorate told a news conference at mission headquarters in Pasadena, California.
NASA科学任务理事会副署长Thomas Zurbuchen在加州帕萨迪纳的任务总部举行的新闻发布会上表示:"我宣布"机遇号"的使命已经完成"。
The community of researchers and engineers involved in the program were in mourning over the passing of the rover, known affectionately as Oppy.
参与这个项目的研究人员和工程师们都在为"机遇号"的死亡哀悼。"机遇号"被亲切地称为"Oppy"。
"Spent the evening at JPL as the last ever commands were sent to the Opportunity rover on #Mars," Tanya Harrison, director of Martian research at Arizona State University, tweeted after a stint at Pasadena's Jet Propulsion Laboratory.
亚利桑那州立大学火星研究主任塔尼亚·哈里森在帕萨迪纳喷气推进实验室工作一段时间后在推特上发文称:"在喷气推进实验室度过了一个晚上,最后的命令被发送到火星上的机遇号探测器"。
"There was silence. There were tears. There were hugs. There were memories and laughs shared. #ThankYouOppy #GoodnightOppy," she wre.
"有沉默、有眼泪、有拥抱、有共同的回忆和欢笑。感谢Oppy。"她写道。
"Godspeed, Opportunity," tweeted Keri Bean, who had the "privilege" of sending the final message to the robot.
"祝你好运,机遇号。"Keri Bean发推特说,他把最后的信息发送给机遇号。
"Hail to the Queen of Mars," added Mike Seibert, Opportunity's former flight director and rover driver, in another tweet while Frank Hartman, who piled Oppy, told AFP he felt "greatly honored to have been a small part of it."
"向火星女王致敬,"机遇号前飞行主管、探测器驾驶员迈克·塞伯特在另一条推特上写到。Oppy号的驾驶员弗兰克·哈特曼告诉法新社,他"非常荣幸能成为其中的一员"。
The program has had an extraordinary record of success: 28.1 miles (45.2 kilometers) traversed, more than the Soviet Union's Lunokhod 2 moon rover during the 1970s and more than the rover that US astronauts took to the moon on the Apollo 17 mission in 1972.
该任务取得了非凡的成功:穿越了28.1英里(45.2公里),超过了上世纪70年代的"月球漫步者2号"(Lunokhod 2)月球车,也超过了1972年美国宇航员在阿波罗17号登月任务中搭载的月球车。
Opportunity sent back 217,594 images from Mars, all of which were made available on the internet.
机遇号传回了217594张火星的照片,这些照片都可以在互联网上看到。
"For the public the big change was that Mars became a dynamic place, and it was a place that you could explore every day," Emily Lakdawalla, an expert on space exploration and senior editor at The Planetary Society.
艾米丽·拉克达瓦拉是太空探索专家,也是行星学会的高级编辑,她说:"对公众来说,最大的变化是火星变成了一个充满活力的地方,一个可以每天探索的地方"。
Opportunity landed on an immense pn, and spent half its life there, traversing flat expanses and once getting stuck in a sand dune for several weeks. It was there, using geological instruments, that it confirmed that liquid water was once present on Mars.
"机遇号"降落在一片广袤的平原上,在那里度过了它的半生时光。正是在那里,利用地质仪器,它证实了火星上曾经存在液态水。
印度时报读者评论:
译文来源:三泰虎 http://www.santaihu.com/47044.html 译者:Jessica.Wu
Mukesh - 8 hours ago -Follow
Sad to know that the rover died in the storm. It made astounding discoveries on Mars, some of them are:
Atmospheric Dynamics details
Martian Dust De ls
Modern Water or Frost
Water Interacting with Hot Rock
An Ancient Hydrothermal Sy em
Wind-Blown Ripples
Mars Meteorites
A Habitable Environment Long Ago
Ancient Acidic Lakes (blueberries)
Hope more will come soon from other missions.
听说"机遇号"在风暴中丧生,我很难过。它在火星上有惊人的发现,其中一些是:
大气动力学的细节
火星尘暴
现代水和霜
水与热岩石相互作用
古老的水热系统
被风吹拂的涟漪
火星陨石

古老的酸性湖泊
希望其他任务能尽快完成。
ONE LINER Challenge - 8 hours ago -Follow
NASA SHOULD HAVE CKD IT OUT WITH ISRO ON HOW TO REVIVE-
NASA应该和ISRO一起想办法唤醒这个探测器。
Bhagavathy Pil - Shangli - 8 hours ago -Follow
There is no Rover or Opportunity in Mars, all filmed in NASA studio & Nevada Desert.
火星上没有"机遇号",都是在NASA的工作室和内华达州沙漠拍摄的。
Ali Afzar - Mumbai - 6 hours ago -Follow
An emotional day... Opportunity made tremendous progress in our understanding of Mars. The rover was a lone crusader on the Red Planet. Opportunity will be missed.
"机遇号"让我们了解了火星。它是这个红色星球上唯一的十字军战士。"机遇号"将被铭记。
Gem - 4 hours ago -Follow
Sad and Glad Moment for humanity. Sad because it died and Glad that it helped in knowing the Red Planet. RIP #Oppy Opportunity. We''ll Miss You!
悲喜交加的时刻。悲伤是因为"机遇号"走了,欢喜是因为它帮助我们了解了这个红色星球。安息吧,机遇号,我们会想你的!
Kumar Bakshi - 5 hours ago -Follow
Perfect ..make a soup of our oceans by dumoing plastic and killing all the marine life and than go to mars in search of water only to leave another trash name rover on its soil and call it success ..human kind i tell u
我们倾倒塑料,把海洋变成了一锅汤,杀死了海洋生物,然后去火星找水,又在火星上留下探测器垃圾,还称之为成功。
Pijush - 5 hours ago -Follow
why can't NASA explore the technique to revive dead rover. Being dead means discharged batteries. I think NASA can do something on this
为什么NASA不找找复活死亡火星车的技术。"死亡"意味着电池放电。我认为NASA可以做些什么。
Samuel - 3 hours ago -Follow
when humans will land, they will repair it. till then RIP.
人类以后登陆火星时,会修好机遇号的。
Dilip Kumar - 4 hours ago -Follow
Miracles happened earlier so it may again and this rover will one day again send back signals to earth..... good luck......
以前也有奇迹发生,有一天,这个探测器可能将再次发送信号回地球…祝好运……
Sanjoy Pandey - 6 hours ago -Follow
The data exchanged so far need to be properly analysed. .
需要好好分析到目前为止交换的数据。
Bharat Tonse - 6 hours ago -Follow
CONGRATS, AND THANK YOU NASA
祝贺并感谢NASA
Mukesh - 5 hours ago -Follow
Well...now we have InSight lander roaming around the surface of Mars continuing the discovery.
现在我们有"洞察号"在火星表面继续探索。
Rakesh - Delhi - 39 mins ago
Oppy has left a legacy and hope her descendants will hover again on Mars surface and hope an Indian IndoMars rover will fly to the Planet.
"机遇号"留下了一份遗产,她希望自己的后代能再次在火星表面翱翔,希望印度的IndoMars探测器能飞到火星。
Pradeep - 1 hour ago -Follow
Amazing advances in space technology, getting loads of information from far distant space!
空间技术的惊人进步,从遥远空间获取大量信息!
Anand KS - Bangalore, India - 1 hour ago -Follow
Good by Opportunity
对"机遇号"来说是好事
allauddin--khiljee1 - Rawaldi - 1 hour ago -Follow
RIP
愿安息
SYED ABDULMUQTADIR - Jeddah - 1 hour ago -Follow
Opportunity Rover dead but new chapters will be written by NASA.
虽然"机遇号"已经死亡,但新的篇章将由NASA撰写
Gundumani - 1 hour ago -Follow
Some bhakts will say, India did all these 5000 years ago.. Students of Biplab..
一些印度人会说,印度5000年前就做到了
Arun Choudhary - 4 hours ago -Follow
ISRO is more active
ISRO更活跃
Nation - Others - 7 hours ago -Follow
America has to con trate on Moon first for complete exploration not on Mars.Knowing nothing about Moon why it is con trating on Mars? Space Ponzy Scam
美国还是首先集中精力探测月球吧,而不是探测火星。对月球一无所知,为什么去关注火星? 这是空间庞氏骗局。