What are some bitter truths about life in India?
在印度生活,有什么事儿让人难以接受?
QUORA网站读者评论:
Anonymous
Updated Feb 3, 2017 · Upved by Tushar Sharma, lives in India (1995-present)
1.Man and woman are in a live in relationship. They have consensual sex. Like all couples they have an argument. They break up. Woman cries 'rape'. The man is instantly arrested and his life ruined.
2.People pi*s, sh*t, spit, vomit, litter on the streets and talk about how much they love India and its culture and how the go nment is not doing its job. LOL!
3.Parents, teachers and elders are Gods no matter what. You don't question them even if they are physically or emotionally abusive. They are always .
4.Almost everyone has a pathetic and annoying habit of staring at you like an animal. Stare back and you'll see cowardice. They'll quickly look away.
5.The law can literally be bought with money and influence. (Salman Khan, Sanjeev Nanda, Manu Sharma, Vikas Yadav)
1.热恋中的男女两厢情愿上了床。就像所有的夫妻一样,他们也会争吵。然后他们分手了,女人就哭诉男人"强奸了她"。这个男子立即就会被捕,一生都毁了。
2.人们一边在大街上随地大小便、吐痰、乱扔垃圾,一边高谈阔论着他们有多爱印度,多爱印度文化,政府是如何不作为。哈哈!
3.父母、老师和长辈无论何时都是神。就算他们体罚了你或精神上虐待了你,你也不能质疑他们。他们总是对的。
4.几乎所有人都有可怜兮兮又令人讨厌的病,就是像看动物一样盯着你看。如果你瞪回去,你会发现他们会很懦弱地马上把视线挪开。
5.有钱有势就能操纵法律。(萨尔曼·汗,桑吉夫·南达,马努·夏尔马,维卡斯·亚达夫)
译文来源:三泰虎 http://www.santaihu.com/46838.html 译者:Joyceliu
6.Women are treated like second class citizens in most traditional families. They must shut up, follow their men and never voice their oions.
7.Re gious institutions spend hundreds of crores decorating their buildings while the poor standing outside beg for a few grains of rice.
8.We have an outdated education sy em that only focuses on a person's ability to memorize. People think that getting a degree alone will get them high paying jobs. LOL!
9.Art, sport, innovation, creativity are ignored. There are no youth sy ems for any of these. India is backward in all these fields in spite of being home to 1.3 billion people.
10.In a road accident the blame is by default ned on the driver of the bigger vehicle no matter whose fault it is.
6.在大多数传统家庭中,妇女被视为二等公民。她们必须静静地跟随夫君,永远都不要发表意见。
7.机构花费数十亿卢比装饰他们的建筑,而穷人站在外面苦苦乞讨几粒米来果腹。
8.我们的教育体系已经腐朽,只注重学生的记忆能力。人们认为只要获得学位就能找到高薪的工作。哈哈!
9.艺术、体育、改革、创新都被忽视了。这些领域都没有青训体系。尽管印度有13亿人口,但在这些领域都很落后。
10.一旦发生交通事故,无论是谁的过失,责任都默认为归咎于大车司机。
11.A 30 year old unmarried man is either impent, gay, depressed, underpaid or not human. A 30 year old unmarried woman brings bad name to her family. She is abnormal and probably having affairs with many men.
12.People aspire for Western jobs, cars, gadgets, clothes, movies/TV shows and H-1B Visas, but blame Western culture for all the problems in India. LOL!
13.Most people are inherently racist. Terms like Madrasi, Chinki, Kalu, Bihari are accepted derogatory jokes. White people are welcomed with open arms, but other nationalities especially from African and Asian regions face hatred, isolation and sometimes violence. These same Indians cry about racist treatment when they go to US, UK and Australia. LOL!
14.And lastly, stating any of the above obvious facts greatly offends many people. Only a small part of the population wants to acknowledge and sincerely work towards change. The majority simply live in denial.
11.30岁的男人如果还没结婚,要么是阳痿,同性恋,抑郁症,收入过低,要么干脆就不是人。30岁女子如果还没结婚,会给她的家庭带去坏名声。她不正常,可能和很多男人存在暧昧关系。
12.人们都想要西方的工作机会、汽车、小玩意、服装、电影/电视节目和H-1B签证,但又把印度的所有问题都归咎于西方文化。哈哈!
13.大多数人天生就是主义者。像Madrasi, Chinki, Kalu, Bihari这样的词都是大家听惯的带有贬义的笑话。白人们很受青睐,但其他国家的人,特别是来自非洲和亚洲地区的人,则被人仇恨、孤立,有时甚至还有。同样也是这些印度人,去到美国、英国和澳大利亚时,又会因为遭受主义虐待而哭闹。哈哈!
14.最后,我说的这些显而易见的事实会冒犯很多人。只有少数人愿意承认并真诚地为改变而努力。大多数人只会一味地否认。
Onkar Ashtaputre, an Indian with naturally brown hair and fair skin.
Santoshi Matsa - weightlifting - Silver - Commonwealth 2014.
Seema Antil - discus throw - Silver - Commonwealth and Gold - Asian games 2014.
Parupalli Kashyap - Badminton singles - Gold - Commonwealth 2014.
Vikas Gowda - shot put - Gold - Commonwealth 2014.
Jitu Rai - 10m & 50m pistol - Gold - Commonwealth 2014.
Santoshi Matsa -举重-银牌-2014年英联邦运动会。
Seema Antil -铁饼-银牌-英联邦运动会;金牌-2014年亚运会。
Parupalli Kashyap -羽球单打-金牌-2014年英联邦运动会。
Vikas Gowda -铅球-金牌-2014年英联邦运动会。
Jitu Rai - 10米和50米手枪-金牌-2014年英联邦运动会。
I just picked a few winners from the list and wre them down. In Glasgow, India won a total of 15 Gold, 30 Silver and 19 Bronze medals. How many of these received the amount of spotlight they deserved?
It takes a movie starred by a renowned celebrity to make our medalists famous.
我只是从名单中挑了几个获胜者写出来。在格拉斯哥,印度总共赢得了15枚金牌,30枚银牌和19枚铜牌。这些人中有多少得到了他们应得的关注?
只有明星主演的电影才能使我们的奖牌获得者出名。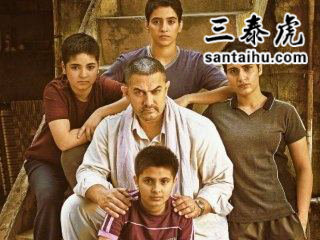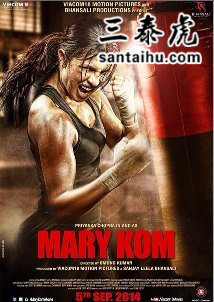 It really saddens me that our sportsmen -fighting ag inst heavy odds, despite getting pathetic support from the administration, training like sh*t - get so little limelight from our media (TV/News/Social).
They are not welcomed as gloriously as our beloved cricketers. Some of them are not even welcomed. They have to try hard to get an auto rickshaw to get home. The prize money is trifling. Not to mention the help from our go nment regarding their training using the funds provided. There are lot of issues.
And the bitter truth is, very few people are concerned with sports other than cricket (and football nowadays).
Then some people whine about how a country of 1.336 billion people can manage to achieve only 2 medals in Olympics.
我们的运动员——尽管得到了政府可怜的支持,训练得像狗一样——却在逆境中拼搏,但鲜少受到媒体(电视/新闻/社交媒体)的关注,这真的让我很难过。
他们不像我们喜爱的板球运动员那样受欢迎。其中一些甚至不受人们欢迎。他们甚至坐不起嘟嘟车回家。奖金微不足道。更别提我们的政府在他们使用拨款培训时能帮上什么忙。问题非常多。
残酷的事实是,除了板球(和足球),很少有人关心其他运动。
然后又会有人跳出来抱怨,一个拥有13.36亿人口的大国,怎么只在奥运会上获得区区两枚奖牌。
Daniel Bradley, Founder at ViralEvents99 (2017-present)
Thanks to Sunny Leone, I am perfectly capable of answering the above question.
It was January 23, 2017 around 11 pm. My brother finished watching Motu Patlu and I decided to go for some new songs. I stopped at 9XM after seeing Kaabil's title song was up next, followed by la Main la from Raees.
多亏了Sunny Leone,我完全有能力回答上面的问题。
那是2017年1月23日晚上11点左右。我哥哥看完了《Motu Patlu》,我决定听几首新歌。我在9XM台看到了Kaabil的主打歌《up next》,接着是来自Raees的《la Main la》。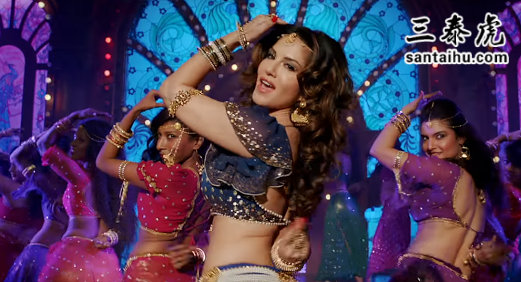 My parents were doing some paperwork on the centertable. As soon as Kaabil ended, a short act of Bade Che's playlist started. I thought it would last for a minute and decided to put my phone on charge in this interval. It took some time to find the datacable. I could hear the starting music of la Main la from my room.
As soon as I returned to our drawing room, my mother pointed to the television and asked, "Who is that actress? I think I have seen her before". I was stupefied for a few seconds, then replied, "Ma, she is a new actress. This is her first role in a SRK film".
我父母当时正在餐桌上忙着文书工作。Kaabil一唱完,Bade Che的演出就开始了。我以为会持续一分钟,就决定趁这个时间给手机充电。我花了点时间才找到数据线。然后就听到我房间里传出了la Main la片头曲的音乐声。
我一回客厅,妈妈就指着电视问:"那个女演员是谁?我以前见过她。"我愣了几秒钟然后回答:"妈,她是个新演员。这是她在SRK电影中的第一个角色。"
"What type of films does she do?" my father asked.
"Papa, she generally acts in short films and documentaries. She will get better chances in the future"
"Oh, this country has a lot of talent. I hope these women get more opportunities."
I remained silent. By that time, the next song Enna Sona from OK Jaanu was going to end. Ads started playing on 9XM. The first ad was Bullet Deo, the next one was my doom. It was a Manforce Condom ad with Sunny Leone in her seductive postures and exp ions.
"她演什么类型的电影?"父亲问道。
"爸爸,她一般会出演短片和纪录片。她将来会有更好的机会。"
"哦,这个国家有很多人才。我希望这些女性能得到更多的机会。"
我保持沉默。那时,OK Jaanu的下一首歌Enna Sona就要结束了。9XM开始播广告了。第一个广告是Bullet Deo,下一个是My Doom,一个男用避孕套的广告,Sunny Leone摆出了诱人的姿势和表情。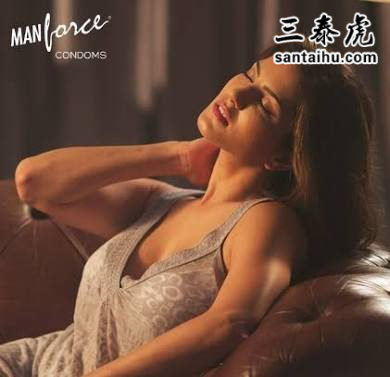 Both my Mom and Dad were watching the ad with undivided attention. I was like, "What is happening?". My Dad broke the silence - "Surely, this lady has a lot of talent" and smiled.
It was a facepalm moment for me. I made up a homework excuse and left the room immediately. For the next two days, I couldn't make eye contact with my parents, but it eventually became normal as a few more days passed.
Since most Indians are quite orthodox and conservative about their culture and ethics, often the younger generation has to face problems in freely communicating with them. Still now, talks about sex, intimacy and the human body are restricted to certain limits of knowledge, beyond which our elders consider them as social taboos and moral degradation
我妈妈和爸爸都全神贯注地看广告。我郁闷了"发生了什么?"爸爸打破乐沉默,笑着说:"当然,这位女士很有才华。"
这对我来说是一个令人捂脸的时刻。我编造了要做家庭作业的借口,马上离开了房间。在接下来的两天里,我根本不敢看父母的眼睛,但随着时间的推移,终于恢复了正常。
大多数印度人对自己的文化和道德观念都十分正统和保守,年轻一代在与他们自由交流时往往不得不面对这个问题。时至今日,关于性、亲密关系和人体的讨论仍然被局限在一定的知识范围内,我们的长辈认为超出了,就是社会禁忌和道德堕落。
Rajarshi, works at PowerGrid Corporation of India Limited
1.Career means only medical and engineering. Anything else?
2.Parents have no idea what's going on in their teenage son/daughter's life, what hurdles they are facing, how confused they are.
3.You are supposed to spend about 40 years of your life with a complete stranger and call it marriage. God forbid if you can't take it any more and file for divorce!
4.The matrimonial sites are filled with profiles of girls who call themselves 'Modern with traditional values.' I don't know what that means.
5.The largest number of poor people reside in our country, and our gt aims to improve internet.
1.职业就只意味着医学和工程学。还有其他吗?
2.父母不知道自己十几岁的儿子/女儿的日常生活,他们面临着什么样的障碍,他们有多困惑。
3.你得和一个完全陌生的人共度人生中的40年时光,把它称之为婚姻。如果你无法再忍受,想要离婚,那就休想了!
4.婚介网站上充斥着自称"具有传统价值观的现代女性"的个人介绍。我是看不懂的。
5.我国贫困人口全球最多,但政府的目标却是改善互联网。
6.Reservations in every important sector, so that the talented people sit out while trashy ones are responsible for betterment. And the irony is, the constitution actually has a section for Equality!
7.You need to compete with lakhs of candidates to be an administrative officer, but need virtually no education to be a minister.
8.We denounce products only as long as it's not our turn to buy those products.
9.We live a hard life. We travel for hours in local trains with unbelievable crowd, daily, just to reach our job. We are tired trying to provide for our family. So we don't bother to care about a raped and murdered girl on the roadside.
10.North Indians don't know South Indian languages, and vice-versa. Most of the mainland Indians don't consider North-east people as even Indians, and call their own countrymen as Chinkis and Nepali. We are a nation only by name.
11.Patriotism in us is strictly restricted to cricket matches and a handful of patriotic songs.
6.重要的行业都有预留制,抛弃有才能的人,选了一堆垃圾一样的人。具有讽刺意味的是,宪法里就有一章关于平等的条文!
7.要想成为一名公务员,你需要与成千上万的候选人竞争,但要成为部长,基本上不需要受过教育。
8.只要我们还没买某种商品,我们就开始大力声讨。
9.我们过着艰苦的生活。我们每天都要坐几个小时的当地火车,在难以置信的人群中穿梭,只为到达我们的工作地点。我们厌倦了养家糊口。所以我们不关心路边被奸杀的女孩。
10.北印度人听不懂南印度人的语言,反之亦然。大多数印度大陆人甚至认为印度东北的人不是印度人,把自己的同胞称为和尼泊尔人。我们只是一个名义上的国家。
11.我们的爱国主义仅存在于板球比赛和少数几首爱国歌曲中。
I can go on and on, but let's say these cover the main themes. Each and every individual is proud because they are Indian. Irony is, no one is truly Indian in India.
我还能继续说下去,但是重要的都已经提及了。每个人都为自己是印度人而自豪。但讽刺的是,在印度没有人是真正的印度人。
Subhronil Rakshit, poor but with a lot of opportunity
Nearing 30: Tale Of An Indian Woman
奔三:一个印度女人的故事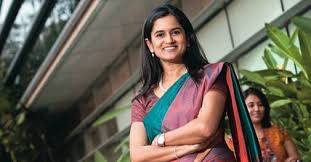 I am among those ill-fated women on this earth who are nearing 30. I often get feelings of nearing doom. In fact, why nearing doom? Reached doom already. I see younger girls settling down and even attaining motherhood. I see younger blood entering my organization and the feeling of reaching doom only strengthens. I feel like I am nearing my end. Actually I am just 28. Just 28, any 45-year-old will say. Then why do I feel that I am running out of time? Why do I continuously get the feeling that it's over?
My fre m, my identity, my say, and my goals — all seem to be nearing their bitter, unfulfilled end. Someday I will get married. I must not fly too high. I must keep my feet firmly on the ground. I must be aware of the responsibilities that have been earmarked for me since my birth, to be given to me when I reach 'this age'. I must be ready to make sacrifices for the hapess of my family. I must be happy with whatever I get. Is this what all 28 years old women out there feel too? Maybe yes.
我是这个世界上那些快30岁的不幸女子中的一员。我经常感到厄运将至。事实上,为什么厄运将至?因为末日已至。我看到比我年轻的女孩成了家,甚至成了母亲。我看到比我年轻的血液成为我的同事,那种走向毁灭的感觉越来越强烈。我觉得我快要死了。其实我才28岁。才28岁呢,任何一个45岁的人都会这么说。那为什么我觉得我的时间不多了呢?为什么我总觉得一切都完了?
我的自由、我的身份、我的言论和我的目标——所有这些似乎都在接近它们痛苦而未实现的目标。总有一天我会结婚的。我不能飞得太高。我必须脚踏实地。我必须意识到从我出生起就注定要承担的责任,当我到了"这个年龄"就要承担的责任。为了家庭的幸福,我必须做好牺牲的准备。我必须对我得到的一切感到高兴。这也是所有28岁的女性的感受吗?也许是的。
A 28-year-old professional today is an independent woman, with her own bank account, own house, own career and own dreams. Gone are the days, when the woman was supposed to dream her husband's dream. Today, she has her own dreams, visions of future and goals. She seeks a life-partner who will walk with her on the journey of her dreams. She will feel fulfilled only if those visions come true.
We can't see a girl striving on the life path alone. Unsettled, depressed, lonely, they call her. I call her passionate, brave and credible. We talk about fre m, equality and woman empowerment. Those are words said without knowing their meaning.
如今,28岁的职业女性已经是独立女性,拥有自己的银行账户、自己的房子、自己的事业和梦想。女人仰仗丈夫过活的时代一去不复返了。今天,她有了自己的梦想,对未来的憧憬和目标。她寻找能和她一起踏上梦想之旅的终生伴侣。只有当这些幻想成真,她才会感到满足。
我们不能接受女孩独自在人生的道路上奋斗。他们会说她不安、沮丧、孤独。而我称她热情、勇敢、可靠。我们谈论自由、平等、赋予妇女权力。可那些都是些不知所谓的话。
Where does equality go when a girl is not allowed to pursue her passions after marriage? What happens to fre m when a girl is expected to marry and settle down even before she understands herself and what she wants from life? Where is the fre m to allow girls to live and experience life on their own and make them stand up on their own? Why are women still not seen in creative, challenging roles like pilots, photographers and chefs? Because we don't like to see them there. Because we are afraid to grant them this real fre m. The fre m that really matters. However open-minded parents are or the husband is, stereotype comes in. Women are still expected to be the ones making compromises. Parents still teach their girls to learn to compromise. Why? Why aren't they taught to look up and dream high? Why aren't they encouraged to love themselves and fight for their dreams?
当女孩在婚后被剥夺追求爱好的权利时,平等在哪里?当女孩在了解自己、知道了自己想过什么样的生活之前就要求结婚并安定下来时,自由在哪里?让女孩们自己生活、体验生活,让她们自立更生的自由在哪里?为什么女性还是难得担任具有创造性和挑战性的角色,如飞行员、摄影师和厨师?因为我们不喜欢看到她们从事这些职业。因为我们不敢给予她们真正的自由。真正重要的是自由。无论父母多么开明,丈夫多么开明,成见总是存在。人们仍然期望女性做出妥协。父母们还在教女儿们学会妥协。为什么?为什么没人教她们向上看,怀抱远大的理想?为什么不鼓励她们爱自己,为梦想而奋斗?
I am an unmarried, single girl of 28. I have a lot of pressure from my family and society to marry and settle down. While my family (and their friends, too) are busy desperately searching for a groom, I am dreaming about shifting careers and starting my own freelancing work in various fields. My family would get a nice little jolt if they come to know about my plans. Wouldn't they be dismayed to hear that their intelligent daughter, who topped in school, wants to leave her successful, Human Resources career for something unreliable and ridiculous like writing, photography and travel? Why should she be travelling like crazy and waste energy when she can easily marry a software engineer settled in US and enjoy life? Well, that doesn't make me happy at all. Travelling around the world makes me happy. Going out with my girlfriends makes me happy. Writing makes me happy. Trying out world cuisines and photographing food makes me happy. Sad. They don't see that.
我是一个28岁的未婚单身女孩。我的家庭和社会给了我很大的压力,要我结婚安定下来。当我的家人(还有他们的朋友)忙着拼命物色新郎人选的时候,我却想着换个职业,在不同的领域开启自由职业生涯。如果我的家人知道我的想法,一定会大吃一惊的。他们聪明的女儿在学校成绩优异,却想着放弃成功的人力资源工作,去从事一些像是写作、摄影和旅行之类不可靠、荒谬的工作,他们难道不会感到沮丧吗?既然她可以轻松地嫁给在美国定居的软件工程师,享受生活,为什么还要疯狂地旅行,浪费精力呢?这让我很不高兴。环游世界令我快乐。和女朋友出去玩让我很开心。写作使我快乐。尝试世界各地的美食和拍摄食物让我很开心。但伤心的是,他们看不到。
The thought of burying my dreams scares me. I do not want spend a life of regret. I do not want to get the feeling of emptiness and dissatisfaction at the end of my life. I would want a husband and a family who will support me in my travel expeditions who will let me go back to studies, who will feel happy if my aspirations come true and who will accept me with all the imagination, craziness and weirdness that I have.
Like any other man, who wants to be different, who wants to make it big, women today dare to be different, too. Given the support and environment, they can create wonders too. There are many a talented and confident women out there, who can make the world a better place to live in, with their vision and talents.
一想到要埋葬我的梦想我就害怕。我不想把一生用来后悔。我不想在我生命的尽头时,只有空虚和不满。我也想要一个丈夫、一个家,能支持我去旅行探险,能让我回去深造学,能在我实现愿望时为我感到快乐,能接受我所有的想象、疯狂和古怪之处。
就像所有想要与众不同,希望取得成功的男人一样,当今的女性也敢于与众不同。如果能提供支持和环境,她们也能创造奇迹。世界上有许多才华横溢、充满自信的女性,她们凭借自己的远见卓识和才华,可以把世界变得更加美好。
Sanjay, Dating Life Since Birth
According to Indian parents, Career means only medical and engineering.
对印度父母来说,只有医学和工程学才算得上正经事业。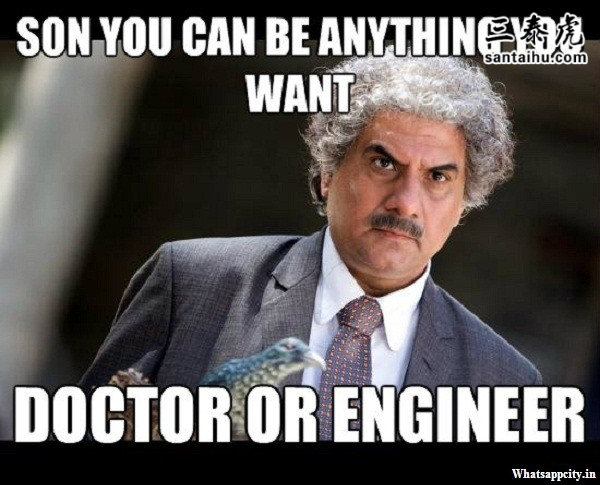 We all are fake devees
我们都是假信徒
We worship Krishna-Radha but not the love of our own child. We worship Sita-Ram but still the castes & Kundali Matching matters in marriages not the one who win's her heart.
Arjun married Draupadi by just hitting the target.
Bharat on whose name our country India is called Bharatavarsha was a love child of Shakunt and Dushyant.
If you are ag inst love and Inter-caste marriage than you should be ag inst living in Bharat (India) and ag inst the lord Krishna ji and Shri Ram.
"I love her, she loves me, her parents love their caste."
我们尊敬克里希纳·拉达,但我们自己孩子的爱情则不同。我们崇拜西塔拉姆,但谈到婚姻仍然考虑种姓和门当户对,而不是那个赢得她芳心的人。
阿尔琼仅仅靠击中目标就嫁给了德拉帕迪。
婆罗多,是沙昆塔拉和杜什扬之间爱情的结晶。
如果你反对爱情和跨种姓婚姻,你就不该住在印度,不信黑天神和斯里·拉姆。
"我爱她,她爱我,她的父母爱他们的种姓。"
What society will say matters more than the hapess and future of our own son or daughter.
别人怎么议论,比自己儿子或女儿的幸福和未来更为重要。
It is "log kya kahenge" which always decide all major decisions of our life.
We only appreciate and buy tickets for mas movies of Salman, Shahrukh and Varun, not Rajkumar Rao and Irrfan khan.
We are making begging a tradition, giving rise to begging scam industry and encouraging people to beg instead of working and earning.
This picture speaks a lot
它总是决定着我们生活中的所有重大决定。
我们只观赏和购买萨尔曼、沙鲁克和瓦伦主演的电影的门票,不看Rajkumar Rao和Irrfan Khan的电影。
我们使乞讨成为一种传统,催生乞讨诈骗业,鼓励人们乞讨,而不是工作和挣钱。
这张照片就说明了很多内容。
She can't talk to strangers but can sleep with the stranger parents choose for her.
她不能和陌生人说话,但可以和父母为她挑选的陌生人睡觉。
She can't even decide her life partner !!
Seeing Policeman makes us nervous rather than feeling safe.
Our educated administrative officer works under and follows the instructions of our uneducated ministers.
We need somebody to teach us simple things like, throw garbage in dustbins and keep your streets and surroundings clean.
We don't stop for a red light on traffic signal but will stop seeing a black cat crossing.
她甚至不能决定和她自己共度一生的伴侣!!
看见警察我们会紧张,而不是感到安全。
我们受过教育的行政在未受过教育的部长的指导下工作。
我们需要有人教我们一些简单的事情,比如,把垃圾扔进垃圾箱,保持街道和星期围环境的清洁。
我们不会因交通信号灯上的红灯而停车,但看到黑猫过街就会马上停下。
外文链接:https://www.quora.com/What-are-some-bitter-truths-about-life-in-India