Touchdown on Mars! Jubilation as NASA's InSight rover survives 'six and a half minutes of terror' landing to begin historic mission to dig deep into the Martian crust
着陆火星!美国国家航空和宇宙航行局的"洞察号"探测器在经历"惊栗6分半钟"后成功着陆,开始钻探火星地壳的历史性任务,令人欢欣鼓舞。
NASA's $1 billion new Mars lander has successfully arrived to the red planet after a nerve-wracking 'six and a half minutes of terror,' when it broke through the Martian atmosphere and was subjected to temperatures of more than 3,000 degrees Fahrenheit.
The InSight lander has been traveling through space for seven months, but its long journey ultimately boiled down to a nail-biting few minutes this afternoon as it attempted to plant its feet on the surface.
Its descent started just before 3pm EST (8pm GMT), with helpless scientists waiting on the final word from a pair of Mars orbiters dubbed Wall-E and Eve to confirm touchdown.
Less than eight minutes after breaking through the atmosphere at 12,300 miles per hour, the team confirmed it had successfully made it to the surface, slowing to just 5mph before putting its feet on the ground.
美国宇航局耗资10亿美元的新火星登陆器,在突破火星大气层时经受住了"惊栗6分半钟"和超过3000华氏度的高温,成功登陆火星。
"洞察号"着陆器已经在太空中旅行了七个月,但是此次长途旅行在今天下午试图登陆火星时的令人高度紧张的几分钟后终于结束。
它于美国东部时间下午3点(格林威治时间晚上8点)开始降落,无助的科学家们翘首期待着一对名为"瓦力"和"夏娃"的火星轨道飞行器传来最终消息来确认着陆。
着陆器以每小时12300英里的速度穿越火星大气层,耗时不到8分钟,研究小组证实它已经成功地到达了火星表面,在即将着落前速度降至每小时5英里。
Scientists could be seen jumping and cheering in the control room as they marked the successful landing, with more than a few wiping tears from their eyes.
The newly minted Mars lander even managed to send an image back to Earth moments after setting down – but, it left the dust-covered lens cap on for a blurry first look at its new home.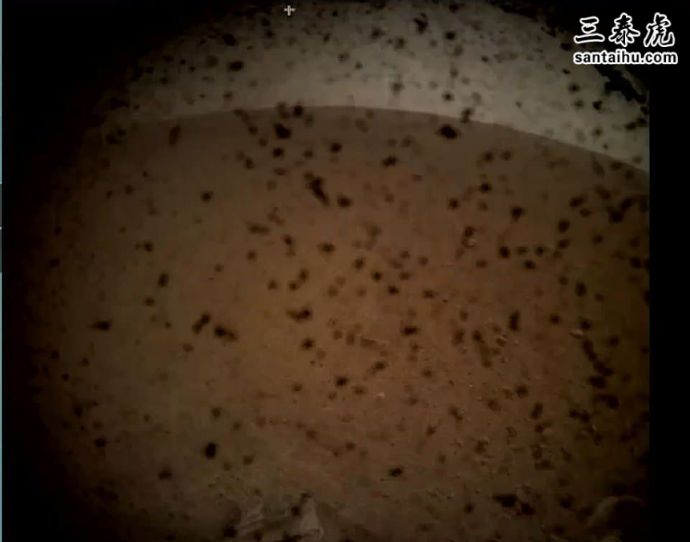 InSight's touchdown now marks NASA's eighth successful landing on the red planet.
Experts hope the mission will be the first to unlock geological secrets of the planet's hidden core, using a probe to dig 16ft (5m) beneath the surface.
A seismometer containing sensors designed and made at Imperial College in London and tested at Oxford University will also examine the impact of earthquakes and meteorite strikes.
But, the first instrument InSight will be demonstrating is its camera - albeit with the lens cap still on.
探测器成功着陆后,科学家们在控制室里跳跃欢呼,不少人忍不住擦去眼中的泪水。
新造的火星着陆器在着陆后不久就设法将图像送回地球——但是,镜头盖还盖着,无法清晰地展示新家的模样。
"洞察号"探测器的着陆标志着美国宇航局第八次成功登陆这颗红色星球。
专家们希望这次任务能首次利用探测器解开火星地表下16英尺(5米)的地质秘密。
伦敦帝国理工学院设计并制造、经过牛津大学测试的一个装有传感器的地震仪也将研究地震和陨石撞击的影响。
但是,"洞察号"将演示的第一个仪器就是它的摄像头——尽管镜头盖还未拿开。
'My first picture on #Mars!' the InSight account tweeted after landing, alongside a grainy photo of a reddish brown background.
'My lens cover isn't off yet, but I just had to show you a first look at my new home.'
While NASA has numerous Mars landings under its belt, similar attempts have proved a difficult hurdle for many missions.
The Soviet Union never managed to land on Mars, and both attempts by the European Space Agency flopped. By contrast, just one of Nasa's previous eight attempts have failed.
The probe, which blasted off from California in May, will rely entirely on its on-board computer to make last-second landing adjustments.
InSight stands to 'revolutionize the way we think about the inside of the planet,' said NASA's science mission chief, Thomas Zurbuchen.
In a press conference following the landing confirmation, NASA Administrator Jim Bridenstine congratulated the InSight team, and revealed even the president and vice president had tuned in.
"我在火星上的第一张照片!"登陆后,洞察号在推特上发布了推文,附上了一张红棕色背景的粗糙照片。
"我的镜头盖还没有拿掉,但我必须先带你们看看我的新家。"
虽然美国宇航局已经多次尝试登陆火星,之前的多次尝试证明这是很困难的障碍。
su联没有尝试登陆火星,欧洲航天局的两次尝试都失败了。相比之下,美国宇航局前八次尝试中只有一次失败了。
探测器于5月从加利福尼亚发射升空,将完全依靠其机载计算机进行最后一秒的着陆调整。
美国国家航空航天局科学任务负责人托马斯·祖布琴说,"洞察号将彻底改变我们对火星内部的了解。"
在登陆成功后的记者招待会上,美国宇航局局长吉姆·布里登斯丁向洞察号团队表示祝贺,并透露总统和副总统也都收听了登陆的新闻。
'They are overwhelmingly proud of what has gone on here today,' Bridenstine said.
'What an amazing day.'
Astronauts aboard the ISS also called in to admit they got goosebumps watching the coverage today, as the world braced itself for the news of the lander's fate.
Despite extensive preparation, Earth's success rate at Mars sits at just 40 percent, including planetary flybys dating back to the early 1960s, as well as orbiters and landers.
'Any time you're trying to land on Mars, it's crazy, frankly. I don't think there's a sane way to do it,' InSight's project manager, Tom Hoffman said ahead of the successful event.
Now, with InSight successfully planted on the red planet, it can soon begin digging to analyze the mysterious world beneath the Martian surface.
'In the years and the coming months, the history books will be rewritten about the interior of Mars,' Hoffman said during the conference.
The team will now spend the next few days looking for the right spot for InSight to put down its seismometers so it can begin collecting data.
布里登斯丁说,"他们对今天的成功感到无比自豪。"
"这是多么美好的一天。"
国际空间站上的宇航员也打来电话,说他们在观看今天的报道时激动不已,全世界都为登陆器的命运屏住呼吸。
尽管做了大量的准备,登陆火星上的成功率仍然只有40%,包括上世纪60年代早期的行星、以及轨道器和着陆器的飞行。
"无论何时,试图登陆火星都是疯狂的举动,坦率地说。我认为这件事没有万全可能,"洞察号的项目经理汤姆·霍夫曼在成功登陆之前说。
现在,随着洞察号成功登陆在红色星球上,它很快就可以开始挖掘分析火星表层之下的神秘世界。
霍夫曼在会议上说,"在未来几年和几个月内,历史书将对火星内部进行改写。"
该小组将在接下来的几天里为洞察号寻找合适的地点安置地震仪,以便开始收集数据。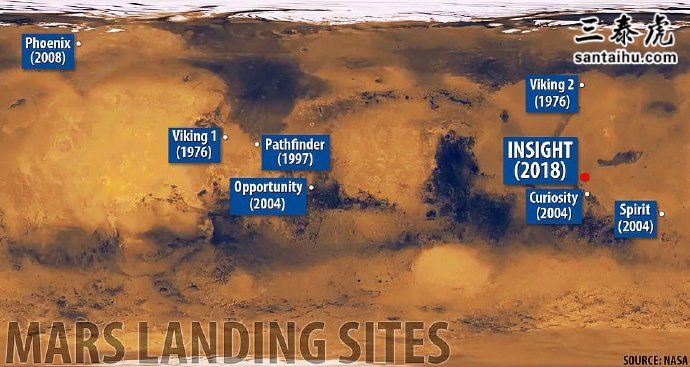 'Now that we're on the surface of Mars, we have a lot of work to do,' Elizabeth Barrett, InSight Science Instruments Ops, explained during the press conference.
The robot will go through an initial assessment phase to check on its overall health and the health of its instruments before it can move on to the deployment phase.
Then, once its finally time to deploy its suite of instruments, that process alone is expected to take two to three months.
InSight will place its seismometer, and only once the team is happy with its location and initial operations will it return to the deck to get its wind and thermal shields, which will sit atop the seismometer for protection.
The lander will then pick up the heat probe to bring to the surface, before beginning its historic dig.
Eventually, once it's all settled in, Barrett says we'll be 'sitting back listening for Mars quakes.'
"现在我们在火星表面,我们有很多工作要做,"洞察力科学仪器处的伊丽莎白·巴雷特在新闻发布会上解释道。
机器人在进入部署阶段之前,将进行初始评估来检查总体健康状况和仪器的健康状况。
然后,一旦确定部署仪器的时间,此过程需要两到三个月。
洞察号将为地震仪器寻找安置地,等团队对其位置和初始操作满意时,才会返回安装风热护罩,风热护罩将装在地震仪器的顶部施以保护。
登陆器将搭载温度探测器至火星表面,然后开始其历史性的钻探。
最终,等一切安顿下来后,巴雷特说我们将"坐听火星的地震"。
英国每日邮报读者评论:
译文来源:三泰虎 http://www.santaihu.com/46591.html 译者:Joyceliu
外文链接:https://www.dailymail.co.uk
Dolf99, Brno, Czech Republic, about a minute ago
Nobody is going to "space". There is an impenetrable dome above us.
没有人能去"外太空"。我们头顶有一个无法穿透的穹顶。
The Voice in my head, Front and Center, United Kingdom, 3 minutes ago
Nice, expensive graphic to show us all what s going on. But what is with the tears and cheering? Its not a wedding.
很好,昂贵的图象,向我们展示了发生的一切。但眼泪和欢呼是为了什么呢?这又不是婚礼。
biddy1161, Solihull, United Kingdom, 4 minutes ago
Undoubtedly a great achievement by mankind but how about doing something about the homeless and destitute of all the countries of this world.
毫无疑问,这是人类取得的伟大成就,但是不是该对全世界所有无家可归者和穷困国家做点什么呢?
Dolf99, Brno, Czech Republic, 5 minutes ago
Now they're saying they'll go to the moon again by 2030 and Mars by 2040, I guess the CGI isn't believable enough yet. Meanwhile they were supposedly making live telephone calls to the president from the moon's surface in the SIXTIES.
现在他们说他们将在2030重新登陆月球、2040重新登陆火星,我猜计算机图像不够可信。他们上世纪六十年代就该从月球表面给总统打实况电话了。
Dolf99, Brno, Czech Republic, 7 minutes ago
It's amazing how nothing ever seems to go wrong from billions of miles away. You've all been deceived and continue to fall for the lies.
太神奇了,几十亿英里之遥居然都没有出错。你们都被欺骗了,继续对谎言信以为真。
Mr Lancs, UK, United Kingdom, 11 minutes ago
What motivates people to willfully disbelieve incredible human achievements like this? Is it simply that if they don't understand something, it's easier to deny it exists? Are they so fearful of being fooled they disbelieve everything on principal? Or is it that exploring other worlds and the possibility of life there challenges their religious beliefs?
是什么让人们固执地不相信人类取得了如此不可思议的成就?难道仅仅是如果他们无法理解某事,就轻易地否认它的存在?他们是害怕被愚弄而不相信一切吗?或者说探索其他世界和生命的可能性威胁到了他们的宗教信仰?
the_young_greek, Athens, Greece, 11 minutes ago
I still can't believe that there are people out there who think the moon landing was fake!
我仍然无法相信,居然有人认为登月是假的!
Waterloo1815, london, 12 minutes ago
It's truly astounding how many sheep, sorry people still think that man landed on the moon in a kitchen foiled lunar module.
太令人震惊了,有多少绵羊,哦,不好意思,有多少人仍然认为人类登上月球是在厨房改造而成的登月舱里。
Dar1, Southend, United Kingdom, 15 minutes ago
I have been worried for weeks that this probe sent to Mars would land safely. After spending over one billion dollars getting it there I believe the person authorising this probe should look at sending one to uranus. A total waste of time and money better spent of the homeless of the USA.
数周来,我一直为火星的安全着陆而担心。在花费了超过10亿美元之后,我相信批准这个探测器登陆的人应该考虑登陆一下天王星。这完全是在浪费时间和金钱,不如把钱花在美国无家可归的人身上。
Jagstar69, London, United Kingdom, 27 minutes ago
I looked it up Russia sent 3 in the 70's but failed for various reason, U.K. lost one so did European space agency so only NASA has mangled this but thank you all for replying
我查了查,俄罗斯在70年代发射过3枚登陆器,但是由于种种原因失败了,英国失败了一次,欧洲航天局也失败了一次,所以只有美国宇航局成功了,谢谢你们的回复
GsxrinFrance, Antibes, France, 28 minutes ago
Every time I read about a probe landing on another planet I can't help thinking about Gil Scott Heron's "Whiteys on the moon" If you've not heard it, look it up....so true in so many respects
每次我看到探测器降落在另一个星球上,我都禁不住会想到吉尔·斯科特·赫伦的《月球上的白人》,如果你们没有听说过,查一查吧……在很多方面都是如此。
JS, Somerset, United Kingdom, 13 minutes ago
I'm sorry you have such a problem with people of other colours to your own, but the probe is metallic silver, not white.
很抱歉,你对和你肤色不同的人存在这样的问题,但探测器是金属银的,不是白色。
upshitcreeknopaddle, Sydney, Australia, 29 minutes ago
Faked, just like the moon landing.
瞎编的,就像登陆月球一样。
Katie X, Bay area, United States, 51 minutes ago
What lame experiments to conduct on Mars.
在火星上能做什么蹩脚的实验。
geezabrekman, Hamburger Hill, Vietnam, 34 minutes ago
They don't half like boring into rocks, I thought they already knew what Mars consists of.
他们一点也不喜欢钻进岩石里,我还以为他们早就知道火星是由什么组成的了。
Sam, London, United Kingdom, 57 minutes ago
Have America declared land rights? That's usually what they do.
美国宣布了土地归属权了吗?他们总这么做。
Rise-up, Manchester, United Kingdom, 58 minutes ago
If NASA's says the moon is made of cheese guess what the gullible ones will say. Yaaaay !
如果美国宇航局说月球是由奶酪制成的,你猜,那些容易上当受骗的人会说什么。哇,欢呼。
corbynIsRacist, Hull, United Kingdom, 1 hour ago
Totally Fake the Money is stolen any pictures you see are filmed on earth . FAKE
这纯属瞎掰,这些钱被盗用了,你看到的任何照片都是在地球上拍摄的。
signsandwonders, Birmingham, United Kingdom, 1 hour ago
Like the Live ISS pics that mysteriously cut and display a Grey screen when something strange appears in the picture. This will be the last Live stream.
这很像国际空间站现场拍摄的照片,当图片中出现奇怪的东西时,照片会被故弄玄虚地剪裁并出现灰色屏幕。这将是最后一个现场画面。
George 8th, Edinburgh, United Kingdom, 1 hour ago
Amazing technology. We could have 39 of these with the money we are giving to the EU.
科技令人惊叹。我们给欧盟的钱足够造39个探测器了。
Norfolkmanchild, Norwich, United Kingdom, 1 hour ago
Meanwhile thousands die everyday from hunger, thirst and treatable diseases...
与此同时,每天都有成千上万的人死于饥饿、缺水和可疗愈的疾病。
ann curtis, Labcashire, United Kingdom, 1 hour ago
The atmosphere on mars is a hundred per cent thinner than on earth. Its made up of carbon dioxide. The planets are lined up for a reason and should be left alone. Concentrate on what can be done here for the good.
火星上的大气比地球稀薄100%。它是由二氧化碳组成的。行星排成一列是有原因的,不该涉足。我们应该专心在地球上好好发展。
lomoto, Derby, United Kingdom, 1 hour ago
And how exactly does all this trillions of dollars affect the average working guy?..let me tell you not one bit, I would sooner the money been spent on hospitals and medical advancements
那么这数万亿美元到底会如何影响普罗大众呢?..让我告诉你吧,一丁点也不会,我宁愿把钱花在医院和医疗进步上。
Chiara, Schwarzenberg, Austria, 2 hours ago
So we're exploring Mars now (apparently). Haven't we got enough s#*t to deal with on this planet? How many homeless and starving people could have been helped with the money invested in this? Crazy world...
所以说我们正在探索火星(很显然)。我们在地球上没有足够的东西好操心的吗?这么大笔的投资资金能帮助多少无家可归和挨饿的人?这疯狂的世界…
littlejoe, not over there, Switzerland, 1 hour ago
using your logic , we would still have the technical standard of the 1800s as there will always be homeless and starving people.
好好开动脑筋想想吧,难道因为总会有无家可归和挨饿的人,我们的科技标准就该停留在十九世纪么?
rb001, brisbane, Australia, 2 hours ago
Hard to believe how half the planet has evolved in outlook and technology and continues to move forward and the other half are trapped in biblical times.
很难相信地球上怎么会有一半的人期待未来和技术的进步,而另一半还困在圣经时代。
Buccaneer10, Wales, United Kingdom, 1 hour ago
Actually the other half are mostly trapped in the mindset of a 7th century brigand.
事实上,另一半人主要被困在7世纪强盗的心态中。
toshia, ADBASTON , United Kingdom, 2 hours ago
How many centimetres is deep? And how much as it cost for said centimetre
钻探多少厘米?挖这几厘米的成本会有多高?
Varejo73, Sacramento, United States, 2 hours ago
Why do they want to land on Mars again? I find it interesting, but I'm wondering what the purpose is.
他们为什么想再次登陆火星?我觉得这很有趣,但我也想知道目的是什么。
Thaitim, Pattaya, Thailand, 2 hours ago
This purpose of this mission is to study the underground activity. For example. does it have earthquakes? It's just another step towards the ultimate goal of Mars colo.nisation. We've got to know what we're in for when we do go, the more we know the more chance thr first mission has of being succesful. NASA won't be the first on Mars though, the first manned mission will be funded by private investors. Once it's achieved the revenue it will eventually generate is hard to fathom. We're talking quadrillions.
这项任务的目的是研究地下活动。例如,火星上有地震吗?这只是迈向火星殖民终极目标的又一步。我们必须知道我们在干嘛,我们越了解第一次任务成功的机会就越大。不过,美国宇航局不会是首个登陆火星的机构,首个载人飞行任务将由私人投资者提供资金。一旦它实现,它最终将产生的收入将很难预料。将是百万之四次方量级。
The Reactionary, Gloucestershire, United Kingdom, 2 hours ago
We're always being told how thin the martian atmosphere is - except when they try to land through it...
我们总是被告知火星大气是多么稀薄——除非他们试图砸穿地表着陆……
jamo721, seattle, United States, 2 hours ago
How do we no for certain this is mars?? Could be anywhere in Arizona , Nevada or New Mexico
我们怎么确定这就是火星?这也可能是在亚利桑那州、内华达州或新墨西哥的某个地方