What is the most Indian thing ever?
什么事情是最具印度特色的?
QUORA网站读者评论:
Mani Duraisamy, An inquisitive Quoran, trying to learn more
What is the most Indian thing ever?
I assume that the OP is asking about the thing which is 'unique' to India which no other country in the world has.
I can list a host of things here- food, clothing, culture, social systems, diversity in flora and fauna, languages, scripts etc… India has something unique in all these sections and sometimes makes other countries envious about us.
什么事情是最具印度特色的?
我猜题主想问的是,和世界上其他国家比,印度有什么独一无二的东西。
我可以列出一大堆东西——食物、服装、文化、社会制度、动植物的多样性,语言、书法等。印度在这些方面有一些独特之处,有时让其他国家甚是羡慕。
But in my opinion , repeat- Its my opinion, the most 'Indian' thing ever is Jugaad. Which means a way of finding innovative short-term solutions to fix a problem and get the job done for the moment.
Few examples of Jugaad are as follows:
但在我看来,重复——这是我的看法,有史以来最"印度"的事情是小聪明。这意味着寻找新奇的短期解决方案来解决问题,完成工作。
小聪明的例子如下: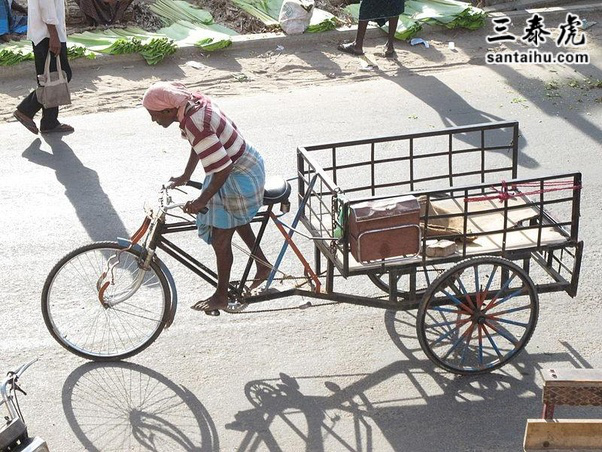 A make-shift motor vehicle pulled by a laborer in Tamil Nadu
泰米尔纳德邦工人的"机动车"
A man using stools as chappals to wade over a flooded street in Mumbai
一个男人用凳子当鞋在孟买被淹没的街道行走
译文来源:三泰虎 http://www.santaihu.com/46493.html 译者:Joyceliu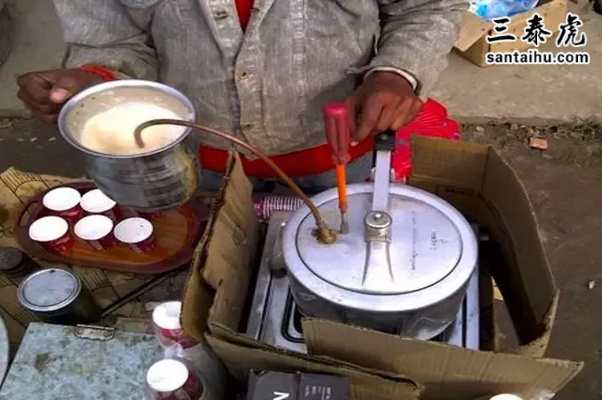 A roadside vendor demonstrating an innovative way of using a pressure cooker
路边小贩展示高压锅的创新用法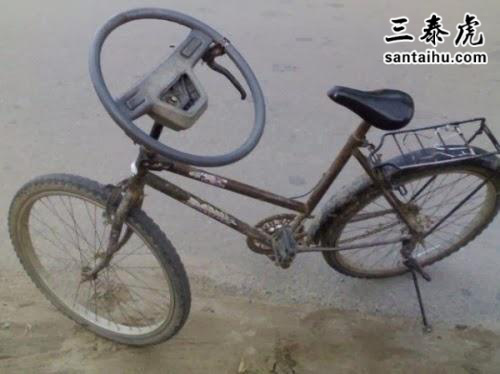 Too poor to buy a car?.No problem, sirs
没钱买车?没关系,看这个
All the above images are from the Internet and most probably are too fantastic to be true. But I am sure most of the readers here would have employed a jugaad technique to overcome any tough situations.
所有上面的图片来自互联网,大多数都神奇到不像是真的。但我相信大多数读者都会用这样的小聪明来克服任何困难。
Personal experiences with jugaading:
I will tell an example myself. During the Tamil Nadu Floods (December 2015) , Chennai had suffered a power failure for about 5 days. We did not have power to charge our phones and laptops. Luckily, in my house we had a diesel generator set which our house association decided to use very conservatively (1 hour in the morning and 1 hour in the evening).
Now, you probably know that not all the appliances (especially mobile phone charging points) get power during generators. We had devised a way by which we can route the power from the power socket belonging to the fridge (which gets power during the generator set, as its a 5 Amp power socket) and connect it to the mobile phone charging point via an extension chord so that we can charge our mobile phones and laptops. We did this during the 1 hour when power was available during the evening.
Mobile phones and whatsapp ensured that we stayed connected with the outside world and also in co-coordinating rescue operations during the times of crisis.
关于小聪明的个人经历:
我来分享一个自己的例子。泰米尔纳德邦洪水期间(2015年12月),钦奈遭受停电,持续了大约5天。我们无法给我们的手机和笔记本电脑充电。幸运的是,我家有一个柴油发电机组,我们家决定有节制地使用(早上1小时、晚上1小时)。
现在,你可能知道并不是所有的电器(尤其是手机充电头)能在发电机发电时充电。我们设计出了一种方法,我们把电从冰箱的电源插座,通过一条外连接线连接到手机充电头,这样我们可以给手机和笔记本电脑充电。晚上1小时发电期内,我们就这样做。
手机和whatsapp让我们与外部世界保持联系,在危险时刻也能协调救援行动。
Often, jugaad is given a negative color (like being lazy or most often termed as a 'hack') by the urban elites. But its quite a necessity in a largely poor country like India.
Imagine that you are living a frugal lifestyle. A majority of Indians are cut off from a lot of comforts during times of natural disasters. You need an essential thing which would help you get the job done at that time and at the same time be flexible enough so that it could be dismantled at a short notice. Jugaad mechnisms come to your rescue:
通常,小聪明被城市精英们蒙上了消极的色彩(就好像说人懒惰或最常被称为"犯规")。但在一个像印度这样的穷国,是非要有必要的。
想象以下,如果你的生活方式是节俭的。大多数印度人在面对自然灾害时都有诸多不便。你需要必需品来帮助你完成工作,同时又要足够灵活,可以在短时间内被拆除。小聪明就能帮上忙: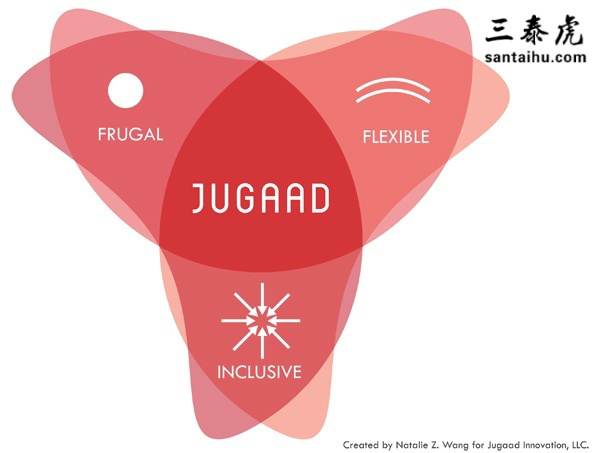 You can just look at the examples I have posted above to understand why jugaad is an essential part of Indian way of life. All the four examples given above are those where people use it during times of crisis (like natural disasters) or when in extreme poverty. You certainly cant expect a roadside vendor to own a state of the art microwave oven to boil tea or a laborer to be having a motor-powered vehicle to carry his goods.
你可以看看我上面贴的例子来理解为什么小聪明是印度生活方式的重要组成部分。上面给出的例子是人们在危机时刻(如自然灾害)或在极端贫困下的做法。你当然不能指望路边摊贩拥有先进的微波炉来煮茶或劳动者拥有车辆来运载货物。
Jugaad mechanisms require some basic technical knowledge as well. In all probability, the people resorting to jugaad will also have some basic knowledge of how the system works and how they can safeguard themselves if things get too dangerous.
For example- you need to have some basic knowledge of the flow of electrical current and which wire to connect to which point so that you can route the power from one socket to another socket. Without that knowledge, had I attempted any jugaad contraptions, I would have probably been electrocuted!!.
Sure- Jugaad wont work all the time. But thats the whole point of it. Its only meant to be a short-term solution.
这些小聪明需要一些基本的技术知识。采用小聪明的人也多少知道系统是如何工作的,如果事情变得过于危险时应该如何保护自己。
例如,你需要一些基本知识流动的电流和线连接到哪个点,这样您就可以将权力从路由一个套接字到另一个插座。没有这些知识,如果我尝试任何此等的玩意儿,我可能会被触电! !
确定,小聪明不可能解决一切。但这就是它的意义所在。它也就是一个短期的解决方案。
Khushboo Sharma, B.com honors from Gargi College, University Of Delhi (2020)
I smiled and said "thanks" to him once, maybe, he heard "you are welcome".
With my 'INVITATION', he started staring with his ugly eyes, every day and night. When staring was not enough, he started following me wherever I go. Weeks passed. Occasionally, he started throwing stones when I was on the terrace with some message on the paper.
That humiliation to a girl, is THE MOST INDIAN THING EVER.
我笑着对他说"谢谢",也许他听到的是"欢迎你"。
有了我的"邀请",他开始用丑陋的眼睛从早到晚盯着我看。后来光盯着看也不够了,他就开始跟着我,无论我走到哪里。几周过去了,当我出现在阳台上时,他开始偶尔地向我投掷包着纸的石块,纸上写着字。
羞辱女孩,就是印度最为独特的事。
That day, he threw a stone that almost hurt my sister. I couldn't take more. I shouted. I told him to stop. His aunt came outside. I asked her to make his nephew stop. She screamed from her balcony telling me to shut up. She questioned my character for being on the terrace at 10 p.m. She didn't bother to even ask him to stop. She, along with her husband, humiliated me even more.
That question on a girl's integrity and trust on a boy's intention is THE MOST INDIAN THING EVER.
那天,他扔了一块石头,几乎伤了我的妹妹。我忍无可忍。我大叫起来。我让他别再这么做。他的阿姨也出来了。我让她叫他的侄子住手。她从阳台上尖叫着告诉我闭嘴。她说我晚上10点出现阳台上,品行不佳。她甚至都没有让他住手。她和她的丈夫,更进一步羞辱了我。
对一个女孩的清白的质问,以及对一个男孩的无条件信任是有史以来最印度的事儿。
I stopped going to terrace and minimised going out since then. He confronted me on a deserted road when I was coming back home from college. "ZADA ZUBAAN CHAL RAHI THI USS DIN. AB BOL KAR DIKHA. KYA BIGAAD LEGI TU MERA. MERI JO MARZI AAEGI MAI VO KARUNGA". He abused me. I was somewhat scared.
I picked up a brick and hit him well. He ran away on his bike after threatening me.
That courage that every girl is forced to learn is THE MOST INDIAN THING EVER.
从那以后,我不再去阳台,尽可能不出门。我从大学回家的时候,在一段荒无人烟的路上他截住了我。他辱骂我。我有点害怕。
我拿起一块砖头,击中了他。他在威胁我后骑着自行车逃跑了。
每一个女孩都被迫学习勇气,这是最印度的事儿。
I came home weeping. I tried telling mum that it is because I failed in the test. She didn't believe. I told her everything with the fear that she will blame me too.
She hugged me. She loved me. She didn't question me. She was filled with rage.
I asked her not to tell dad. She did,anyway. He came home and they went right to his house.
I was called there. His family questioned the length of my clothes, questioned my character, questioned my intentions. That guy joined them too.
My Mother, slapped him right in the face.
Dad gave him and his family the much needed lesson too.He does not live here anymore.
They encouraged me to trust them and never to be scared of anyone ever again.
That mother's love and Father's support towards their daughter is THE MOST INDIAN THING EVER.
我回家后哭了起来。我试着告诉妈妈,我哭是因为我考试不及格。她不相信。我告诉她一切,害怕她也一样会怪我。
她拥抱了我。她爱我。她没有质问我。她充满了愤怒。
我问她不要告诉爸爸。不管怎么说,她还是说了。爸爸回家后,他们去了他家。
我被叫到那里。他的家人质疑我衣服的长度,质疑我的品行,质疑我的意图。那家伙也加入了他们的行列。
我的母亲,给了他一记耳光。
爸爸给他和他家人必须的教训。他不再住在这儿了。
他们鼓励我信任他们,永远不要害怕任何人。
母亲的爱和父亲的支持对他们的女儿是最印度的事儿。
Oh, and did I mention the odd ways my friends suggested to get rid of that guy?
That friends' weird love is again THE MOST INDIAN THING EVER :P
哦,我有没有提到我朋友建议我摆脱那个家伙的办法?
对,朋友的爱也是最印度的事儿