Is India really changing under PM Modi?
在莫迪的领导下,印度有发生什么改变了么
QUORA网站读者评论:
Bkumar Krishnaswamy, Sy ems Analyst at Cognizant (2016-present)
I found this article on Facebook and I think it is worth sharing on quora:
True story by Manish Malhotra ,an Indian MBA in U.K
My close family member is a key member in PMO . Let's call him Mr A for simplicity
So Mr. A had retired in Feb 2014 and he was happily spending his time with the family. He has spent almost all his career with Congress Govt. In his daughters wedding all the array of Congress leaders had come. Kapil Sibal and Ashwini Kumar are his family friends
我在Facebook上发现了这篇文章,我觉得值得分享到quora上:
曼尼什·马尔霍特拉的《真实故事》,她是在英国研读MBA的印度人
我的亲人是PMO的重要成员。为了简单起见,我们称他为A先生
于是,A先生在2014年2月退休了,他开心地和家人在一起。他的职业生涯几乎都是在国大党政府度过的。在他女儿的婚礼上,所有的国大党领导人都来了。卡皮尔·西巴尔和阿什维尼·库马尔是他家族的朋友
Now in May 2014 after Modi took over he looked at officers and did a big reshuffle. He still had major gaps to fill. So he recalled 7 officers who had retired recently based on their excellent track record.
Mr A was one of them. He was not too keen as he had post-retirement plans. However to cut the chase he was finally convinced for a year...,
He is not a fan of BJP and Modi
Then began the mad drill. Life turned upside down. Even on Holi and Diwali days he and the entire team is with Modi. On Diwali day he came home 11 in the night. Last week he agreed to extend his contract by another year.
2014年5月,莫迪上台后,他对官员进行了一次大调整。他仍有很大的空缺要填补。因此,他想起了7名最近退休的工作成绩优异的军官。
A先生就是其中之一。他没有太大兴趣,因为他有退休后的计划。但为了不让人烦扰,他终于同意继续干一年……
他不是人民党和莫迪的粉丝
接着,疯狂的操练开始了。生活完全颠倒了。甚至在胡里节和排灯节,他和整个团队也还跟莫迪在一起。排灯节那天,他晚上11点才回家。上周他同意再履约一年。
译文来源:三泰虎 http://www.santaihu.com/46446.html 译者:Joyceliu
He said in last 44 years in Govt he has never worked so hard and so much.
He was recently telling me that he is worried the way Modi is working he may be harming his own health
Apparently many times he skips regular meals to accommodate some requests.
He is working avg 18-20 hours a day!
When I asked him why doesn't he respond to allegations ag inst him. He laughed and said he has reached state of self actualisation. Every meeting they have, he runs through it for 30 mins and than he always ask the same question to everyone in every meeting ' What more can we do to make India better' 24x7 he is on the over drive working on it.
他说,在过去44年的政府工作中,他从未像现在这样努力工作。
他最近告诉我,他担心莫迪的工作方式可能会损害他自己的健康
显然,为了满足某些要求,他时常无法按时吃饭。
他每天平均工作18-20个小时!
我问他为什么不回应针对他的指控。他笑着说他已经达到自我实现的境界。每次开会,他都要开满30分钟,每次开会他都要问每个人同样的问题"我们还能做什么来把印度变得更好?"
Mr A said a recent example where they finished a meeting at 12 in the midnight and as they were walking out there were 3 groups of people waiting for him.
Coin dentally he had meeting on another topic at 8am in the morning the very next day. When they were walking in at 8am, the 3rd group from previous night was walking out.
And later he came to know from his secy that PM hasn't slept for 36 hours !
And this is when it is business as usual and not national emergency..
Mr. A says he does not know whether Modi's health will survive this self inflicted tough schedule or if he will even win the next ion
However he is clear of one thing... In this 5 years he will leave a lasting legacy...
A先生说,最近就有一个例子,他们在午夜12点结束了会议,当他们走出去的时候,还有3组人在等他。
很巧的是,第二天早上8点他又就另一个主题开了会。当他们早上8点走进去时,前一天晚上的第三组人才刚走出来。
后来他从秘书那里得知,总理已经36个小时没合眼了!
这还只是平常时候,还没遇到国家紧急情况。
他说,他不知道莫迪的健康状况是否能扛得住他自己给自己强加的高强度工作日程,也不知道他是否能赢得下次大选
然而,他清楚一件事……在这5年里,他将留下一份永恒的遗产……
Don't know about the authenticity of the story but I have heard of tons and tons of stories similar to this and I choose to believe it.
我不知道这个故事的真实性,但我听说过很多很多类似的故事,我选择相信。
Prayag Raj Tripathi, Studied Policy
India is Maserati!
There could be three kinds of answers to this question.
1.For the Modi fans India is changing and going into the direction like it has never done before.
2.For anti Modi people India is changing again but it is going in the wrong direction like it has never done before
3.Make a list of past 6 to 7 Prime Ministers before Modi and you will get your answer
Back in 2015 I was studying my Masters in International Business in South of France and used to study different subjects related to economy and business across the globe. Being among only two Indians in the class of 32 which had 16 nationalities I was surprised to see that during all the classes, the mamum number of times a country was qued by students and professors during my entire curriculum were only US, and India. US because of reasons you and I both are aware of.
印度是玛莎拉蒂!
针对这个问题会有三种答案。
1。对于莫迪的粉丝来说,印度正在朝着前所未有的正确方向转变。
2。对于反莫迪的人民来说,印度正朝着前所未有的错误方向前进。
3。列出莫迪之前的6到7位总理,你就会得到答案
2015年,我就在法国南部攻读国际商务硕士学位,并在全球范围内学习与经济和商业相关的不同学科。32人的班级有16个民族,我很惊讶地发现,在所有的课程中,学生和教授引用的国家次数最多的只有美国、和印度。原因大家都很清楚。
because no country has grown at such a rapid pace over the past 4 or 5 decades like .
India because off the growth it has seen in past 4–5 years. Now this could be debatable, for example India did not do any development for past 60 years or so but I am just giving an example of what I actually saw in the classroom.
It is true that no country can change overnight for example Singapore which was no less than a barren Island 60-70 years ago is today world's top destination for businesses.
因为在过去的四五十年里,没有一个国家能像那样高速发展。
印度则是因为过去4-5年世人见证了印度的经济增长。这是有争议的,比如印度在过去的60年里没有任何发展,但是我只是举了一个我在课堂上看到的例子。
的确,任何国家都不可能在一夜之间改变,比如60-70年前还是荒岛的新加坡,如今已成为全球商业活动的首选目的地。
what you see today is the outcome of what they've been doing for past 5–6 decades. India has just started that Revo tion and it will take some time to reach where we belong. India was 25% of global GDP when British came and it was less than 1% when they left. When Modi came into power India was 8th largest economy and today it has surpassed even France and become 6th largest economy. India is bound to surpass UK and become 5th this year. There have been more bank accounts, household gas connections, ricity for poor people who cannot afford it or had no access to it.
There have been some drawbacks as well in terms of governance but then name a go nment which had no drawbacks. In hollywood movie, Wolf of Wall Street , Leonardo DiCaprio says to his client, please judge me on my wins and not my loses, because I've so few loses.
Now whether you choose to ve for him or ag inst India will continue to thrive but when there is a flyway and you have a f****** Maserati, Would you like to use the first gear or the sixth?
India is Maserati.
你今天看到的也是过去50 - 60年努力带来的结果。印度刚刚开始了这场革命,我们需要一段时间才能到达属于我们的荣耀。当初英国人来印度的时候,印度占全球GDP的25%,当他们离开的时候,这个比例还不到1%。当莫迪上台时,印度是第八大经济体,但今天已经超过法国,成为第六大经济体。印度今年肯定会超过英国,排名第五。我们现在开立了更多的银行账户,为普通家庭连通燃气,为买不起电或者没有电的穷人提供电力。
在国家治理方面,我们确实存在一些缺陷,但哪个国家政府没有缺陷呢。在好莱坞电影《华尔街之狼》中,莱昂纳多·迪卡普里奥对他的委托人说:"请以我的成功而不是我的失败来评判我,因为我的失败实在是太少了。"
现在,无论你选择支持还是反对印度,印度都将继续蓬勃发展,但如果有高速通道,而你有一辆玛莎拉蒂,你会选择用第一档还是第六档来行驶?
印度就是玛莎拉蒂。
Sriram Nandan, lives in India
I want to share my own experience on what has been changing in India.
I come from a village (Rural) in Tamil Nadu. There is a scheme by Central govt of India aims to enhance livelihood security in rural areas by providing at least 100 days of wage employment in a financial year to every household whose adult members volunteer to do unskilled manual work under the NATIONAL RURAL EMPLOYMENT GUARANTEE ACT 2005 named as Mahatma Gandhi National Rural Employment Guarantee Act.
我想分享一下自己对印度变化的个人体会。
我来自泰米尔纳德邦的一个村庄。印度有一个由中央政府规划,旨在通过在一个财政年度内,提供至少100天的有偿雇佣来提高农村生计安全的计划,每个家庭的成年成员都可以自愿从事非技术工作,这就是被称为圣雄甘地全国农村就业保障法的《2005年全国农村就业保障法》。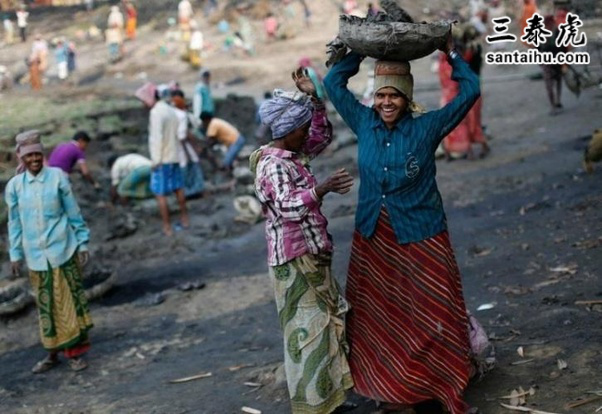 This program was first proposed in 1991 by Narasimha Rao govt and was finally accepted in 2004. I have seen people working in this scheme from my childhood. All I would see was a group of people who under this scheme would join and chit chat under sitting under a tree. It was like people were paid for leisurely enjoying their free time.
Each person is allowed only for 100 days, but people would work for more than 100 days. Say I have enrolled for the program(Sriram Nandan), under the name of Sriram I would work for first 100 days and get the wage and for next 100 days I would work as Nandan. There was no proper way to mon or the work and there was no record of work.
It didn't end there, if people are paid Rs 100/day for their work the gram panchayat head or other offi als would take a (20–30%) part of that Rs 100 and return only the remaining to the people. Usually at that time, money was paid my these village head through cash
该项目最初由Narasimha Rao 政府于1991年提出,最终于2004年通过执行。我从小就看着人们参与这个项目。我看到的是,一群人加入这个计划,坐在树下聊天。这就像人们拿着钱悠闲地享受他们的空闲时间。
每个人只能工作100天,但是人们会工作100天以上。假设我已经注册了这个项目(Sriram Nandan),我将以Sriram的名义工作100天获得工资,然后在接下来的100天我将作为Nandan工作。没有适当的方法来监督大家的工作,也没有工作记录。
事情并没有到此为止,如果人们的工资是100卢比/天,那么村委会负责人或其他官员会拿走100卢比中的一部分(20-30%),然后才把剩下的部分发给民众。在那个时候,钱通常是通过现金支付给这些村长的。
Previously
1.No proper work was being done under this scheme
2.People were working for more than 100 days by using different names
3.The village head usually took a percentage of actual amount and returned only around 70% of the pay to the workers
以前
1。在这个计划下,人们没有完成应该做的工作
2。人们用不同的名字,可以工作超过100天
3。村长通常会从实际工资中抽取一定比例,只把工资的70%返还给工人
At Present
In order to enroll for this scheme now, the worker must posses a Aadhar card, thus he/she cannot cheat and work more than 100 days. The problem of smae people working more than 100 days was solved By this itself I think govt would have saved a lot of money. Due to the introduction of Pradhan Mantri Jan Dhan Yojana scheme now most the people in Rural India have bank account accounts. Their wages are being credited through the bank accounts and not given to the village heads. So the full wage amount comes to the workers.
The work done by them as bettered with time , I dont see people sitting and chit chatting under the tree now. But still there is a lot of scope of improvement on the work they have been doing.
目前
现在要报名参加这个计划,工人必须持有一张Aadhar卡,这样他/她就不能作弊,工作超过100天了。有些人工作超过100天的问题就解决了,政府应该会节省下很多钱。由于推行Pradhan Mantri Jan Dhan Yojana计划,现在大多数印度农村人都有银行账户。他们的工资通过银行账户发放,不通过村长。所以全部工资都是付给工人的。
随着时间的推移,他们做的工作越来越好,现在我看不到人们坐在树下聊天。但他们所做的工作仍有很大的改进空间。
I feel, yes India is changing under this govt. India was world leader in economy for more than 2000–3000 years and only the last 300 years we have seen a dip and it is all part of of the boom-recession cycle. No doubt in another 50–60 years we would be a world leader in economy.
Jai Hind
我觉得,是的,印度在这个政府的领导下正在发生变化。印度在2000年到3000年的时间里一直是世界经济的领导者,只在过去的300年里才经历了经济的衰退,这都是繁荣-衰退周期的一部分。毫无疑问,再过五六十年,我们又将成为世界经济的领导者。
印度必胜