London Police return stolen 12th century Buddha statue to India on I-Day
独立日当天,伦敦警方将一尊失窃的12世纪佛像归还印度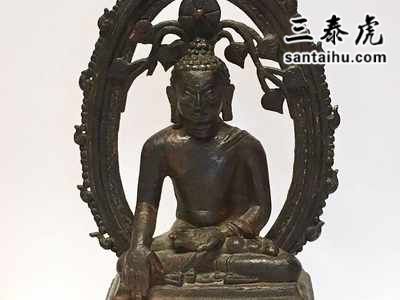 LONDON: A 12th century bronze Buddha statue stolen from a museum at Nnda in Bihar nearly 60 years ago was returned to India on Wednesday by the London's Metropolitan Police as part of a ceremony here to mark India's Independence Day.
伦敦:作为印度独立日庆典的一部分,周三伦敦警方将一尊12世纪的青铜佛像归还给印度。这尊佛像是从比哈尔那烂陀的一座博物馆被盗的,已经失窃近60年。
The bronze statue with silver inlay is one of the 14 statues stolen in 1961 from the Archaeological Survey of India (ASI) site museum in Nnda and changed several hands over the years before surfacing at a London auction.
1961年,那烂陀的印度考古博物馆被盗走14尊雕像,这尊镶银的青铜雕像是其中之一。在伦敦拍卖之前,它已被转手数次。
Once the dealer and the owner were made aware the sculpture was the same one that had been stolen from India, the Metropolitan Police said they cooperated with the Met's Art and Antiques Unit and agreed for the piece to be returned to India.
伦敦警方表示,交易商在得知这尊佛像和印度失窃的那尊后,配合伦敦警察厅艺术与古董组的工作,同意将佛像归还印度。
The statue was identified at a trade fair in March this year by Lynda Albertson of the Association for Research into Crimes Against Art (ARCA) and Vijay Kumar from the India Pride Project, who then alerted the police.
今年3月,反艺术犯罪研究协会(ARCA)的琳达·艾伯森(Lynda Albertson)和"印度骄傲计划"的维贾伊·库马尔(Vijay Kumar)在一个交易会上认出了这尊佛像,后者随后向警方报警。
A 12th century Buddha statue stolen from India 57 years ago is to be returned to the Indian High Commissioner by th… https://t.co/7jDmXlg1zx
— Metropolitan Police (@metpoliceuk) 1534287902000
57年前印度失窃的一尊12世纪佛像将转交给印度高级专员-伦敦警察厅(@metpoliceuk) 1534287902000
Scotland Yard returned the statue stolen to the Indian High Commissioner to the UK, YK Sinha, as part of a ceremony to mark Independence Day at India House in London today.
伦敦警察厅将这尊佛像归还给了印度驻英国的高级专员YK Sinha,作为今天在伦敦举行的印度独立日庆典的一部分。
"I am delighted to return this piece of history. This is an excellent example of the results that can come with close cooperation between law enforcement, trade and scholars," said Met police detective chief inspector Sheila Stewart, who was accompanied by offi als from the UK's Department for digital, culture, media and sport at the handover ceremony.
"我很高兴能够促成这一重要文化遗产回归印度。这是执法部门、贸易部门和学者之间密切合作所取得的成果。"伦敦警察厅艺术与古董组的警官Sheila Stewart侦探说到在交接仪式上说到,英国数字、文化、媒体和体育部的官员也出席了交接仪式。
"Although this was stolen over 50 years ago, this did not prevent the piece being recognised and the credit must go to the eagle eye informants who made us aware that the missing piece had been located after so many years," she said.
她说:"虽然是在50多年前失窃的,但这件文物终被认出来了。这必须归功于那些目光敏锐的消息人士,他们帮助我们找到了失踪多年的文物。"
"I hope it will now go back to where it originally belongs ... On our Independence Day, it (return of the statue) highlights the multi-faceted cooperation between our two countries," he said, after a Tricolour-hoisting ceremony to mark India's 72nd Independence Day at the Indian High Commission in London.
在伦敦的印度高级委员会举行的第72个独立日三色旗仪式结束后,Sinha表示:"我希望佛像能回到原本属于它的地方。在我们的独立日,佛像的回归凸显了我们两国在多方面的合作。"
Detective constable Sophie Hayes of the Met's Art and Antique Unit said it had been established that there was no criminality by the current owner or the dealer who had been offering the stolen statue for sale.
伦敦警察厅艺术与古董组的警官Sophie Hayes表示,已经确定被盗佛像目前的主人或交易商没有犯罪行为。
"Indeed, from the outset they have cooperated fully with the police to resolve this matter and they have made the decision to return the sculpture via the police," Hayes said.
Hayes说:"事实上,从一开始,他们就和警方合作来解决这个问题,他们决定通过警方来归还雕像。"
"We are delighted to be able to facilitate the return of this important piece of cultural heritage to India," she added.
"我们很高兴能够帮助这一重要文化遗产回归印度,"她补充道。
The Art and Antiques Unit was founded 50 years ago and is one of the oldest specialist units in the Metropolitan Police Service. The unit prides itself on a "long history of reuniting owners with their stolen property".
艺术和古董组成立于50年前,是伦敦警察局历史最悠久的专业小组之一。
Michael Ellis, UK minister for arts, heritage and tourism, said: "As we celebrate India's Independence Day, I am proud to highlight the latest example of the UK's cultural diplomacy in action. Thanks to the work of the Metropolitan Police's Arts and Antiques Unit, we are one of the first countries to recover one of the 14 elusive Buddha statues stolen from Nnda nearly 60 years ago."
英国艺术、遗产和旅游大臣迈克尔•埃利斯(Michael Ellis)表示:"在庆祝印度独立日之际,我很荣幸宣布英国文化外交的最新行动。"由于伦敦警察厅艺术与古董组的工作,我们成为第一批找到近60年前那烂陀失窃的14尊佛像之一的国家。"
"This underlines how law enforcement and the London art market are working hand in hand to deliver positive cultural diplomacy to the world".
"这突显出执法部门和伦敦艺术市场正在携手努力,向世界传递积极的文化外交"。
印度时报读者评论:
来源:三泰虎 http://www.santaihu.com/45849.html 译者:Jessica.Wu
外文:https://timesofindia.indiatimes.com/london-police-returns-stolen-12th-century-buddha-statue-to-india-on-i-day/articleshow/65414112.cms
Ajay
What about the stolen 'Kohinoor 'and other gems , artifacts why haven't they being returned too return them too
那被盗的"科依诺尔钻石"和其他宝石及工艺品呢?为什么没有一并归还呢?
bsa_bsa882000
They rob entire country or the continent and a statue.
他们抢劫了整个国家,整个大陆以及一座雕像。
Om One
Can they return Tipu Sultan sward along with Mallya ? :D but thanks anyway for Return of Buddha
他们能把铁普苏丹宝剑和马尔雅(逃往英国的印度富豪,欠下巨额债务)也一并归还印度吗?但是无论如何还是要感谢他们归还佛像。
shashank bhide
keep the statue, return Mallya the chor
佛像你们留着,把马尔雅送回来。
Gaana User
They have lot to return to this proud nation!!
他们还有很多东西要归还这个骄傲的国家!
Alchemist
Give back kohinoor on REPUBLIC DAY
请在"共和国日"归还"科依诺尔钻石"
Henderson Gray
WE WANT VIIJAY MALLYA ALIVE NOT SOME DEAD STATUE
我们要活的马尔雅,而不是死的雕像
Ajit Jain
Treasure of India stolen during Congress rule comes back during BJP rule. Achchhe Din isiko kahte hai.
dear London police and Scotland yard, we 1.3 billion Indians are sincerely grateful for this wonderful courageous and generous act. when will you be returning the other treasures that members of your esteemed oldest family have "taken on loan" from us Indians? like dirt example the Kohinoor? for the security of which surely you pay an hefty amount! when will Scotland yard return this? do let us know. waiting with bated breath..... A Truly Obliged Indian
印度珍宝在国大党执政期间被盗,在人民党执政期间归还,这才是"好日子"。
亲爱的伦敦警察厅,我们13亿印度人真诚地感谢这一伟大勇敢而慷慨的行为。你们最古老的家族成员从我们印度人那里"借来"的其他宝物,什么时候还回来?比如"科依诺尔钻石"?为了钻石安全,你们肯定要付一大笔钱!伦敦警察厅什么时候能把这颗钻石归还?请告诉我们,我们在屏息以待.....一个真正感恩的印度人。
Muthalib Mohammad
Sir, please return Koh -Noor also
警官,请归还"科依诺尔钻石"
Sankibhau
its like returning a piece of chocolate from a chocolate factory. What about britishers who loed our country for 300 years?
这就像只还了巧克力工厂一块巧克力而已。英国人掠夺我们国家300年,还有多少东西没归还?
Snvita
Aren''t they ashamed of returning only one? They have stolen so many things from India. Now trying to be very generous
只归还一样东西,他们不觉得羞耻吗?他们从印度偷了很多东西,现在能不能慷慨点,多还些回来。
Angshuman
after looting India for 200 years...they are returning some peanuts...good gesture
掠夺印度200年之后…他们现在开始还一些小零碎回来了……态度还不错
Vishal
Return hour Kohinoor Diamond as well. Return Vijay Mallya as well.
也应该归还"科依诺尔钻石",还有马尔雅。
sanjoy
England is made of stolen assets from all over the world & Indian assets comprise 50% of total English assets.
英国是由来自世界各地的被盗资产组成的,其中印度资产占英国总资产的50%。
Pradip
Good ! Now also return us Malya without delay, who has stolen crores ..!!
很好!现在请立即把偷了几千万卢比的马尔雅还给我们!!
Sudhanshu
isn't it laughable enough that the English Crown is studded with stolen jewelry
英国王冠上镶嵌着偷来的珠宝,难道这还不够可笑吗?